Dexter Jackson, also famous as "The Blade," is an American former IFFB professional Bodybuilder. He is the only bodybuilder to secure the overall title in Mr. Olympia and Masters Olympia competitions.
The Blade made history in 2008 by defeating two-time Mr. Olympia winner Jay Cutler and conquering the Arnold Classic title in the same year.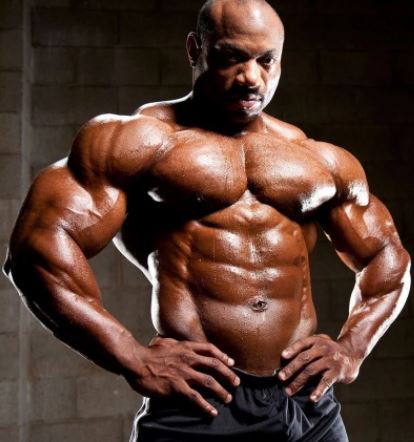 Dexter Jackson's blessed career flourished back in 1992 when he participated in his first NPC event (the Southern States Championship), where he acquired the third position.
His passion for physical activities was embodied from childhood. As the most active kid among six siblings, Dexter participated in various sports in school.
In this article, we dive into The Blade's early life, career, family, physical appearance, net worth, and other lesser-known facts.
Dexter Jackson: Quick Facts
Full Name
Dexter Jackson
Nick Name
The Blade, DJ
Date of Birth
November 25, 1969
Place of Birth
Jacksonville, Florida
Residence
Florida, USA
Religion
Christianity
Nationality
American
Ethnicity
Black
Father's Name
Willie Jackson
Mother's Name
Unknown
Siblings
Six
Education
Unknown
College
Unknown
Zodiac Sign
Sagittarius
Age
54
Height
168 cm (5 feet 5 inches)
Weight
104-107 kg (off-season) and 218 kg (during competition)
Eye Color
Dark Brown
Hair Color
Bald
Build
Muscular
Marital Status
Married
Ex-Wife
Carol
Girlfriend
Gale Elie
Children
Myah Jackson
Profession
Professional Bodybuilder
Best Win
Mr. Olympia (2008)
Active Years
1992-2020
Pro Debut
1999 Arnold Classic
Awards and Achievements

Arnold Classics (5 Times)
19 times Mr. Olympia Appearance
Australian Pro Grand Prix VIII
Russian Grand Prix
New Zealand Grand Prix

Sexual Orientation
Straight
Net Worth
$3 million
Social Media
Instagram, Twitter
Merch
Poster, Dexter Jackson: The Blade 2K7/2k (Movie)
Last Update
December, 2023
Dexter Jackson: Age and Physical Appearance
As of now, Dexter is 54 years old. On November 25, 1969, he was born in Jacksonville, Florida, USA. His zodiac sign is Sagittarius.
Jackson stands 5 feet 6 inches tall, and his weight varies according to the competition.
In the off-season, he weighs around 112 kg, and during competitions, his weight can be around 218 kg.
The great athlete's body statistics go as 50-33-29 inches. His arms/ biceps are 21 inches, i.e., 53 cm.
Greatest Female Bodybuilders of 2021, Click Here>>
Dexter Jackson: Early Life, Education, and Family
Dexter was born and raised by his parents in Jacksonville, Florida. His father's name is Willie Jackson, while his mother's name is not disclosed.
Detail information regarding his parents is nowhere to find, but it is known that Dexter is one of the six siblings.
In high school, Jackson used to play football and run in the tracks. He was excellent in both sports.
At one event, on a forty-meter dash, he scored 4.20, which was one of the fastest records made in the country during that time.
Besides football Dexter was also involved in gymnastics and breakdance. He was even a fourth-degree black belt in karate.
When Jackson finished high school, he planned to go to college, but his girlfriend got pregnant. So, he decided to be with his girl and moved into an apartment.
He then started working as a cook. Due to his athletic background and genetics, Jackson had an impressive physique. One of his friends noticed it and suggested Jackson compete in a local bodybuilding show.
Wife and Children
Dexter Jackson is happily married to his wife, Gale Elie. The couple is blessed with a daughter named Myah Jackson.
Previously, he was married to Caro, but they separated due to some unknown reasons.
Carol and Dexter met during a bodybuilding event and later fell in love.
Dexter Jackson: Professional Career
When Dexter was 20 years old, he participated in his first-ever bodybuilding show. Despite only three weeks of preparation, and as a rookie contestant, he won the show effortlessly.
It was the turning point for Dexter, and he realized his potential in the bodybuilding industry. However, he knew that a proper dieting plan and hours of training could help him win the show.
After winning that one local show, Dexter had already fallen in love with weight training. Thus, he started intense workout sessions in the hope of becoming a professional.
Soon he started getting great results at different local shows, and, for the first time, he got a chance to compete in the National Physics show, the 1992 NPC Sothern States Championship, and placed third.
After the competition, Dexter took three years off and devoted himself entirely to training and diet. He wanted to bring the best version of himself to win the Pro card.
Jackson returned after three years and took over the stage. His comeback was the host in the 1995 NPC USA Championship Light-Heavyweight category.
Pro-Card
In 1998 Dexter surprised everyone by winning the 1998 North American Championships in the Light-Heavyweight and general categories. Eventually, he earned the Pro card.
After getting the Pro card, things got better for him. Finally, he could participate in more prestigious competitions.
Jackson trained hard for his first professional show for a few months. Then, in the 1999 Arnold Classic, he came to seventh place, which was not a that bad result.
In the same year, he participated in four more competitions. He continued his bar by finishing third at the 1999 Night of Champions, ninth in the 1999 Mr. Olympia, and fourth in the 1999 World Pro Championships.
Dexter competed in more than 18 competitions, but he wasn't lucky when lifting the winning trophy.
Rise to Fame
However, a bad luck phase finished at the 2002 Grand Prix Australia for Dexter. Nevertheless, his several months of preparation presented him with a winning trophy.
After that, Jackson continued to show good results. In 2003, Dexter came third in Mr. Olympia and won the 2003 Show-Strength Pro Championship.
Jackson dominated competitions over the next few years, including winning the most prestigious, the 1999 Arnold Classic.
Jackson defeated the champion, Jay Cutler, in the 2008 Mr. Olympia and took the winning trophy. The win was the best moment of Dexter's career.
He wanted to win more titles and continued to win the 2011 FIBO Pro and the 2011 Pro Masters World Champion.
By 2016, Jackson had so many titles that he became the bodybuilder with the most IFBB professional bodybuilding titles.
Retirement
Previously whenever Jackson was asked about retirement plans, he always said he had no intention of retiring for the next few years.
But Dexter retired from professional bodybuilding after the 2020 Mr. Olympia.
Over the years, Dexter has manifested to be one of the prominent bodybuilders to have appeared on stage for IFBB, FIBO, and Olympia.
With more than two decades of achievements, we are inclined to see the legendary Dexter Jackson instruct and groom the upcoming generation as well.
Who Are The Richest Bodybuilders in The World? Click Here To Read About Them>>
Dexter Jackson: Workout Routine and Diet Plan
Dexter "The Blade" was often called the underdog because of his relatively small height compared to his fellow competitors.
His height was a huge weakness for him, but he combated his way by beating all those tall bodybuilders.
The workout routine and dieting are the supreme factors for every bodybuilder.
Dexter's workout routine consists of four days of challenging workouts in a week and three days of rest.
In addition, he does his cardio every morning for 30 minutes, where he doesn't run or do anything that can make him lean.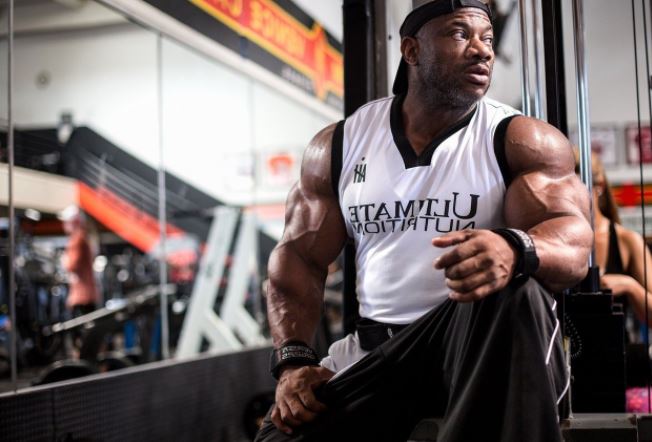 When Jackson is on the treadmill, he will be walking at a full incline and a medium walking pace. That's what is his exercise secret.
Similarly, his workout routine includes Chest, Biceps, Quad, Calves, Triceps, Back, and Hamstring.
According to the diet plan, Dexter usually eats 5500 to 6500 calories a day. Even in the off-season, Jackson mentioned trying to keep his diet clean.
He will usually eat around five clean meals and one cheat meal each day.
Usually, he eats seven meals a day and drinks a lot of water and protein shakes. He ensures he is getting sufficient nutrients for his body every day, even if he is working out.
Dexter Jackson: Net Worth
It is estimated Dexter's net worth is around $3 million. This includes his assets, money, and income.
His primary source of net worth is his career as an IFBB Professional Bodybuilder.
He has appeared in many fitness and bodybuilding magazines and has been on Flex and Muscular Development magazines also.
Jackson was also featured in the 2009 documentary Dexter Jackson: Unbreakable.
Through his various sources of income, Jackson has accumulated the good fortune to lead a modest lifestyle. He also has a yacht that has a gym equipped for proper training.
Dexter Jackson: Social Media Presence
Jackson is active on Instagram and Twitter. He has an enormous fan following of 1.6 million followers on Instagram under the username @mrolympia08.
#NewProfilePic pic.twitter.com/MVB22bd2ck

— Dexter Jackson (@MrOlympia08) January 1, 2019
On Twitter, Jackson has 143.4k followers. So he is pretty active there and keeps tweeting and retweeting.
Most tweets of his are related to bodybuilding stuff.
Who Are Top Bodybuilders of All Time? Click Here To Read About Them>>
Frequently Asked Questions(FAQs)
Why is Dexter given the nickname "The Blade?"
An American IFBB professional bodybuilder is also known as "The Blade" because of his lean and sharp physique.
Even after two decades in the profession, Dexter is still engaged in the field and has been listed in many fitness and bodybuilding articles.
Who is Dexter Jackson's trainer?
Charles Glass is Dexter Jackson's trainer. He is the master of striking all the approaches with revised exercises.
Dexter and Charles have known each other for a long time.
What are Dexter Jackson's hobbies?
Dexter might be focused entirely on his training sessions at the gym, but he has numerous other interests. He is pretty passionate about cars and has bought and sold many of them throughout the years.
He enjoys watching movies. His favorites are Bruce Lee and Jackie Chan, while he likes Arnold Schwarzenegger.