A widely celebrated professional wrestler, Dexter Lumis is a name that can not be missed while talking about WWE and other wrestling arenas. Over his decade-long journey, he is best known for his tenure in Total Nonstop Action Wrestling.
Many know him as Dexter, his ring name; however, in the outer world, he goes by the name Samuel Shaw. Apart from his ring name games, he is pretty famous for his n=real name games in Total Nonstop Action Wrestling.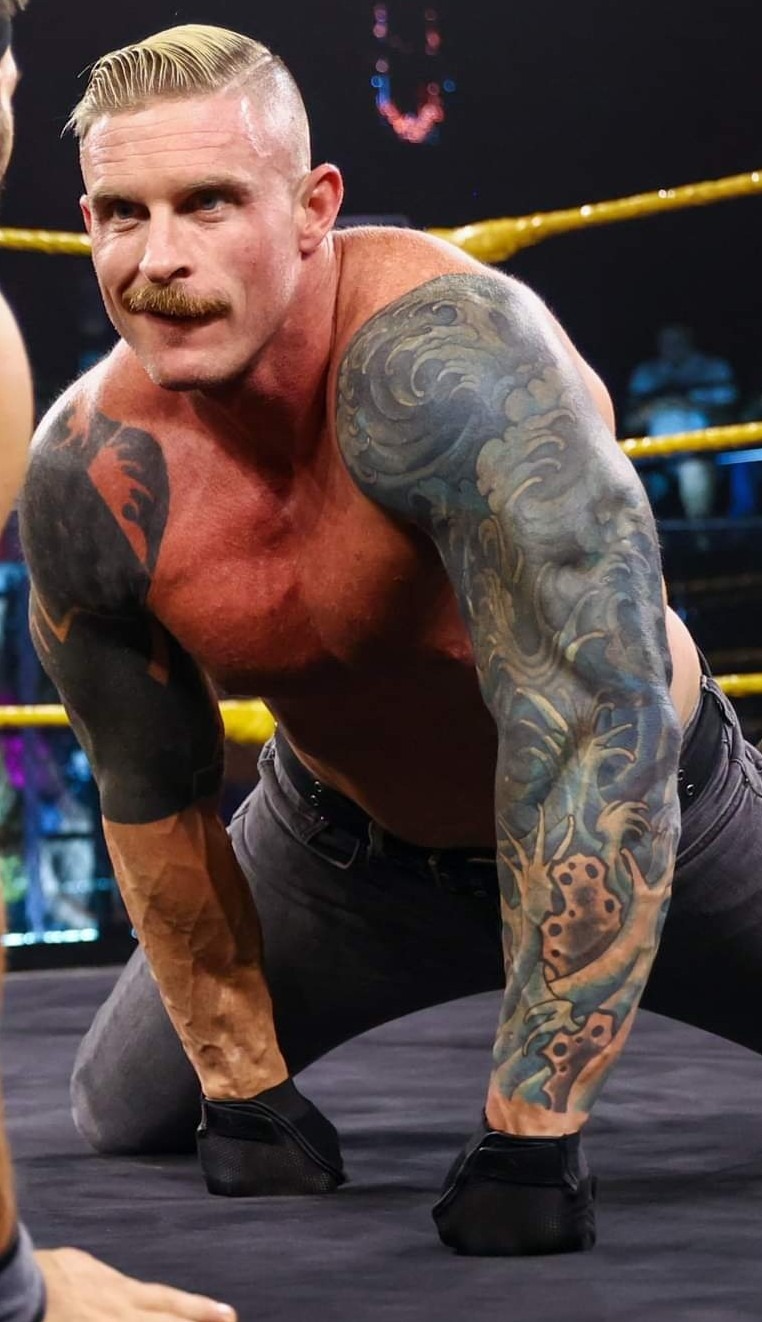 In this article, we will discuss his career decisions, personal life, and many more. However, let us start with a quick overview of his general life facts.
Quick Facts
Full Name
Samuel Robert Shaw
Date of Birth
January 17, 1984
Birth Place
Jacksonville, Florida, U.S.
Ring Names
Dexter Lumis
Boss Hugg
Lupus
Sam Shaw
Samuel Shaw
Slick Sleazy
Religion
Christianity
Nationality
American
Ethnicity
Unknown
Zodiac Sign
Capricorn
Age
38 Years Old (As of 2022)
Height
6 feet 3 inches (1.91 meters)
Weight
240 lb (109 kg)
Hair Color
Blonde
Eye Color
Blue
Build
Athletic
Father's Name
Name Unknown
Mother's Name
Name Unknown
Siblings
None
Education
Allen D. Nease Senior High School
Savannah College of Art And Design
Marital Status
Married
Spouse's Name
Indi Hartwell (Real Name: Samantha De Martin)
Kids
None
Profession
Wrestler
Billed From
Jacksonville Beach, Florida
Recluse, Wyoming
Trained By
Curtis Hughes
WWA4 Wrestling School
Bubba Ray Dudley
D-Von Dudley
Debut Date
September 21, 2007
Net Worth
$4 million
Social Media
None
Last Update
August 2022
Dexter Lumis | Wife And Relationship
According to the sources, Dexter Lumis is currently married to wrestler Indi Hartwell. The duo used to be an on-screen couple until Indi proposed to him on August 17, 2021, after the pair won a match on NXT.
Not long after, the duo married on the ring itself in September 2021. Their wedding was an entertaining twist in the WWE. It commenced with Hartwell's sweet reading of her vowels, and then, Lumis read his vowels, which was simply a thumbs up to Hartwell and the audience.
When the priest stated that he wanted to add more to his vowels, Dexter choked him out. Following it, they exchanged their rings with "I do" and kissed to be officially wed.
Today, the duo has been going strong and happy together but does not share any child.
Lumis' Return, Indi's Reaction, And Potential Car Crash
In April 2022, the WWE released Dexter Lumis and returned in the ring right after the main event, which featured AJ Styles and The Miz. With the news of Lumis' return, Indi Hartwell responded with a thumbs up on Twitter.
Also, all the fans were excited and over the top with the news and exploded on Twitter. However, the excitement was soon surrounded with shock as the police arrested him during his comeback on the August 8 edition of Monday Night Raw.
Yes, a scene was caused at his comeback when the police came hauling to arrest him for a car crash; however, the company has not released any details regarding the incident.
As per the sources, the incident occurred behind a Kevin Owens promo. Yes, fans were startled to see a car run into a concrete pole backstage in the background of the promo. Not long after, many wrestlers and WWE staff hurried to stand around the crash, including Nikki A.S.H, Doudrop, and many more.
After the incident, many people were confused if the crash was real or staged. Later, when they spotted the same car being towed, and the police got involved, it proved to be an actual incident.
Lumis' Body Measurements
Dexter Lumis is a man with massive weight and impressively toned body structure. Well, he stands at a decent height of 6 feet 3 inches (1.91 meters) while weighing 240 lb (109 kg).
Dexter Lumis | Early Life
Fully named Samuel Robert Shaw was born on January 17, 1984, under the star sign Capricorn in Jacksonville, Florida, U.S. The details regarding his childhood and parents are all missing.
Yes, he loved to keep his personal life out of his career and did not share details of his natural life. Similarly, his parents' names and details are all unknown.
As for his educational background, Dexter attended the Allen D. Nease Senior High School. Following it, he then enrolled in the Savannah College of Art And Design.
Career
Dexter Lumis first entered the wrestling arena in 2007, where he first trained with Curtis Hughes at the WWA4 Wrestling School. Not long after it, he made his wrestling debut the same year in September at World League Wrestling.
Two years later, in 2010, Dexter Lumis joined the Independent Circuit and debuted for Vintage Wrestling. A month later, he became the first Vintage Heavyweight Champion until February 2011.
Right after, Dexter bagged his second-time champion after winning the vacant Vintage Heavyweight Championship. Then, he had his third title again in September and moved to make his debut for Florida Underground Wrestling.
In August 2010, Dexter made his Total Nonstop Action Wrestling (TNA) debut as he first signed with Gut Check on a developmental contract. By 2012, he signed a deal with Ohio Valley Wrestling (OVW).
Right then, he would go by the name Lupus; however, he changed it to Samuel Shaw in November 2013. With this name, he portrayed a character similar to Patrick Bateman of the film and book American Psycho.
Again in 2015, he was back in Vintage Wrestling and bagged the title of TNT Champion in 2017. Only in 2019 did Dexter enter WWE and make his debut at an NXT house show. During the early days, he stood as the face in the ring.
Recently in 2022, Dexter returned to National Wrestling Arena, where he had a fatal four-way match. Right after his loss there, he has now been back to WWE.
Career Highlights And Awards
FTPW Championship (1 time)
OVW Southern Tag Team Championship (2 times)
Ranked No. 142 of the top 500 singles wrestlers in the PWI 500 in 2021
TNA Gut Check winner
TNT Championship (1 time, inaugural)
TNT Championship Tournament (2017)
USWA Championship (1 time)
Vintage Heavyweight Championship (3 times)
Injury
One of Dexter's injuries came in 2020 when he suffered from an osteochondral lesion to the talus. Right then, he was playing in a North American Championship Match.
Back in November 2021, Dexter Lumis struggled with a fractured hand and a few broken metacarpals in the attack. During the match, he got his arm smashed with a steel chair, and hence, he was out of the matches for a month.
Though they never released the details on his injury, Indi Hartwell did share some of Dexter's clips. In the clip, you can see him with a cast on his arm, trying to draw Trick.
Dexter Lumis | Net Worth
According to the sources, Dexter Lumis maintains a net worth of $4 million. Back in the early days of his developmental TNT, he was getting paid $1,300 a month, which did not cover much.
Social Media
Dexter Lumis is not active on any social media platforms. Yes, he does not expose his private life details. Hence, we will update you if he gets started on any platforms.
Dexter Lumis | FAQs
How is Dexter Lumis related to Hemme?
During his tenure as Samuel Shaw, his character debuted as a heel and was obsessed with Hemme. He started asking her on dates, and his room was filled with her pictures and posters on the wall.
What is Dexter Lumis' character?
Dexter Lumis' character is the sadistic type that enjoys other people's agony. He portrays powerful movements and likes to use his hands to "frame" opponents.