Dominique Dawes, nicknamed Awesome Dawsome, is a former American artistic gymnast. Even though she is still associated with the sport in one way or another after retirement, she gives as much time as possible to her family as she is raising four kids with her husband, Jeff Thompson.
Dawes became fascinated with gymnastics as a toddler. After she turned six, her parents immediately enrolled her to begin coaching with Kelli Hill. Hill later coached many future Olympians, including Elise Ray and Courtney Kupets.
Dominique won her first competition at age 9. She was in 17th position in the all-around junior division at her first US National Championship in 1988.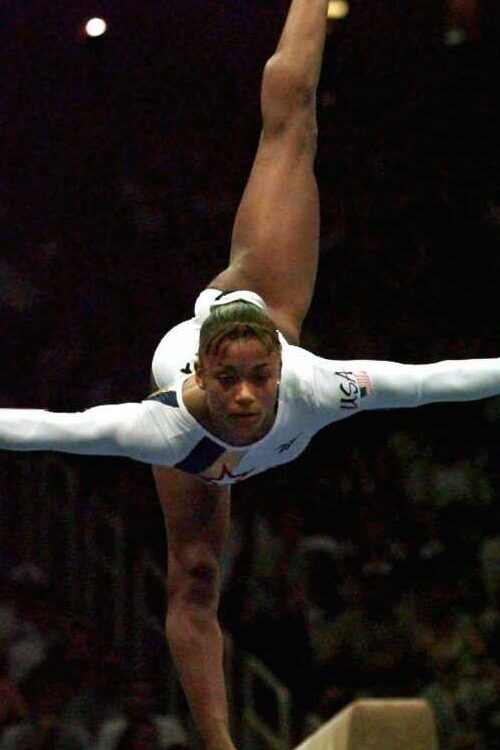 Two years after her first appearance in the National Championships, she achieved the third position in the all-around junior division at the 1990 U.S. National Championships. She never won in this category ever during her initial career.
When Dawes was 15, she received a standing ovation after her fiery performance at the 1992 USA vs. Japan dual meet, in which she re-enacted back-to-back tumbling, a famous move popularised by Soviet gymnast Oksana Omelianchik.
The accomplished gymnast later won numerous competitions, including the senior all-around National Championship and a gold medal at the 1996 Summer Olympics in Atlanta.
Dominique Dawes Husband: Jeff Thompson And Kids
The three-time Olympian Dominique Dawes has been married to her husband, Jeff Thompson, for over a decade. Although both of them were born in the same state, it is unclear whether they have known each other since childhood.
The two got engaged in December 2012. After a few months, the two decided to marry and tied the knot on May 25, 2013. As Jeff was raised Catholic, Dawes also converted before exchanging their vows.
While Dawes was born in Silver Spring and raised in Montgomery County, Jeff Thompson grew up in Bethesda, Maryland. After graduating, he began his job as a teacher in Maryland.
Jeff taught at The Heights School in Potomac for many years. He has teaching experience of nearly two decades. However, he is now retired and helps his wife, Dominique, to run her gym and gymnastic training academy in Clarksburg.
Aside from that, the lovely couple is the parents of four beautiful kids. Their first daughter, Kateri, was born in 2015. Two years later, they welcomed their second child, Quinn Thompson.
On January 22, 2018, Dawes gave birth to her twin children, Dakota and Lincoln. She later shared that she almost suffered a miscarriage while pregnant with her twin kids.
Fortunately, everything is all right now, and they are raising their kids well, residing in Montgomery County, Maryland. Dawes sometimes makes a family post on her Instagram.
Dominique Feels Blessed To Have Jeff In Her Life
Despite having a large family with four little kids to raise, Dawes knows she has obligations outside her home and is quite a busy woman.
Luckily, she has her husband Jeff alongside her, who gives her all the time she needs while he takes on the responsibility of looking after their kids.
Everyone knows Dominique was engaged in different things outside her athletic career in the past.
Aside from appearing in music videos and tv, she has been involved in different campaigns and organizations, including being the president of the Women's Sports Foundation in 2004 and the co-chair of the President's Council on Fitness, Sports, and Nutrition in 2010.
Her life has not changed much, even after marriage and having kids. She is still actively working with different agencies at present. She recently appeared as a guest star in the animated series The Proud Family: Louder and Prouder in 2022.