Stardom not only brings one into the limelight but also their family members- the same goes for Morgan Hightower, the wife of retired NFL player Dont'a Hightower.
Morgan and Dont'a, the former New England Patriots linebacker, married in the spring of 2021 after nearly a decade of relationship.
The college-time sweethearts met at the University of Alabama & began dating in the late 2000s. The two are now parents of a son.
Not many know, but Morgan Hightower, besides being a doting mom & loveable wife, is an entrepreneur & a writer.
She's been an avid supporter of her three-time Super Bowl champion husband throughout his NFL career (2012-21).
As reported, Dont'a Hightower opted out of the 2020 NFL season to prioritize his family's health during the COVID-19 pandemic.
After not playing the entire 2022 season, he announced his retirement after 10 NFL seasons on March 21, 2023.
This article will discover more about Dont'a Hightower's wife, Morgan Hightower.
Quick Facts
| | |
| --- | --- |
| Full Name | Morgan Hart Hightower |
| Nick Name | Mrs. Boomtower |
| Birthday | May 4 |
| Profession | Entrepreneur & Writer |
| Zodiac Sign | Taurus |
| Education | University of Alabama |
| Engagement Date | July 23, 2020 |
| Marriage Date | May 22, 2021 |
| Child's Name | Grayson Dash Hightower |
| Social Media | Instagram, Twitter |
| Last Update | June 2023 |
Who Is Morgan Hightower?
Popular as the wife of retired NFL player Dont'a Hightower, Morgan Hightower has a progressive career of her own.
She is a writer and entrepreneur. Morgan (whose birth name is Morgan Hart) owns an online boutique called Marlee + Grey.
The boutique offers clothing items, such as tank tops, rompers, and jewelry, which are all reasonably affordable, with prices ranging from $9 to $50.
Her Instagram bio also links to a product called the Organic Cotton Play Tunnel by Lovevery, which helps children develop strength and balance.
Brief On Family Members!
Morgan is the youngest child of Jerry Hart and Lisa Hart, who's been married since 1980. She shared an Instagram post in October 2015 on the occasion of the 35th anniversary of her parents.
She has an elder brother named Tyler Hart (birthday on May 21).
As reported, he is married & shares a son with his wife, Caleigh Miller Hart.
They exchanged vows in March 2016 and welcomed their son Hudson Hart in May 2019.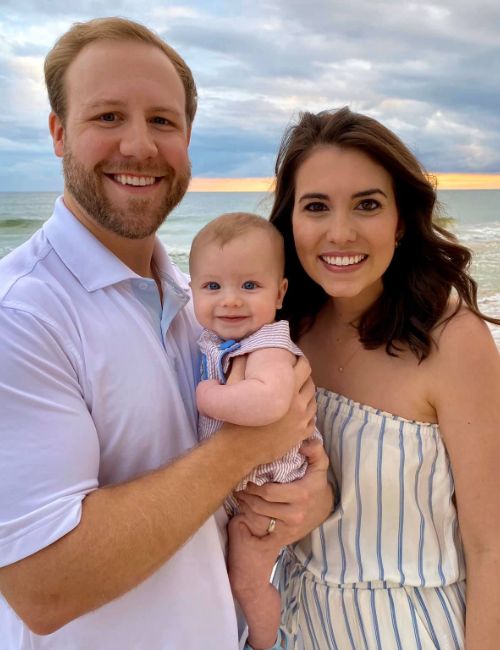 According to Tyler's Facebook post, he graduated with a Bachelor of Science in Business Administration (BSBA), a Management Information Systems major, from the University of Alabama in 2010.
Currently, he works as a senior manager at a network firm PwC (2019- now).
Morgan & Dont'a Hightower Met In College
Both of them went to the University of Alabama, where they met & began dating around 2009.
In 2012, Morgan Hightower graduated from the University with communication studies and public relations degree.
The same year that Dont'a was selected 25th overall in the NFL draft by the New England Patriots.
There, he would join the NFL stars like Tom Brady, Malcolm Butler & Matthew Slater and would become a three-time Super Bowl Champion (XLIX, LI, LIII) with the Patriots.
Engagement & Fatherhood
Dont'a and Morgan are frequent social media mentions of each other since their college days, but it was until a decade later they would take another step into their relationship.
The couple announced their engagement through Instagram posts on June 23, 2020.
The proposal came only three months after the couple had shared the exciting news of their first pregnancy in February of the same year.
The post received congratulatory messages from several famous personalities, including Tom Brady and Shaquille O'Neal.
They welcomed their son Grayson Dash Hightower on July 16, 2020.
While Morgan Hart was in labor for 17 hours, Dont'a Hightower was by her side, providing words of encouragement to help her through the challenging experience.
He kept reminding her, '28-3, 28-3,′ meaning 'you can be behind and come back,' which was a reference to the Patriots' famous Super Bowl LI comeback.
In July 2020, Dont'a opted out of the NFL's 2020 season to prioritize his family's health, including his newborn son, because of the COVID-19 pandemic.
Wedding Of Morgan & Dont'a Hightower
After a year of engagement, the couple married in Nashville on May 22, 2021.
It was a joyous occasion that celebrated the love, respect, and trust that Morgan and Dont'a have built over the years.
Their wedding was a testament to the deep bond they share and the strength of their relationship.
Social Media Presence
In addition to her business ventures, Morgan is also active on social media platforms like Instagram (@mrsboomtower) and Twitter (@mrsboomtower).
As of this writing, she currently has 15.1k followers on Instagram and 1.36k followers on Twitter.
Morgan has created a separate Instagram account (@shopmarleegrey) for her shop, which has 1.3k followers.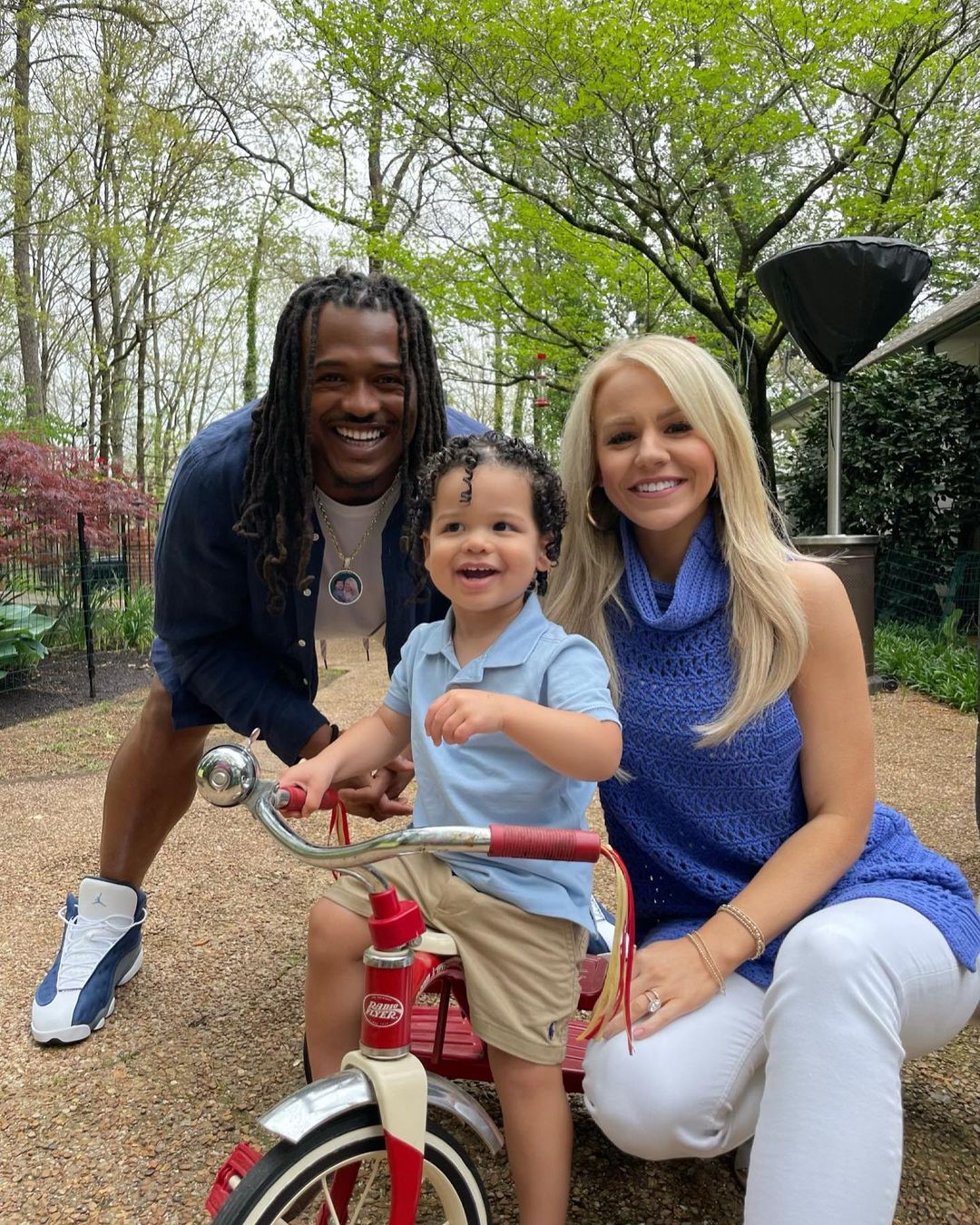 Her social media accounts mainly feature pictures of her family and her husband, Dont'a Hightower, and posts promoting her business.
She consistently uploaded photos of her partner before football matches before his retirement and is his number-one cheerleader.
Hightower and his wife, Morgan Hart, have been sharing pictures of their son Grayson Dash.
Net Worth & Earnings
A writer & entrepreneur, Morgan Hightower collects a considerable sum through her business venture.
As of 2023, she has an estimated net worth of $500K-$800K.
On the other, her husband, Dont'a Hightower, has a net worth in the range of $3-$5 million.
This hefty sum is all thanks to his ten NFL seasons which he entirely played with the Patriots & totaled career earnings at $33.267 million.
Before his retirement in 2023, the two-time Pro Bowl was on a four-year $35.5 million contract, signed in March 2017 with the Patriots. It earned him a salary of $7.85 million in the 2021-22 season.
Earlier contracts of the former linebacker with the team were:
A four-year $7.72 million contract (inked in July 2012)
A $7.751 million option for the 2016-17 season (signed in April 2015)
Moreover, Dont'a made earnings from endorsement deals with Traeger Grills, SpaghettiOS, Campbell's Chunky, Papa Johns & New Era Cap.
Frequently Asked Questions (FAQs)
When did Dont'a Hightower retire?
The three-time Super Bowl champion announced his retirement on March 21, 2023. He didn't play the entire 2022 season.
Is Dont'a Hightower married?
Hightower married his college-time girlfriend Morgan Hart in 2022 after a decade-long relationship. They also share a son together.