While growing up, most of us dream of becoming just like our parents. Likewise, Dwight Smith Jr. not only imagined but fulfilled it by becoming an MLB player just like his old man.
Scroll on below as we have an article about Smith Jr. that will capture your imagination. Here, you will find every little detail about the Georgia native's personal and professional life.
But first, have a look at some quick facts.
Quick Facts
Full Name
John Dwight Smith Jr.
Date of Birth
October 26, 1992
Birth Place
Peachtree City, Georgia
Marital Status
Not in a relationship
Father
Dwight Smith
Jersey Number
35
Nationality
American
Age
30 Years Old
Profession
Baseball Player
Position
Outfielder
Franchises
Baltimore Orioles (Current)

Toronto Blue Jays

Buffalo Bisons

Bluefield Blue Jays

Lansing Lugnuts

Mesa Solar Sox (Former)

Height
6 feet (1.83 m)
Salary
$583,000 per year
Net Worth
$0.5 million
Online Presence
Twitter
Last Update
March, 2023
Who is Dwight Smith, Jr. father? Early Life & Family
John Dwight Smith Jr. was born to his parents, Dwight Smith, and an unnamed mother on October 26, 1992, in Peachtree City, Georgia.
Regrettably, the information concerning his mother remains under the dark.
On the other hand, there is an abundance of details about his father, Dwight Sr., who, just like his son, was a former MLB player.
Furthermore, Dwight Sr. played in the MLB for seven years, during which he won the World Series in 1995.
The father-son duo shared an exceptional bond back in the days and still does. As a matter of fact, in 2018, Smith Jr. posted a very emotional post on Instagram.
In the post, he thanked his old man for all the sacrifices he made and promised to do the same.
Moving onto his education, the 30year-old attended McIntosh High School, where he became an excellent baseball player.
In fact, Toronto Blue Jays drafted the high school student in 2011 as the 53rd overall draft pick.
Dwight Smith Jr.: Career & Stats
Although Smith Jr. was drafted into the MLB in 2011, he had to wait until 2017 to make his debut eventually.
During those six years, the 30 year-old developed his talents in the minor leagues playing for various teams.
Firstly, he made his professional baseball debut with Bluefield BlueJays and then went to Vancouver Canadians the same year.
During that time, the 30–year-old managed a combined .212 with four home runs and 29 RBI.
Thereafter, he signed for Lansing Lugnuts, where he batted .284 with seven home runs, 48 RBI, and 25 stolen bases in 109 games.
Thus, having had an impressive 2013, Smith Jr. was promoted to the High A Dunedin Blue Jays for the 2014 season.
Chuck Knoblauch Bio: Career, Salary, Net Worth, Family, Age, Height Wiki >>
It is here that Dwight managed to hit his first career home runs against Cole Hamels on April 6, 2014.
After the season ended, the Georgia native again switched teams as he ended up playing for the Mesa Solar Sox in the Arizona Fall League.
Subsequently, Dwight played in 121 games for the franchise with a batting average of .284 with 12 home runs and 60 RBI.
Added to that, he also stole 15 bases and managed an OPS over .800 for the first time his whole career.
After that, Smith Jr. played for the Double-A New Hampshire Fisher Cats and Triple-A Buffalo Bisons before finally making his MLB debut in 2017.
MLB Career
Dwight's MLB journey started when he debuted on May 18, 2017, after six long years of development in the minor leagues.
However, his stay with the Blue Jays lasted only two years as he got traded to the Baltimore Orioles on March 9, 2019.
The reason being, Smith Jr. managed to play in just 47 games over the course of the two seasons, which was unacceptable.
As a result, both Dwight and the Blue Jays decided that it would be better to part ways.
Hence, on March 9, 2019, the 30 year-old began a new chapter in his career by appearing as a starting left fielder for his new franchise, Baltimore Orioles.
Subsequently, Smith Jr. played in 101 games for the franchise before getting ruled out for the season due to injury.
Likewise, he hit his first career grand slam off of Drew Pomeranz as the Orioles won 9-6 over the San Francisco Giants.
Nevertheless, Dwight managed a batting average of .241 with 13 home runs and 53 RBI.
Thus, having performed quite well in his first season as a starter, everyone expected the Georgia native to have an even better 2020.
Unfortunately, the start of the 2020 season has been hampered due to the world pandemic of Corona Virus (COVID-19).
For the 2020 season, he appeared only in 21 games with hit .222/.306/.365 with six runs batted in over 72 plate appearances. He also became a free agent in November 2020.
After Orioles, he signed a minor league contract with the Cincinnati Reds organization. For the 2021 season, he was assigned to the Triple-A Louisville Bats.
He played in 36 games at Louisville Bats and scored .220/.327/.283 with 1 home run and 17 RBI. After that, he was released on June 20, 2021.
Although sport plays a vital role in relieving stress and giving joy to us supporters, we also have to bear in mind that athletes are humans too.
Hence, they also need the same care and protection from this deadly virus.
Thus, in unprecedented times like these, we would like to wish Dwight and his family good health and hope that they all stay healthy.
You can view the Smith Scouting Records from here.
How old is Dwight Smith Jr.? Height & Nationality
At the time of writing, Dwight is 30–years old, which means that he is yet to hit his peak form in baseball.
Likewise, the Georgia native was born on the 26th day of October. As a result, he falls under the star sign of Scorpio.
Moving on, Smith Jr. stands at exactly 6 feet (1.83 m) and weighs 210 lb (95 kg).
Furthermore, the 30 year-old plays as an outfielder, which requires one to cover vast distances and catch and throw the balls to one of the three bases.
And, talking about his nationality, Dwight is a proud American citizen because he was born in the state of Georgia.
Dwight Smith Jr.: Net Worth & Salary
As of 2023, Dwight has a net worth of $500,000, thanks to his playing career as a baseball player.
Even though the 30 year-old was drafted in the 2011 MLB draft, he only started playing in the league in 2017.
As a result, his net worth is a bit on the low side.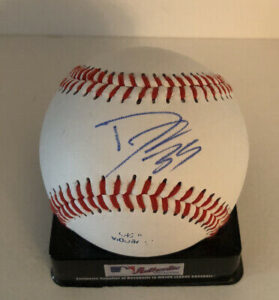 Nonetheless, during his three years in the league, Smith Jr. has earned over $1 million. Moreover, the Georgia native earned $445,000 last year playing for the Baltimore Orioles.
Net Worth of Dwight Smith Jr in Different Currencies
Let's have a look into Dwight Smith Jr's net worth in different currencies, including the cryptocurrency BitCoin.
| | |
| --- | --- |
| Currency | Net Worth |
| Euro | €421,336 |
| Pound Sterling | £359,583 |
| Australian Dollar | A$680,735 |
| Canadian Dollar | C$623,867 |
| Indian Rupee | ₹37,189,650 |
| BitCoin | ฿12 |
Dwight Smith Jr.: Contract
As of now, Dwight is in the first year of his five-year contract, which will see him remain with the Orioles until the 2025 season.
Unfortunately, the monetary details of the agreement have not been disclosed yet. However, his first year's salary is believed to be $583,000.
Dwight Smith Jr.: Personal Relationships
Talking about Dwight's love affair, he is not involved with anyone at the moment. Moreover, it seems that Smith Jr. has never been in a public relationship at any point in his life.
Kevin Millar Bio: 2021, Wife, Net Worth, Twitter, Career, Red Sox, Wiki >>
The reason we are telling you this is because our team scoured various sources for hours. However, we could not gather any details regarding this matter.
Well, kudos to Dwight for managing to keep his personal relationships a secret.
Nonetheless, judging by the fame, wealth, and not to forget good looks, any girl would be willing to settle down with Smith Jr. Moreover, it is just a matter of when not if.
Social Media Presence
Twitter: 4.8k+ followers
Some FAQs
Is Smith a Free Agent?
He became a free agent on November 2, 2020.
What Happened to Dwight?
In a seasonal game with the Orioles, he suffered from a small injury.
What is the Jersey Number of Smith?
Smith wears Jersey 18, 35, 4.