Any sports fan is undoubtedly aware that the NBA is one of the greatest and leading basketball leagues globally.
Likewise, every once in a while, there are standout foreign talents that make a name in the league. One such name is Dzanan Musa.
For those who don't know, Musa is a professional basketball player from Bosnia. He currently plays for Anadolu Efes of the Turkish Basketball Super League and the EuroLeague.
Moreover, Musa's outstanding basketball experience has made him play with several reputable teams like Cedevita, Brooklyn Nets, and FIBA, where he has scored remarkably.
Well, being an outsider and making on such a great league, it must have been a joyous experience for Musa.
Today we will discuss his incredible journey from his early career to a professional career, along with discussing his age, height, education, net worth, and personal life.
So, please stick with the article and read it till the end. But, before moving on, check out some quick facts listed below!
Quick Facts:
| | |
| --- | --- |
| Full Name | Džanan Musa |
| Pronunciation | JAH-nen MOO-suh |
| Birth Date | 8 May 1999 |
| Age | 23 years old |
| Birth Place | Bihac, Bosnia, and Herzegovina |
| Nick Name | Musa |
| Religion | Unknown |
| Nationality | Bosnian |
| Ethnicity | Bosnian |
| Education | Unknown |
| Horoscope | Taurus |
| Father's Name | Rusmir Musa |
| Mother's Name | Saudina Musa |
| Siblings | Dzennis Musa |
| Height | 6'9 inches (2.06 m) |
| Weight | 98 kg (215 pounds) |
| Hair Color | Light brown |
| Eye Color | Black |
| Body Measurement | Unknown |
| Build | Athletic |
| Married | No |
| Girlfriend | Adna Ducanovic |
| Children | No |
| Profession | Basketball player |
| Net Worth | $4.5 million |
| Salary | $2,002,800 |
| Affiliations | NBA |
| NBA Draft | 2018 (Round: 1 / Pick: 29) |
| Former teams | Cedevita (2014–2018), Brooklyn Nets (2018–2020) |
| Current team | Anadolu Efes S.K. |
| Jersey number | #13 ( Brooklyn Nets), #13 (Anadolu Efes S.K.) |
| Position | Small Forward, Shooting Guard |
| Active Since | 2015–present |
| Social Media | Instagram, Twitter |
| Merch | Poster, Rookie Card & NBA Shorts |
| Last Update | March 2023 |
Dzanan Musa Wiki-Bio | Early Life, Education, & Parents
Dzanan Musa was born in Bihać, Bosnia, and Herzegovina, to parents Rusmir Musa and Saudina Musa.
Sadly, other information about his parents, like their current whereabouts and status, are not found in the media.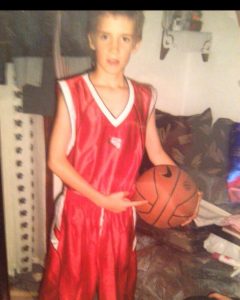 Aside from his parents, he grew up with his brother Dzennis Musa. Additionally, Musa started playing sports from a relatively young age.
But basketball was not his first choice. He used to play soccer at first before choosing to focus on basketball.
Moreover, he started playing junior basketball in the youth setup at KK Bosna XXL when he was eight years old. His family was also very supportive of his growing passion for the game.
Likewise, as for his education, Musa must be an educated person. But his degree and institution details are unknown. As for his nationality, Musa is Bosnian by birth and Bosniaks by ethnicity.
How old is Dzanan Musa? Birthday, Age, and Height
The talented basketball player was born in 1999, which makes him 23 years old as of now.
Aside from that, Musa celebrates his birthday every year on the 8th of May, which makes his zodiac sign Taurus.
And from what we know, the people of this sign are known for being determined, ambitious, and talented.
Likewise, Musa stands at an astounding height of 6 feet 9 inches (2.06 m) and weighs around 98 kg (215 lbs). Sadly his other body measurements are unknown at the moment.
Being an athlete, Musa is physically fit and follows a strict diet and workout regime to stay healthy.
Aside from his passion and dedication for sports, Musa's physical build has held him stable for the position.
Moreover, Musa is still a young and growing man in his 20s. We are sure, with time, Musa will grow both in experience and as a player.
As for his demeanor, Musa has short light brown hair and black eyes.
Dzanan Musa | Professional Career
Dzanan Musa started his professional career in 2014 after signing a deal with the Croatian team Cedevita. Musa was just 16 years old while playing for the Cedevita.
Following his progress in the field, Musa made his debut in Europe's top-tier level competition as a shooting guard for Cedevita Zagreb in EuroLeague on October 15, 2015.
Likewise, Musa became among the ninth-youngest player to make their debut in the Euroleague.
It was likely the first big game of a Musa's professional career. There he played the first 4:55 minutes of the game and was lined up against Olympiacos' multiple Euroleague champion Vasilis Spanoulis.
Also check out: <<Troy Brown Jr. Bio: Basketball Career, Family, NBA, Net Worth, & Wiki>>
Later, in June 2017, Musa attended the Adidas Eurocamp, a basketball camp based in Treviso for international NBA draft prospects.
Likewise, there he was named the Eurocamp 2017 Most Improved Player.
Moreover, he was also awarded the EuroCup Rising Star Trophy after averaging 10.5 points and 3.2 rebounds per game in 16 games played in Europe's 2nd-tier level EuroCup competition in the 2017–18 season while playing as a member of Cedevita.
Additionally, Musa was also named the Most Valuable Player(MVP) of the tournament and was also selected to the All-Tournament Team.
Similarly, he also played at the 2016 FIBA Under-17 World Cup and led in scoring at 34.0 points per game, averaging 8.1 rebounds and 3.0 assists per game.
Further, Musa was also named the ABA League Top Prospect and the All-ABA League Team in that same season.
Not to mention that Musa also came best in votings of both fans and head coaches of the ABA League sides, making him the best young player of the season in the ABA League.
In 2019 Musa also represented Bosnia in international competition, FIBA Basketball World Cup European Qualifiers, and averaged a team-leading 15.2 points per game.
NBA Career
After playing professionally for three years with Cedevita in the Croatian League and accomplishing outstanding achievements in the field.
On 21 2018 June, Musa was selected as the 29th overall pick by the Brooklyn Nets in the 2018 NBA Draft to a multi-year contract.
Moreover, Musa played in four games for Long Island Nets during his rookie season, averaging 23 points per game on 59.3% shooting.
There, he also averaged 6.8 rebounds while playing 28 minutes per game for Long Island. Sadly, Musa couldn't perform incredibly in his rookie season due to some injury issues.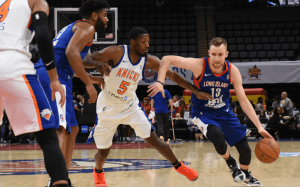 In total, Musa played 12 games with the Long Island Nets and had better numbers averaging 19.5 points, 8.4 rebounds, and 41% on 4.3 3-pointers per game.
Later, he appeared in 49 games in two seasons with the Nets, averaging 4.3 points and 1.9 rebounds in 10.7 minutes per game.
On November 19, 2020, Musa was traded to the Detroit Pistons, becoming the second player from Bosnia and Herzegovina to wear a Pistons jersey.
However, just after a month, he was waived by the Pistons on December 21, 2020.
Further on January 13, 2021, Dzanan signed a 2.5-year contract with Anadolu Efes of the Turkish Basketball Super League.
Dzanan Musa | Career Stats
How much does Dzanan Musa earn? Network and Income
Dzanan Musa has established himself in the international basketball world with his hard work, dedication, and impressive playing skills.
Along with that, Musa has played for many national and international teams.
With over four years of experience as a professional basketball player, Musa has not just earned a name and fame throughout the year but has also earned a heft amount.
As of 2023, Musa has a staggering net worth of $4.5 million. Likewise, he is the 29th highest-paid rookie with an annual average salary of $2,002,800.
According to the reports, Musa signed a rookie scale contract worth $14.5 million with the Brooklyn Nets in 2018.
As per the contract, the Bosnian earned $1,634,400 as the salary during the 2018-2020 season. Likewise, he has estimated career earnings of $3,615,054.
Also, this is just his early season in the NBA. Therefore, Musa still has many years left to name himself and earn even more cash in his professional career.
Nonetheless, since Musa has made it to the big league, we can fully expect his net worth to increase in the coming years.
You can find the latest news, transfer rumors, market value, and stats related to Dzanan Musa on the Transfermarkt website.
Charity
Not only making big-time money, but Musa also loves to give it back to society. As a matter of fact, the Bosnian native recognized the coronavirus pandemic's severity and helped this home country in March.
Moreover, Musa bought and donated supplies to a hometown hospital and made sure that the hospital had supplies that were in high demand.
Even though the amount of money and number of supplies donated is not disclosed, however, it was known that the supplies were ordered based on instructions from Cantonal Hospital in Bihac.
Don't forget to check out: <<Muggsy Bogues Bio: Height, Basketball Career, NBA, Net worth, &Wiki>>
Is Dzanan Musa single? Personal life and Girlfriend
Talking about Musa's relationships, he is not a married man. And, because he is just in his early 20's, we can agree with that.
However, it does not mean that the Bosnian native is not involved in a love affair.
Due to Musa's charismatic personality, youthfulness, and success at a young age, it is no wonder that hundreds of girls are lining behind him and want to marry him.
Likewise, he is undoubtedly the crush of many girls. But who is the lucky girl that has stolen his heart?
Well, the lucky girl is Adna Ducanovic. There is no information about how they met, but we feel that they had a pretty good bond going on by the looks of things.
But we can hope that information will be available soon if the basketball player decides to share more about him.
With so much secrecy around, the pair have been dating for a while now and have no plans to get engaged or married anytime soon.
However, if something fruitful comes out regarding their love life, we will update it here.
You might also want to read: <<Dorian Finney Smith Bio: Early Life, NBA, Girlfriend & Net Worth>>
Social Media Presence:
Dzanan Musa is quite active on social media and likes to keep it updated.
He has accumulated thousands of followers on the internet and has created an extensive social media profile on different social networking sites.
On Twitter, Dzanan is available as @DzMusa and has 10.7k followers on his Twitter account.
After joining the site back in September 2015, Musa has tweeted around 446 times since then. Similarly, on Instagram, he is available as @dzananmusa and has 94.5k followers.
Not to mention, Musa also possesses a Facebook page that has successfully gained 81k followers until now. His popularity and fame are growing at an accelerating pace.
Some FAQs:
Who is Dzanan Musa agent?
Misko Raznatovic, Jeff Schwartz, and Jordan Gertler are agents of Dzanan Musa.
What is Dzanan Musa's career-high point?
On April 04, 2018, Dzanan set his career-high in points in a Croatia-Liga game scoring 36 points.
What team is Dzanan Musa on?
Dzanan Musa currently plays for the Turkish professional basketball team Anadolu Efes.
What position does Dzanan Musa play?
Dzanan Musa plays in the small forward and shooting guard position.