Who does not love watching sports, especially when it comes to basketball? And the NBA is one of those leagues which produces amazingly talented players.
Among them, Dorian Finney Smith is the one who plays for the Dallas Mavericks of the National Basketball Association, known for his defensive impact.
Dorian serves as a small power forward for the squad. He has been with Dallas since his career start and also won awards and recognitions for the team.
It is complicated to say whether Dorian's hardcore loyalty towards the team or the Mavericks does not want to lose a player like him.
Dorian also took part in collegiate basketball for Virginia Tech and Florida. Despite being a charismatic player, he went undrafted in the 2016 NBA draft.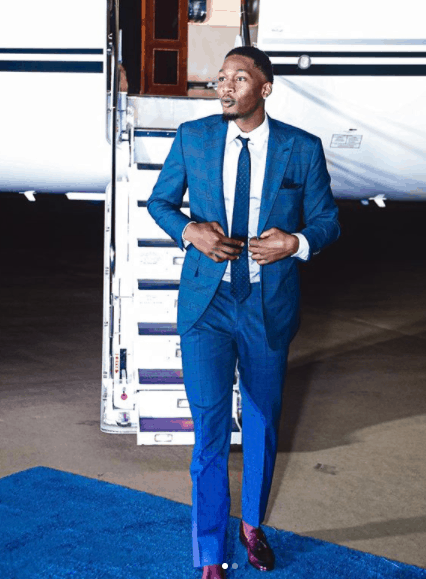 What went wrong that he was undrafted? How did he take off his career? And what were his career-high and career-low points? We shall disclose all about this and his personal life too.
But before that, let's take a sneak peek into the quick facts about this basketball player, Dorian Finney Smith.
Dorian Finney Smith | Quick Facts
| | |
| --- | --- |
| Full Name | Dorian Lawrence Finney-Smith |
| Birth Date | May 4, 1993 |
| Birth Place | Portsmouth, Virginia |
| Nick Name | Doe-Doe |
| Religion | Not Known |
| Nationality | American |
| Ethnicity | African |
| Education | Norcom, Virginia Tech, Florida |
| Horoscope | Taurus |
| Father'sName | Not Known |
| Mother'sName | Desiree Finney |
| Siblings | Late Ra-Shawn Finney, Da-Shawn Finney, Benjamin Finney, Sha-Kiyla Finney, Monna Zjea Finney-Smith |
| Age | 29 years old |
| Height | 2.01 m (6 feet 5 inches) |
| Weight | 99.8 kg (220 lb) |
| NBA draft | 2016 |
| Hair Color | Black |
| Eye Color | Black |
| Jersey No. | 10 |
| Build | Athlete |
| Girlfriend | Jazmyne |
| Kids | Sinai (daughter), Aysen (son) |
| Position | Small forward/ Power forward |
| Profession | NBA player |
| Net Worth | $12 million approximately |
| Salary | $4 million |
| Currently Plays for | Dallas Mavericks |
| League | NBA |
| Active Since | 2016- present |
| Social Media | Twitter, Instagram |
| Dallas Mavericks' Merch | Jersey |
| Last Update | November, 2022 |
Dorian Finney Smith | Early Life
Dorian was born on May 4, 1993, in Portsmouth, Virginia. His mother, Desiree Finney, raised him. Desiree was a single parent and, not much information is revealed about his father.
Dorian grew up along with his siblings, Late Ra-Shawn Finney, Da-Shawn Finney, Benjamin Finney, Sha-Kiyla Finney, Monna Zjea Finney-Smith.
Desiree used to clean others' houses and manage the financial criteria of the house. Ultimately, she was the breadwinner of the house. Moreover, with her fine guidelines, four of the children got athletic scholarships.
As a child, Dorian always remained eager to learn, and he knew how to be a fearless soul. He was always prepared for the hustles that are coming with life.
Dorian Finney Smith |High School Career
Dorian schooled at I. C. Norcom High School in Portsmouth, Virginia. He amassed 19.7 points, 13 rebounds, six assists, three steals per game as a junior year player in 2009. He then certainly went on to join Virginia Tech in 2010.
While playing for Norcom, Dorian became the utmost pillar of the team and won the Group AAA championships, Eastern Region, and District honors.
He grabbed many high school achievements; he was a two-time VHSL winner, Class AAA Player of the Year. He also amassed first-team all-state, all-region, All-Tidewater, and all-district honors.
Not to mention, Dorian was the co-player of the year as a senior year player.
Dorian Finney Smith | Siblings
Talking about his family, we hardly can know if there is anyone who is not a basketballer. Everyone is bound to be an athlete in the family.
Benjamin Finney Smith, who is 32 years old by 2020, served as a point guard in I.C. Norcom. He also played both basketball and football at Hargrave Military Academy.
He later went on playing for the Monarchs' basketball program. After his mother, Ben was the ultimate caretaker of the whole family.
Ra-Shawn and Da-Shawn are the twin brothers, but unfortunately, Ra-Shawn is no more. Ra-Shawn was a member of the Beta Club and Junior ROTC during his high school days.
He was nicknamed Peanut. According to news, he was just eighteen when he got shot at a gathering or late-night party in Chesapeake.
Da-Shawn was born just five minutes after his twin brother. He also played basketball at Norcom High School.
Sha-Kayla Finney, who is 29 years old by now, played at Wilson High and was titled Second Team All-District in basketball. She served as a guard and was went undrafted in 2013. Also. she has done a major in Criminal Justice.
Mona plays basketball at Wilson High. She earned a spot in the 2017 MEAC All-Tournament.
Dorian Finney Smith | College Career
Dorian teamed up with Virginia Tech n 2011-12. Ans within his first year, he grabbed the ACC All-Freshman Team, scoring 17 points over Boston College.
After his first year, he switched his college to Florida University. And subsequently, he was benched out for six months as per NCAA rules.
Dorian made a superb comeback to Florida's team, becoming the best rebounder during his Sophomore season. He was titled with Southeastern Conference's sixth man of the Year.
According to all the coaches, Dorian was upgraded with the All-Sec title for the second time in his junior year.
He led his team to win over Arkansas, Jacksonville. He kept the trend of becoming the top scorer and top rebounder for three consecutive seasons.
Not to mention, he also got enrolled in the 1,000-point club after his remarkable gameplays.
Dorian Finney Smith | Professional Career
Despite grabbing many honors and recognitions in his college and high school days, Dorian went undrafted in the 2016 NBA draft. It was certainly a bit of major bad luck to him.
Nevertheless, he started his professional journey with the Dallas Mavericks on July 8. Dorian was allowed an opening night roster position in the 2016 NBA Summer League.
He led his team in an 86-75 win against the Milwaukee Bucks with five points, three rebounds, three steals, and one block on November 6.
He led his team to countless wins over Indiana Pacers, Los Angeles Lakers, Denver Nuggets, Memphis Grizzlies, and Sacramento Kings.
Dorian faced tendinitis on his left knee in 2018 and eventually missed 51 games. However, he happened to sign a deal for three years with the Mavericks on July 11, 2019, again, which was $ 12 million.
And eventually, he seems to be in the long run with the Mavericks. All he is trying to do is isolating his energies to be a potential threat for other and imparting strength for the team.
Dorian Finney Smith | Personal Life
Okay! This is the most interesting section for any of the Dorian Fans out there. Everyone must be willing to know the fact of whether this young man is single or not.
To Dorian fans, he is not married, at least for now. He does have a daughter who must be ten years old by now from a previous affair. Her name is Sinai, and she is just so tall, lanky, and smiling like her father.
They share an amazing bond. He was just sixteen when Sinai was born. He was going through the unbearable trauma of losing his brother, Ra-Shawn, and Sinai dropped into his life.
Moreover, it is somehow rumored that Dorian has a girl in his life, namely, Jazmyne. But we are not too sure about this fact as we don't get to see any of the pictures on his social media handles.
Maybe, Dorian wants to keep his personal life private and does not want to share often. As his fans, we will always be showering him with good blessings and best wishes for his life.
We have also heard that Jazmyne gave birth to their son, Aysan during the Covid-19 pandemic.
More Interestingly, she gave birth to their son in a bathtub filled with water. She only had two midwives during the vulnerable state amongst which Dorian was the one.
Aysan popped out in the early morning, 4:40 am on March 17, 2021, snatching away all the sleep from his father. Dorian just held him tight and left his touch on him so that his son has his scent and all and left for a match in Portland.
His Daughter, a grade 3 student. besides all of these, Dorian has always remained close to his family members. Furthermore, he has carved a tattoo on his chest naming R-a-s-h-a-w-n in loving memory of his late brother.
Read about another great NBA player, Alize Johnson.
Dorian Finney Smith | Facts
He is earning 158.9 percent more than in 2018/19.
Dorian ranks 231st as the best-paid NBA player this year while ranking 391st as the best-paid NBA player last year.
He ranks 95th as the best-paid forward this year while ranking 159th as the best-paid forward last year.
Dorian ranks in the 9th position as the Maverick's best-played player this year while ranking in the 13th position last year.
Michael Tellem is his agent who is from the Creative Artist Agency.
Dorian Finney Smith | Net Worth
We really cannot deny the fact that Dorian is working hard for his family and himself. He is on the verge of reaching the pinnacle of success. Solitarily, he has received many of the honors and recognitions in his not-so-long career to date.
Dorian is living a well-off life. He doesn't have to struggle hard to find luxury in his life, content with everything he has.
Talking about his salary, Dorian just inked an extension contract with the same team, Mavericks, in 2019, which provides him the annual average salary of $4000000, carrying a cap hit of $4000000.
Besides that, as per online sources,
"Dorian Finney Smith has an accumulated net worth of around $12 million as of 2020."
Dorian Finney Smith | Social Media Presence
Moving onto his social media presence, Dorian likes to remain subtle in this section. He is a low-key guy and does not seem media-friendly. That directly indicates that we can find him on Twitter and Instagram, but he is not very active.
Dorian likes to post stories and updates at his own pace of time. He has 44 posts on his Instagram account and does not tweet on his Twitter handle.
His followers on the Instagram account have not reached millions yet, but following him can get us a better idea.
So, let's give him a follow on his social media profiles. The links to his online accounts are mentioned below. Scroll down and click in.
Instagram- @doedoe_10 with 3.5k followers.
Twitter- @doefinney_10 with 9734 followers.
Kindly have a look at this post, where the lady does not stop describing the NBA player.
Also, you might be interested in reading "Devon Hall Bio: Early Life, Career, Net Worth & Unknown Facts," especially when Devon Hall himself is one of the followers on his Twitter and Instagram Account.
Frequently Asked Question
How good is Dorian Smith?
He is extremely hard-working, works on his drawbacks, is a cooperative teammate, and loves basketball.