Dorian Finney-Smith is an American professional basketball player in the NBA for the Dallas Mavericks. He plays a significant role in the team as a small forward or power forward and has been with Dallas since his career started and has won awards and recognitions for the team.
Smith scored his career-high 28 points on March 30, 2022, in a win over the Cleveland Cavaliers.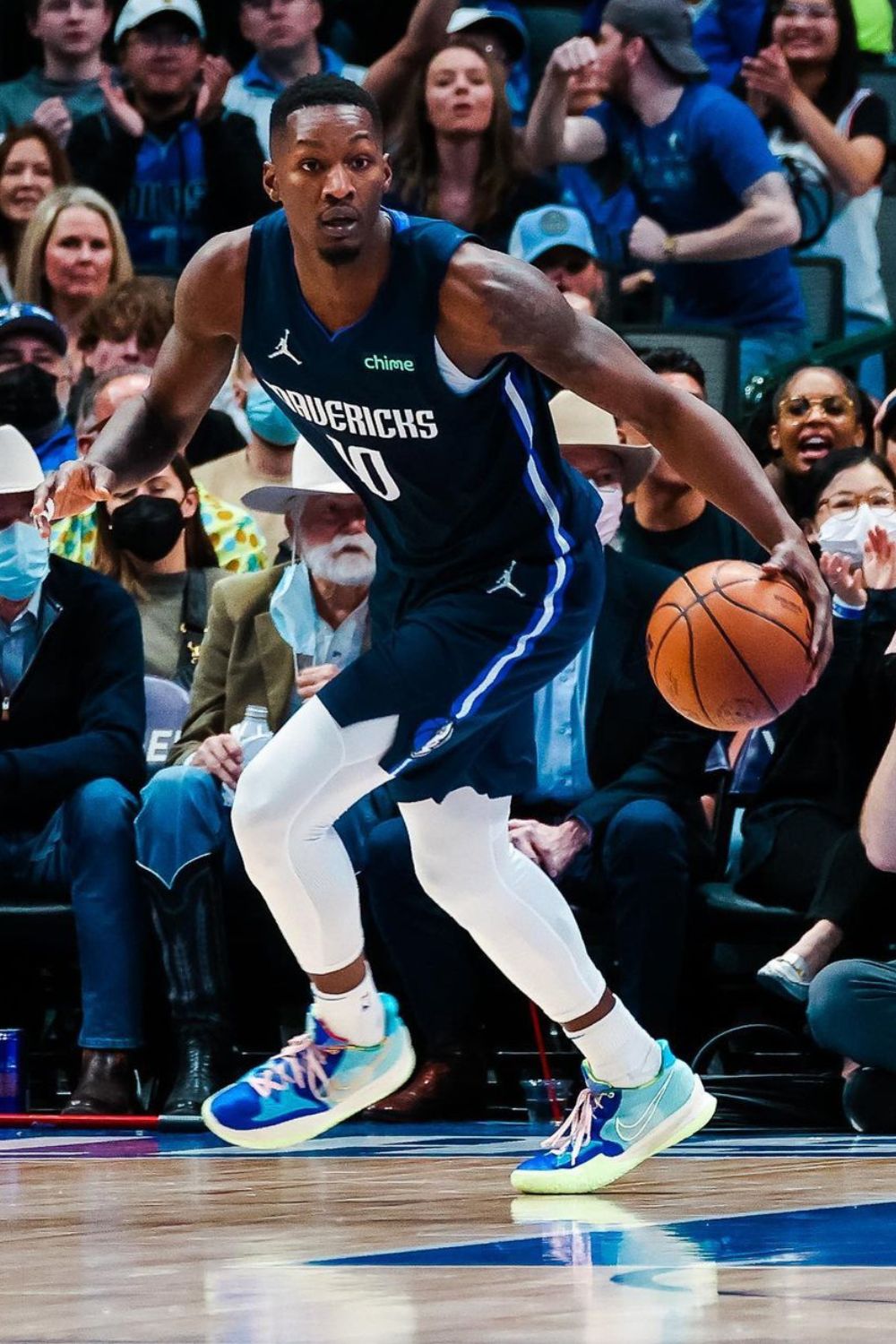 Who does not love watching sports, especially when it comes to basketball? And the NBA is one of those leagues which produces amazingly talented players.
We are talking about Dorian, who also took part in collegiate basketball for Virginia Tech and Florida. Despite being an outstanding player, he went undrafted in the 2016 NBA draft.
It is complicated to say whether Dorian's hardcore loyalty towards the team or the Mavericks does not want to lose a player like him.
What went wrong that he was undrafted? How did he take off his career? And what were his career-high and career-low points? We shall disclose all about this and his personal life too.
Nevertheless, Finney is into making a legendary NBA player; after returning from an injury, he started the game against the Hawks on 18 January 2023.
But before that, let's take a sneak peek into the quick facts about this basketball player, Dorian Finney-Smith.
Quick Facts
| | |
| --- | --- |
| Full Name | Dorian Lawrence Finney-Smith |
| Birth Date | May 4, 1993 |
| Birth Place | Portsmouth, Virginia |
| Nick Name | Doe-Doe |
| Religion | Not Known |
| Nationality | American |
| Ethnicity | African |
| Education | Norcom, Virginia Tech, Florida |
| Horoscope | Taurus |
| Father's Name | Not Known |
| Mother's Name | Desiree Finney |
| Siblings | Late Ra-Shawn Finney, Da-Shawn Finney, Benjamin Finney, Sha-Kiyla Finney, Monna Zjea Finney-Smith |
| Age | 30 Years Old |
| Height | 2.01 m / 6 ft 5 in / 201 cm |
| Weight | 99 kg / 220 lb |
| NBA draft | 2016 |
| Hair Color | Black |
| Eye Color | Black |
| Jersey No. | 10 |
| Build | Athlete |
| Wife | Jazmyne Branch |
| Kids | Sinai (Daughter), Aysen (Son) |
| Position | Small forward / Power forward |
| Profession | NBA Player |
| Net Worth | $12 Million Approximately |
| Salary | $4 Million |
| Currently Plays for | Dallas Mavericks |
| League | NBA |
| Active Since | 2016-Present |
| Social Media | Twitter, Instagram |
| Merch | Card |
| Last Update | June, 2023 |
Early Life
Dorian was born on May 4, 1993, in Portsmouth, Virginia, to his mother, Desiree Finney, who raised him.
Desiree was a single parent, and little information about his father was revealed.
Dorian grew up with his siblings, Late Ra-Shawn Finney, Da-Shawn Finney, Benjamin Finney, Sha-Kiyla Finney, and Monna Zjea Finney Smith.
Desiree used to clean others' houses and manage the house's finances. Ultimately, she was the breadwinner of the house. Moreover, four of the children got athletic scholarships with her fine guidelines.
As a child, Dorian always remained eager to learn and knew how to be fearless. He was always prepared for the hustles that came with life.
High School Career
Dorian schooled at I.C. Norcom High School in Portsmouth. He amassed 19.7 points, 13 rebounds, six assists, and three steals per game as a junior-year player in 2009. He then certainly went on to join Virginia Tech in 2010.
While playing for Norcom, Dorian became the utmost pillar of the team and won the Group AAA championships, Eastern Region, and District titles.
The Mavericks's forward bagged many high school achievements; he was a two-time VHSL winner and Class AAA Player of the Year. He also amassed first-team all-state, all-region, All-Tidewater, and all-district honors.
Not to mention, Dorian was the co-player of the year as a senior-year player.
Siblings
Talking about his family, we hardly can know if there is anyone who is not a basketballer. Everyone is bound to be an athlete in the family.
Benjamin Finney Smith, 32 years old in 2020, served as a point guard in I.C. Norcom. He also played both basketball and football at Hargrave Military Academy.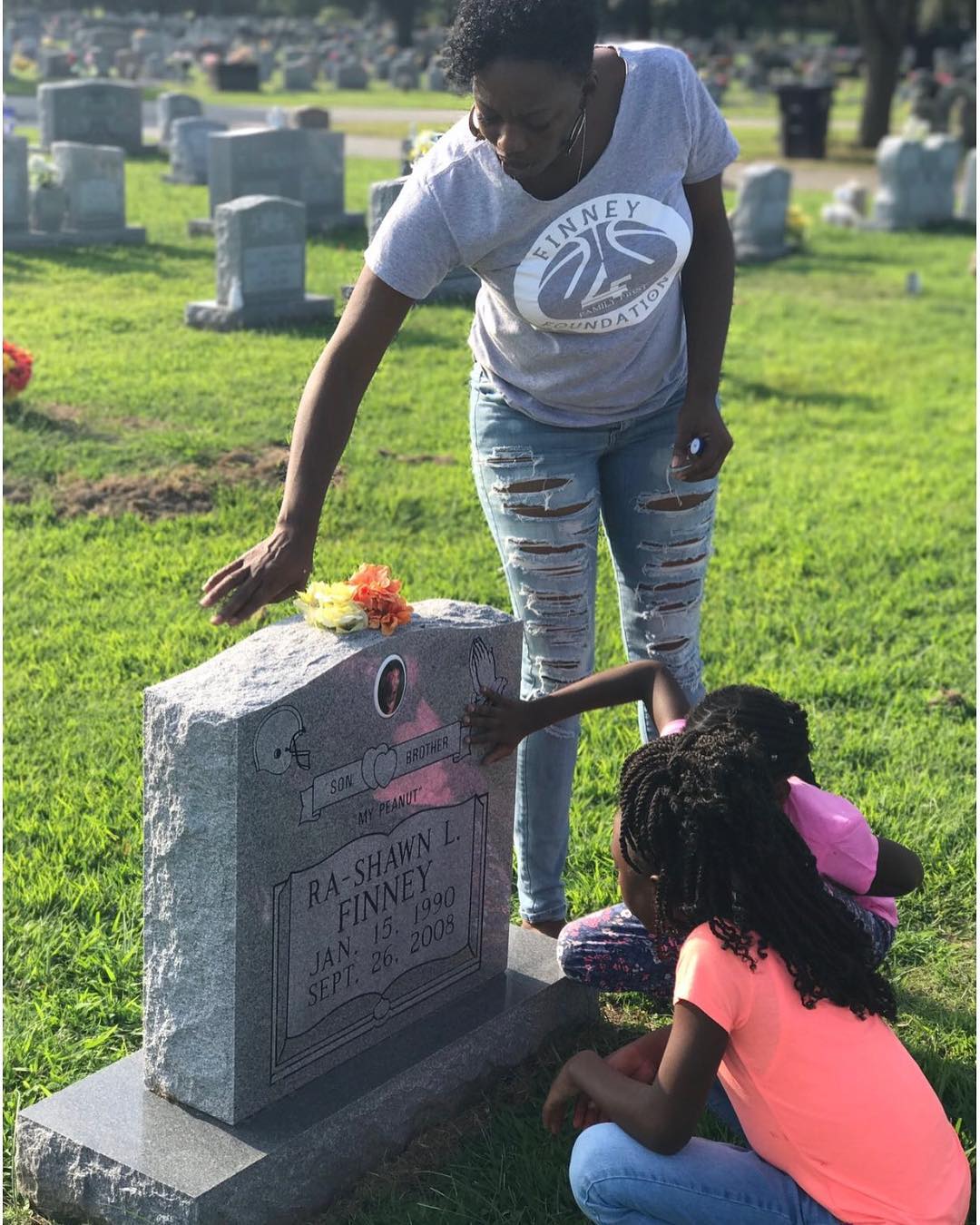 He later went on to play for the Monarchs' basketball program. After his mother, Ben was the ultimate caretaker of the whole family.
Ra-Shawn and Da-Shawn are the twin brothers, but unfortunately, Ra-Shawn is no more. Ra-Shawn was a Beta Club and Junior ROTC member during high school.
He was nicknamed Peanut. According to the news, he was eighteen when he got shot at a gathering or late-night party in Chesapeake.
Da-Shawn was born just five minutes after his twin brother. He also played basketball at Norcom High School.
Sha-Kiyla Finney, 29 years old, played at Wilson High and was titled Second Team All-District in basketball. She served as a guard and went undrafted in 2013. Also, she has a major in Criminal Justice.
Mona plays basketball at Wilson High. She earned a spot in the 2017 MEAC All-Tournament.
College Career
Dorian teamed up with Virginia Tech in 2011-12. He was named the ACC All-Freshman Team during his first year, scoring 17 points win over Boston College.
After his first year, he switched his college to Florida University. And subsequently, he was benched for six months as per NCAA rules.
Dorian made a superb comeback to Florida's team, becoming the best rebounder during his sophomore season. He was titled with Southeastern Conference's Sixth Man of the Year.
According to all the coaches, Dorian was upgraded to the All-Sec title for the second time in his junior year.
He led his team to win over Arkansas and Jacksonville. He kept the trend of becoming the top scorer and top rebounder for three consecutive seasons.
Not to mention, he also got enrolled in the 1,000-point club after his remarkable gameplays.
Professional Career
Despite earning many honors and recognitions in college and high school, Dorian went undrafted in the 2016 NBA draft.
Nevertheless, he started his professional journey with the Dallas Mavericks on July 8. Dorian secured an opening-night roster position in the 2016 NBA Summer League.
He led his team in an 86-75 win against the Milwaukee Bucks with five points, three rebounds, three steals, and one block on November 6.
He led his team by winning over Indiana Pacers, Los Angeles Lakers, Denver Nuggets, Memphis Grizzlies, and Sacramento Kings.
Dorian had tendinitis on his left knee in 2018 and eventually missed 51 games. However, he again signed a three-year deal with the Mavericks on July 11, 2019, which was $12 million.
He seems to be in the long run with the Mavericks. Dorian had a career-high 16 rebounds in a 114-110 victory over the Sacramento Kings on August 4, 2020.
The Maverick's power forward then had a career-high 27 points and 6 three-pointers in a 136-132 win over the Milwaukee Bucks.
On February 12, 2022, Finney-Smith signed a four-year, $52 million veteran extension with the Mavericks.
He returned to play a game against the Hawks on January 2023, as he was on leave because of his hip injury in mid-December. He fulfilled the duties upon his return as a starter. But, sadly, Mavericks lost to the Hawks.
Personal Life
One of the sources has written Jazmyne Branch as Dorian's wife. However, it is not confirmed as he has not officially introduced her as his wife.
Dorian keeps his personal life private and does not share much except his professional life.
He has a daughter from a previous affair named Sinai, who is lanky and cheerful like her father and shares an amazing bond.
He was just sixteen when Sinai was born; he was blessed with Sinai when he was enduring the unbearable trauma of losing his brother, Ra-Shawn.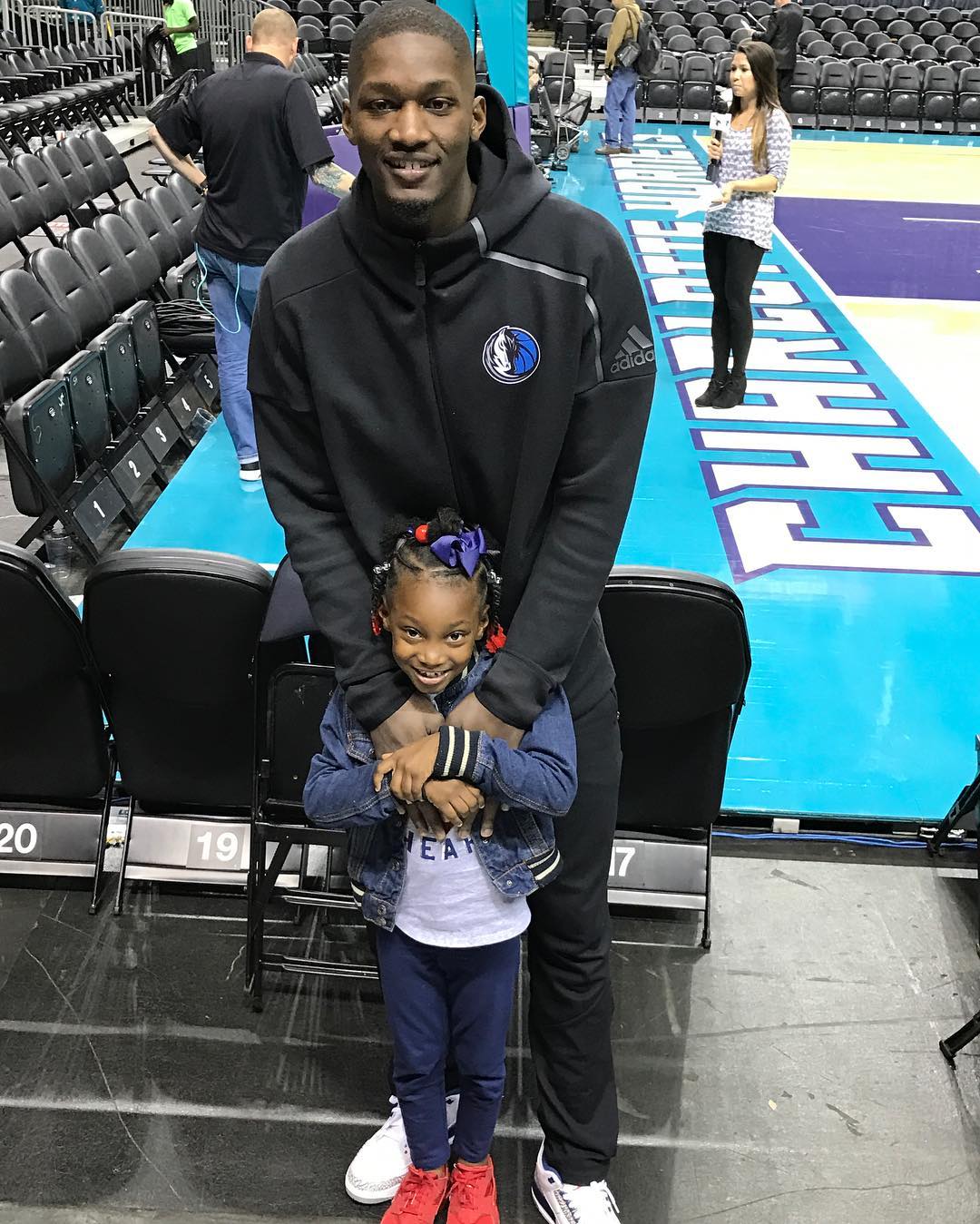 It was reported that Jazmyne gave birth to their son, Aysan, during the Covid-19 pandemic.
More Interestingly, she gave birth to their son in a water-filled bathtub. She only had two midwives during the vulnerable state, amongst which Dorian was one.
Aysen was born in the early morning, at 4:40 am on March 17, 2021; after that, Dorian left for the match at Portland.
His daughter is a grade 3 student. Besides these, Dorian has always remained close to his family members.
He has carved a tattoo on his chest naming R-a-s-h-a-w-n in loving memory of his late brother.
Trivia
He is earning 158.9 percent more than in 2018/19.
Dorian ranks 231st as the best-paid NBA player this year and 391st as the best-paid NBA player last year.
He ranks 95th as the best-paid forward this year and 159th as the best-paid forward last year.
Dorian ranks 9th position as the Maverick's best-played player this year while ranking in 13th position last year.
Michael Tellem is his agent who is from the Creative Artist Agency.
Net Worth
We cannot deny that Dorian is working hard for his family and himself. He is on the verge of reaching the pinnacle of success.
Solitarily, he has received many honors and recognitions in his not-so-long career.
Dorian is living a well-off life and doesn't struggle to live a comfortable life.
Regarding his salary, Dorian inked an extension contract with the same team, Mavericks, in 2019, which provided him an annual average salary of $4,000,000, carrying a cap hit of $4,000,000.
In 2022-23, he is expected to carry a cap hit of $12,402,000 and a dead cap of $12,402,000.
Besides that, as per online sources, Dorian Finney-Smith has an accumulated net worth of around $12 million as of 2023.
Social Media Presence
Moving onto his social media presence, Dorian likes to remain subtle in this section. That indicates that we can find him on Twitter and Instagram, but he is not very active.
Dorian likes to post stories and updates at his own pace of time.
View this post on Instagram
Instagram- @doedoe_10 with 98.4k followers.
Twitter- @doefinney_10 with 21.4k followers.
Popularity Graph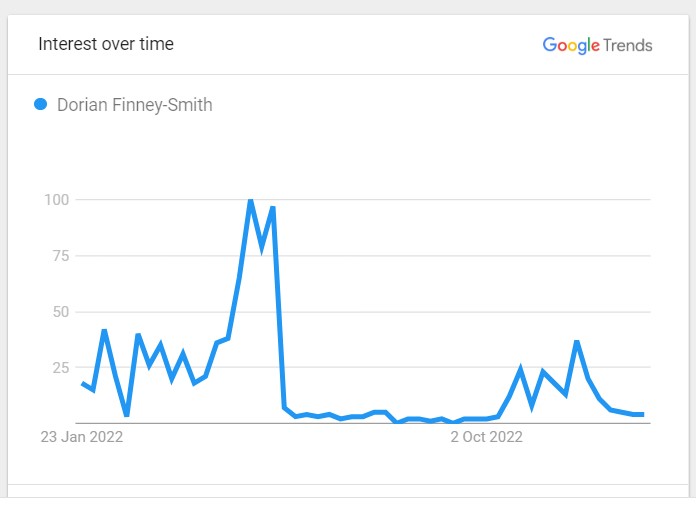 The above graph shows Finny-Smith's popularity over the past twelve months.
Frequently Asked Questions (FAQS)
How good is Dorian Finney-Smith?
He is extremely hard-working, works on his drawbacks, and is a cooperative teammate. His salary has continued to rise each season, and there is a high probability that we will see him become one of the highest-paid athletes in the world.
For how many teams of MLB has Dorian Finney-Smith played?
Dorian debuted in the MLB in 2016; since then, he has played for Dallas Mavericks.
What are Dorian Finney-Smith's total career earnings?
With six years of experience, Dorian's estimated career earnings are $27,553,033. His highest salary was $12,402,000 in 2022-23.