One of the most expensive players in the 2019 transfer market, Eden Hazard, was signed at a whopping amount of $112 million for 5 years. He is reported to leave Real Madrid in the 2023 January transfer window since he is not getting to play for the team.
Eden Michael Walter Hazard is a Belgian professional soccer player, preferably playing as a winger or attacking midfielder for the La Liga club Real Madrid.
If there's a word that perfectly describes Eden Hazard, that is magician. He is a pure baller whose pace and dribbling are of the next level.
Hazard comes from a footballing family. Every member of his family is a footballer, from his parents to his siblings.
Eden's footballing journey began from the youth ranks of Lille before making their first team. Later joined a premier league club, Chelsea FC, before making it into the squad of his dream club, Real Madrid.
To explore more about Eden Hazard, stay till the end.
Eden Hazard | Quick Facts
| | |
| --- | --- |
| Name | Eden Michael Hazard |
| Date of Birth | 7 January 1991 |
| Birth Place | La Louviere, Belgium |
| Nick Name | Eddie, The Forbidden Fruit |
| Age | 32 years old |
| Gender | Male |
| Religion | Muslim |
| Nationality | Belgian |
| Ethnicity | Unknown |
| Horoscope | Capricorn |
| Profession | Footballer |
| Height | 5'8″/1.73 m/173 cm |
| Weight | 74 kg/163.14 lbs |
| Body Mass Index (BMI) | 24.1 |
| Build | Athletic |
| Hair Color | Black |
| Eye Color | Black |
| Tattoo | Yes |
| Father Name | Thierry Hazard |
| Mother Name | Carine Hazard |
| Siblings | Ethan, Kylian, Thorgan |
| Relationship | Married (Natacha Van Honecker) |
| Children | Yannis, Leo, Samy |
| Preferred Foot | Right |
| Playing Position | Left Winger, Attacking Midfielder |
| Agent | John Bico (former) |
| Professional Debut | 16 November 2007 |
| Team | Real Madrid |
| Previous Team | Lille, Chelsea |
| Salary | $496,000 per week |
| Net Worth | $100 million |
| Transfer Market Value | $7.5 million |
| Shoe | Nike |
| Social media | Instagram, Twitter, Facebook |
| Jersey Number | 7, 10 |
| Merch | Poster, Trading Card, Jersey, Autograph |
| Last Updated | May, 2023 |
Eden Hazard | Body Measurement & Appearance
As of 2021, Eden Hazard stands 5 feet 9 inches (1.75m) and weighs around 74kg (163.14lbs). Likewise, his BMI is 24.1.
Overweight
After moving to Real Madrid, most people talked about his body rather than his transfer. However, Hazard said he gained 7 kilos during pre-season.
During his time at Chelsea, he was once mocked by his Willian for having a fat belly. But due to a series of injuries, he found it challenging to stay fit.
However, during Covid 19 lockdown, he changed his body tremendously. For a few months, Hazard worked out tirelessly like an animal. Videos of his intense routine amazed everyone.
After his return to training, the former Real Madrid defender mentioned Hazard was "like an airplane." Even head coach Zidane was surprised by his body transformation.
Tattoos & Hairstyle
Eden Hazard's first tattoo was the date of birth of his four brothers and his parents on the left-hand wrist. He also has a tattoo on his ribs in the Japanese language for his son Yannis.
Likewise, in 2017 he added another tattoo on his right arm. He drew a rose to show love for his wife. A Chelsea fan tattooed it. He also has a tattoo in the Mandarin language on the left side of his body.
Hazard trims his hair with celebrity barber Ahmed Alsanawi. His go-to hairstyle is a short blunt fringe crop on the front and half fade to his sides.
Eden Hazard | Early Life & Family
The professional winger Eden Hazard was born on 7 January 1991 in La Louviere, Belgium. But he grew up in Barin le Comte, where their house was 300m away from the local football field.
Both of his parents were footballers. Even after retiring, his parents became sports teachers.
His father, Thiery, was a semi-professional footballer who played in Belgian Second Division. Likewise, his mother, Carine, was a striker playing in the Belgian Women's First Division.
But Carine stopped playing football after she got pregnant. Similarly, Thiery took retirement in 2009.
Siblings
Eden Hazard is the oldest among 3 brothers, Thorgan, Kylian, and Ethan. All of his brothers are also footballers.
During their childhood, Eden, Thorgan, and Kylian always wore similar jerseys. Later they also joined the same club.
However, Thorgan is now playing for Borussia Dortmund. He has also been capped 31 times, scoring 4 goals for Belgium National Team.
Kylian currently plays for Cercle Brugge in his home nation Belgium. Hazard's younger brother Ethan plays for the Royal Stade Brainois U-19 team.
Since his childhood, Hazard has idolized Zidane. Likewise, all of his younger brothers were also Zidane fans.
From a young age, Hazard only dreamt of being a professional football player and especially playing for Real Madrid.
Youth Career
Hazard started his football journey early. Although their entry age was 6, he was enrolled at 4 in Royal Stade Brainois. His youth coach mentions that Hazard knew everything, and he didn't have to teach him anything.
Later, Hazard left the club for Tubize after 8 years at Brainois. During a local tournament playing for Tubize, Lille scout spotted him.
Then French club officials met Hazard's parents to sign him. Luckily, his parents agreed as the club was close to home too.
You Can Also Read About Brazilian Defender With 5 Champions Leagues: Marcelo Vieira Bio: Early Life, Wife, Salary, Stats & Transfer >>
Eden Hazard | Profesional Club Career
Lille
During the beginning of the 2008-09 season, Hazard was promoted to Lille's first team. On 20 September 2008, Hazard became the club's youngest scorer helping the team to a 3-2 victory over Auxerre.
In his debut season, Hazard played 30 matches, recording 4 goals and 2 assists. Later, he won UNEP, the young player of the year. Moreover, he swooped the award next season too.
On 2 April 2010, Hazard made 100 appearances for the club in a 3-1 victory over Caen. He marked the occasion by scoring the second goal of the match.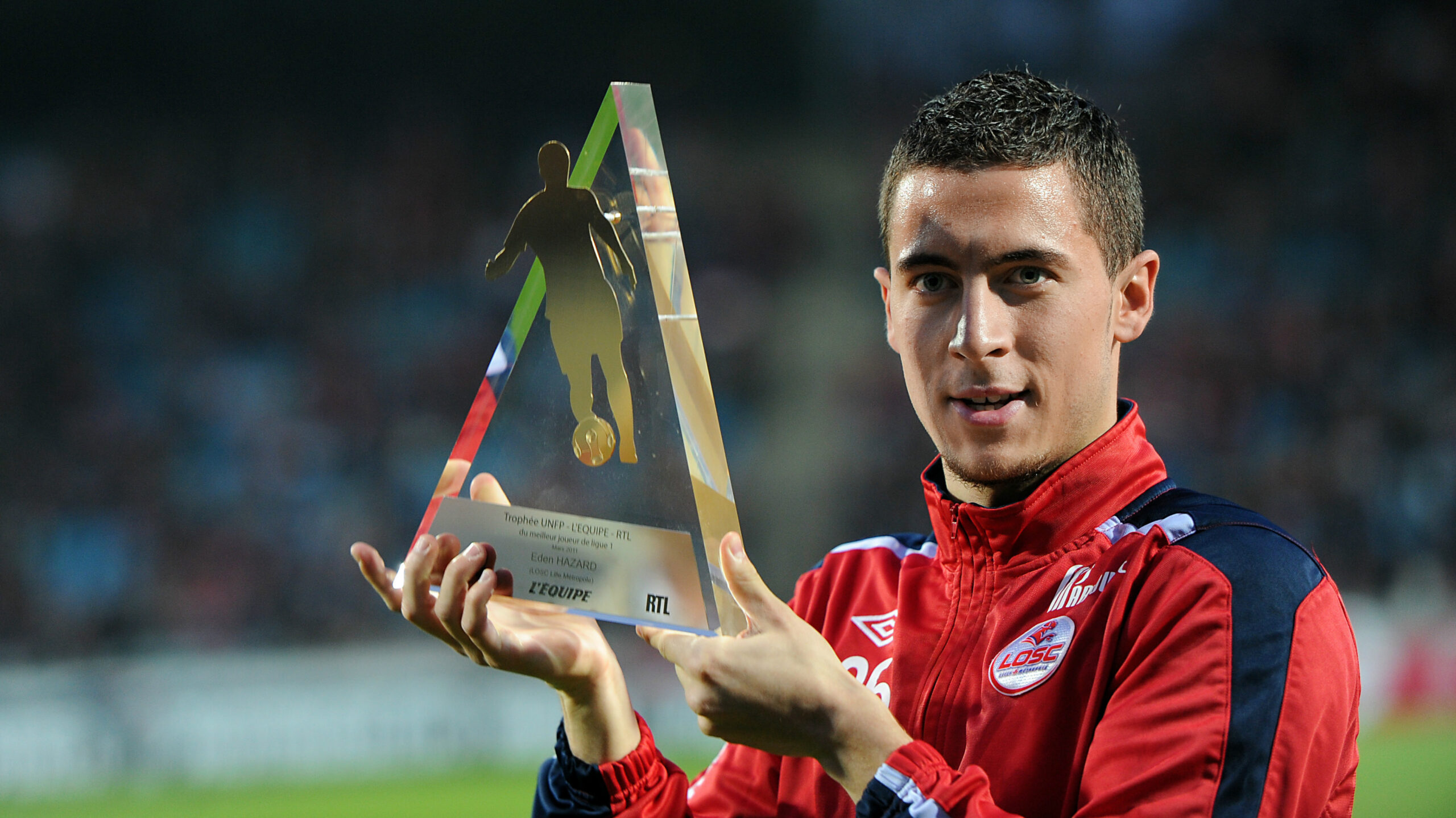 Over 38 games, Eden Hazard scored 7 goals and provided 11 assists to help Lille clinch Ligue 1 title. That season Lille completed the domestic double.
In the 2010/11 season, Hazard became the youngest player to win league 1 player of the year.
Next season, Hazard was again nominated for the Player of the Year award. Later, he became the second player to win the player of the year for a consecutive year.
Hazard scored his first career club trick in a 4-1 win over Nancy in his final match for Lille.
Chelsea Calling
On 4 June 2012, Eden Hazard joined Chelsea for a fee of $36.35 million. Hazard made his Chelsea debut in the 2012 FA Community Shield match against Manchester City. However, the match ended with a 3-2 defeat.
Later, on 25 August 2012, Hazard scored his first Chelsea goal in a 2-0 win over Newcastle. Belgian converted for his first goal in blue color.
On 17 May 2013, Hazard assisted Lampard for his 203rd goal making him a club-leading goal scorer.
Hazard finished his first season with the Blues scoring 13 goals. Hazard also won the Europa League title despite not playing in the final due to injury.
Next season after Hazard's performance in a 1-0 win over defending champions, Manchester City, Mourihno praised Hazard as the world's best young football player.
On 8 February 2014, Hazard netted his first Chelsea hat-trick in a 3-0 win over Newcastle. Later that season, he also won PFA, young player of the year.
Best In England
After Mata left Chelsea, Hazard became the club's new number 10. In the 2014-15 season, Hazard was ideally linked with newcomer Costa and Fabregas.
"On his day, nobody can stop him. He has such great quality on the ball. He can create something from nothing and this is the sign of a special player".
—Thierry Henry on the 24-year-old Eden Hazard in March 2015
On 3 May 2015, Eden Hazard scored the match's only goal to help Chelsea seal the title before 3 games. Hazard played all Premier League games in 2014-15 seasons, finishing with 14 goals and 10 assists.
Hazard also won PFA Player of the Year, Chelsea Player of the Year, and the Premier League title, among a few.
However, the next season he struggled to maintain his form. Until 23 April 2016, he was scoreless in the premier league before scoring 2 goals in a 4-1 victory over Bournemouth.
Then on 2 May 2016, against Tottenham, famously known as the Battle of the bridge, Hazard came as a substitute to complete the Blues come back from 2-0 down, scoring the equalizer.
He scored a decisive goal to help Leicester win the title.
On 26 December 2016, Hazard scored his 50th league goal for the Blues in a 3-0 win over Bournemouth.
Hazard finished the 2016-17 seasons with 16 goals and 4 assists and won his second premier league medal.
Get To Know More About Chelsea FC And England National Team Defender Frank Lampard>>
Fitting Farewell
Eden Hazard had the most productive league season, in terms of goals and assists, in his final season for Chelsea. He matched his previous best of 16 goals and career-high 15 assists. He was also named Playmaker of the Year for the highest assists.
Hazard's final game is one to remember. In the 2019 Europa League final against Arsenal, he scored 2 goals and assisted Pedro.
His man-of-the-match display helped Chelsea to a 4-1 victory and the Europa League title.
Dream Club
Since a young age, Hazard has always wanted to play for Los Blancos. Moreover, what's better than playing under his childhood idol, Zidane? So Hazard was destined for Real Madrid.
On 7 June 2019, Real Madrid signed Hazard for a record-breaking amount of $119.4 million (including add-ons), making him Los Blancos' most expensive player.
On 13 June, he was officially presented in front of 50,000 supporters at Santiago Bernabeu.
In the interview, Hazard said, "It's a true honor" to play for Madrid.
Painful Debut Season
Although Eden Hazard won La Liga in his debut season, his first year was marked by severe injuries.
Firstly, the Belgian suffered an ankle injury in a UCL match against PSG. Although, he was expected to return in 10 days, he missed 16 games in all competitions.
Later, in his second match AFTER returning, Hazard suffered another ankle injury in a 1-0 loss to Levante.
However, due to Covid 19, lockdown season was elongated. Later, Hazard returned to his full fitness after the lockdown. After the restart, he assisted Ramos in a 3-1 win over Eibar in the first game.
Overall, Hazard played in 72 matches in all competitions scoring 7 times and making 11 assists.
Hazard's last goal for the Madrid side was back on January 20, 2022, against Elche CF in COPA DEL REY.
Eden Hazard | Senior National Team Career
At the age of 17 only, Hazard received his first Belgium call-up. Later, on 19 November 2008, Hazard made his senior team debut.
However, it became difficult for him to adapt to the national team due to frequent changes in coaches.
Finally, on 7 October 2011, Hazard scored his first goal for Belgium in a 4-1 win over Kazakhstan.
During the 2014 World Cup qualifiers, Hazard played in 9 matches scoring 2 goals. In the World Cup, he provided 2 assists, one to Mertens and another to Origi.
On 7 June 2015, Hazard was named as Belgium's captain for the first time against France. He scored a penalty in a 4-3 win.
Later, in the UEFA Euro 2016, Hazard was appointed captain due to Kompany's absence. His great solo goal in the last 16 against Hungary was his only goal in the Euros.
However, with 4 assists, Hazard finished top of the assist charts alongside Ramsey.
2018 FIFA World Cup
Eden Hazard captained Belgium to a third-place finish in the 2018 FIFA World Cup. It was the nation's best-ever finish in World Cup.
He assisted Lukaku for the third goal in a 3-0 victory over Panama in the first match. Later in the next match against Tunisia scored a brace.
Hazard set the World Cup record for the most successful dribbles in a single game. In the quarterfinals against Brazil, Hazard completed 10 dribbles with a 100% success rate.
His man-of-the-match performance in the third-place match helped Belgium secure a 2-0 victory over England. He scored the second goal of the match.
Later, Hazard was honored with Silver Ball. Overall he recorded 3 goals and 2 assists in 6 matches. He also received 3 man of the match awards, more than any player in the tournament.
After World Cup
On 25 March 2019, Hazard made his 100 appearances for Belgium against Cyprus in the Euro qualifiers. He marked the occasion by scoring the opening goal helping the team secure a 2-0 victory.
He played 8 games in the European Qualifiers scoring 5 goals and 7 assists while missing out on two games due to Hamstring Injury.
After the European Qualifiers, he continuously suffered some kind of Injury and did not play many games until the Euro 2020.
He played 4 games out of 5 due to A hamstring injury and made only 1 assist.
After the Euros, he played a couple of World Cup qualifiers and Nations League games. However, his performances were not praiseworthy.
For his National team, he has made 122 appearances scoring 33 goals so far.
Will He Be Playing In the Qatar World Cup 2022?
Everyone might be curious whether Hazard will be included in the Belgium National Team for World Cup 2022, given his lack of appearances for his club due to injuries.
However, Hazard is included in the 26-man squad of the Belgium team and has already reported for national duty, and he is looking more focused and determined than ever.
Also Read About The German Soccer Player: Lukas Klostermann Bio: Early Life, Career, Injury & Salary >>
Eden Hazard | Playing Style
Eden Hazard is mostly deployed as a left-winger, but he can also play as an attacking midfielder. Hazard is a world-class player who has mesmerizing pace and dribbling skills.
His playing style is often compared to Messi and Ronaldo by pundits.
Hazard is a different type of dribbler. He uses his acceleration, speed, AND agility to take on the best defenders.
He is an unpredictable player making him hard to defend.
Hazard is also a top-notch finisher who creates opportunities for scoring opportunities for himself and his teammates.
Hazard is a real competitor of the game. Even after being fouled, he doesn't complain or cheat during games.
Eden Hazard | Personal Life
Family
In 2012 Eden Hazard married Natacha Van Honecker. Honecker is a huge football fan and also loves traveling. She prefers to stay far from fame and spotlights.
Their love story goes way back to when Hazard was 14 years old. But, they got separated for a short period when Hazard joined Lille.
Because of school, Honacker could not join Hazard. Moreover, she was also too young to live with him.
Later, soon after her graduation, she reunited with Hazard in France. But, unfortunately, Hazard had already signed a professional contract by that time.
Altogether, the couple has 3 boys. The oldest boy, Yannis, was born in 2010, followed by Leo in 2013. And the youngest one, Samy, was born in 2015.
Charities
Like many other fellow footballers, Eden Hazard also uses his platform to contribute to different charities. For example, Hazard frequently donates game-worn signed jerseys, boots, and other items to auction for charity.
He always played for fans and the team rather than his glory. So, knowing the importance of fans, he also sends supporters with signed jerseys. He also participates in many programs to interact with fans.
Once, Hazard gifted 79 years old lifelong Belgium fan a signed shirt with a video message. That brought tears to her eyes.
In 2015, Hazard and his Chelsea teammates donated more than $300,000 to the Empire of Children in Senegal after they won the premier league.
Likewise, in 2016 Hazard endorsed Okocha Charity Foundation initiated by former teammate Jay-Jay Okocha.
In 2018, Hazard raised $51,800 from The Hazard Poker Series in collaboration with Bwin. Later, money was donated to the One Drop Foundation.
During Covid 19 outbreak in Spain, Hazard helped Spanish charities to help affected families.
Lifestyle
Cars
Hazard's performance in the game is not the only thing that's impressive about him. He also has jaw-dropping car collections in his garage.
Mosty, Hazard drives two stunning Audi models. The first one is R8 V10 costing $130.7k, the next is $71.500 RS4 Adant.
His Mercedes cars include Mercedes-Benz AMG GTR and Mercedes C-class. Likewise, he also drives BMW X6, and Range Rover Sports.
Freshly, Hazard added a $594,000 Lamborghini Aventador SVJ to his impressive car collection. His previous expensive car was a $236k Aston Martin Vanquish.
House
After moving to Real Madrid, Hazard purchased a $11.8 m mansion from Spanish singer Alejandro Sanz and famous architect, Joaquin Torres designed it.
Special features of the property are indoor and outdoor swimming pools, a gym, a spa, a tennis court, cinema. Furthermore, the house has six bedrooms and 10 toilets.
Hobbies
Eden Hazard is a huge basketball fan too. He loves watching NBA games and supports New York Knicks.
Likewise, his favorite NBA player is Carmelo Anthony, who previously played for the Knicks.
Hazard also loves dancing. Although he may not take dancing seriously, his videos have aired several times online. He is also a good ping-pong player.
Scandal
On 23 January, Hazard was sent off for kicking the ball boy. In the League cup semis against Swansea, he kicked the ball boy lying on the ground holding the ball to waste time.
Hazard apologized later to the ballboy via Chelsea TV. Later, he was handed 3 matches suspension by FA for his action.
Eden Hazard | Salary and Net Worth
During his spell at Chelsea, Eden Hazard earned $237k per week, but Real Madrid offered him double wages. In 2019 Hazard signed a deal with Real Madrid worth $475k per week until 2024.
Hazard has an estimated net worth of around $100 million.
Hazard is the highest earner of the Real Madrid squad. Moreover, he earns around $24 million in wages every year.
The market value of Eden Hazard is $7.77m, which is a drastic drop as a few years back, his market value was around $155.45m.
As the biggest world football star, Eden Hazard is also a marketable footballer. He signed a sponsorship with Nike in 2012. Since then, he has not changed to any brand.
Although rumors were spreading of Hazard leaving Nike, it's yet to be officially announced.
In 2019 Hazard, in collaboration with Nike, also released his customized mercurial vapors as a tribute to his former club, Chelsea. Nike ranks at the top of Hazard's endorsement earnings.
Furthermore, Hazard has also been featured in EA Sports FIFA game covers for multiple years. Firstly, he appeared in FIFA 15 alongside Lionel Messi.
Later, he was announced as an official ambassador with four other fellow footballers.
In 2019, Hazard was revealed as the new face of EA Sports FIFA. Then, he was featured on the cover of FIFA 20.
Likewise, he also has sponsorship deals with China Sina Sports. They write stories about Hazard's personal and football journey. Similarly, Hazard is also the face of Topps's new card line.
Lotus Bakeries sponsors Hazard for social media promotion of their Biscoff brand's biscuits. Lastly, Hazard is the global ambassador of the motor company Nissan.
Eden Hazard | Social Media Presence
Eden Hazard might have been unable to play as many games due to his injuries and entertain his fans. He still tries to remain close to his fan through different social media platforms.
He is available on Instagram under the handle @hazardeden_10, on Twitter @hazardeden10, and on Facebook @Eden Hazard.
Instagram: 27.1m Followers
Facebook: 22m Followers
Twitter: 7.3m Followers
Great finish @Benzema ⚽️Nice to see some old friends! 😉 pic.twitter.com/iiFNRtxOXv

— Eden Hazard (@hazardeden10) April 27, 2021
Eden Hazard | Popularity
Eden is among the top popular soccer player. He has a charismatic personality and likable characteristics. He has a fair share of fans all around the globe.
The above graph is the popularity graph of Eden Hazard over 1 year.
Eden Hazard | FAQs
What happened to Eden Hazard?
Since joining Madrid, Hazard has suffered from multiple serious injuries and could not perform to his full potential.
Due to his injuries and the top competition among the players in Real Madrid's squad to get into the playing-11 list, he is finding it hard to get any chances. There is a rumor spreading that he is planning to leave the club in the next transfer window.
What is Eden Hazard's net worth?
Eden Hazard's net worth is $100 million. Moreover, he earns $24 million from his wages, excluding bonuses and sponsorship deals.
Which position does Eden Hazard play?
Eden Hazard mainly plays as a winger but can also be deployed as an attacking midfielder.
Furthermore, he is well known for his pace, dribbling, balance, acceleration, and creativity.
What is the Belgium Jersey Number of Hazard?
Hazard wears jersey number 10 for the Belgium National Football Team.
Has Eden Won the Golden Boots?
No, he has not won the golden boots.
Did Jose Mourinho Coach Eden Hazard?
Yes, Jose coached Hazard in Chelsea for nearly 125 games.
What is the Kicks Kid Incident of the Ball Boy?
While playing for Chelsea, Hazard kicked the 17-year-old Charlie Morgan. Later, he apologized for kicking a ball boy during Chelsea's Capital One Cup exit to Swansea.
Read About Young Real Madrid Star: Federico Valverde Bio: Parents, Stats, Clubs, Transfer & Net Worth >>