Stefanos Tsitsipas' sister, Elisavet Tsitsipas, is the youngest among three siblings. Tsitsipas also has two younger brothers: Pavlos and Petros, who are also tennis players.
The Greek tennis player, Stefanos Tsitsipas, comes from a family of athletes. His father was his first coach, and his mother is a former world no. 1 at junior levels.
The oldest of four siblings, Stefanos made his Grand Slam debut in 2017 and has yet to win a title.
The closest he came to winning a Grand Slam title was in the 2023 ATP Tour, where he finished runner-up to Novak Djokovic in the 2023 Australian Open.
On the other, after beating Tsitsipas comfortably, the Serbia-born player Djokovic tied Rafael Nadal's record of 22 Grand Slam titles.
Later in April 2023, even though Stefanos looked to redeem himself at the 2023 Barcelona Open but lost in the finals to Carlos Alcaraz.
With Tsitsipas beginning Madrid Open on a positive note by beating Dominic Thiem & Sebastian Baez, he hopes to beat Bernabé Zapata Miralles to secure a seat for the quarterfinals.
Stefanos Tsitsipas Sister Elisavet Tsitsipas
Stefanos Tsitsipas' sister, Elisavet Tsisipas, is the darling of the Tsitsipas' household.
Earlier this year, on March 6, 2023, Stefanos shared a birthday tribute to his little sister, who turned 15.
The brother-sister duo share a close bond, reflected in a video shared by Tsitsipas on his social media.
In 2020, during the lockdown, Tsitsipas shared his training method involving his sister. The world no.5, Stefanos, was seen carrying his sister and doing squats, a challenge put against him by his Davis Cup teammate, Michail Pervolarakis.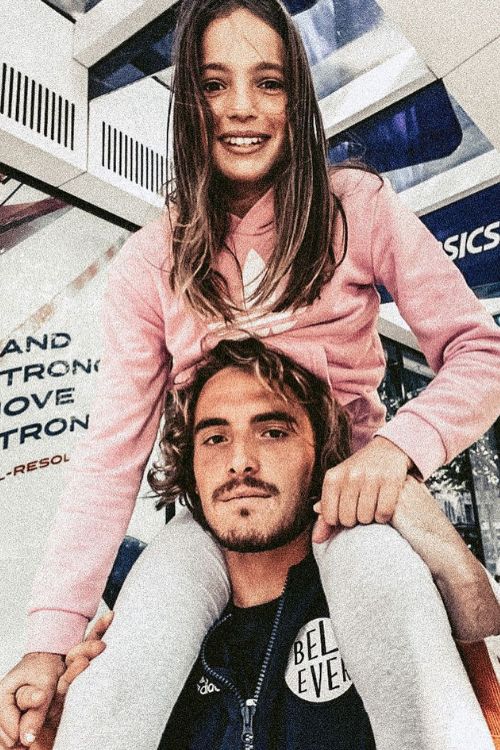 While doing so, Stefanos realized that his little sister might not be little anymore as he felt short of breath doing the exercise.
Their father, Apostolos, has also shared several photos of his youngest child.
One of the photos shared by Apostolos shows Elisavet with a tennis racquet, and in the other picture, she is seen with her mum, enjoying quality time.
She is available on Instagram with the username @elisavet_tsitsipa, and from her Instagram bio, it looks like, she is a fan of American rapper Travis Scott.
Stefanos Tsitsipas Brothers, Petros And Pavlos Tsitsipas
Stefanos Tsitsipas has two brothers, and both have decided to follow their brother's footsteps.
Petros Tsitsipas has already turned professional, and Pavlos is grafting his way to match his brothers in technicality and physicality.
Petros Tsitsipas Turned Professional In 2019
Born on July 27, 2000, Petros Tsitsipas has partnered with his brother in the mixed tournament. The 2021 Australian Open was the first instance.
The younger brother of Stefanos reached a career peak ranking of 727 in singles in 2021 and earlier this year had a ranking of 122 in doubles.
His latest match was in the Oeiras 3, where he partnered with the Dutch player Sander Arends. Despite putting up a valiant effort, the duo was knocked out by the eventual winners of the tournament, Victor Vlad Cornea and Franko Skugor, in the semi-finals.
In the Australian Open 2023, the brothers made it to the second round of the competition but were knocked out in straight sets.
Like his brother, Petros has signed a deal with Adidas and has a strong fanbase supporting him. On his Instagram, Petros shares training videos and snaps from the matchdays.
Pavlos Tsitsipas Career At Junior Tennis
Born on July 23, 2005, Pavlos Tsitsipas is yet to turn pro like his older brothers.
In the ITF Junior Ranking, Pavlos reached a career-high of 504 on March 27, 2023. He has a 57% win rate, with eight wins and six losses in 2023.
The year 2022 was certainly a breakthrough year for Pavlos. With a win rate of 70%, he boasts a better record on the hard surface compared to clay.
Unlike his brothers, Pavlos has chosen to remain away from social media and is mostly seen on Instagram from his brothers' social media pages.