A Kenyan athlete, Eliud Kipchoge, is a long-distance runner who competes in marathons and is a former 5000m specialist. He is estimated to have a net worth of around $3 million.
Kipchoge was born on 5th November 1984 in Kapsisiywa, Nadhi County, Kenya.
He, along with his three siblings, was raised by his mother. Sadly, Kipchoge was never able to see his father in person.
Despite being born in a low-income family with his mother as a nursery teacher in Kenya, he still went to school.
Since the school was miles away, Eliud had to run about two miles regularly to attend his classes.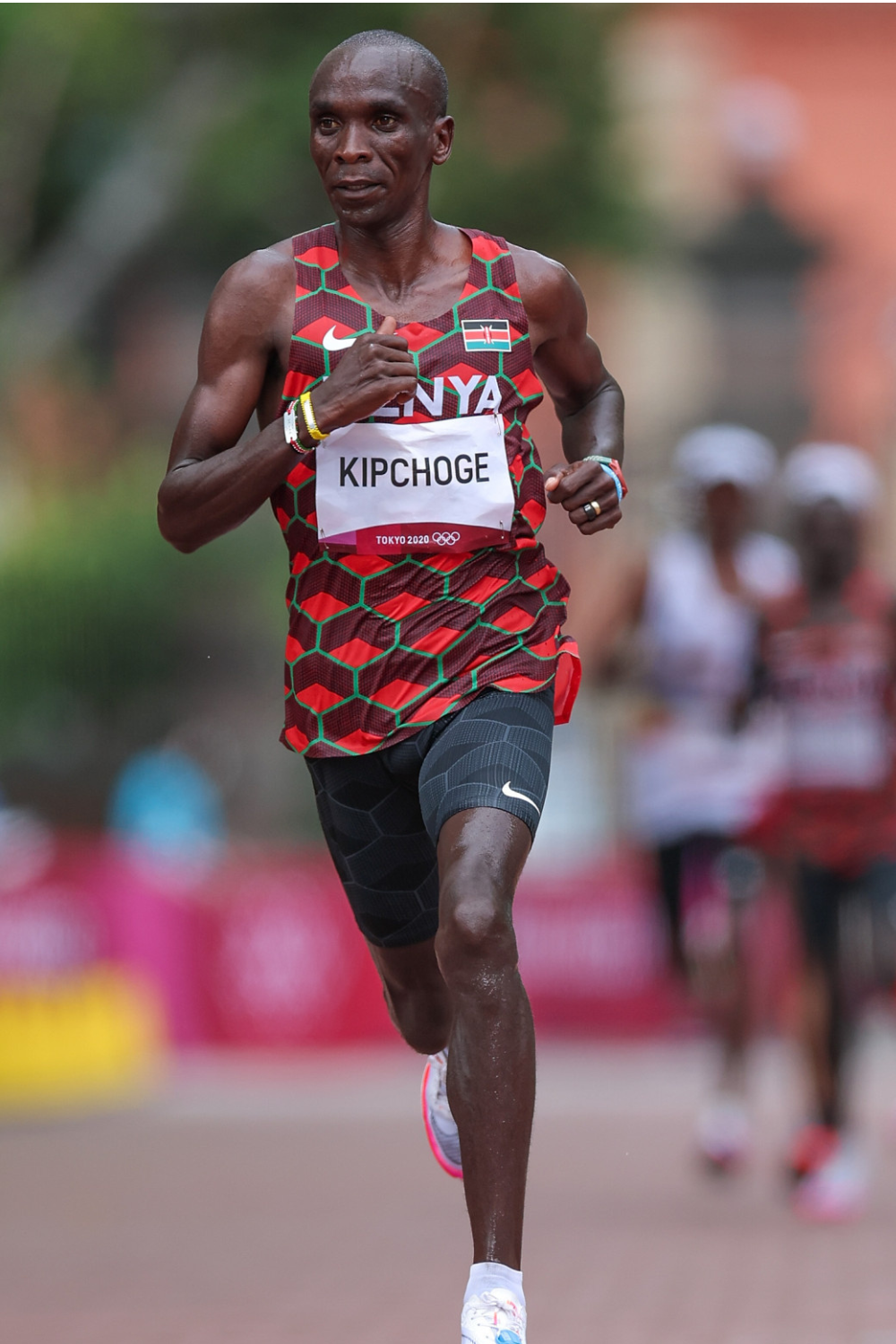 Perhaps, his obligation and a lot of training with his coach Patrick Sang made him one of the long-distance runners with the most achievements.
Due to this, he is now known to the world as one of the richest runners. Kipchoge has also supported many organizations and helped numerous people.
This article will cover Kipchoge's net worth, endorsements, book publications, charity works, investments, brief careers, and many more.
Meanwhile, before heading on, let us look at the quick fact table, shall we?
Eliud Kipchoge | Quick Facts
Full Name
Eliud Kipchoge
Nick Name
The Philosopher
Date Of Birth
5 November 1984
Birth Place
Kapsisiywa, Nadhi County, Kenya
Age
38 years old
Gender
Male
Sexual Orientation
Straight
Height
5'6" (1.67m)
Weight
52 kg (115 lb.)
Horoscope
Scorpio
Religion
Catholic
Nationality
Kenyan
Ethnicity
African
Hair Color
Black
Eye Color
Brown
Skin Color
Dark
Tattoos
NO
Marital Status
Married
Spouse
Grace Sugutt
Kids
Two sons: Jordon & Griffin
One daughter: Lynee
Father's Name
N.A.
Mother's Name
Janet Rotich
Siblings
Three
High School
Kaptel Secondary School
Profession
Long-distance runner
Active from
The age of 16
Awards and Recognition

United Nation's Kenya Person of the Year – 2018 IAAF
Male Athlete of the Year – 2018 & 2019
BBC Sports Personality, World Sport Star of the Year – 2019
AIMS Best Marathon Runner Award, Men's category – 2015, 2016 & 2017

Net Worth
$3 million
Salary
13.6 million Kenyan Shillings
Endorsements
Nike & Isuzu
Foundation
Eliud Kipchoge Foundation
Social Media
Facebook, Twitter, Instagram
Merch
Eliud Kipchoge (Book), Poster
Last Update
June, 2023
Eliud Kipchoge | Net Worth and Endorsement
As a result of extremely high performance, Eliud has secured a great reputation and a net worth of $3 million.
Consequently, making him one of the wealthiest long-distance runners. This fortune was undoubtedly raised by participating in and winning many worldwide championships while creating new world records.
Furthermore, he also earns by displaying stunts, as he did back in 2018 in Berlin. His salary is about 5 million Kenyan Shillings per event.
Eliud's other income sources include endorsement deals with Nike and other companies. These are well-reputed brands with which he had partnered to create new models of marathon shoes.
In addition, the marathon runner has also signed a deal with Isuzu Car dealers and Non-Fungible Tokens.
Mo Farah Bio: Coach, Olympics, World Record & Net Worth >>
Eliud Kipchoge | House and Training Camp
The Kenyan runner belongs to those who believe in simplicity. Despite his huge wealth, Eliud still loves the simpler things in life.
Although the path leading to Kipchoge's training camp may be a dirt track, inside the main gate lies a garden filled with green grass and other plants.
Even when the camp is about 30km away from his house, he prefers staying in Kaptagat.
Aside from being a famous runner, Eliud is also a farmer and a father. In his house in Eldoret, Kenya, his children stay with their mother, Grace Sugutt.
Also, at home, the athlete loves running around and playing with his children. He has kept cows, sheep, and chickens on his farm.
From his farm and his small house, he travels 40km to sell milk and other products to locals of the town.
Eliud Kipchoge | Cars
After completing the 2018 Berlin marathon at about 2:00:45, his sponsors rewarded Kipchoge with a brand-new car.
The car was given as per the promise between Kipchoge and his sponsors, ISUZU, because he needed to complete the marathon before 2 hours and 2 minutes.
Similarly, the ISUZU D-MAX Double Cab 2019 is worth 5.9 million Kenyan Shillings (about $54k). This precious event caught live on camera is available on Youtube and other media.
Moreover, he has also inspired many electric cars and vehicle companies to create a better future for Africa.
Eliud Kipchoge | Lifestyle
In contrast to others, Kipchoge has a relatively simple lifestyle. He doesn't believe in having expensive show-off items and luxurious life.
Nonetheless, the athlete loves to maintain a healthy lifestyle. Every morning he wakes up early, sometimes BEFORE sunrise, and runs with many others.
From what we know, Eliud is very organized and believes in hard work.
Therefore, it is no surprise that despite being a millionaire, after his morning breakfast, he is seen trimming the plants or even cleaning the toilet, utilizing every bit of time he has.
Apart from this, he also loves reading motivational books, his favorite being "7 Habits of Highly Effective People." After his retirement, Kipchoge has plans to open a sports store.
As a result of the COVID-19 pandemic and lockdown, he spent his time with his family like everybody else. He also constantly visited his farm after his morning routine.
Eliud Kipchoge | Charity Works
The Kenyan runner has joined many councils and organizations to solve some burning issues across the nation and the globe.
Malaria, one of the deadliest diseases, is not a new disease in many countries in Africa. Indeed, Kipchoge became a part of the "Malaria No More UK Leadership Council" with hopes of controlling this disease.
Also, through his charitable organization, food is distributed to young future athletes in Kenya. He accepted the London Marathon Challenge intending to inspire the coming generations and continue the trend.
Furthermore, another wonderful attempt to support conservation, educational development, and community projects in Kenya was successfully conducted with our runner.
Eliud Kipchoge announced the launch of his foundation, named Eliud Kipchoge Foundation, with the aim to provide Kenyan communities with a healthy environment and fertile ground for learning.
Also, he ran in solidarity with Kenyan wildlife rangers and encouraged everyone to participate from where they were.
Hence, these are just some of his greatest contributions. Many of the activities have not even been covered by the media.
In addition to all this, he truly is an inspiring person and a true hero.
Mikaela Mayer Bio: Ethnicity, Career, Trainer & Net Worth >>
Eliud Kipchoge | Movies and Book publications
Besides marathons, Kipchoge made some appearances in TV series, documentaries, and movies and has some books written about his life and marathon journey.
Movies
The marathon runner has had a major role in filmography. Kipchoge has played his role in the TV Series "The London Marathon," which has been ongoing from 2015 to date.
Likewise, he can also be seen in the "2020 Laureus World Sports Award" and a TV mini-series, "Rio 2016: Games of the XXXVI Olympiad."
Moreover, a new documentary about him is planned to be released in 2021 with the title "Kipchoge: The Last Milestone."
Book Publications
Besides being a famous runner, there is no doubt that Eliud is the inspiration for many writers to write wonderful stories about his past, his passion, and many more.
Some of these writings include "Eliud Kipchoge – History's Fastest Marathoner," "Two Hours: The Quest to Run the Impossible Marathon."
Also, "No Human Is Limited: The Autobiography of the First Man to Run a Marathon in Under Two Hours" is one of Kipchoge's creations that we highly recommend reading.
Eliud Kipchoge | Career And Achievements
Eliud Kipchoge has quite a fascinating career and has collected some World Records to his name.
Career
Kipchoge's career started in 2002, and after winning the junior race (2003) event, the runner won his first individual world championship title. At the young age of 18, he already claimed the title of senior 5000m World Champion.
Since 2002, he has been taking part in different marathons and claiming different titles throughout the years and recently broke his previous Marathon World Record by 30 seconds.
Achievements
Kipchoge started his winning session by collecting a gold at the 2003 Paris World Finals. He also won silver in the World Finals in the year 2007.
Besides, he won 2 Golds, 1 Silver, and a Bronze in Olympic Finals.
In 2010, he won a Silver in 5000m in Delhi. He also bagged 10 Gold in World Marathon Majors and a Silver.
Furthermore, he also won the Olympic marathon in 2016. Soon in 2018, the Kenyan runner also established a new world record by completing a marathon at 2:00:45 and was awarded a car.
Likewise, this record was also broken by himself in October 2019, and a historic achievement was created.
After setting a new marathon record and becoming the first-ever person to complete a marathon within less than 2 hours (1:59:40), it's no wonder he is famous worldwide.
3 Facts About Eliud Kipchoge
Eliud Kipchoge loves reading from biographies of athletes to philosophies to self-help manuals. He spends his time reading and making notes in the camp library.
His regular breakfast includes bread and tea.
Due to poverty, he worked as a milk vendor after leaving high school, cycling 20km daily. After five months of saving, Kipchoge was able to afford a pair of shoes.
Social Media | Presence
Kipchoge is quite popular in social media. He goes by the handle @kipchogeeliud on Instagram, on Twitter as @EliudKipchoge, and @Eliud Kipchoge on Facebook.
Instagram: 2M Followers
View this post on Instagram
Facebook: 949K Followers
Twitter: 508.9K Followers
Eliud Kipchoge | Popularity
Eliud is one major topic of talk when it comes to marathon and record breaking and hence his popularity. Below graph illustrates his popularity over 3 months period in the USA;
Eliud Kipchoge | FAQs
What is Eliud Kipchoge Heart rate?
For an Athlete like him, his heart rate may be as low as 100-110 bpm.
How many miles doe Eliud Kipchoge run in a day?
He runs a total of around 26-33 Kms (16-20 miles), comprising two runs; a morning run at a decent pace and an evening jog.
What does Eliud Kipchoge eat in a day?
His diet includes homemade bread, local fruits and vegetables, meat, ugali, a dense maize-flour porridge, and a generous amount of water.