Often cited as the nation's football hero, Emil Forsberg is one interesting player to watch.
Apparently, he has become the driving force of his native land's sport, as he established himself as one of the legends.
Indeed, many know about him while some don't! At present, Forsberg stars for the RB Leipzig as a winger and the Sweden national team.
To date, Forsberg has played for clubs like GIF Sundsvall and Malmö FF.
With these, we will be trying to cover all the detailed information about the player. First, let's dive into a quick dose of general get-to-go facts.
Quick Facts:
Full Name
Emil Peter Forsberg
Date of Birth
October 23, 1991
Birth Place
Sundsvall, Sweden
Nick Name
'mini-Foppa'
Religion
Unknown
Nationality
Swedish
Ethnicity
White
Zodiac Sign
Scorpio
Age
31 years old
Height
1.79 meters (5 feet 10 inches)
Weight
76 kg (167.5 lbs)
Hair Color
Light blonde
Eye Color
Blue
Build
Athletic
Father's Name
Leif Folke Enar Forsberg
Mother's Name
Anna Forsberg
Siblings
None
Education
Not Available
Marital Status
Married
Wife
Shanga Hussain
Kids
Florence Forsberg
Profession
Football player
Kit Number
#10
Position
Attacking midfielder
Affiliations
GIF Sundsvall
Malmö FF
RB Leipzig
Active Years
2009-present
Net Worth
$15 million
Social Media
Instagram, Twitter
Merch
Emil Forsberg Book (German Edition), RB Leipzig Official Anthem Jacket
Last Update
March, 2023
Emil Forsberg | Early Life and Family
Forsberg (fully named Emil Peter Forsberg) was born on October 23, 1991, under Scorpio's sun sign.
Additionally, his birthplace is Sundsvall, Sweden, and he doesn't seem to have any siblings.
Moving on to his family, Forsberg comes from an athletic background. Apparently, his parents are Anna Forsberg and Leif Folke Enar Forsberg.
As a matter of fact, Emil's father and grandfather are both professional footballers back in their days.
Therewith, it won't be a doubt about how Emil got passionate or was introduced to the sport. However, before laying his heart and soul to football, Emil had tried various other sports.
Read about: <<Jesus Manuel Corona: Football Career, Net Worth >>
Grandfather, Lennart Forsberg
Emil Forsberg is the grandson of the former professional footballer who served as a left-winger for the industry.
During his career, Lennart played with GIF Sundsvall and Djurgården. Born on March 28, 1928, Lennart made his debut at seventeen and scored 14 goals in total.
Unfortunately, Lennart took his last breath on September 6, 2020.
Father, Leif Folke Enar Forsberg
Similarly, Emil's father, Leif Folke Enar Forsberg, is a professional footballer who starred as a forward.
Back then, he played with GIF Sundsvall and IFK Göteborg after his debut at seventeen. He was born on April 15, 1963, and retired at the age of 38.
During his tenure, Leif was also a proud representative of the Sweden Olympic football team seven times between 1987 and 1988.
Altogether, Leif was a club legend during the 1980s and '90s, as he had 143 goals in more than 400 games. Back then, he had two goals in the national arena too.
Introduction to Football
Emil Forsberg was initially enrolled in every sport he got, like tennis, table tennis, floorball, and ice hockey. Later, during those "street sports" that he played with his friends, he commenced football.
As of today, Forsberg had answered what he would do or be doing if it wasn't for football.
Quite as hilarious as his answer, Forsberg stated that either he would be unemployed or be working in his dad's fire department if it weren't for his football.
Since his football skills are commendable, we would be sad to see such potential be wasted doing nothing or working in a fire department.
Learn more about: <<Jacory Harris Bio: Football Career, Scandal, Fire Fighter >>
Height, Weight & Body Measurements
Emil Forsberg is a handsome hunk with a fair skin tone and deep blue eyes. Not to mention, he has his own share of workout and diet routines to keep his body athletic and toned.
As of now, He has light blonde hair with a light presence of a beard. Furthermore, he is standing tall at 1.79 meters (5 feet 10 inches) while weighing 76 kg (167.5 lbs).
Emil Forsberg | Professional Career
Therewith, he started football and floorball until he was seventeen. As he realized it was what he wanted, he enrolled in the youth team GIF Sundsvall.
Altogether, in 2009 Emil went professional with his hometown team, where he first featured in Sweden's second tier of football, Superettan.
GIF Sundsvall
During the starting phase of the team's career, Forsberg played all 30 matches of the season; however, he only started to score goals in his second season.
In 2011, Emil posted 11 goals in 27 matches and got promoted to Sweden's first tier of football, Allsvenskan.
During his tenure in the first tier, Emil maintained six goals in 21 matches played out of 30 games. Overall, Emil devoted his first three years to the team.
Malmö FF
On January 1, 2013, Emil appeared to play as the Malmo player after signing a four-year contract with the team on December 10, 2012.
During his first year, he played 28 matches out of 30. Apparently, right then, they won the league title, and Emil had a total of five goals.
Similarly, his next season comprised 14 goals in 29 league appearances while defending the title.
Although Emil ended his career with the team a year before the contract, he had bagged Allsvenskan Midfielder of the year.
Following it, he was also nominated for Swedish midfielder of the year at Fotbollsgalan.
Besides his regular season, Emil also appeared in the 2013–14 UEFA Europa League and the 2014–15 UEFA Champions League.
RB Leipzig
Right after his departure with the Malmo, Emil signed a three-year and a half deal with the RB Leipzig.
A year later, in 2016, they extended his contract till 2021 as he was promoted to the Bundesliga.
During the timeframe, Emil has voted the best player in the second division of the Bundesliga. In the meantime, it was even reported that Liverpool had set their eyes on the player.
By the end of 2017, Emil became the highest assister in the Bundesliga while claiming the player of the round by Kicker.
At the same time, he had his foremost Champions League goal, a 1–1 draw against Monaco in their first match ever.
He led the team to both the 2019–20 UEFA Champions League knockout phase and the 2020–21 UEFA Champions League.
International Career
As a matter of fact, Emil Forsberg only had his senior international debut on January 17, 2014, over Moldova during a friendly match.
However, he had also been a part of the Swedish under-19 team before. His foremost international goal was in the UEFA Euro 2016 qualifying play-offs against Denmark.
Before it, he had starred in the UEFA Euro 2016 qualifier against Liechtenstein. Following it, he has played in the Euro 16 and the 2018 FIFA World Cup in Russia.
Back in the 2018 FIFA World Cup, Emil claimed the winning goal for his homeland over Switzerland.
You might be interested in reading: <<CJ Mosley Bio: Early Life, Football Career, Family, Net Worth >>
Emil Forsberg | Achievements, Highlights, and Stats
Forsberg is undeniably a creative playmaker, highly known for his ability to create chances and assists. Apart from it, he has quickness in his game, which brings him an effective passing.
He is also known as the grafter with modern techniques to impress. Emil has posted 99 goals in his total games of 398 for the teams he played.
Likewise, if we look at his International record, he has played 52 games while he has eight goals in total. Some of his achievements to date are mentioned below.
Allsvenskan: 2013 & 2014
Svenska Supercupen: 2013 & 2014
Allsvenskan Midfielder of the Year: 2014
Swedish Midfielder of the Year: 2016, 2017 & 2019
Bundesliga Assist Leader: 2016–17
Bundesliga Team of the Season: 2016–17
Champions and Bundesliga Stats
| | | | | | | | | | |
| --- | --- | --- | --- | --- | --- | --- | --- | --- | --- |
| SUMMARY | MP | Min | Gls | Ast | xG | npxG | xA | SCA | GCA |
| Bundesliga | 18 | 956 | 4 | 0 | 5.8 | 3.5 | 1.8 | 35 | 1 |
| Champions Lg | 6 | 383 | 2 | 2 | 1.4 | 0.6 | 0.9 | 12 | 3 |
Emil Forsberg | Injury and Scandals
As a player, Emil Forsberg has also been sidelined due to injuries, which is what we count till today's date.
He has missed 228 days and eventually 38 games as a whole. Well, let's go through his injuries in brief.
Initially, Emil suffered from a concussion on September 22, 2016, which kept him out for four days while he missed a game.
Following it, he had angina (chest pain caused by reduced blood flow to the heart) on August 10, 2017, as he was out for a week and had missed a game.
He missed the other two games in the latter month the same year due to cold and pubitis.
Likewise, he had adductor problems on October 2, 2018, and a groin strain a few days later, keeping him away for 99 days while he missed 16 games.
On November 29, 2019, Emil faced muscular problems and was out for three days missing a game.
Later at the start of 2020, he suffered from a cold and had tonsillitis, as he was sidelined for ten days and missed two games.
His recent case to be on the injured list is due to his knee injury on January 27, 2021. Apparently, he was out for nearly a month back then and missed six games.
You can find all cards, stats, reviews, news, and much more information about Emil Forsberg on the Futhead website.
'Emil's Scandal' in 2018 Game in Germany
Back in the 2018 match, after the 5-2 defeat to Hoffenheim, Emil Forsberg was shown a red card.
Apparently, it was reported that the midfielder, Emil, had elbowed Florian Grillitsch, which served him a red card. Furthermore, he was banned for the club's final three games.
Following it, his agent has hit out at the German FA (DFB) and stated the news about it was "nothing but a scandal."
Later that day, Emil tweeted on Twitter, "Thanks for everything." Indeed, his tweet sparked various rumors regarding his leave from the team.
Emil Forsberg | Net Worth, Salary, and Contract
Currently, Emil Forsberg has a net worth of $15 million.
His new contract with Red Bull Leipzig earns him 4 million euros (3.5 million Pound), while his market value is 25 million euros (23 million Pound).
Furthermore, Arsenal was ready to bid £50 million before Leipzig turned down the offer. Besides, Emil also has separate earnings through his brand endorsement deals, which also include Nike.
Don't forget to check out: <<Bob Sapp Bio: Football, Movies, Wrestling, Facts, MMA >>
Emil Forsberg | Personal Life, Girlfriend, and Wedding
Apart from how we see Emil in professional life, he is a family man as well. Apparently, he is a loving husband and a father, while he is also a pet lover.
At present, the athlete resides in Leipzig (German state of Saxony) with his family and a dog, Roffe, who is a Golden Retriever.
Wife, Shanga Hussain
Emil indeed found his soulmate in Sanga Hussain. As a matter of fact, Hussain is also a footballer and took it passionately.
Apparently, Shanga was born on August 16, 1992, under Leo's sun sign in Sweden.
Furthermore, she belongs to the Caucasian ethnicity and graduated from Hedbergska college.
Like Emil, Shanga got interested in the sport in her early days and started pursuing it through a local club in her hometown.
However, she was prone to suffering a career-ending injury which made her quit football. During her career, she has played for FFV Leipzig and RB Leipzig.
Emil Forsberg and Shanga Hussain
Forsberg and Hussain first met each other in Hussain's home city of Sundsvall in 2004.
After years of knowing each other, they commenced dating in 2006. Following it, the duo tied the knot in 2016 after ten years.
On July 16, 2016, the duo took vows in front of their friend and family, which took place in Sweden.
During the ceremony, Hussain was adorned in a V-necked white dress with a bit of lace, while Forsberg was seen in a black suit.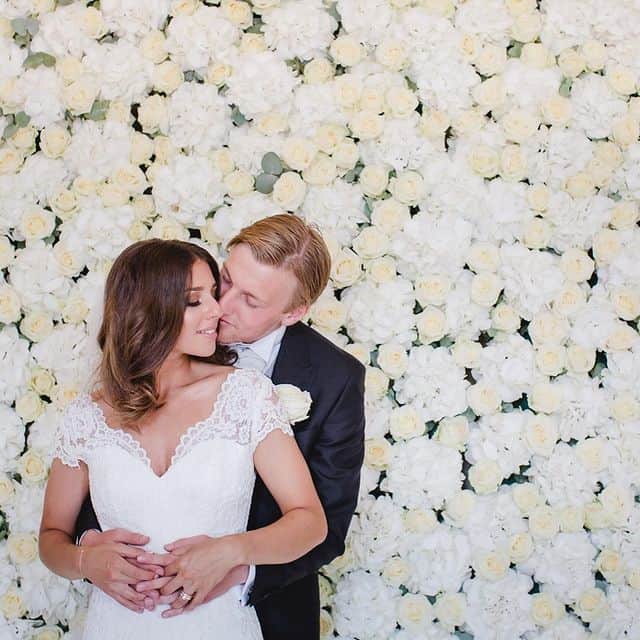 After two years, the duo welcomed their first baby child, a daughter, in February 2018.
They now call her Florence Forsberg. To date, the couple has had a healthy and strong relationship.
Shanga Hussain is the biggest supporter of Emil, who has stood beside him ever since.
In February 2020, during the Bundesliga game between Bayern Munich and RB Leipzig, Emil was put off the bench.
Altogether as they ended a game in a draw, Emil got unnoticed; thus, Shanga took no time and stood up for her husband.
She posted an upload on Instagram tagging Emil with the caption,
"No one on this planet is allowed to treat anyone like s***. Do not forget that."
Together, they have come a long way, and even today, they have the romance alive.
Also, Shanga Hussain is no stranger to gifting her husband. Back in 2016, she presented him with a golden Rolex.
Apart from these, she is also a car lover, often splurging over them. To date, she has bought a black Audi R8 and Audi SF 10. Overall, we ship them and their cute family all over.
Social Media Presence:
Consequently, you can check their social media platforms for daily updates on their pictures or days. Not to mention, you can get a closer look at their exotic holidays together.
Shanga Hussain's Instagram account goes by the name Shanga Forsberg (@shangaforsberg), with 11.4k followers.
Likewise, Emil is on Instagram as Emil Forsberg (@eforsberg10)with 199k followers.
Similarly, Emil's Twitter account goes by his real name Emil Forsberg (@eforsberg10), with 14.7k followers.
Some FAQs:
What is the jersey number of Emil Forsberg?
Emil Forsberg features in the jersey number 10 for RB Leipzig.
Who doe Emil Forsberg look up to?
According to Emil Forsberg, he looks up to Dutch winger Ryan Babel as a player.
Who is Emil Forsberg's agent?
Hasan Cetinkaya is Emil Forsberg's agent.
How many goals and assist records does Emil Forsberg have in the 2021/22 season?
According to reports, Emil Forsberg has scored four goals and 0 assists in the 2021/22 season.