Robert Malcolm Sapp or Bob Sapp is an American professional wrestler, a mixed martial artist, an actor, and a former American football player.
Popularly known as "The Beast" because of his beastly nature inside the ring, Sapp has a combined fight record of 24-39-1.
He fought most of his matches in Japan, and while he was there, he became the first and only African American to win the title of IWGP Heavyweight Championship.
Sapp has managed to overcome many struggles, from being jobless and broke to having a net worth of several million dollars.
With over 400 products in his name and image, hundreds of TV commercials and shows, over 20 kickboxing matches, 20 MMA matches, and over 50 wrestling matches, he is loved by millions of fans, especially in Japan.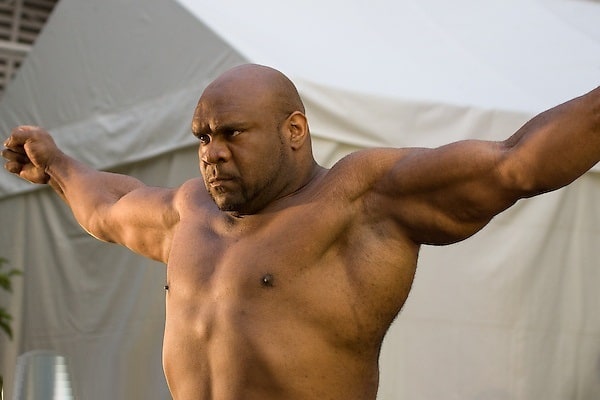 Let us read more about the talented Beast and how he got himself to where he is now. But, first, let's go through the quick facts.
Quick Facts:
| | |
| --- | --- |
| Full Name | Robert Malcolm Sapp |
| Popular As | Bob Sapp |
| Birth Date | September 22, 1973 |
| Birth Place | Colorado, U.S.A. |
| Zodiac Sign | Virgo |
| Nick Name | Bob, The Beast |
| Religion | Unknown |
| Nationality | American |
| Ethnicity | Black |
| Father's Name | Unknown |
| Mother's Name | Unknown |
| Siblings | Unknown |
| Education | Mitchell High School; University of Washington |
| Age | 50 Years Old |
| Height | 6 feet and 4 inches (193 cm) |
| Weight | 159 kgs |
| Reach | 82 inches (210 cm) |
| Hair Colour | Black |
| Eye Colour | Dark Brown |
| Marital Status | Unknown |
| Relationship Status | Unknown |
| Profession | Professional Wrestler, Mixed Martial Artist, Actor, former American football player |
| Fighting out of | Seattle, Washington, U.S. |
| Division | Super Heavyweight |
| Net Worth | Estimated $4 million |
| Active Since | 2002-2014, 2016-present |
| Social Media | Instagram, Twitter |
| Last Update | November, 2023 |
Bob Sap | Early Life, Family & Education
Sapp was born on September 22, 1974, in Colorado Springs. Growing up in the USA's sports capital, he was fond of American football since his childhood.
As a son of an African immigrant in Japan, most of his fighting careers were based in Japan.
It was when Bob was in high school that he started his journey towards professional football.
Further, he played for the Mitchell High School Junior League and later received a football scholarship to the University of Washington.
Bob Sapp | Age, Height and Physique
The multi-talented American is 50 years old, and it is no secret that the heavyweight wrestler has a large figure.
Sapp is a professional athlete who is blessed with a height of 6 feet and 4 inches. He weighs 159 kg (350.53) and is inevitably a superheavyweight fighter.
Moreover, Bob does different workouts to maintain his body weight. He does a combination of heavy lifting with some endurance bodyweight exercises.
The former football player has dark brown eyes and black facial hair. However, he prefers keeping his hair precisely short or bald.
Read about the world-famous heavyweight champ:<<Undertaker Net Worth: Bio, Salary, Endorsements, House, Cars, Lifestyle>>
Bob Sapp | Football Career
Sapp was involved in football since high school. He won the Morris Award in 1996 as a standout offensive lineman when he was a scholarship student at the University of Washington.
Later, Sapp was drafted by the Chicago Bears in the 1997 NFL Draft. Sapp had signed a contract with Minnesota Vikings, Baltimore Ravens, and Oakland Raiders for the three seasons after the Bears.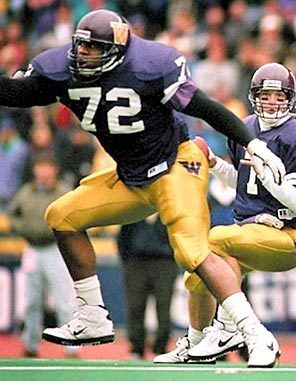 However, his dream of becoming an NFL star was short-lived because of his suspension.
Sapp could play only one game in the NFL before being cut off for alleged use of illegal drugs.
Unfortunately, the suspension led Sapp into poverty as his financial adviser defrauded him.
The poverty caused the former football player to work in a funeral home, moving and carrying coffins.
After a while, Sapp took on his former teammate's advice, Mike Morris, and made his way into the world of professional wrestling.
Bob Sapp | Professional Wrestling Career
Bob's professional wrestling career started in 2001 with the National Wrestling Alliance.
Shortly after that, he was contacted by the World Championship Wrestling as a beginner.
There, he started bringing out the "Beast" in him with a villainous version of Tarzan.
However, even his wrestling career was cut short after World Wrestling Federation bought the WCW.
For a while, Sapp was out of the professional wrestling world and made his debut for New Japan Pro Wrestling in 2002.
New Japan Pro-Wrestling and All Japan Pro Wrestling (2002–2005)
Beast was introduced as one of Antonio Inoki's fighters. On October 14, in Japan-based K-1 kickboxing promotion, Sapp replaced an injured player, Yoshihiro Takayama, and won the fight against Manabu Nakanishi.
Apart from Takayama, The Beast defeated other top-level fighters like Ernesto Hoost and Akebono.
This victory resulted in other wrestlers wanting to fight against Sapp, but the American wrestler passed upon the participation.
The following year, in October 2003, Sapp returned to NJPW and AJPW along with other competitors as part of Inoki's MMA army.
Additionally, on March 28, 2004, Bob Sapp won the title of IWGP Heavyweight Championship after winning against Kensuke Sasaki and became the first and only African-American to have gotten that title.
Bob won against Giant Bernard and Jun Akiyama in Wrestle – 1 Grand Prix and made his way to the finals. However, before he could enter the tournament, it was discontinued.
Sapp managed to defeat numerous veteran fighters. Yet, he could not get to the top ranks because of his particular fighting style, which relied mostly on his gigantic build and weight.
Nevertheless, Sapp could not handle the blows from larger opponents very well.
You might also be interested in another renowned NJPW wrestler: <<Hulk Hogan Bio – Early Life, Family, Net Worth, Scandals>>
Hustle (2007-2008) and Independent circuit (2008-2009)
The former American football player defeated Razor Ramon RG in his debut match for Hustle's Korakuen Event on October 16, 2007.
After Sapp's victory, it was declared that he would fight at the Hustle mania Yokohama Arena event, which Bob won.
Later, Sapp was in a tag team with another superheavyweight Monster Bono. However, due to some miscommunication, there was a conflict between Sapp and Bono.
In 2008, Sapp was defeated by his opponents in the Hustle Grand Prix and made his last appearance for Hustle, defeated by Bono in a rematch.
Similarly, in the same year, Sapp participated in WWA in South Korea, and on October 26, 2009, he received the WWA Heavyweight title.
Strangely, in a comedy wrestling match, Sapp was defeated by a wrestler who plays a homosexual character, Danshoku Dino, with a kiss after being pinned down.
Don't forget to check out: <<Akebono Taro Bio: 2020, Net Worth, Career, Wife, Weight, Record Wiki>>
Return to New Japan Pro-Wrestling (2012–2013)
On December 20, 2012, it was announced that Sapp would portray the character of a villainous chaos stable at the Wrestle Kingdom 7 in Tokyo on January 4, 2013.
However, he and his teammates were defeated in the NJPW events. Nevertheless, on September 8, 2013, in the event of Wrestle -1, Sapp beat René Duprée and Zodiac with the help of his tag team Keiji Mutoh.
Bob Sapp, the Tomato Can?
In wrestling, a "tomato can" is an easy target with minimum fighting skills. Sapp was beginning to have himself labeled as the tomato because of how he fought inside the ring.
He would often fight against upcoming stars and local fighters only to be defeated in a matter of seconds. His tomato can act led to the loss of his reputation in sports.
In an interview when Sapp was asked why he chose defeat over victory, he explained that he would not willingly get himself injured for small paychecks,
"They say fight business, and I am in the business of making money. How do I judge whether I have a successful fight? Success is judged by the measure of improvement. The measure of improvement in a business is money." (Said by Bob Sapp)"
Bob Sapp | Kick Boxing and MMA Career
Earlier in 2002, after being released from WCW, Sapp was called by FX for its amateur boxing show, The Toughman Competition.
Surprisingly, the professional wrestler won the fight against Perry in the second round without having any boxing experience.
Bob was invited back to Japan by the chairman of Japanese kickboxing promotion K-1, Kazuyoshi Ishii, to start another career.
Ishii had seen a video of Sapp's match via a mutual friend, Sam Greco, Bob Sapp's trainer.
Sapp finished his initial training of six months in the United States of America, after which he competed under both rulesets indistinctly or the rest of his career.
Sapp announced in April 2014 that he would retire from his fighting career in a surprising turn of events.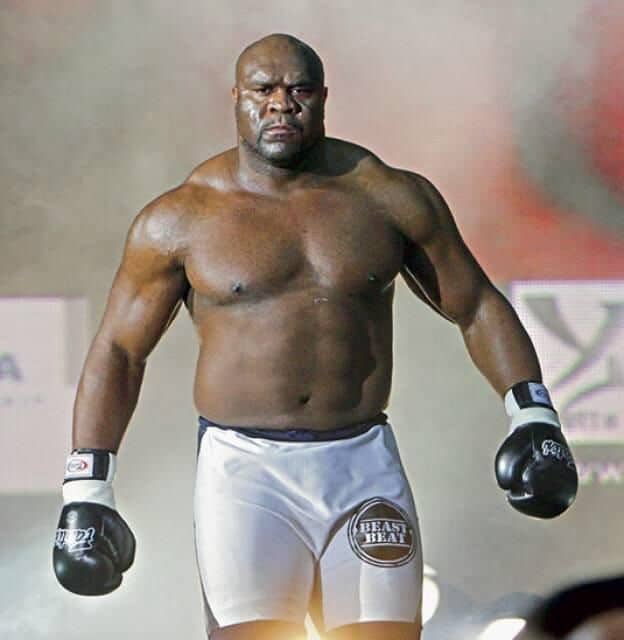 But after a two-year break, Sapp appeared at Fight Night on August 4, 2017, in Saint Tropez, France. Unfortunately, and unsurprisingly, he lost the match to Greg Tony in the first round.
Rizin Fighting Federation
On December 31, 2015, Sapp had a rematch against Akebono at the Rizin Fighting Federation event. Beast won the match by technical decision, unlike his other games.
Similarly, in September 2018, Bob fought against a former sumo wrestler, Osunaarashi, and was taken down in the first round.
However, Sapp unexpectedly defeated the former sumo in the second round by a unanimous decision, making his first MMA win in nine years.
Bob Sapp VS Minotauro
Brazilian Mixed Martial Artist Antônio Rodrigo Nogueira is popularly known as Minotauro. Bob Sapp and Minotauro have quite a history together.
The duo faced each other some 19 years ago. The feud is still popularly remembered by fans.
Bob Sapp was stunned when he first knew that he would be facing a hulk-like professional wrestler and the Brazilian UFC Hall of Famer Antônio Rodrigo Nogueira, aka Minotauro.
In fact, Sapp didn't want to fight with Minotauro. Likewise, Minotauro was also not interested in fighting with Sapp.
He had a feud with Sanae Kikuta and was just not planning to get into the octagon anytime soon in association with a Japanese company owing to lesser financial negotiations.
However, the people at Pride agreed to pay him twice this time. Minotauro then agreed to get into the bout.
Bob Sapp, twice the size of his opponent Nogueira, was defeated by Submission at 4:03 of Round 2.
Bob Sapp | Acting Career
Besides his athletic career, Bob Sapp has appeared in several movies alongside renowned actors such as Jason Momoa, Tracy Morgan, Adam Sandler, Jennifer Garner, and many more.
Below, you can find a list of films in which Bob has made his appearance.
The Longest Yard
Conan The Barbarian
Elektra
Blood and Bone
Big Stan
Frankenfood
Player 5150
Devilman
Izo
Remarkable Power
Pride FC; Demolition
Pride FC; Armed and Ready
Bob Sapp | Personal life
Bob Sapp is someone who likes to keep his personal life out of sight on social media. Sadly, there is not much information regarding his personal life.
However, there was an incident reported by one of the Japanese newspapers that he was accused of domestic violence towards his then-girlfriend.
Though Sapp did not make any public comments regarding the issue, an apology statement had been published along with the news of the incident.
Also, there is no news regarding his latest relationships, and we respect his decision to keep them private.
You might also want to read: <<Michelle Waterson: UFC, MMA Fight, Next Fight & Net Worth>>
Bob Sapp | Income and Net Worth
Having a multi-profession, it is always a wonder how much net worth Bob Sapp has?
As an American actor, professional wrestler, and former football player, Sapp has an estimated net worth of $4 million as of [CURRENT-YEAR].
He is a popular figure worldwide, and there are always some promotional events where his presence is wanted.
Sapp has earned his fortune through many struggles and his dedication towards wrestling, even if he purposely lost the match.
As the Beast is not very keen on sharing his private life, his cars and houses' details are still not available.
However, with his net worth, he certainly lives a pretty luxurious life.
Social Media Presence:
Instagram (@bobsappofficial): 10.1K followers
Twitter (@BobSappMMA): 5,401 followers
Some FAQs:
Did Mike Tyson fight Bob Sapp?
Although Bob had challenged Tyson, the fight never happened. Even if there were a match between the two, Tyson "The Baddest Man on the Planet," the best heavyweight of all time, would have won against the Beast without a doubt.
Also, check out: <<66 Famous Mike Tyson Quotes that will inspire you>>
What is Bob Sapp doing currently?
Bon Sapp is currently under a contract with the Rizin Fighting Federation. However, the professional fighter has not disclosed any of his current plans.
Has Bob Sapp won any awards?
Yes, Bob was awarded K-1 World Grand Prix 2002 Quarterfinals in 2001, IWGP Heavyweight Championship in 2004, Hiroshima Grand Prix 2005 final in 2005, and DREAM Super Hulk Grand Prix Semi-final in 2009.
What is Bob Sapp UFC record?
Bob Sapp has a professional UFC record of 11 wins, 20 losses, and 0 draws.
Have Bob Sapp and Kimbo Slice ever faced each other?
No, Bob Sapp and Kimbo Slice have never faced each other to date.
Did Bob Sapp win Emelianenko vs. Sapp?
No, Bob Sapp lost the fight via TKO(punch) in Round 1. He faced Alexander Emelianenko at Legend Fighting Show on May 25, 2013.
Did Cro Cop break Bob Sapp's face?
During a kickboxing match between Mirko "Cro Cop" Filipovic and Bob Sapp, one incredible knockout happened in which Cro Cop rocked Sapp with a left punch. That punch from Mirko rendered Sapp stock-still and broke his cheekbone pretty well.