The elite player Eric Berry is a football safety in the National Football League. He is one of the most successful NFL history players and played for the Kansas City Cheifs for 9 seasons.
Over the course of his career, Berry has been awarded multiple honors and awards. He is also known for bravely fighting cancer and winning over it.
He took a year off from his game in 2019 and is set to make a comeback in 2020 or 2021. Here are some quick facts about him before we learn more about him in detail.
Quick Facts
| | |
| --- | --- |
| Full Name | Eric Berry |
| Birth Date | December 29, 1988 |
| Birth Place | Atlanta, Georgia |
| Known as | Berry |
| Religion | Christian |
| Nationality | American |
| Ethnicity | African-American |
| Education | Creekside High School, University of Tennessee |
| Horoscope | Capricorn |
| Father's Name | James Berry |
| Mother's Name | Carol Berry |
| Siblings | 2; Evan Berry and Elliot Berry |
| Age | 33 years old |
| Height | 6 ft. 0 in (1.83m) |
| Weight | 96 kgs |
| Build | Athletic |
| Body Measurements | Unknown |
| Hair color | Dark Brown |
| Eye color | Dark Brown |
| Profession | Athlete |
| Active Years | 2010-present |
| Marital Status | Unmarried |
| Spouse/Girlfriend | N/A |
| Children | None |
| Net Worth | $21 million |
| Social Media | Instagram, Twitter |
| NFL draft | 2010/ Round: 1 / Pick: 5 |
| Merch | Autographed Jersey, Helmet, Helmet Shadow Box, Rookie Card, Jersey |
| Last Update | November, 2022 |
Eric Berry – Early Life & Family
Born on 29th December 1988 to mother Carol Berry and father James Berry in Fairburn, Georgia. He is the oldest of the 3 brothers.
He has younger twin brothers Evan Berry and Elliot Berry. They are both football players as well and are free agents now.
Eric Berry was a sporty youngster. He participated in many sports, including football. Eric completed his high school at Creekside High School, where he set the records for long jump and 200-meter hurdle.
He finished his high school football career after he graduated and was ranked as the third-best football player in the country at that time.
As a result of his excellent performance at school, Berry got scholarships from various universities.
He decided to choose the University of Tennessee and play for their team under head coaches' guidance, Philip Fulmer and Lane Kiffin.
Eric Berry – College Career
The University of Tennessee had the pleasure of having Berry play under their name from 2007 to 2009.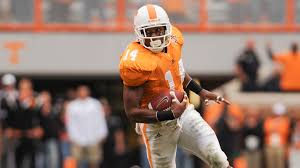 In his freshman year, the Sporting News awarded Berry the SEC Defensive Freshman of the Year. He also got the opportunity to play for many of the big games that season.
Eric was named the SEC Freshman of the Week twice for his excellent gameplay in the three final matches. The rivals also named him the 1st team Freshman All-American.
He became the team captain in his sophomore year, which is not a common thing. The team awarded captaincy to Berry because of his stellar performance in his freshman year.
Eric successfully set the record for the most interception return yards with 487 yards, which was only 14 yards less for the NCAA record for interception return yards.
His early success was so significant that many sports journalists predicted that he would be the best defensive player in Tennessee's history. He was also the finalist for the Jim Thorpe Award, the Lott Trophy, and the Chuck Bednarik Award.
Eric was again named the SEC Defensive Player of the year and was picked in the first-team All-SEC. He also won the unanimous first-team All-American. He also won the Jack Tatum Award as well.
In his junior year, Berry made 87 tackles, two interceptions, nine passes defended, and one fumble recovery. He was named the first-team All-SEC selection and the unanimous first-team All-American for the second time.
Eric received the Jim Thorpe Award and The Touchdown Club of Columbus's Jack Tatum Award for the second year again. Berry made it clear to everyone that he intended on joining the 2010 NFL Draft.
Awards and Honors in College
2000s ESPN All-Decade High School Football Team, 2000s RivalsHigh.com Team Of The Decade First Team, 2000s Sports Illustrated All-Decade Team,
2009 Unanimous All-American, 2009 Jim Thorpe Award, 2009 Bronko Nagurski Award Finalist, 2009 Lott Award Finalist, 2009 Jack Tatum Award Winner, 2009 First-team All-SEC (Coaches, AP)
2008 Unanimous All-American, 2008 National Defensive Sophomore of the Year, 2008 SEC Defensive Player of the Year, 2008 Jack Tatum Award Winner, 2008 First-team All-SEC (Coaches, AP), 2008 Vince Dooley Award, 2008 Jim Thorpe Award Finalist
Unanimous 2007 First-team Freshman All-American, 2007 National Defensive Freshman of the Year (Collegefootballnews.com),
2007 SEC Freshman Defensive Player of the Year (Sporting News), 2007 Second-team All-SEC (Coaches, AP), 2007 All-SEC Freshmen Team, 2007 All-SEC Freshmen Academic Honor Roll, 2006 Georgia High School Player of the Year (Gatorade)
Read about Marcus Allen next!!
College Stats
Year
GP–GS
Tackles
Sacks
Pass Defense
Fumbles
Tackles
Loss–Yards
No–Yards
Int–Yards
TD
PD
QB
Yards
FF
2007
14–14
86
2–3
0–0
5–222
1
4
0
55
2
2008
12–12
72
9–21
3–11
7–265
2
6
0
0
0
2009
12–12
83
7-15
0–0
2–7
0
7
3
46
1
Total
241
18–39
3–11
14–494
3
17
3
0–0
0
Eric Berry- Professional Career
Eric Berry decided to forgo the final year of college and enter into the 2010 NFL Draft. For the same reason, he attended the NFL Scouting Combine in Indianapolis, Indiana, and completed all the tasks excellently, and came second among safeties.
Eric was considered one of the highest scouted safeties in the history of the NFL. Speaking about the performance and impact that Eric Berry left during the scouting, St. Louis Rams' GM Billy Devaney said,
"As a rule, safeties aren't talked about going that high. But this guy, I think in everybody's mind, impacts the game. You try to get impact players, and Berry's certainly one."
The Kansas City Cheifs signed Eric Berry in the fifth pick of the first round in the 2010 draft.
He was the highest-drafted defensive since 2004, and he chooses Jersey No. 29 as a tribute to his hometown and also former Tennessee defensive back Inky Johnson whose career was cut short due to an injury.
Eric Berry also became the highest-paid safety in the league history to have been drafted for a whopping $60 million contract, including a $34 million guarantee.
He debuted as a starting safety in the Kansas City Cheifs against the San Deigo Chargers, where he gained six combined tackles.
Berry completed his rookie season with a career-high of 92 combined tackles, nine pass deflections, four interceptions, and a forced fumble in 16 games and 16 stars.
2011- 2019
In 2011, Eric Berry played the Pro Bowl for the first time and was also the only rookie selected for the Pro Ball since linebacker Derrik Thomas.
Having Berry's presence on the team made the team's defense stronger and took their defense ranking to 11th best in the league in the 2010 season.
With Berry playing for them, the Kansas City Cheifs finished first in the AFC West with 10-6.
His second season with the Kansas City Cheifs started with an injury incurred during the match with Buffalo Bills. He sustained a torn ACL and could not carry on for the rest of the regular season.
Eric Berry went on the training session of the 2012 season and played as the starting safety. He went on to have a good season as he was announced to be one of the six Cheifs players to be voted to the 2013 Pro Bowl.
The Kansas City Cheifs introduced a new head coach, Andy Reid, and he too decided on keeping Berry as the starting safety.
After playing most of the matches, Coach Reid decided to give Berry a rest before going into the playoffs, as they already secured the position.
Yet again, Eric was one of the players from the Cheifs to be selected for the 2014 Pro Bowl. This was his third consecutive Pro Bowl. Berry scored the second-highest overall score among the safeties in the Pro Football Focus in 2013.
In his fourth year playing for the Kansas City Cheifs, he played phenomenally this season while scoring a career-high of 15 tackles.
He sustained a high ankle sprain when playing against the Denver Broncos. And was put on rest for the next five games.
Fighting Cancer
Despite playing well, 2014 was a rough year for Eric Berry, his family, and his career because a mass was discovered in his chest, and the medical professionals diagnosed him with Hodgkin's Lymphoma.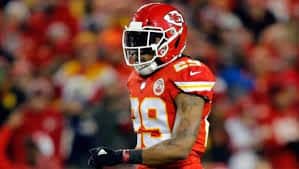 His season immediately stopped, and the team placed him on the non-football illness list.
Luckily, his Lymphoma was treatable with chemotherapy, and his doctors were heard saying,
"This is a diagnosis that is very treatable and potentially curable with standard chemotherapy approaches. The goal of Mr. Berry's treatment is to cure his lymphoma, and we are beginning that treatment now."
Eric Berry bravely fought and won over cancer and was cleared to play football by the doctors in July 2015, almost nine months after being diagnosed with cancer.
After coming back, Berry recorded his career-high of four pass deflections and intercepted a pass by the legendary quarterback Peyton Mannings during a victory at the Denver Broncos.
He received the Comeback Player of the Year award and was ranked 55th out of 100 top NFL Players of 2016 by his fellow players.
The Kansas City Cheifs signed Berry to a six year478 million contract that included a $40 million guarantee and a $20 million signing bonus. This made him the highest-paid safety in the history of the NFL.
That season, Berry ruptured his Achillies and that he would miss the rest of the season. Berry was later diagnosed with Haglund's deformity, where a bone spur digs into the Achilles and is extremely painful.
The injury caused him to miss the first 13 games. He played two regular-season games and one playoff game for the season. The Kansas City Cheifs released him in the year 2019.
Read about another footballer Chad Pennington!!
Eric Berry – Personal Life, Family, Net Worth
James Berry, the father of Eric, was also a football player for the University of Tennessee. Similarly, his brothers Evan and Elliot Berry also played for the University of Tennessee and are now free agents.
Berry has signed various endorsements, and in 2014, he signed with Adidas, the sports manufacturing giant.
He is also active in charity work and has even established the Eric Berry Foundation in 2011 to help provide safe environments for children to participate in team sports.
Eric has equinophobia, a fear of horses. This was not helpful as the mascot for the Kansas City Cheifs was a horse named Warpaint.
Berry enjoys being the highest-paid safety in the league, and his net worth is around $21 million.
Eric Berry, up for Hall of Fame
Tennessee star Eric Berry is one of three ex Vols on the ballot for the College Football Hall of Fame's 2022 class, which was released by the National Football Foundation this year.
Berry is joined by wide receiver and return specialist Willie Gault and wide receiver Larry Seivers on the ballot. He has made it to the ballot for the first time, whereas the other two have been there already.
With his eight years in NFL with the Kansas City Chiefs, Eric is surely a Hall of Fame talent but what lagged him behind is his poor health. Otherwise, those who can recall Berry's prime may look past his 89 career game would certainly place him on the ballot.
Eric Berry – Social Media
Berry is active on Twitter and Instagram and is constantly retweeting and posting football-related posts.
Eric Berry – FAQs
1. Did Eric Berry retire?
No, Berry took a break from Football in 2019 but is set to make a comeback in 2020 or 2021, according to the NFL Network's Mike Garafolo. Actually, it was all Eric's wish to sit out intentionally for the last season.
Eric did have opportunities to play in the league, but he took a sabbatical. He wanted to make sure first that he is mentally and physically perfect.
2. Did Eric have cancer?
Yes, he had Hodgkin's Lymphoma in 2014, but he overcame it and is still playing Football.