The Minnesota Vikings linebacker Eric Kendrick's decade-long relationship took another step forward- he and his girlfriend Ally Courtnall got married in 2022.
Ally is a former athlete who now works as a model. She is most known for being selected as one of the Sports Illustrated Swimsuit models in 2021.
While the 2019 Pro Bowl player gets into media headlines with his aggressive form on the field, his romance story can't go untouched either. Kendrick's girlfriend, Ally Courtnall, often remained the NFL star's Instagram feature most of the time, but it seems it's not enough for fans.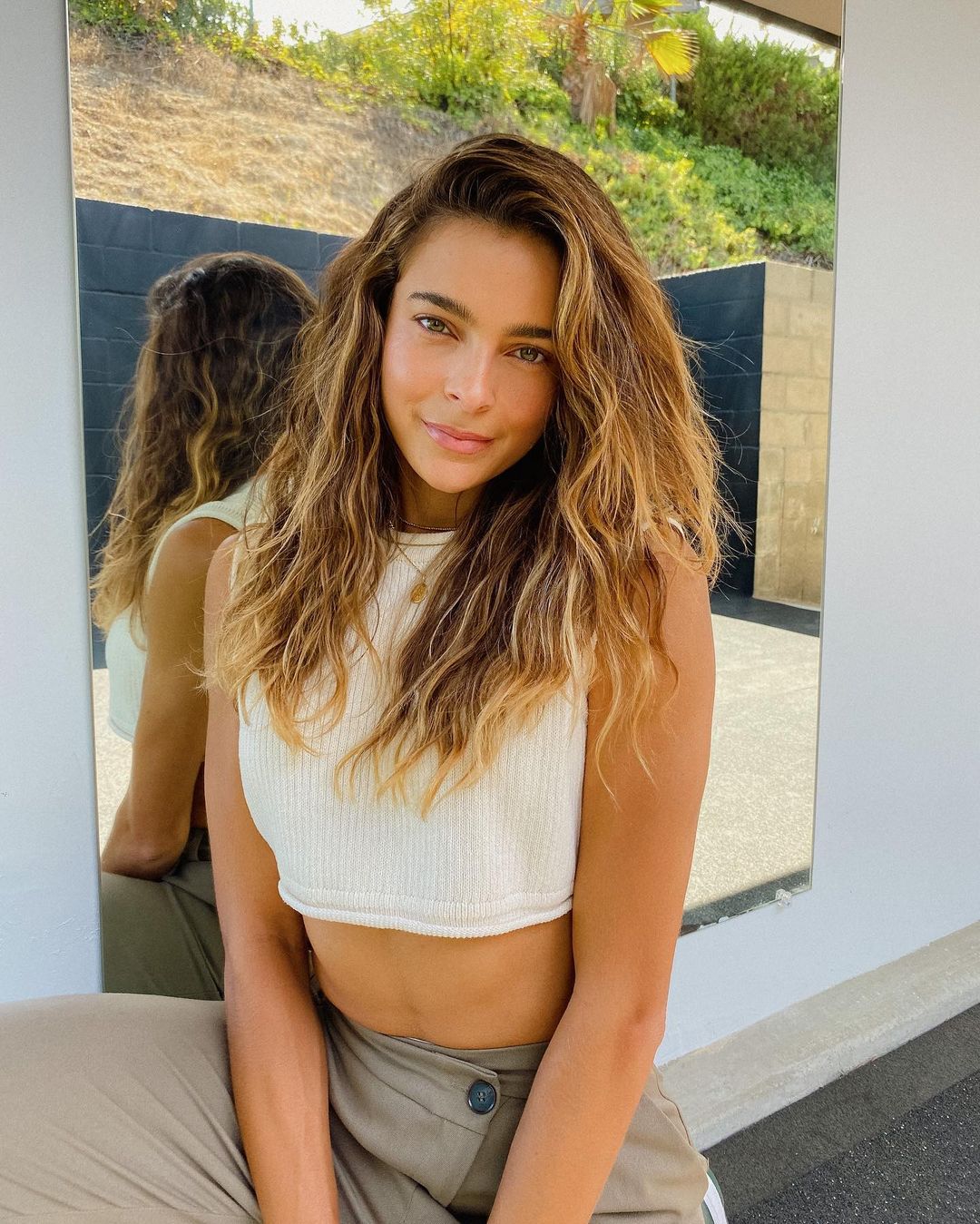 No wonder, being a blend of beauty & passion and being an NFL figure's life partner, Courtnall gets huge attention.
With that being said, Ally Courtnall's fandom is not only the result of her relationship & marriage with Eric Kendricks. In fact, she is a three-time Oaks Christian Athlete of the Year who has been famous since her days at UCLA.
Moreover, at UCLA, Courtnall competed in track & field and soccer, helping the women's team win its first-ever national title.
This article summarizes all the information you want about Eric Kendricks's girlfriend, including her early career, marriage net worth, and more!
Ally Courtnall | Quick Facts
| | |
| --- | --- |
| Full Name | Ally Courtnall Kendricks |
| Nick Name | Ally |
| Age | 29 |
| Birthdate | June 23, 1993 |
| Birthplace | Los Angeles, USA |
| Mother | Paris Courtnall |
| Father | Russell Courtnall |
| Siblings | Lawton Courtnall, Brooklyn Courtnall |
| Marital Status | Married |
| Husband | Eric Kendricks |
| Husband's profession | NFL player |
| Religion | Christianity |
| Nationality | Dual Citizenship (American/Canadian) |
| Height | 5 feet 8 inches (1.72 m) |
| Shoe Size | 8 (U.S.) |
| Body Size | 34-25-35 (chest-waist-hips) |
| Hair Colour | Brown |
| Eye Colour | Green |
| Tattoos | Yes |
| Zodiac Sign | Cancer |
| University | University of California Los Angeles |
| School | Oaks Christian |
| Profession | Former UCLA player, Model |
| Salary | Not available |
| Net Worth | Under review |
| Social Media | Instagram |
| Merch | Not Available |
| Last Update | May 2023 |
Ally Courtnall, Eric Kendricks' Girlfriend | Parents, Early Life & Education
A native of Los Angeles, California, Courtnall was born on June 23, 1993. She is 29 years old.
Ally is the daughter of former Canadian NHL player Russ Courtnall who played his last season with the Los Angeles Kings before retirement in 1999. Her mother, Paris Vaughan, is an actress.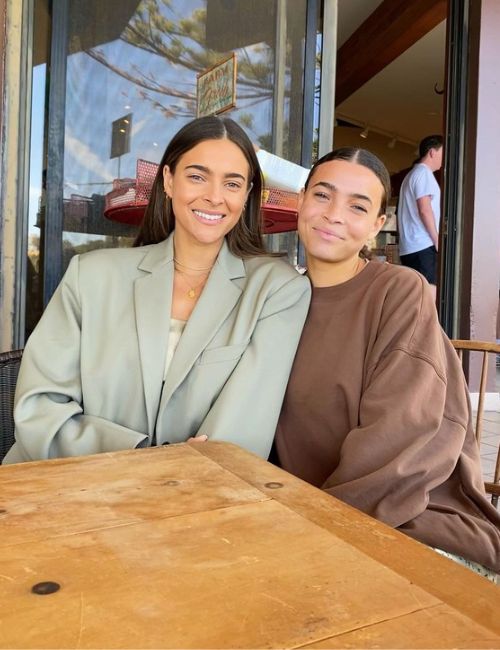 The former athlete-turned-model has a younger brother named Lawton Courtnall, who plays hockey, while his sister Brooklyn Courtnall plays soccer.
Ally attended Oaks Christian School in Westlake Village, Los Angeles County, California, for her education. She received a full scholarship to the University of California, Los Angeles, after graduating from high school in 2010.
At UCLA, Ally competed for the school in track and field and soccer. She finally graduated from UCLA in 2014.
A Competitive Family Background!
It should be no surprise that Ally chose sports over other careers during her early life, given that she grew up in a family of athletes.
The former soccer star said in an interview that she spent her entire youth attending hockey games, which would have sparked her interest in sports. Moreover, she added that competitive individuals constantly surrounded her.
Her father, Russell, is a former ice hockey player who spent 16 years (1983–1999) competing in the NHL. He represented several teams during his NHL career, including the Toronto Maple Leafs, New York Rangers, Montreal Canadiens, and Los Angeles Kings.
And as for Ally's mother, Paris is an actress with on-screen credits in Buffy the Vampire Slayer (1992), Pretty Smart (1987), and The Fresh Prince of Bel-Air (1990). She is also the owner of Paris Interiors, founded in 2015.
Talking about Ally Courtnall's siblings, they are into sports too. Her sister Brooklyn plays soccer for University of Southern California Trojans and the Canadian Women's National Football team.
And her brother Lawton is a hockey forward for NCAA Division I team, Western Michigan Broncos, of Western Michigan University.
Her family's success started way earlier, though.
Ally's uncle Geoff Courtnall was a retired ice hockey player who spent 17 years between 1983 and 2000 competing in the National Hockey League (NHL).
Her maternal grandmother is the jazz singer Sarah Vaughan. Sarah has been named as one of the most wonderful voices of the 20th century." Likewise, Sarah has also won four Grammys, including the Lifetime Achievement Award in 1989.
Other accomplishments of her grandmother include A star on the Hollywood Walk of Fame, induction into the Grammy Hall of Fame, the New Jersey Hall of Fame, and the American Jazz Hall of Fame.
Ally Coutrnall, Eric Kendricks' Girlfriend At ULCA
Ally was the Oaks Christian Athlete of the Year three times. She was also a two-sport athlete for UCLA who competed in both soccer and track.
In 2013, she helped the Bruins win the NCAA championship while earning the distinction of the tournament's Most Outstanding Defensive Player.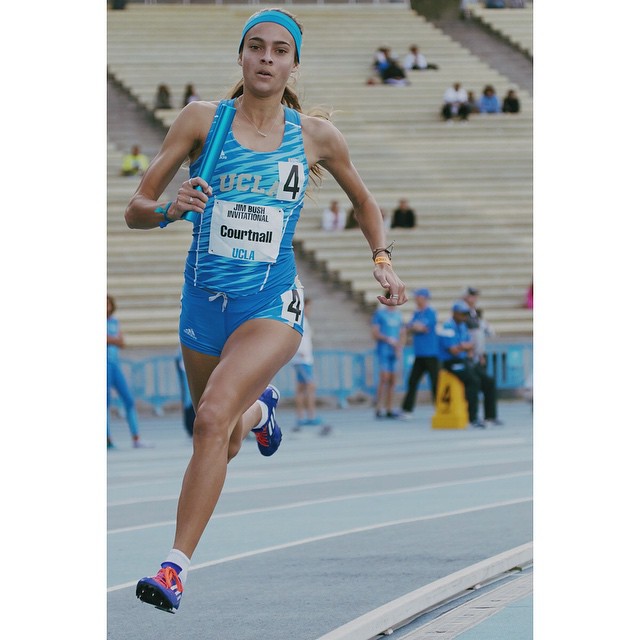 Ally is an expert at making difficult choices. She was a gifted four-sport athlete in high school, but when she got to UCLA, she had to narrow her emphasis.
For two years, the United States and Canada's dual citizenship combined the demands of sports with life and school. She selected track and soccer. She eventually had to make another difficult decision and quit soccer.
However, when the team's new coach, Amanda Cromwell, asked how she would feel if they won the championship without her. She returned to the club halfway through the season and made an impact immediately since she was driven by the desire to win.
Courtnall Turned To Modeling After Athletics
Ally Courtnall, who competed in NCAA women's soccer and ran track for UCLA, had two options! She could train for a potential Olympic slot or step back and figure out how to be athletic without competing.
Ally chose the second option. The stunning beauty started a modeling career after graduating from college and was signed by Elite Model Management and the fitness modeling firm Sports and Lifestyle Unlimited.
Ally has modeled for brands like Adidas, Lululemon, Nike, H&M, Athleta, and Asics during her career. Thanks to Ally's protracted athletic career, which assisted in keeping a toned physique!
How Ally Courtnall Met Eric Kendricks? Dating Story & More!
Ally Courtnall and Eric Kendricks are flashy about their relationship on social media. They love each other so much and barely miss mentioning or sharing pictures of each other.
The duo has known each other for a long time. The two actually met while at a birthday party of a mutual friend in 2010- Ally was 17 years old then. They both were attending ULCA then.
And after 3 years, Courtnall, then 20 years old, began dating Kendricks, and they would eventually see them exchange wedding vows.
In December 2021, Ally Courtnall shared an Instagram video that told when they began dating while confirming their wedding on the way.
It captioned:
Met in 2010
Started dating in 2013
Moved in together in 2015
Got engaged in 2021
Now we're getting married in 2022🥺
Happy 8 years to us!! This shit ain't easy but we put in the work and look where it's gotten us. Skies the limit with you by my side.I love you @erickendricks54 🖤".
They are such an adorable couple!
Wedding Moments
Eric and Ally married in Napa, California, at a beautiful property owned by a family friend. Eric added a unique spark to the day by parking two cars – his 1993 Mustang 5.0 and a borrowed 2014 SLS-AMG Black Series – near the venue's entrance.
View this post on Instagram
The other major highlight of the marriage was crowd surfing. Though it is quite rare for the bride herself to do so, Ally was up for it. The bride laughed as she lay over outstretched hands, elevating her above the crowd as the lights hung just above her.
Ally was dressed in a flowing white dress and snowy Air Force 1 sneakers with undone laces. Simultaneously, the wedding-themed song "I Write Sins" by Panic! at the Disco was playing on the speakers.
Brief On Eric Kendricks | Career, Measurements, and Net Worth
Eric Kendricks is a National Football League's Minnesota Vikings (NFL) member. He finished his undergraduate career at UCLA, where as a senior, he was named an All-American and won the Butkus Award as the top linebacker in the country.
In the second round of the 2015 NFL Draft, the Vikings selected him as the 45th overall choice. Eric is a native of Clovis, California, born on February 29, 1992, with the horoscope sign of Pisces.
He is an American citizen and belongs to the Afro-American ethnic group. The 28-year-old is 6 feet, 0 inches (1.83 m) tall, and weighs 232 lb (105 kg).
His estimated net worth is $10 million, most of which came from his NFL contract. The player recently agreed to a 5-year, $50 million deal with the Vikings.
Read More: NFL Star Creed Humphrey Bio | Net Worth, Contract & Family
Eric Kendricks' Girlfriend Ally Courtnall | Mental Health Advocate
While raising awareness of mental health issues was a more recent habit for Kendricks, the Courtnall family had long held regular discussions on the subject. Archie Courtnall, Ally's grandfather, took his own life in 1978 following a protracted battle with depression.
Ally grew up knowing this. Russ Courtnall, a former NHL right wing, founded the Courtnall Classic benefit, which evolved into the Courtnall Celebrity Classic, along with his brothers Geoff and Bruce.
The gala dinner and golf outing helped Victoria, British Columbia, strengthen its emergency mental health services by raising money.
Ally was not only aware of mental illness; she had personally experienced its effects. Over the years, Ally's battle with depression got worse and worse.
The model used self-harm in high school as a coping mechanism for the extreme emotional suffering that sometimes smothered her. Likewise, she also experienced what she refers to as the lowest point in her mental health journey while a student at UCLA.
Ally left the soccer team, distanced herself from family and friends, and spent days alone. The model recently disclosed this all.
Eric Kendricks and Ally Kendricks | Philanthropy
Everyone who knows Eric and Ally will agree that they are the perfect couple for each other. But their relationship has been more than just a love tale; it has been a journey of exploration, collaboration, and impact.
Due to what he's learned from Ally, partnering with groups that prioritize community people's emotional and mental health has become a common goal for Eric's charitable arm. This includes tackling food insecurity and advancing social justice.
When Ally was contacted by a staff member at Bar None, a teenage residential treatment facility located north of the Twin Cities, this past year, Eric and Ally took up a special endeavor near and dear to their hearts.
She and Eric used a videoconference to address the youngsters, answering their inquiries and motivating the group. Afterward, they spoke with staff members about the facility's requirements.
Moreover, Ally's regular Instagram followers can find helpful links and uplifting messages for anyone dealing with depression, anxiety, or other mental illness. In addition, she frequently discusses her personal thoughts and emotions from day to day.
Eric Kendricks Girlfriend | Body Measurements
Ally was born in the year 1993. Hence, she is currently 29 years old. The model was born in the rooster year according to the Chinese calendar.
Talking about her physical features, Ally stands tall at the height of 5 feet 8 inches and wears a shoe size 8 (US). Ally looks gorgeous with her brown hair and green eyes.
Eric Kendricks Girlfriend | Social Media
Ally is on Instagram and is very active there. She frequently posts pictures of herself and her husband there. If you are interested in Ally and her lifestyle, follow her on Instagram.
Ally has a verified Instagram account and goes by the username @allycourtnall. The beauty has more than 80 thousand followers there.
Frequently Asked Questions
Is Ally still interested in sports?
Ally is definitely an all-time sports lover. Backed by the fact that her family has a crazy bunch of athletes, she says she will always be involved, even if it's just as a spectator. There is no doubt that Ally is an athlete at heart. She absolutely adores watching sports because she thrives in the competitive atmosphere they foster.
Which was Ally's favorite modeling Campaign to work on?
Lululemon was Ally's favorite campaign. Ally has worn Lululemon since she was young, and she still adores doing so. Being a member of such a fantastic business made the model incredibly proud. Additionally, she was even more thrilled to represent Canada because she is a Canadian citizen.
What is Ally's preferred exercise routine?
Ally loves Yoga, walking, Pilates, and boxing. She usually enjoys mixing things up. As a result, she never gets bored by it.