Jarret Stoll is a former Canadian professional ice hockey player who played in the National Hockey League (NHL) and won the Stanley Cup twice. He got married to Erin Andrews on June 24, 2017.
One's life partner adds a lot of meaning to one's life. They are there to support you at your worst and cheer for you at your best, and Erin Andrews's husband has been the same.
Stoll has been there for Erin through all her thick and thins. Their relationship has been caught up in various controversies time and again. However, all that has only brought them close to each other.
The beautiful couple shares a net worth of around $46 million as of 2023.
Today we have gathered all the information about Erin Andrews's husband. So, read the whole article and find out in detail about him and their beautiful love story.
But before that, here are some quick facts.
Erin Andrews's Husband | Quick Facts
Full Name
Jarret Lee Stoll
Nick Name
Jarret Stoll
Age
41 Years Old
Birthdate
June 24, 1982
Birthplace
Melville, Saskatchewan, Canada
Mother
Sherri Stoll
Father
Tim Stoll
Siblings
Two siblings
Nationality
Canadian
Ethnicity
White
Religion
Christian
Marital Status
Married (2017)
Wife
Erin Andrews
Children
None
Height
6'1″/1.85 m/185 cm
Weight
94 kg/209 lb.
Hair Color
Dark Brown
Eye Color
Dark Brown
Shoe Size
N/A
Build
Athletic
Profession
Retired Ice Hockey Player
Position
Centre
Shot
Right
Sun Sign
Cancer
School
St. Paul's Elementary School
High School
Sacred Heart High School, St. Joseph High School
Shirt Number
28 (Los Angeles Kings)
19 (Minnesota Wild)
Played For
Edmonton Oilers
Los Angeles Kings
New York Rangers
Minnesota Wild
Playing Career
2002-2016
Status
Retired
Retired
2016
Net Worth
$16 Million
Pets
One dog (Howard)
Social Media
Instagram, Twitter
Merch of Erin Andrews
Photo, Book
Last Update
November 2023
Who Is Erin Andrews?
Erin Andrews is a well-known television personality, sportscaster, and actress in the United States. She gained the limelight after working for the American cable sports channel ESPN in 2004.
Erin was born on May 4, 1978, as Erin Jill Andrews to Paula Andrews and Steven Andrews.
Erin had a passion for dancing ever since she was a kid. As a result, she also attended Brandon School of Dance Arts.
She attended Bloomingdale High School. Later, Erin went to the University of Florida and got her Bachelor of Arts degree in Telecommunications.
Erin worked for Fox Network's NFL broadcasting team as the lead sideline reporter. But, of course, many people also know Erin from 'Dancing With The Stars, as she co-hosted the show with Tom Bergeron from 2014 to 2019.
Erin has had a fantastic career and was included in FOX Sports' no.1 NFL broadcasting team for 2022.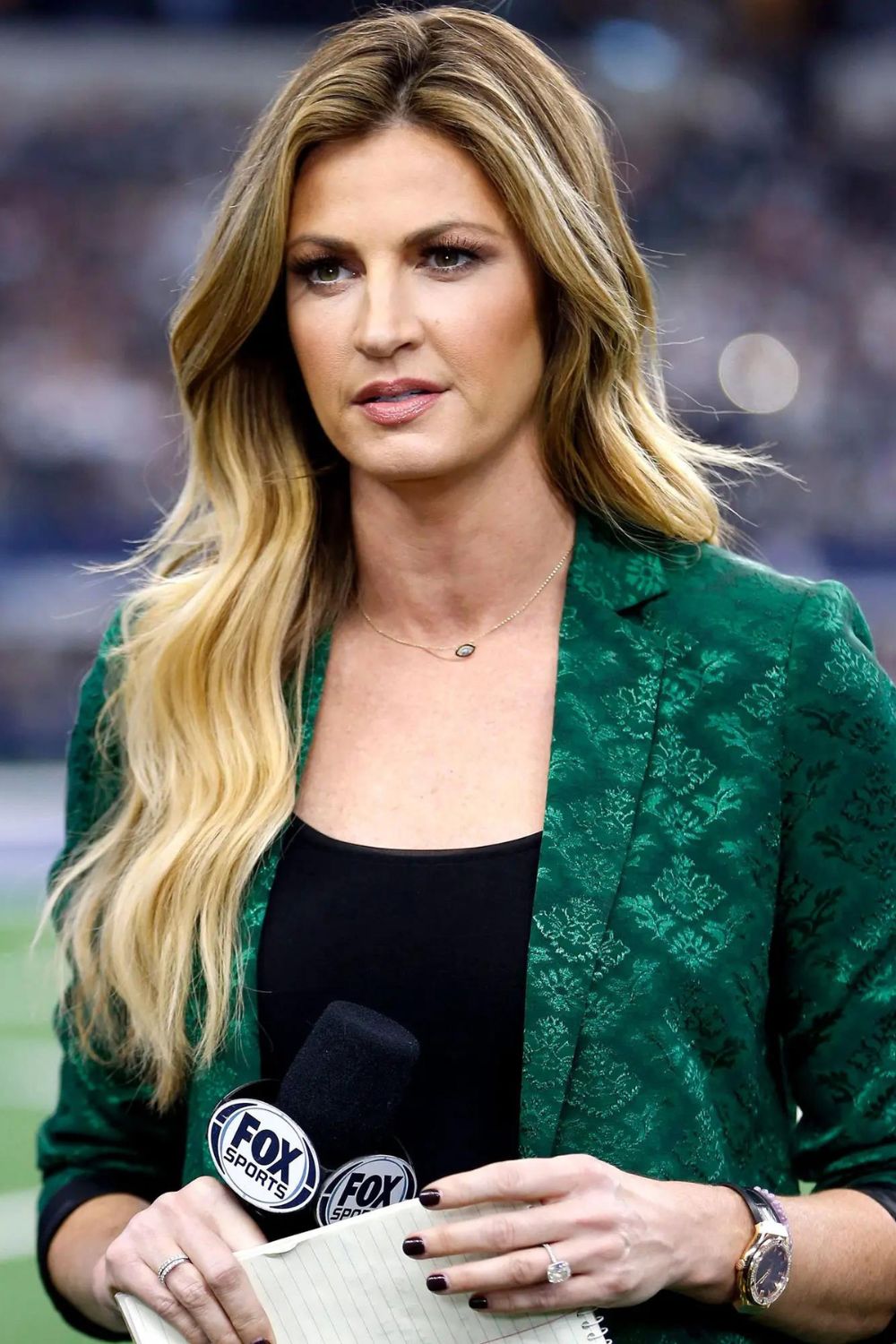 Erin Andrews has an impressive net worth of $30 million and an annual salary of $2 million. She has also done various brand endorsements, which add to her net worth.
Andrews has a massive social media presence. You can always go through her social media if you wish to know more about Erin. You can find her on Instagram under the username @ErinAndrews and on Twitter as @erinandrews.
Now, let's learn more about Erin Andrew's Husband, Jarret Stoll.
Erin Andrews's Husband | Early Life & Family
Jarret Stoll was born in Melville, Canada, on June 24, 1982. His mother's name is Sherri Stoll, and his father's name is Tim Stoll. Jarret's father was a district manager at Pioneer Grain Elevators.
Jarret is the second child of his parents. He has an elder brother named Kelly Stoll and a younger sister named Ashley Stoll.
All of the Stoll children grew up playing hockey. Kelly Stoll was a member of the Saskatchewan Junior Hockey League's Yorkton Terriers. Similarly, Ashley Stoll was a member of the University of Saskatchewan's hockey team.
Jarret used to live with his family in the small town of Neudorf. When he was small, his mother used to take him and his siblings to the rink almost every day of the week.
Jarret started skating at the young age of 3. Likewise, at the age of 5, he started playing the organized hockey.
Jarret went to St. Paul's Elementary School and Sacred Heart High School.
He won the bantam championship as a minor and later played for the Saskatoon Blazers of the Saskatchewan Midget Triple-A Hockey League. He also attended St. Joseph High School.
Jarret didn't have a favorite NHL team as a child but instead followed the nomadic NHL career of a family friend, whom he would cheer for in any way he could.
Despite being a fan of the Edmonton Oilers during Gretzky's tenure, Jarret and his family frequently attended Winnipeg Jets home games.
Jarret Stoll | Career
In his junior years, Jarret played with Kootenay Ice. He also became the team captain in the third season.
Jarret went through the NHL Draft process twice. Initially, he was drafted by the Calgary Flames as the 46th overall pick in the 2000 NHL Entry Draft, but they were unable to come to terms.
Later in 2002–2003, Jarret re-entered the 2002 NHL Entry Draft, was drafted by the Oilers, and played for the Hamilton Bulldogs of the American Hockey League.
He skated with the Oilers in 2003-04 before joining the Edmonton Roadrunners in the AHL in the 2004-05 season.
Stoll returned to play with the Oilers in the 2005-06 season and was named one of the Oilers alternate captains in the 2007-08 season.
After that, Jarret played for the Los Angeles Kings. He also won his first Stanley Cup on June 11, 2012, with the Kings against the New Jersey Devils.
Moreover, he booked his second Stanley Cup with the Kings against the New York Rangers a few years later, on June 13, 2014.
After that, Jarret signed a one-year contract with the New York Rangers. However, due to his low score and the team's underperformance, he was waived by the Rangers.
Later, Jarret signed a PTO contract to attend the Columbus Blue Jackets. Sadly, he was released by the PTO.
Is Jarret Stoll Retired?
Jarret Stoll wandered around as a free agent looking for a team to sign him up for the 2016-2017 season. However, he could not find any willing team.
As a result, Stoll has not played a game since 2016 and considers himself a retired player. However, he has not made any official announcement of his retirement.
Jarret Stoll | Post Retirement
When none of the teams were willing to sign Jarret, he had lots of time on his hands. He had spent most of his life playing hockey and could not stay away from it.
So, after playing seven NFL seasons and winning two Stanley Cups with the Kings, Jarret is now working as a Kings player development coach.
Jarret had always wanted to stay involved in the game and stay around the ice. So, he undoubtedly enjoys his new role as a coach and takes great pride in being around and trying to help the young players.
The retired player is also an analyst on Fox Sports West Kings broadcast. Further, he is working as a front-facing ambassador of the franchise.
In an interview, Jarret mentioned that he loved doing both the TV and his coaching job.
How Did Erin Andrews And Jarret Stoll Meet?
Jarret Stoll, a two-time Stanley Cup winner, texted his pal, NFL legend and morning TV personality Michael Strahan, during the 2012 World Series, asking him to set him up with Erin Andrews.
When Michael delivered the message to Erin that Jarret wanted to take her to dinner, she was uninterested. Erin also had a hectic schedule at that time as she needed to finish her World Series coverage.
Later, Jarret decided to try to make a move toward Erin in person.
During the Tigers/Giants game in San Francisco, Jarret walked past two security officers and bent over a railing to get to the dugout from where Erin was reporting.
Erin was impressed by his daring attitude and decided to give him a chance.
After the World Series, the two went to dine in Hollywood and started dating soon after.
Erin Andrews's Marriage With Jarret Stoll
Erin Andrews and Jarret Stoll got married on June 24, 2017, i.e., six months after getting engaged in December 2016.
The wedding ceremony took place in Montana and had a movielike feel to it. A wildflower field was created on the helipad, and mountains provided the perfect backdrop.
The setting was also surrounded by an old rusted wooden fence, which added to the rustic ambiance.
The helipad windsocks had been replaced with an E+J monogrammed flag, which flailed in the wind when guests were dropped off for the wedding.
As the bride came down the aisle, the couple's favorite country music was played. The duo has celebrated their 6 year wedding anniversary together.
Erin Andrews Husband | Jarret's Previous Relationships
Indeed, Jarret is now happily married to Erin Andrews. However, he also had a few relationships before he met Erin.
Here, we will briefly discuss the girls Jarret dated before he found Erin.
From 2006-2009, Jarret dated Rachel Hunter, a New Zealand model and actress. He had even proposed to her with a $60,000 glittering diamond ring in August 2008, two years after they had started dating.
Jarret and Rachel even already had their wedding fixed. It was planned to happen in North Carolina in August 2009. However, they decided to break up, and the wedding was canceled.
In 2010, Jarret dated Katie Cassidy, an American actress. They first met at a basketball game at the Staples Center in LA. However, their relationship did not last long, and they broke up in 2012.
After Katie, Jarret was also rumored to have been dating Paulina Gretzky in 2012. A leaked picture of them together in a hot tub fueled the rumor. However, they never publicly named their relationship.
Erin Andrews | Previous Relationships
Just like Jarret, Erin also has a history of dating. She has dated many famous and hot guys. Let's briefly look at the guys with whom Erin has previously been in a relationship.
In 2008, it was rumored that Erin was dating David Wright. However, no official announcement of their relationship was made.
Likewise, Erin was also rumored to have dated Aaron Rodgers, an NFL player, in 2011.
Later in the same year, Erin dated an American actor, Josh Hopkins. They were found having a great time together in Chicago at Lollapalooza.
Further, Erin dated another American actor, Chase Crawford, in 2012. Chase is famous for his role in the teen movie Gossip Girl.
Jarret Stoll | Arrest
In 2015, Jarret was engaged in a controversy that drew much attention to him.
On April 17, 2015, Jarret was accused of possessing cocaine and MDMA. As a result, he was arrested by the police when he was at the pool party at the Las Vegas MGM Grand's Wet Republic Pool with his LA Kings teammates.
Security guards at the MGM found some substance in Stoll's pocket, and police believed it to be around 3.3 grams of cocaine and other ecstasy capsules.
However, his felony charge of cocaine possession was dismissed. Instead, Jarret pleaded guilty to two other misdemeanor charges, which included 'commission of a breach of the peace' and 'trespass.'
Further, he was asked to perform 32 hours of community service.
Erin Andrews Husband | Jarret Stoll's Net Worth
Jarret has made enough for himself and spends a lavish life alongside his wife, Erin. On August 10, 2015, the hockey player signed a 1-year contract, including an annual salary of $800k.
Jarret has a net worth of $16 million as of 2023.
Besides, Erin also has an impressive net worth of $30 million. The wealth accumulated by both Jarret and Erin justifies the lavish livelihood and expenses made during their dream wedding.
Jarret Stoll | Age, Body Measurements, & More
The Canadian player is 41 years old, and his zodiac sign is Cancer.
As a hockey player, it is not shocking to know that Jarret has a well-maintained and athletic body.
He stands tall at the height of 6 feet 1 inch (1.85 meters) and weighs about 94 kg (209 pounds).
His body measurements are Chest – 43.5 inches (110.5 cm), Arms / Biceps – 15 inches (38 cm), and Waist – 33 in (84 cm).
He believes in yoga and follows a yoga routine at least four times a week. Jarret and Erin also have a dog named Howard.
Jarret Stoll | Social Media Presence
Erin Andrews's husband is on social media but is relatively less popular than his better half.
He is present on Instagram under the handle @stolly28 and on Twitter under @jarretstoll. However, his Instagram is private. There is another Instagram of Jarret @jartestoll28, which has been inactive since 2017.
Twitter: 32k followers
That was fun! RT @VintageOilers: OTD 2007
Patrick Stefan whiffs on the empty net,@jarretstoll shoots the puck up the ice, @RealSmytty94 moves it to Hemsky who makes a beauty move and scores to tie the game with 2.1 seconds left.pic.twitter.com/UNZAcmN6g4

— Jarret Stoll (@jarretstoll) January 4, 2023
Jarret Stoll | Popularity
The former ice hockey player was already a popular sports personality, and getting married to one of the popular sportscasters got him some extra media attention.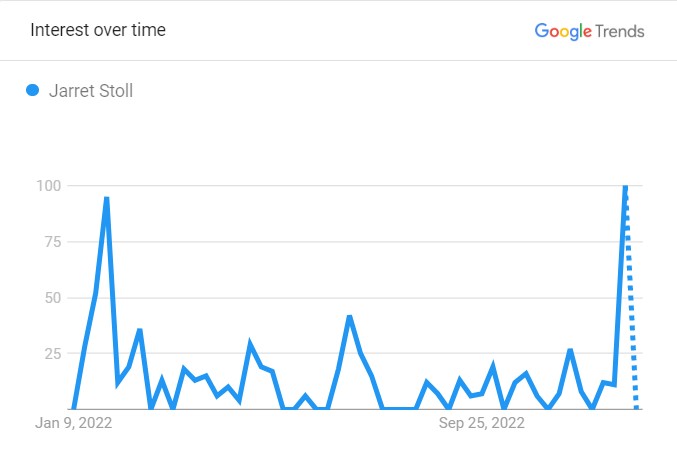 The above image gives brief information about the popularity of the former Canadian hockey player based on Google searches in the United States over a year.
Jarret Stoll | FAQs
What is the age difference between Jarret Stoll and Erin Andrews?
Erin is older than her husband, Jarret. Jarret was born on June 24, 1982, whereas Erin was born on May 4, 1978. Hence, they have an age difference of around four years (4 years, one month, and 21 days, to be precise).