Evander Holyfield is an American former professional boxer. In the late 1980s, he dominated the cruiserweight as the undisputed champion and the 1990s heavyweight. Holyfield is the only boxer in history to win the undisputed championship in two weight classes in the three-belt era.
He played for the United States at the 1984 Summer Olympics as an amateur who secured a bronze medal in the light heavyweight division.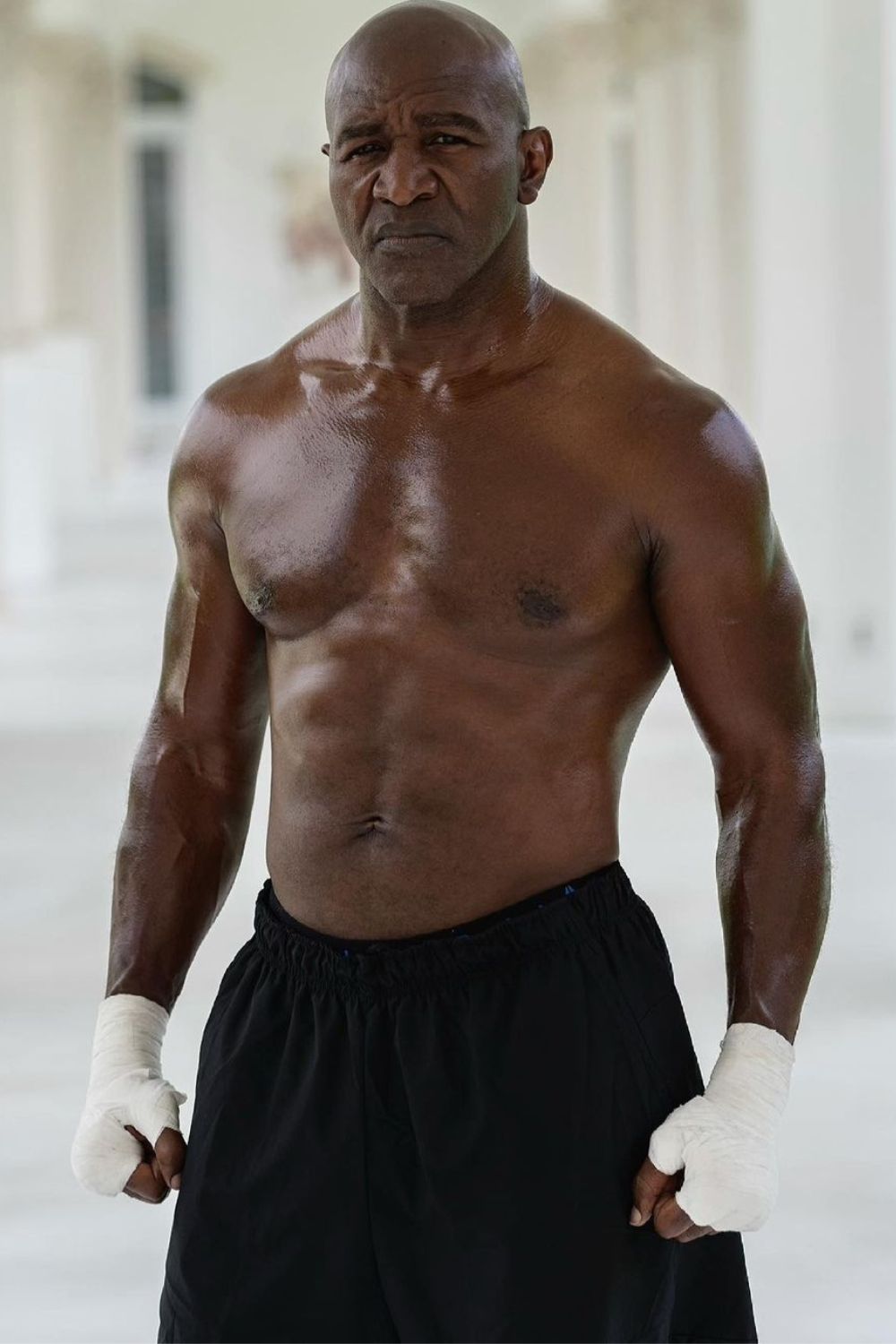 On 6 December 2022, Evander Holyfield posted one of the videos where he is seen making breakfast for himself, a smoothie, as he captioned the post, "Breakfast of Champions. Here's how I start my day… The "Read Deal" way. With 2 scoops of @seamosstransformationfactory in my morning smoothie."
He is а sports legend of his lifetime and has had a professional career from 1984 to 2014.
The sports career of Evander Holyfield reminds us of bright and unforgettable fights. His brilliant techniques, fantastic kicks, and ability to foresee the opponent's tactics make his performance extraordinary.
Notably, Evander also tagged him as 'The Real Deal' due to his boxing supremacy in the 90s. Likewise, Holyfield's 26 years in the top flight have awarded him four world heavyweight championships.
Further, his intellectual and great fighting style has earned him 44 wins from 57 bouts, out of which 29 were won by knockouts while losing just 10.
Let us look closely at Evander Holyfield's bio, career, net worth, childhood, personal life, etc.
But before, let's begin with his quick facts.
Evander Holyfield |Quick Facts
Full Name
Evander Holyfield
Birth Date
October 19, 1962
Birth Place
Atmore, Alabama, U.S
Nick Name
The Real Deal
Religion
Christianity
Nationality
American
Ethnicity
Not Available
Education
Fulton High School
Horoscope
Libra
Father's Name
Not available
Mother's Name
Annie Laura Holyfield
Siblings
Yes(8)
Age
61 Years Old
Height
6 ft 2 in / 189 cm / 1.89 m
Weight
102 kg / 224 lb
Shoe Size
Not Available
Hair Color
Bald
Eye Color
Black
Body Measurement
Not available
Build
Athletic
Marital Status
Divorced
Girlfriends
No
Spouse
Paulette (m. 1985; div. 1991),

Janice Itson (m. 1996; div. 2000),

Candi Calvana Smith(m. 2003; div. 2012)

Profession
Former Professional Boxer
Boxing Record
44-10-2
Position
Not Available
Net Worth
$1 Million
Social Media
Twitter, Facebook, Instagram
Children
Yes (11)
Merch
Posters, Hoodie, Boxing Cards
Last Update
November, 2023
Evander Holyfield | Early Life, Family, & Education
Evander Holyfield was born in Atmore, Alabama, US, on October 19, 1962. He was born in a big family as the youngest child.
He had eight siblings, and Evander was from a different father from the rest of his siblings. Evander was born to his mother, Annie Laura Holyfield.
Annie brought up the kids with their grandmother. Being a religious woman, his mother taught him and his siblings to follow their goals and lead a disciplined life.
When Evander Holyfield was four years old, his family moved from Alabama to a housing project area in Atlanta, Georgia. At that time, Atlanta city was notorious for its high crime rate.
Moreover, Evander slowly became familiar with boxing after joining a boxing group for kids at seven.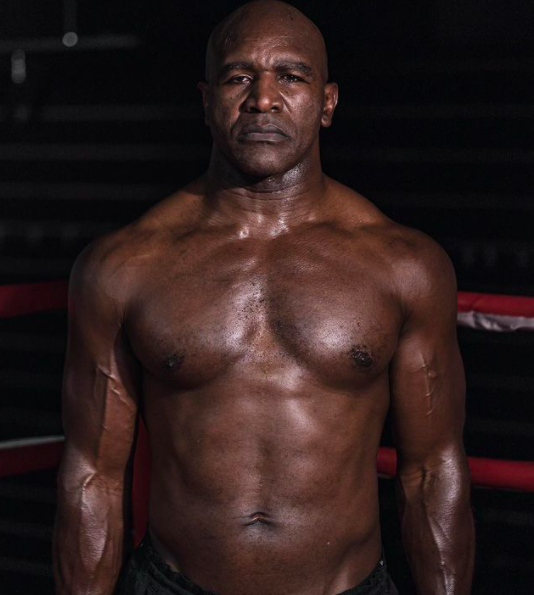 Further, he began to show his boxing skill early and won a boxing medal. He completed his education at Fulton High School and graduated in 1980.
At just the age of 13, Evander competed in the Junior Olympics. Also, he became the Southeastern regional tourney winner.
In addition to that, he won the Best Boxer Award. Not to mention that Holyfield had shown how much he could accomplish by winning 160 from 174 fights, of which 76 were knockouts at age 15.
Likewise, he participated in the 1983 Pan American Games throughout this time, where he won the silver medal and the National Golden Gloves.
In addition, Evander also won a bronze medal in the 1984 Summer Olympic Games.
Evander Holyfield | Age, Height & Weight
Being born on October 19, 1962, makes Evander 61 years old. Likewise, Holyfield's birthday falls under the star sign of Libra.
Evander stands 6 ft 2 inches tall and weighs 102 kg. He was just 5 ft 8 inches at age 18. Eventually, he added nearly 3 inches to reach his adult height in his early 20s.
Moreover, Holyfield has an athletic physique and trained body thanks to his years of training.
It has been a decade since Evander started as a boxer, and still, to this date, he is muscular and fit to the bones.
Further, Holyfield follows a strict diet plan and training routine to maintain his body. He does different workouts and exercises to keep him fit and active.
You can find all the information regarding Evander Holyfield's training routine and diet plan on the Fortis website.
Evander Holyfield | Boxing Career & Stats
Light Heavyweight
Evander Holyfield had his professional debut in November 1984 in the light heavyweight division against Lionel Byarm. Not only did Evander participate in the game, but also he won his first fight.
Similarly, Evander Holyfield went on to win some other contests in the Light Heavyweight division before shifting to the cruiserweight division the following year.
Cruiserweight
Evander Holyfield had his debut in the cruiserweight in July 1985, in opposition to Tyrone Booze. Evander won this fight in round 8 after an undivided decision by the judges.
Likewise, He won two more contests before knocking off Anthony Davis in his final battle of the year.
Holyfield was entitled as the WBA Cruiserweight Champion after winning against Muhammad Qawi in a competitive bout in 1986, which was the best of the 80s in the cruiserweight division.
Later in 1987, during a rematch, he won Qawi by KO in the fourth round. After that, Holyfield moved forward to defend his belt in opposition to Henry Tillman.
Henry defeated World Champion Mike Tyson on two occasions as an amateur. Holyfield knocked out Tillman in Round 7 and continued to hold his title.
Further, he retained his title, yet again, against Ossie Ocasio, an ex-world champion, by a KO in round 11.
Besides, Holyfield gained world recognition by defeating Carlos De León in 1988, the Lineal & WBC Champion.
Following the match, he spoke of his desire to advance to the heavyweight division by challenging Mike Tyson's World Heavyweight Championship.
Heavyweight
Holyfield had his debut match in the heavyweight against James Tillis, who was known for his fast fighting style and flash punches. Evander won the game in the fifth round by KO.
Evander Holyfield's first match against Michael Dokes, an ex-heavyweight champion, in 1989, became famous in heavyweight history for being positioned as one of the best in the 80s. Holyfield won the bout yet again by KO in round 10.
Evander Holyfield's amazing feats made him Ring Magazine's top nominee for two years by 1990.
Tyson was ripped off his belts by Buster Douglas in 1990. Holyfield was matched with Douglas in place of Mike Tyson for Douglas' prime title defense.
Evander won by unanimous decision and was named the Undisputed Heavyweight Champion. Likewise, he won his first title defense next to George Foreman by an additional unanimous decision.
Matches (1992-1995)
Holyfield then continuously defended his belts by facing off Bert Cooper and Francesco Damiani. Holyfield got his first scar, in 1992, in a contest next to 42 years old Larry Holmes.
Evander Holyfield was determined to face Riddick Bowe, who was one of the main rivals in his career. As a result, the tenth round of the match was ranked the finest of the year.
But eventually, Evander suffered a defeat in the twelfth round by a unanimous verdict to Riddick to allege the belt.
Again, a rematch was planned for November 1993. The match became a memorable fight; someone flew in a parachute close to the ring and was entangled in the lights.
Soon after that, the man known to be 'The fan man' and the fight was called 'The fan fight.'
Evander Holyfield ultimately won the fight and reclaimed his belt. He was also awarded ABC's Wide World of Sports Athlete of the Year.
In 1994, Evander lost the fight with Michael Moorer from the light heavyweight division. The defeat was a result of the majority decision in round 12.
He was then compelled to give up his gloves after being diagnosed with a heart problem. Later in 1998, a rematch was scheduled, and Holyfield won that bout with an IBF title.
Evander joined back the octagon in 1995 with a victory over Ray Mercer.
Also, Check Out 120 inspiring Floyd Mayweather, Jr. Quotes >>
Matches (1995-2000)
Holyfield then agreed to another face-off in opposition to Riddick Bowe. Riddick won the bout in the eighth round by KO.
The long-waited Evander Holyfield vs. Mike Tyson's clash finally turned up in 1996. Evander Holyfield won the match against the odds.
He defeated Tyson in round 11 by technical knockout and claimed the WBA Heavyweight Championship. In June 1997, a rematch was scheduled between Tyson and Holyfield.
During the match, Tyson bit Evander's ears twice and earned a deduction of points and disqualification.
Ultimately, Evander Holyfield won the game and had the hold of his belt. In 1998, Evander Holyfield successfully fought back for his title against VaughnBea.
Moreover, LennoxLewis, WBC World Champion, also participated in a unification match with Holyfield in 1999. The game finished in a draw but saw Holyfield conquer in the game that followed.
You Might Also Want To Read 66 Famous Mike Tyson Quotes That Will Inspire You >>
Matches (2000-2009)
Following Lewis' belt strip-off, Holyfield and John Ruiz planned a game in 2000 to allege the world title belt. Instead, Evander Holyfield won the first in the twelfth round by unanimous verdict.
Subsequently, in 2001, Ruiz won the rematch unanimously in the same twelfth round. In December 2001, the next bout happened and was stated as a draw making Ruiz retain the titles.
Motivation. #TEAMHOLYFIELD pic.twitter.com/6kHzkhnj6O

— Evander Holyfield (@holyfield) December 2, 2020
Evander Holyfield confronted Hasim Rahman in a significant match to decide who was to face Lennox Lewis for the IBF title. Ultimately, Lewis lost his belt, and Holyfield won the game by technical decision.
Holyfield's constancy started declining with time, and he suffered consecutive defeats. However, in 2006, he conquered Jeremy Bates by technical knockout.
Holyfield then won several matches till he confronted Sultan Ibragimov for the WBO Heavyweight title.
Ibragimov defeated Holyfield and won the highly aggressive and exciting game by unanimous decision to claim the WBO Heavyweight title.
Matches (2009-2014)
Evander Holyfield was defeated by Nikolai Valuev, in 2009, by a majority decision in a decidedly controversial match that the WBA investigated later on.
In 2010 Evander faced off Francois Both and won the match to claim the WBF heavyweight belt.
Also, he listed the only no-contest bout of his career against Wladimir Klitschko because of an eye injury in round 2.
Evander announced his retirement soon after being defeated by the Danish BrianNielsen and securing a title match with the Klitschko brothers.
Holyfield finally hung his gloves in 2014, totaling 44 wins from 57 matches.
You can find all the boxing details, records, fight lists, wins, and losses of Evander Holyfield on the Boxrec website.
Exhibition bout
There was an announcement on April 16, 2021, that Evander was returning to the ring on June 5, 2021, to face Kevin McBride (popularly known for defeating former undisputed heavyweight champion Mike Tyson) in an exhibition bout on the undercard of Teofimo Lopez vs. George Kambosos Jr.
But, due to multiple postpones of the Lopez vs. Kambosos card, the fight against McBride ultimately did not happen. Holyfield filed a demand for arbitration against Triller.
According to the reports, on September 3, 2021, Oscar De La Hoya was hospitalized with COVID-19. He was slated to headline a Triller PPV show against Vitor Belfort on September 11.
Hence, Holyfield stepped in as his substitution for the Triller. The match was originally scheduled to occur in California, and somehow, the California State Athletic Commission refused to sanction a bout with Holyfield in any capacity- exhibition or professional.
It was moved to Florida, as the Florida State Athletic Commission agreed to sanction the bout as an exhibition.
Unfortunately, Holyfield lost via first-round technical knockout.
Update 2022
In 2022, there was not much information available regarding him. However, we have extracted some from his social media account, Instagram, where he is active.
On 14 November 2022, he promoted products from Tyson 2.0 Global with Mike Tyson on his Instagram. Tyson 2.0 Global sells berries in various flavors, which are the products of legendary boxer, entrepreneur, and icon Mike Tyson.
He also participated in the world food program, supporting the cause on 19 November.
He was seen promoting products from the GUCCI, which he posted on Instagram with a video captioned, " Bet you didn't think I could throw a punch while looking this good."
In December, Evander is promoting products from 'seamosstranformationfactory,' which specializes in smoothie flavor.
He also promoted Louis Vuitton products by posting a video of him dancing while wearing the sweater from LV in one of his Instagram posts on 10 December 2022.
Evander Holyfield | Personal life, Wife & Children
Evander Holyfield is known to be single at present. Interestingly, he had been married to three different women and divorced all three of them.
The latest ex-wife of Holyfield was Caldi Cavana Smith. He lived the longest with Caldi among all his wives for 11 years.
Evander Holyfield has 11 children born of 6 women. One of his sons, Elijah Esaias, is a college footballer at the University of Georgia.
Evander Holyfield | Music, TV Shows & Movies
Evander Holyfield started Real Deal Records in 1999, known for Exhale's mark, a well-known music group.
The Real Deal is also famous for its signature of NiWine, a well-liked Filipino artiste. The creation of the record label signifies Holyfield's passion for music.
He has also played roles in movies and TV shows. Some of these include the Fresh Prince of Bel-Air in 1990.
Evander also appeared in an animation in the Nickelodeon GUTS, where his character had his trademarked bitten ear.
Likewise, in 2014, he was seen in Celebrity Big Brother (UK) and was evicted first in the show. His latest emergence was in the 2016 Argentine dancing reality show.
Evander Holyfield | Networth & Salary
Like Mike Tyson in his boxing career, Holyfield once had a peak fortune above $200 million.
It is estimated that he earned $230 million in prize money alone. Sadly, all that amount was gone by 2008, when he lost his 109-room Atlanta mansion to foreclosure.
The mansion was 54,000 square feet on 234 acres. The house solely cost him more than 1 million a year to maintain.
Following foreclosure, the house sold at a public auction for $7.5 million. Unfortunately, Evander owed a bank more than double that amount for the house's mortgage.
In 2013, he also owed several hundred thousand dollars in back taxes to the IRS.
Holyfield's prized possessions were sold at auction over the years to cover many debts and obligations, including his Olympic bronze medal, 20 pairs of fight gloves, championship rings, and 25 match robes and shorts.
As of 2022, Holyfield's net worth is estimated to be around $1 million.
Social Media Presence
Evander Holyfield is quite active on social media. You can follow him via these links:
View this post on Instagram
Facebook: 1m followers
Instagram: 565k followers
Twitter: 299.1k followers
Popularity Graph
Evander Holyfield is an American former professional boxer.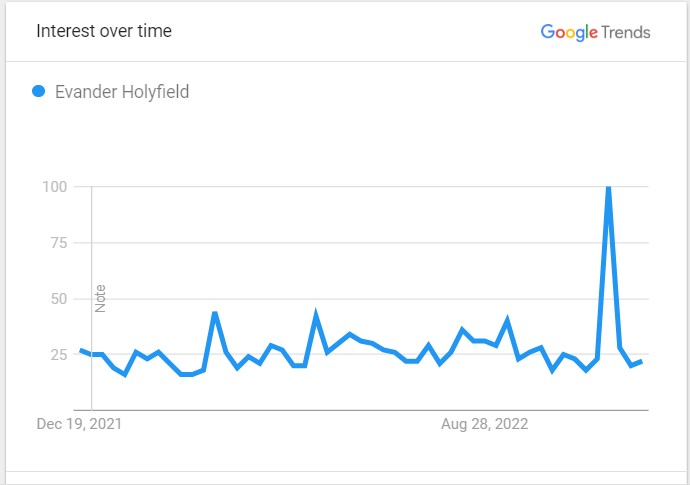 Regarding this great boxer, there were searches on the internet about his net worth, ear, fight with Mike Tyson, and boxing records.
Frequently Asked Questions (FAQs)
Why does Evander Holyfield live in a two-bedroom apartment?
Evander Holyfield had a very successful boxing career and has amassed millions of dollars by fighting inside the ring.
However, most of his earnings vanished because of his reckless spending habits and bad business deals. So, he lives in a two-bedroom apartment because of his financial problems.
How much did Evander Holyfield bench press?
According to reports, Evander Holyfield can bench press more than 100kg.
What is Evander Holyfield's career record?
Evander Holyfield has a professional career record of 44 wins, 10 losses, and 2 draws.
Is Evander Holyfield in the Hall of Fame?
Evander Holyfield was inducted into the International Boxing Hall of Fame in 2017.
When was Evander Holyfield's last match?
Evander Holyfield's last match was on May 7, 2011, against Brian Nielsen. Holyfield won that match by technical knockout (TKO).
Who was Mike Tyson's toughest opponent?
During one of his interviews, Mike Tyson mentioned that out of many opponents he faced in his career, the toughest one was Evander Holyfield.