A touted 2023 NBA draft prospect, Victor Wembanya got his basketball influence from his elder sister Eve Wembanyama. She represented the French basketball team in the 2021 U20 Women's European Challengers.
Victor & Eve also have the youngest brother named Oscar Wembanyama, who began his basketball career with LDLC ASVEL Villeurbanne (of ANGT) in 2023.
Well, their inclination to sports comes as no surprise, given that the Wembanya siblings were raised by athletic parents: Felix and Elodie.
Victor Wembanyana, the French-born basketball player, is projected to be the No.1 pick in the 2023 NBA draft, ahead of the projected 2nd overall pick Scoot Henderson.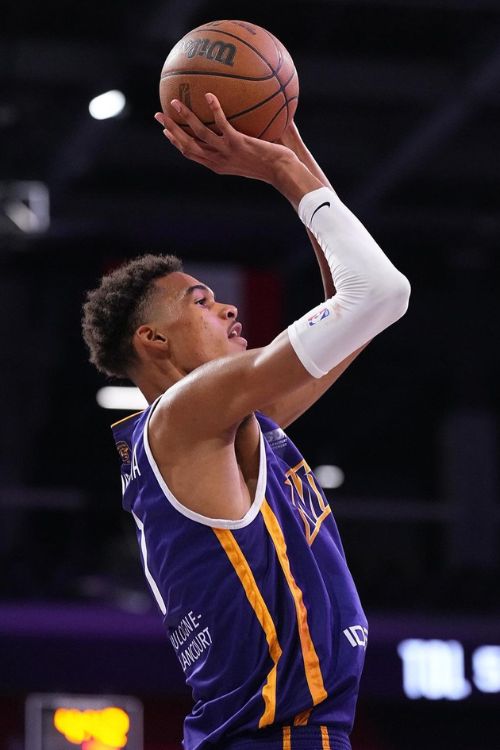 Currently, the 7 ft 3 inches (2.2 m) tall player plays for Metropolitans 92 (2022- now), having started his career in 2019 with Nanterre 92 & then with ASVEL (2021-22).
The 19-year-old stirred some talks among the netizens as he mentioned Kevin Durant and Giannis Antetokounmpo as his idols, leaving out LeBron James from the list.
Victor Wembanyama Sister, Eve Wembanyama
Victor Wembanyama's sister, Eve Wembanyama, plays for the French LF2 team, Monaco.
Born on December 10, 2001, Wembanyama joined Monaco in the 2022-23 season.
She previously played for Lyon Basket féminin (2019-20) of LFB & Calais (2020-22) of the LF2.
With the France national basketball team, she won a gold medal at the FIBA U16 level and also European Championship in 2017.
The oldest of three siblings, Eve is active on Instagram (@eve_wemba), where she shares pictures of her day-in and day-out activities.
It's funny to point out the fact that despite being 6 ft. 1 inches (1.85 m), she is the shortest one in the family. Though Eve's stature isn't an everyday phenomenon compared to many other girls.
Victor Wembanyama Brother, Oscar Wembanyama
Victor Wembanyama's younger brother, Oscar Wembanyama, has already been tipped for success.
Born on March 18, 2007, Oscar is 6 ft 5 inches (1.95 m) tall and plays for ASVEL-Villeurbane. The 16-year-old only started playing basketball in 2020.
Unlike his brother and sister, Oscar was more enthralled by handball, and it was because of his mother Oscar started to play basketball.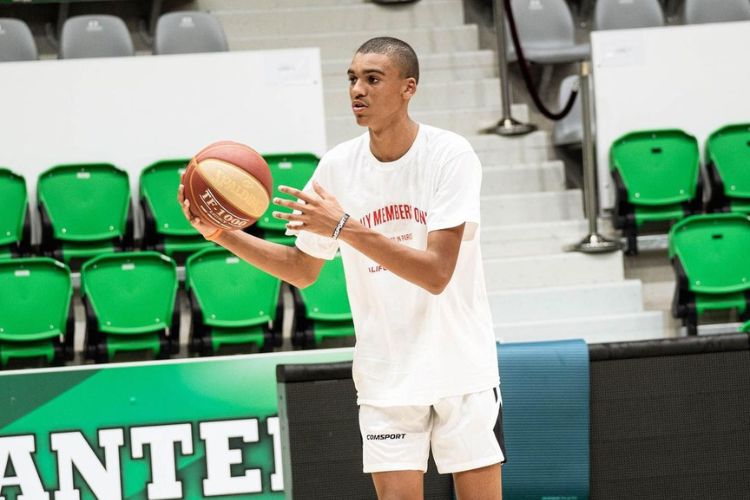 In an interview, Oscar said he wanted to replicate his siblings' success when it comes to international stages. His siblings are French Champions, and Oscar also wants to wear the gold medal around his neck.
Oscar made his professional debut in 2020 with Nanterre's U15 team and won his first trophy. In November 2022, the ASVEL picked him.
But before he signed with ASVEL, Oscar showed his talent to the American audience during the Axe Euro Tour.
There he played against the sons of LeBron James: Brony and Bryce, catching the attention of many fans.
Oscar has stated he wants to create his legacy and doesn't want to remain in his brother's shadow. And with the talent he possesses, it will only be a few seasons before we see another Wembanyama added to NBA.