Behind every successful athlete, there is one person who is always cheering on them. New York Mets' Short Stop Francisco Lindor's girlfriend has found that spot as his partner, the strikingly beautiful Katia Reguero Inserni.
Better known as Mr. Smile, Francisco Lindor is one of the rising stars in the world of MLB. His blooming career and his happy-go-lucky persona have made him the heartthrob of many ladies around the world.
However, he recently announced Puerto Rican beauty Katia Reguero Inserni as the one who stole his heart. Not to mention, the couple already has a baby girl together.
Moreover, they have finally decided to make their relationship official and are getting married soon.
Katia recently shared photos on her social media with the tag 'Future Mrs. Lindor,' which made fans pretty excited.
If you have wanted to know more about the bride-to-be, you are in the right place! In this article, we will explore the biography of Francisco's baby mama.
But before we begin, let's have a look at some interesting quick facts:
Katia Reguero: Quick Facts
| | |
| --- | --- |
| Full Name | Katia Reguero Inserni |
| Common name | Katia Reguero |
| Nick Name | Katia |
| Birthdate | April 9, 1994 |
| Age | 28 years old |
| Zodiac Sign | Aries |
| Mother's Name | Maria Luisa Inserni-Milam |
| Father's Name | Juan Reguero |
| Siblings | Nika Reguero Inserni, Jan Paul Reguero |
| Birthplace | Aguadilla, Puerto Rico |
| Home Town | Aguadilla, Puerto Rico |
| Citizenship | Puerto Rican |
| Residence | New York |
| School | N/A |
| College | St. Mary's University |
| Education | Bachelor's in International Relations |
| Height | 5 feet 6 inches (167cm) |
| Weight | 60 kgs |
| Eye Colour | Brown |
| Hair Colour | Brown |
| Shoe Size | 41 (EU) |
| Martial Status | Engaged |
| Partner | Fransisco Lindor |
| Engaged on | December 27, 2020 |
| Children | One Daughter |
| Sport | None |
| Profession | Violinist |
| Famous for | Fransisco Lindor's Finacee |
| Hobbies | Reading, traveling |
| Affiliated Brands | zero waste |
| Social Media | Facebook, Twitter, Instagram |
| Website | Zero Waste |
| Francisco Lindor Merch | Jersey, Trading Card |
| Last-Update | November, 2022 |
Who is Katia Reguero?
Katia's full name is Katia Reguero Inserni. However, she likes to go by just Katia. She was born on April 9, 1994, in Aguadilla, Puerto Rico.
This town is a beach town, so Katia grew up close to the seas. She has been a vegetarian since childhood.
Her parents are Maria Luisa Inserni Milam and Juan Reguero. Besides Katia, her parents have two other children. Her sister is Kika Reguero Inserni and her brother is Janb Paul Reguero.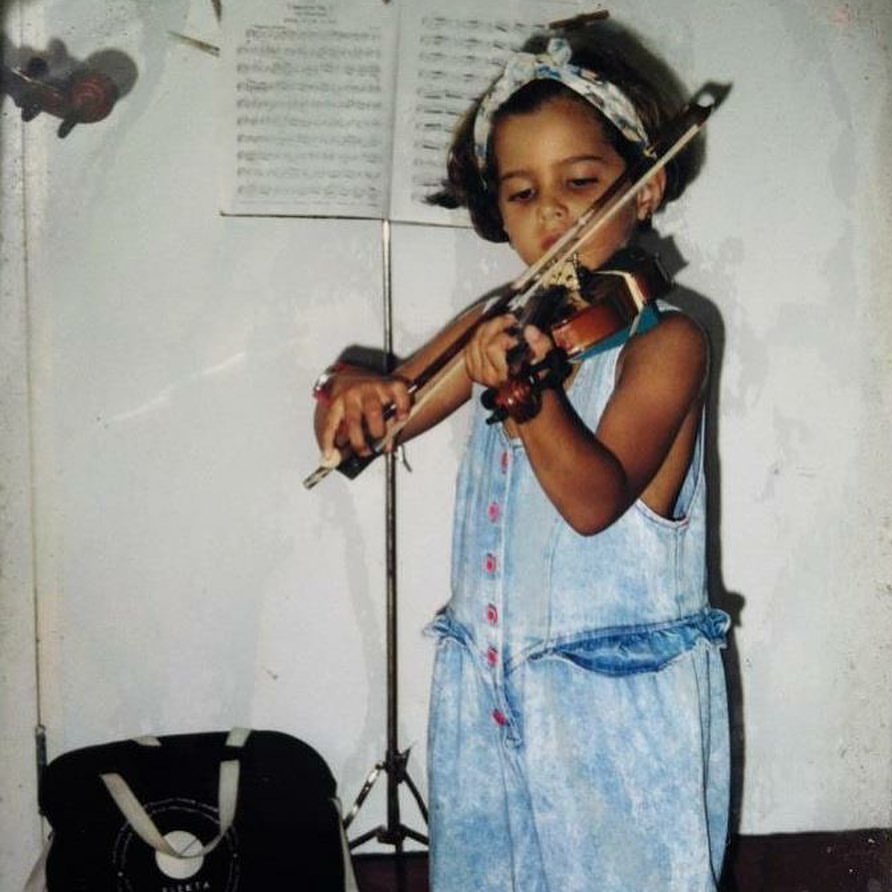 We don't have much information about the family, but we know that Maria is a lawyer based in Puerto Rico. Similarly, her brother Jan played baseball in Puerto Rico and at St. Mary's University, his alma mater.
Katia grew up as a musically inclined child and started playing violin very early in childhood. Also, she is fluent in English, Spanish, and Portuguese.
Furthermore, her Instagram posts revealed that she underwent surgery a few days before her 25th birthday. It looks like she had an organ removed, but the full details are not known.
>>> You might also be interested in Nina Altuve Bio: Husband, Children, Baseball & Net Worth >>>
Katia Reguero's Education
Though Katia was born in Puerto Rico, life brought her to the USA at a young age. Both she and her brother enrolled in St. Mary's University, Texas.
Katia studied for Bachelor's in International relations and affairs and graduated in 2018. Alongside that, she also worked in the athletics department there.
Katia has plans to study law and pursue a legal career in the future. Her mother has inspired her in this regard. She has previously intended at law firms as well.
Despite pursuing a legal career, she has not given up on music and violin. We can see her frequently sharing clips of her performances on Instagram. She seems to be an incredibly gifted classical violinist.
Katia Reguero and Francisco Lindor's Relationship
After Francisco broke up with his long-time girlfriend Nilmarie, many assumed it would take him long to get back into the dating scene. However, he recovered pretty soon from the heartbreak and soon found himself attracted to Katia.
We don't know exactly when the duo started dating but judging from the couple's social media timeline; it was around late 2019 or early 2020.
Having a baby and engagement
Some relationships don't take a lot of time to blossom. Similarly, the couple soon knew they fitted well together and started planning for a family.
They welcomed their child, a daughter, in December 2020. They celebrated the year's Christmas gracefully as a family.
To add to the joy of the Christmas mood, Lindor proposed to Katia on December 27. The event took place in a beautiful setting in a garden in the presence of their baby daughter. They have named the daughter 'Kalina.'
They broke the news of the engagement via their respective Instagram on January 7. From what Katia has shared on Instagram, we know that they are planning a December wedding.
However, the couple doesn't need a wedding to validate their relationship. Katia is so in love with Mr. Smile that she has already named her Reguero Lindor on Instagram.
Katia is a Potterhead with an undying love for the harry potter books and pop culture. She sometimes dresses her daughter in Harry Potter-themed clothes as well.
She is also passionate about sustainable living. In 2020, she partnered with zero waste, a waste management company, to promote a healthy, sustainable, and reduced-impact lifestyle.
In August 2021, the bride-to-be had a fun bachelorette party on the beach with her bridesmaids.
>>> You might also be interested in Cord Sandberg: Family, Baseball Career, Wife & Salary >>>
Moving to New York
Since the shortstop got traded to the Mets, the couple has moved to New York. It was a bit unpredicted move for them, but they seem to have well adjusted. Carlos Beltrán and his wife Jessica helped them get settled a find a home in the city.
In an interview he gave after moving to new york, Fransisco revealed that they had not explored the city because they had only received one dose of covid vaccine.
He also shared that Katia was interested in visiting museums and galleries in the city while he was more into exploring the eateries.
In early 2021, the couple paid $2,9 million to buy an estate in Montverde, Florida.
This exquisite mansion spreads over a 1-acre land, with the house, an open-air courtyard with a fountain. The casita features five bedrooms, 6.5 bathrooms, and a master suite with an exercise room.
There are various other amenities in the house besides that.
Fransisco Lindor and Nilmarie Huertas
Before Fransisco met Katia, he was dating another Puerto Rican beauty, Nilmarie Huertas. The exact details of their first meeting are unknown, but they have been together since 2012.
Nilmaire Huertas is the sister of David Huertas, who has made a name for himself in Puerto Rico as a shooting guard in Baloncesto Superior National.
Since the Huertas family is also into baseball, we can guess they have known each other for a long time.
The couple spent six solid years in a beautiful relationship and definitely not shy of showing their love on social media. Nilmarie accompanied Lindor in most of his games, and they used to travel together for vacation.
However, things started to change around 2017. Soon, there was news of the breakup. Initially, both parties stayed quiet about the reason for the separation despite great dissatisfaction from fans.
Lindor was accused of cheating on Huerta, but he denied those allegations.
After quite some time, Nilmarie talked about their relationship with a Puerto Rican journalist and how she went through the breakup. She revealed that she was depressed after they parted ways and even thought of ending her life.
Fortunately, she has recovered pretty well from that phase and is thriving in her life now.
As of 2021, Nilmarie is dating Puerto Rican basketball player Walter Hodge. Also, she owns her boutique, 'Vellisimo Studio,' which specializes in modern ladies' clothing.
Walter proposed to Nilmarie on August 2021, and they have been planning the wedding that will take place shortly.
>>> You might also like: Tom Brady's ex-girlfriend, Bridget Moynahan: Son & Career >>>
About Fransisco Lindor
Fransisco Migiel Lindor was born on November 14, 1993 in Caguas, Puerto Rico. His parents are Angel Lindor and Maria Serrano. He used to play baseball as a kid with his father and got good at it with each passing day.
At 12 years old, he moved to Florida along with his father, stepmother, and brother. He played baseball during high school and was also named to the USA today's All-USA high school baseball team.
Career
The Cleveland Indians drafted Lindor in the first round of the 2011 MLB draft under a $2.9 million contract.
He has not looked back ever since! The fabulous player gives his best every time he is on the field.
In 2016, he won his first 'Gold Glove Award' and 'Platinum Glove Award.' In 2017, he was honored with the 'Silver Slugger Award,' his other career first.
Lindor won his second Gold Glove Award in 2019. Unfortunately, following the back-to-back excellent performances, his career saw a slight dip in 2020.
Indians traded Lindor to New York Mets on January 7, 2021. Then, on March 31 this year, Lindor signed a 10-year contract with the Mets for a whopping $341 million.
International Career
Besides MLB, he has also played international baseball. In 2010, he played for the under-18 USA team in the World Junior Baseball Championship.
Likewise, he was part of the Puerto Rican National Team at the 2017 world baseball classic.
Katia Reguero: Social Media
Like any person from this generation, Katia is a frequent user of social media. After she got recognized as the lovely fiancee of Lindor, many baseball fans followed her.
Instagram: 32.9k followers
Twitter: 45 followers
Sadly, her Facebook is private at the moment.
Katia Reguero: Frequently Asked Questions
Is Francisco Lindor a dad?
Yes, the 29 years-old baseballer is currently enjoying fatherhood with his daughter Kalina. Fransisco and his fiancee Katia welcomed Kalina on November 2020.
Where is Francisco Lindor's girlfriend from?
Fransisco's current girlfriend and fiancee, Katia Regeuro, is originally from Puerto Rico. However, she moved to the US for her education and lives here with her beau and their daughter.