Nilmarie Huertas has gained some recognition in the baseball world. However, she is not a baseball player. Instead, she is the seven-year partner of Francisco Lindor. Lindor is a shortstop for Cleveland in Major League Baseball.
Recently, the news of the breakup has been circulated through the media. However, it was reported that the couple separated a year ago.
But none of the parties had revealed it. A week back, Nilmarie went on to share her breakup experience with Puerto Rican media.
Besides, Nilmarie had been with Lindor since around 2012. However, the exact period of their first meeting is under wraps.
Let's uncover some facts about the beautiful Indians fan. Also, we will shed light on the cause of her breakup with Lindor.
Quick Facts
Full Name
Nilmarie Huertas
Birth Date
August 9, 1991
Birth Place
Humacao, Puerto Rico
Nickname
Nilmarie
Religion
Christianity
Nationality
American
Ethnicity
White
Education
Petra Mercado Bougart
Florida State College
Caribbean University
University of Phoenix
Horoscope
Leo
Father's Name
N/A
Mother's Name
Nilsa M Solivan
Siblings
Two Brothers
Brothers
Luis Armando Huertas
David Huertas
Age
31 Years Old
Height
5 feet 9 inches (175 cm)
Weight
62 kg (137 lbs)
Build
Athletic
Eye color
Black
Hair Color
Black
Profession
Boutique Owner
Sexual Orientation
Straight
Marital Status
Single
Ex-Boyfriend
Francisco Lindor
Net Worth
N/A
Social Media
Facebook, Twitter, Instagram
Merch of Francisco Lindor
Jersey, Rookie Cards, Autographs
Last Update
November, 2022
Nilmarie Huertas: Family
Nilmarie was born in Humacao, a municipality in Puerto Rico, under Leo's sun sign. Nilsa M. Solivan is her mother.
Likewise, she has two brothers, Luis Armando Huertas and David Huertas. Luis currently lives in Miami.
Besides, he had studied at the University of Puerto Rico at Humacao.
Brother: David Huertas
On the other hand, David is a professional basketball player. Currently, he plays at Baloncesto Superior Nacional.
It is the first-tier basketball league in Puerto Rico. There he plays for Capitanes de Arecibo. In fact, he is a shooting guard.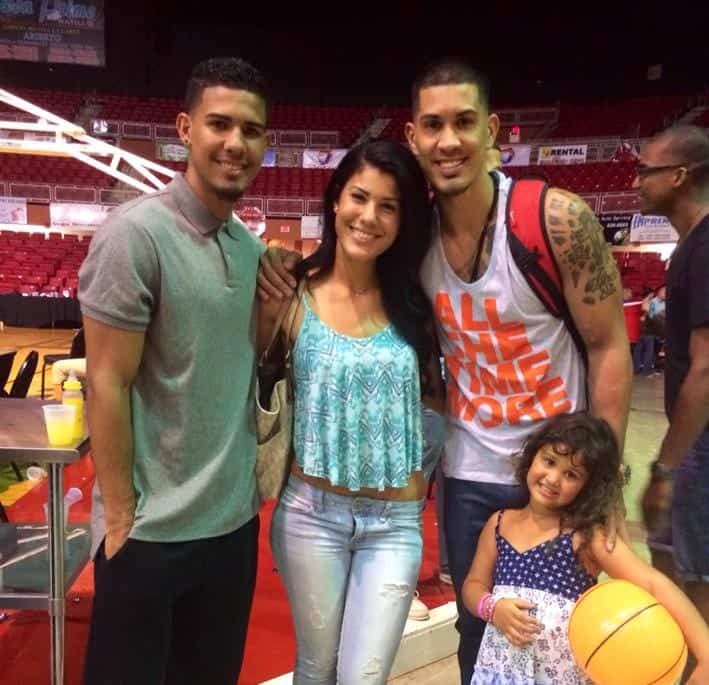 Besides, he also plays for the Puerto Rico national basketball team. Also, he was in the team that played at the 2006 Central American Caribbean Games.
Similarly, Nilmarie played in the 2010 Centrobasket. The Puerto Ricans won gold medals at both of the tournaments.
Nilmarie Huertas: Early Life and Education
Nilmarie attended Petra Mercado Bougart for high school education. It is a public school in Humacao, Puerto Rico.
Also, she joined Florida State College at Jacksonville for higher studies.
Then, she attended Caribbean University. Huertas had obtained a degree in English Education there. Recently, Huertas was in pursuit of a Psychology degree.
Accordingly, she had joined the University of Phoenix in 2015 to study the Science of Psychology. Likewise, she graduated from the university in October 2019.
Nilmarie Huertas: Career and Profession
Soon Huertas received a degree in English Education. Then, she started a profession as a teacher. She taught at Colegio Calvados.
It is an elementary school in Bayamon, Puerto Rico. The job did not work out for her any longer. Consequently, she left it.
Currently, Nilmarie seems to be running a boutique. She is the owner of @vellisimostudio_boutique1 .
Moreover, it appears to be an online fashion store. Besides, it ships the goods around Puerto Rico and the United States only.
Nilmarie Huertas: Relationship with Francisco Lindor
Huertas met Francisco Lindor somewhere around 2012. At that time, she posted a photo with Francisco on her Instagram.
Consequently, news about the affair came out. Besides, Lindor's mom was also in the picture. The couple had been together since then.
Nilmarie started supporting the Cleveland Indians for whom Lindor plays. Moreover, she used to travel with Lindor during his matches.
She seemed to be the greatest fan Lindor ever made in his career. Likewise, the couple traveled to many places all around the world.
They used to spend their vacations together. Besides, both of them uploaded photos on Instagram. It seemed they are having a happy time being together.
Also, Nilmarie always wanted the guy she dated to have only one girl in his life. She urged faithfulness, and commitment is the only key to success in relationships.
Overall, she was a loving, caring, and beautiful girlfriend.
Huertas gave all the love and commitment to her relationship. However, it could not run smoothly for long.
They were together for around six and a half years. Then, Huerta started feeling cold in the relationship.
Recently, a Puerto Rican journalist had an interview with her. There she broke her silence about her relationship trauma. Following that, Fernan Velez interviewed a live broadcast on Instagram.
Lindor was accused of cheating Nilmaria back in January 2019. However, Lindor denied the blames.
But it seems that the incident broke his then girlfriend's heart. Moreover, there were issues in the relationship during those times.
But Huertas wanted to clear away the misunderstandings through conversation. However, it could not happen.
In fact, Nilmarie said that she went through depression after the breakup. She could not handle the pain of separation.
Moreover, there were allegations that she even attempted suicide at some point. However, Nilmarie later clarified that she had only thoughts about it, not the attempts.
Nilmarie Huertas Ex-Boyfriend: Francisco Lindor
Francisco Lindor is a professional baseball player playing in Major League Baseball. He is a shortstop for the Cleveland Indians and is a two-time American League's Shortstop Gold Glove award winner.
Similarly, the baseballer bagged the 2016 AL Platinum Glove Award. Also, he was the Best Defensive Player that year.
Career Summary
Lindor's father, Miguel Angel Lindor, trained him to play baseball from his childhood. Later, he attended Montverde Academy.
Then he was drafted by the Indians in the 2011 MLB draft with a $2.9 million deal.
However, he could not play for them immediately. Besides, he spent four seasons in minor leagues.
Minor Leagues
Notably, Lindor's professional career began with Mahoning Valley Scrappers. It was a team playing in the New York-Penn League.
Then, he joined the Lake County Captains in the Class A Midwest League.
Later, in 2013, he was assigned to the Akron Aeros. Lindor then played with them in the Class AA Eastern League.
A season later, he was promoted to the Columbus Clippers. The team played in the Class AAA International League.
Major League
Lindor joined the main roster of the Indians in June 2015. Moreover, he had his first major league hit on his debut.
Soon, Francisco received the American League's Rookie of the Month in September.
The following season, he played in the 2016 World Series. Besides, he won the Gold and the Platinum Glove awards after the season.
In the 2017 ALDS, he hit a grand slam against Aaron Judge and Erik Kratz's New York Yankees.
Also, he was included as a shortstop in the All-MLB team. Besides, he bagged the Silver Slugger award at the shortstop position.
In 2018, Lindor became the Puerto Rican with the most runs in the major league. Besides, he had batted an average of .277 with a 30.2 power speed.
Also, he won his second Silver Slugger award for the season.
International Career
Lindor played for the United States under-18 team in the 2010 World Junior Baseball Championship.
Also, he was in the Puerto Rican national team that played the 2017 World Baseball Classic. They had lost to the US national team in the final match.
Current date of Francisco Lindor
After Lindor broke up with Huertas, he is now dating a Puerto Rican native, Katia Reguero.
According to the sources, they started dating in early 2020, and they have even welcomed their baby in December 2020, around Christmas.
Katia Reguero (born on April 9, 1994) is a classical violinist who completed her study in international relations and affairs in 2018.
As of now, she wishes to pursue a legal career like her mother, Maria Luisa Inserni-Milam.
Apparently, she is also the daughter of Juan Reguero and has two siblings.
As a matter of fact, she is fluent in English, Spanish, and Portuguese. Coming back to her and Lindor, they are engaged to each other as of January 2021.
Nilmarie Huertas: Net Worth & Salary
As of now, Nilmarie Huertas runs an online boutique store. Previously, she worked as an elementary school teacher.
However, her net worth is difficult to estimate. It is because her lifetime earnings are unclear. A maestro in Puerto Rico earns an average of $1000 – $2000 in a month.
Besides, her brother David Huertas makes around $250,000- $300,000 per season. Also, he has gathered a fortune worth $1 million until now.
Her ex-boyfriend, Lindor, earns $10.55 million a year in the NBA. But now, he is no longer in a relationship with him. So, she won't count on that.
Nilmarie Huertas: Age, Height, and Nationality
Huertas was born on August 9, 1991, which means she is 31 years old. Besides, the attractive lady is 5 feet 9 inches or 175 centimeters tall. Also, she weighs 62 kilograms or 137 pounds.
Not to mention, Nilmarie is a beautiful lady with naturally black hair and black eyes. Additionally, she has a fair skin tone with a beautiful smile.
Besides, she was born in Humacao, Puerto Rico. She currently resides in Puerto Rico.
Accordingly, she holds Puerto Rican citizenship. Her brother, David, lives in Puerto Rico. Similarly, Luis Armando resides in Miami, Florida.
Nilmarie Huertas: Social Media Presence
Huertas is active in most social media. They include Facebook, Twitter, and Instagram. However, her Twitter account is protected.
Besides, she had uploaded many photos of her and Francisco Lindor together on Instagram.
But she deleted all of them after their separation. Moreover, Lindor has also done the same. After all, that's the ritual of breakup in this technological era.
Twitter handle (@nilmariehuertas): 203 Followers
Instagram handle (@mariie_0010): 14.1k Followers
Facebook handle (Nilmarie Huertas): 4882 Friends
Nilmarie Huertas: Commonly Asked Questions
Did Nilmarie Huertas suffer depression?
Nilmarie Huertas told a Puerto Rican journalist that she had depression for nearly a year. It was all due to her breakup with her long-time boyfriend, Francisco Lindor.
According to her, she could not bear the fact that he was no longer with her.
Moreover, there were rumors that she even attempted suicide. However, Huertas denied it. Now she has successfully overcome her mental state.
Why did Nilmarie Huertas and Francisco Lindor breakup?
Francisco Lindor had allegedly cheated on Nilmarie Huertas in early 2019. And there were issues in their relationship during those times.
Although she wanted to resolve them through talks, Lindor never did it. Ultimately, the couple broke up.