The star soccer pundit Gary Neville has garnered a reputation as a renowned commentator and analyst. He himself was an active soccer player up until 2011.
Neville has garnered several honors as both a player and a manager. He makes a whopping income each year through his salary and endorsements.
Neville's recent comments on Man United's performances have been going viral. So, what was it?
Today, this article will cover some details about the English celeb—those ranging from his managerial career to his personal life and family.
Let's look at some of the quick facts about Gary Neville.
Quick Facts
| | |
| --- | --- |
| Full Name | Gary Alexander Neville |
| Known as | Gary Neville |
| Nicknames | Red Nev, Gary, Red Legend |
| Birth Date | February 18, 1975 |
| Birth Place | Bury, England |
| High School | Not Available |
| College | Not Available |
| Nationality | English |
| Zodiac Sign | Aquarius |
| Age | 48 years old |
| Father | Neville Neville |
| Mother | Jill Neville |
| Siblings | Phil Neville, Tracey Neville |
| Height | 5'11" (1.80 m) |
| Weight | 82 kg |
| Body type | Athletic |
| Profession | Soccer analyst, pundit & commentator, Former soccer player |
| Position | Right-back (as a soccer player) |
| Current Team | N/A |
| Active years | 1992-2011 (As a player) & 2012-2016 (As a Manager) |
| Marital Status | Married |
| Spouse | Emma Hadfield |
| Children | Sophie Neville, Molly Neville |
| Net Worth | $25 million (Source: celebritynetworth.com) |
| Social Media | Twitter, Instagram |
| Merch | Red: My Autobiography |
| Last Update | June, 2023 |
Gary Neville's recent comments on Man United's performance
Thanks to his recent comments, the star soccer pundit Gary Neville has been trending in soccer news. Neville blasted United's performance in their match against Newcastle.
He stated that Rangnick would surely hate the performance that United showed. The Red Devils looked extremely vulnerable in the draw against Newcastle.
Gary Neville wasn't pleased at all with Man United's performance against Newcastle.#MUFC #manunited #newcastleunited #newmun#PremierLeague #garyneville pic.twitter.com/NXEyET7LbZ

— Soccer Scoop (@SoccerScoop2) December 28, 2021
If it were not for that brilliance by Cavani, United would have lost the game. Neville was highly disappointed by United's gameplay throughout.
While speaking to Sky Sports, the soccer pundit said that he didn't feel like United played better in the second half despite the goal.
Neville blasted the United in a comment stating them a "Bunch of whinge bags."
Gary Neville: Early Life
Gary Alexander Neville, a renowned English soccer pundit, and commentator is known as Gary Neville. The former player was born on February 18, 1975, in Bury, England.
Neville got influenced by his father to play cricket. He even played alongside the future Ashes-winning English captain Michael Vaughan at the Bunbury Cricket Festival.
Neville was a good cricketer too. He also represented Lancashire's Under-14 team with his brother Phill Neville. Besides this, he also represented the Greenmount Cricket Club in the Bolton Cricket League.
Interestingly, he scored a 110 not out for Greenmount in an unbroken partnership of 236 with the future Australian legend, Matthew Hayden.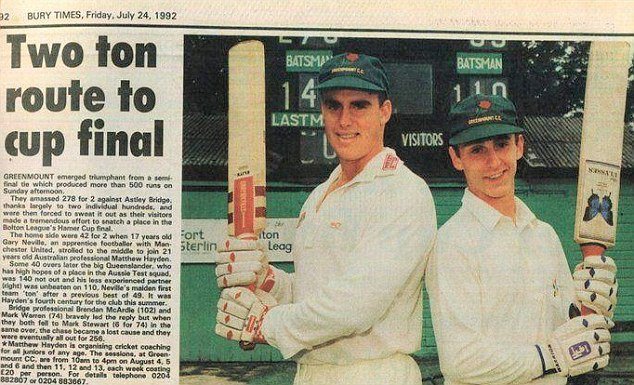 But he was destined to have a more prominent role in soccer than in cricket. Neville made his international debut in 1995. He immediately became the first-choice right-back for England.
Read our article on Top 12 Best Forwards in Soccer >>
Gary Neville: Career
Senior Club and National Career
Gary Neville made his first international appearance in 1995 for England. Terry Venables picked him for the match against Japan.
Next year, in 1996, Gary got to play along with Phil in a match against China and the FA Cup Final.
With this, the two became the first pair of brothers to play together in an FA Cup-winning side and England in the same season.
He eventually got selected as a right-back for England by five different coaches.
After a short stay out of the international arena, Neville, in 2009, was recalled to the English setup for the World Cup qualifiers.
Move to Manchester United
Neville, throughout his youth and senior career, featured for Manchester United. He was a right-back and is a one-club man.
Neville became the captain of Man United in 2005. And in 2010, he stepped down as the team captain to provide space for a more regular team player to become a captain.
In October, he made his 600th appearance for Man United. Later, in 2011, Neville took retirement from his soccer career. At the time, Neville was the second longest-serving player at United.
He won a total of 20 trophies that included two Champions League titles. He is still considered one of the most decorated European soccer players of all time.
Managerial Career
Gary Neville has worked in a managerial role twice. He was the assistant manager for England and a head coach for Valencia.
Neville holds UEFA Pro Coaching Licenses enabling him to be a part of the coaching staff. In 2012, he was appointed as one of the members of the coaching staff by Roy Hodgson.
David Beckham, the former teammate of Neville, backed Neville in the coaching team.
Neville eventually continued to work as an assistant manager for England until the 2016 Euro qualifiers. The English-born was also a part of the coaching staff during the 2014 World Cup.
In 2015, Neville was appointed as Valencia's head coach. At Valencia, Neville's brother, Phil, worked together with Neville.
After Valencia's loss to Barcelona in 2016, Neville faced a lot of criticism. It was Valencia's eighth straight game without a victory.
In 2016, Neville got sacked from Valencia.
Read our article on Top 12 Portuguese Best Soccer Players in the World >>
Gary Neville: Personal Life, Wife & Family
Neville was married in 2007 to Emma Hadfield. Together, they have two daughters, namely Molly Neville and Sophie Neville.
It was reported, in 2010, that Gary Neville had applied for permission to build an eco-friendly home. It would be northwest England's first zero-carbon home.
In 2019, Neville endorsed the Labour Party for the UK general election. But he later criticized the party heavily for not opposing the lockdown restrictions during the pandemic.
It was because lockdown restrictions were causing problems for all business ventures. And it affected Neville's hotel business too.
Parents and Siblings
Gary Neville grew up with his parents and spent most of his childhood with his siblings.
His father, Neville Neville, was a former British league cricketer and a football agent. His mother, Jill Neville, was a netball player for local leagues. She is also a general manager for the football club, Bury.
Neville has a younger brother, Phil Neville, and a younger sister, Tracey Neville.
Read our article on Bruno Fernandes: FIFA, Goals, Wife & Net Worth >>
Gary Neville: Net Worth
Neville's net worth is estimated to be a whopping $25 million. His primary source of income is through his roles in soccer. He earns as a prominent pundit on Sky Sports.
But besides just soccer, he earns through his business. Neville is a co-owner at the lower league club Salford. And it is not just limited to this. He owns companies ranging from hotels and bars to even a University.
It is, therefore, no surprise that Neville spends a luxurious life with expensive cars and mansions.
The United Legend also has an impressive £3 million mansion.
Endorsements
In 2015, Neville established "Relentless." It was the brand name for his investments. The Hotel Football at Old Trafford is also Neville's venture.
Reports also suggest that Neville could be endorsed by Cadbury. But this remains a social media rumor as of now.
Contract
In 2011, after his retirement, Neville became a part of Sky Sports as a soccer pundit.
However, he soon became the manager of Valencia. He didn't last long at the club, which marked his return to Sky Sports.
In 2016, he became a regular on Sky Sports as a soccer pundit and commentator.
Read our article on Ranking 10 Richest Soccer Clubs in the World >>
Gary Neville: Awards & Achievements
At Manchester United
Football League Cup (2005-2006, 2009-2010)
Premier League (1995-1996, 1996-1997, 1998-1999, 1999-2000, 2000-2001, 2002-2003, 2006-2007, 2008-2009)
2008 FIFA Club World Cup
FA Community Shield (1996, 1997, 2008)
UEFA Champions League (1998-1999, 2007-2008)
FA Cup (1995-1996, 1998-1999, 2003-2004)
1999 Intercontinental Cup
Individual Honors
2015 English Football Hall of Fame Inductee
Doctor of Science [Honorary degree] – University of Salford (2014)
2012 FWA Tribute Award
Fantasy Team of the Premier League (1992-1993 to 2011-2012)
An honorary degree of Doctor of Arts from the University of Bolton (2009)
PFA Team of the Century 1997-2007 (2007)
PFA Premier League Team of the Year (1996-1997, 1997-1998, 1998-1999, 2004-2005, 2006-2007)
Premier League 10 Seasons Award (1992-1993 to 2001-2002)
1997-98 ESM Team of the Year
Social Media Presence
Twitter: 4.9M Followers
Instagram: 1.5M Followers
Frequently Asked Questions (FAQs)
What is Gary Neville's nickname?
Neville's nicknames are Red Nev and Red Legend. Considering his massive part in the United's history, he has been titled the Red Legend.
In how many club teams has Gary Neville starred in his youth career?
Neville has starred in only one club, Manchester United, in both his youth and senior career.
Has Gary Neville won a FIFA World Cup?
No, Neville has not won a FIFA World Cup with England. But he has won one FIFA Club World Cup with the United.
How many teams has Gary Neville managed?
Neville has managed two teams. One as an assistant manager for England, and the other as a head coach for Valencia.