Luigi "Geno" Auriemma, commonly known as Geno Auriemma, is an Italian-born American college basketball coach. Auriemma is the head coach of the University of Connecticut (Uconn) Huskies women's basketball team. Under Auriemma's guidance, UConn has won eleven NCAA Division I National Championships, the most in Women's College Basketball History.
Likewise, Auriemma has won the Naismith College Coach of the Year award eight times and has also coached the United States Women's National Basketball Team from 2009 to 2016.
He also led them to two World Championships with undefeated runs in 2010 and 2014 and two Summer Olympics Gold Medals with undefeated runs in 2012 and 2016.
Geno was inducted into the Naismith Basketball Hall Of Fame in 2006 and the Women's Basketball hall of fame. Auriemma boasts a spectacular record of 1099 wins to 142 losses throughout his career.
Easily one of the greatest figures ever in basketball, and one of the greatest coaches in sports history, Auriemma is renowned, beloved, and respected by sports enthusiasts, critics, and fans.
Let us find out more about his career, personal life, and social life, starting with some quick facts.
Quick Facts
| | |
| --- | --- |
| Full Name | Luigi "Geno" Auriemma |
| Birth Date | March 23, 1954 |
| Birth Place | Montella, Italy |
| Nationality | Italian-American |
| Education | West Chester University, Pennsylvania |
| Horoscope | Aries |
| Father's Name | Donato Auriemma |
| Mother's Name | Marseille Auriemma |
| Siblings | Ferruccio Auriemma (Brother), and Anna Auriemma (Sister) |
| Age | 69 years old (as of July 2023) |
| Height | 6 feet 1 inch (185 cm) (1.85 m) |
| Weight | 95 kg (209 lb) |
| Profession | College basketball coach |
| Debut | 1978 As An Assistant Coach For Saint Joseph's Hawks Women's Basketball Team |
| Net Worth | $12 million |
| Married | Yes |
| Spouse | Kathy Auriemma (married in 1978) |
| Children | Jenna Auriemma, Alyssa Auriemma, Michael Auriemma |
| Salary | $2.4 million annually |
| Social Media | Facebook (14k followers), Instagram (25.8k followers) |
| Merch | Book, Signed Basketball, Autographed Trading Card |
| Last Update | June, 2023 |
Geno Auriemma: Early Life, Family, And Education
Geno was born on March 23, 1954, in Montella in Southern Italy. His father's name is Donato Auriemma, and his mother's name is Marsiella Auriemma.
Likewise, he has two siblings, a brother named Ferruccio and a sister is, Anna Auriemma had a rough childhood, and things like electricity, running water, and heat were luxuries.
From a young age, Geno helped his parents with mortgage payments and interactions with lawyers.
The family moved to Norristown, Pennsylvania, when he was seven, and this was where Auriemma spent the rest of his childhood.
As for his education, he graduated from West Chester University, Pennsylvania, in 1977 and was hired as an assistant coach at Saint Joseph's University. Before this, he coached at Bishop McDevitt HS In Wyncote, Pennsylvania.
Auriemma's favorite team was the 1970s New York Knicks, coached by the late Red Holzman. Similarly, Luigi worked at Saint Joseph's in 1978 and 1979 and then coached at his former high school Bishop Kendrick.
Later he returned to college basketball as an assistant coach for the University Of Virginia Cavaliers Women's Team. At age 40, in 1994, he became a naturalized American citizen.
Geno Auriemma: Height And Weight
UConn's coach, Geno, stands 6 feet 1 inch or 185 cm tall. His weight has not been reported by any credible sources yet. Also, the coach's hair is light brown in color, and his eyes are light grey.
Seth Greenberg Bio: Coaching Career & Family >>
Geno Auriemma: Career
University Of Connecticut (UConn)
Auriemma joined the UConn Huskies Women's Basketball Team in 1985, and the team had one winning season throughout his history until this point.
The current associate head coach Chris Dailey was one of the candidates too and was the favorite behind Auriemma.
In Geno's first season after he was hired in August 1985, Connecticut finished with a record of 12-15. The Huskies then had their first 20-win season ever, along with their first conference title and first NCAA Tournament appearance.
Since then, the Huskies have finished above 500 for 33 consecutive seasons. The team also dominated six undefeated seasons, 1994-95, 2001-02, 2008-09, 2009-10, 2013-14, and 2015-16.
Similarly, they also achieved three record streaks of 111, 90, and 70 consecutive victories. From 1989 till the end of the 2018-19 season, they have participated in every NCAA Tournament,
which in Division I is the third-longest consecutive appearances streak.
Achievements
Auriemma has led UConn to 20 seasons with 30 or more wins and 11 national championships in 1995, 2000, 2002, 2003, 2004, 2009, 2010, 2013, 2014, 2015, and 2016.
Moreover, the team has made it to the Final Four 20 times, in 1991, 1995, 1996, 2000-2004, and 2008-2019. Under his guidance, the Huskies have 21 conference regular-season titles and 20 conference tournament titles.
Likewise, Geno passed UCLA Men's Coach John Wooden for most college Basketball Championships when the Huskies won in 2016.
Besides, Auriemma is renowned for working perfectly with the growth and potential of his players.
He has also coached 13 multiple-All-America players Rebecca Lobo, Jennifer Rizzotti, Kara Wolters, Nykesha Sales, Svetlana Abrosimova, Sue Bird, Swin Cash, Diana Taurasi, Tina Charles, Maya Moore, Stefanie Dolson, Bria Hartley, and Breanna Stewart.
These players have combined to win the Naismith College Player Of The Year award eight times, the Wade Trophy seven times, and NCAA Basketball Tournament Most Outstanding Player award nine times.
Auriemma won his 600th game on New Year's Eve Of 2006 in just 716 games, a record that tied him with Phillip Kahler.
Later, the coach then won his 700th in just 822 games and became the fastest head coach in the history of College basketball to achieve that feat.
Similarly, he became only the Sixth Coach In Women's Basketball to reach 800 wins, and he did it faster than any other coach had ever done in just 928 games.
Furthermore, Geno then won his 900th game in just 1034 career games. Geno's record currently stands spectacularly at 1099 wins and 142 losses.
Rivalries
There was a rivalry between the UConn Huskies and the University of Tennessee Lady Vols, which impacted the personal relationship Auriemma had with Pat Summitt.
Besides, the two were at odds often and expressed the same through media. Summitt retired in 2012 and died in 2016.
Jim Calhoun, the former UConn Men's Basketball Coach who mocked the women's team fan base once calling it the "World's Largest Nursing Home," is also considered a rival of Auriemma.
In 2001, when questioned about this, Auriemma said, "Jim has a problem with anyone else's success, not just ours. Do we get along? No, but we don't have to."
Pat Riley Bio: Wife, Net Worth, Coach, NBA & Heats >>
U.S. Basketball
After being named the head coach of the women's team of the United States competing in the Junior World Championship in Brno, Czech Republic (July 2001), Auriemma led the team to five successive wins.
They followed the good-luck stream by qualifying for the medal round. However, the United States team fell short of the Czech Republic, losing 92-88. Also, the team still won the Bronze medal after defeating Australia.
Geno was then named the head coach of the United States Women's National Team prior to the 2010 World Championship and 2012 Olympics for getting them prepared.
The team could only practice for a day before leaving for Ostrava and Karlovy Vary, Czech Republic because many of the players played in the WNBA.
Moreover, they won against Greece by 26 points in its first game and continued dominating. They won all of their first five games with more than 20 points.
Many different players shared the load and scored honors.
Besides, Swin Cash, Angel McCoughtry, Maya Moore, Diana Taurasi, Lindsay Whalen, and Sylvia Fowles were the scoring leaders through the initial games.
Similarly, the team then went on to win against the Australian team that was undefeated until then in the sixth game. The final score was 83-75.
Achievements
After winning the next couple of games by more than 30 points, the USA was up against the hosts Czech republic.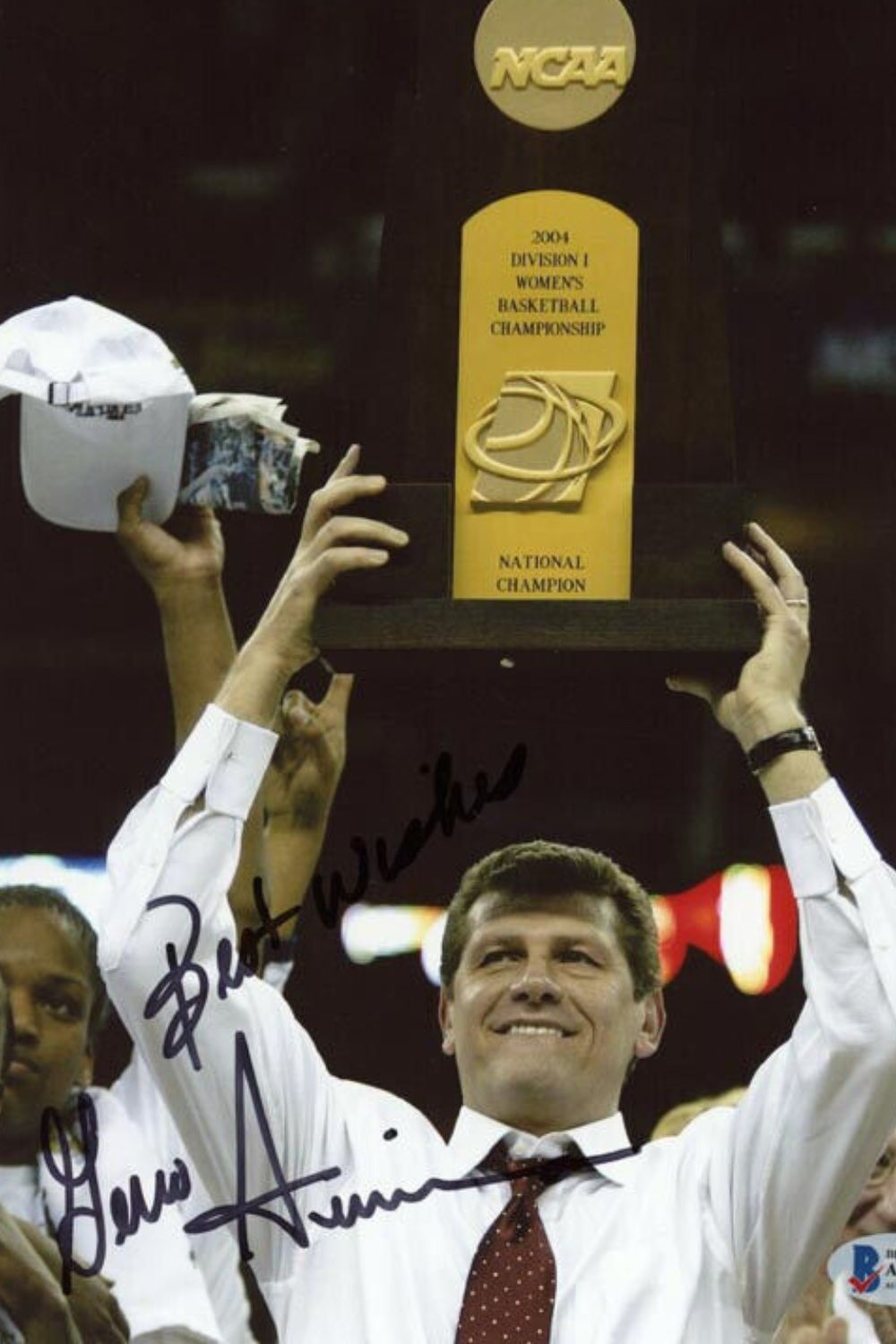 In the championship game, the U.S. always maintained a lead and never let the Czech Republic get close to them on the scoreboard. This sealed the deal and won them the gold medal.
Auriemma then led his team to an undefeated run of 8 games before defeating France with a score of 86-50 in the final game of the 2012 Olympics, winning the gold medal again.
The lowest margin by which they won was a spectacular win over bronze medal winners Australia, with a score of 86-73. All other games finished with a winning margin of 25 or more points.
After dominating the 2012 Olympics, Geno was named the head coach for the team again for the 2014 FIBA World Championship For Women and the 2016 Summer Olympics.
By the end, the team emerged as the champions of both events and was undefeated in both of them.
Geno Auriemma: Relationships, Wife, And Children
Geno Auriemma has been married to Kathy Auriemma since 1978. The two were broke when they got married but were madly in love. The couple has stayed together ever since without much tension catching the media's eyes.
They have three children, a daughter named Jenna and Alyssa and a son named Michael. Geno and Kathy stayed in Avalon, New Jersey, for a long time to stay close to their parents, who resided in Philadelphia.
Golf Tournaments And Charity
Geno Auriemma's Hartford Golf Club organizes yearly charity in a golf tournament, and in 2018 announced a new donation.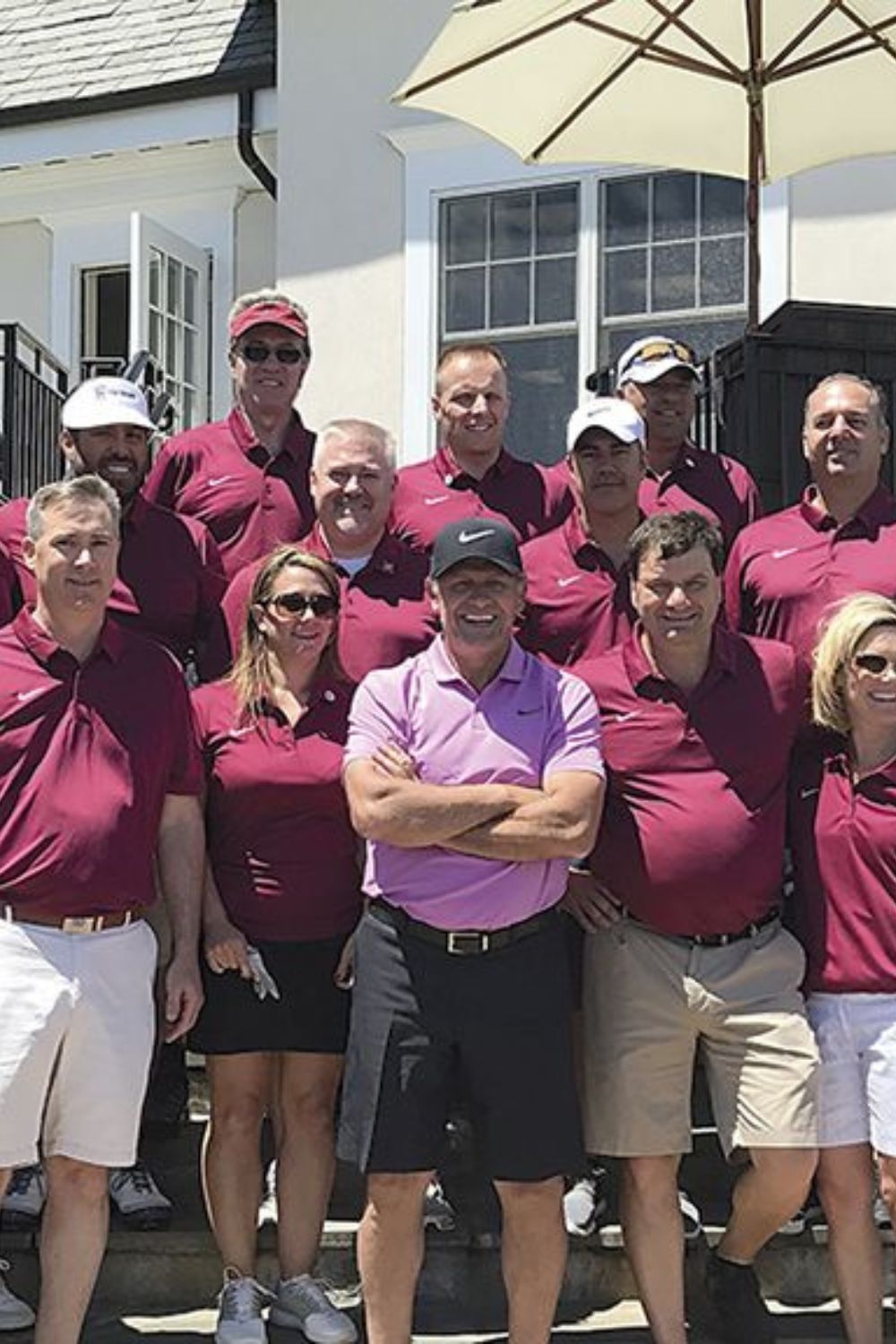 The new infusion and dialysis centers as well as the division of orthopedics at Connecticut Children's Medical Center received $200,000 granted from Geno Auriemma's for the Kids Charity Golf Tournament.
The Hartford Golf Club will host the following yearly competition on June 24, 2019.
Geno Auriemma: Net Worth
Auriemma coaches the highly reputed UConn Huskies Women's Basketball Team and has an annual salary of about $1.95 million. The coach has also published a book named In Pursuit Of Perfection.
He has had a legendary career and has racked up many awards throughout his career, and he has also been inducted into the Naismith Basketball Hall Of Fame.
Luigi's salary from 2013-2018 was reported to be $10.9 million in total. As of 2023, Geno's net worth is estimated to be around $12 million.
Over and above that, Geno Auriemma has recently signed an extension through the 2024-25 season with UConn Women's Basketball Team. With the contract, Geno will make a base salary will be $600,000 per year.
At the same time, he also earns extra through compensation for speaking, consulting, and media obligations. As for these earnings, it is supposed to increase by $100,000 each year.
Apart from his current role, Geno can also start in the athletic department for up to five years for $500,000.
Update Of 2022
After UConn's loss of the national championship, Geno Auriemma said, "I expect to be back here next year."
Geno Auriemma's UConn team lost to South Carolina in the national championship game on Sunday night, handing the 11-time NCAA champion coach his first-ever championship loss.
But if the team can avoid the challenges that came with this season, Auriemma is certain that the program will be competitive again the next season.
Geno Auriemma: Social Media Presence
Auriemma has profiles on Facebook that have about 14k followers and on Instagram, which has 25.8k followers. He also has an official website genoauriemma.com.
View this post on Instagram
Auriemma is not too active on his social media handles. Although shares posts occasionally, they are usually about basketball.
Check out Geno Auriemma's layup drill styles. Click to follow!
Popularity Graph
Geno's search graph showcases his rise in search this year respectively.
Should Know Facts About Geno
Immigrated to the U.S. at the age of 7, and in 1994 he got legalized as a citizen.
Worked as an assistant coach for Bishop Kenrick High School from 1979 to 1981, Saint Joseph's University from 1978–1979, and the University Of Virginia from 1981 to 1985.
Was appointed head coach of the University Of Connecticut women's team in 1985, and his first season there resulted in his lone losing record.
Earned Olympic gold medals with the U.S. women's teams in 2000, 2012, and 2016 while serving as an assistant coach before taking over as head coach in 2009.
Was chosen in 2006 to the Basketball Hall of Fame.
FAQs (Common Queries)
What is Geno Auriemma's real name?
The Basketball coach mostly uses Geno Auriemma although his full name is Luigi "Geno" Auriemma.
How much is Geno Auriemma's salary?
Reportedly, the information available to us says Geno's salary is estimated to be about $2.4 million.
How many career wins does Geno Auriemma have?
Overall, Geno Auriemma has a career record of 1,099-142 and a winning percentage of .885, which is the first in Division I women's history. In the meantime, he is known to be the fastest person to reach 800, 900, and 1,000 victories.
Has Geno Auriemma written any books?
Geno Auriemma has written a book titled "Geno: In Pursuit of Perfection." In the book, he talks about his coaching style and the UConn stars who have gone on to stellar WNBA careers.
In the meantime, he also reveals stories behind his moments.
Is Geno Auriemma COVID positive?
Geno Auriemma did test positive for COVID in March, and hence, he was out of the games after it. Additionally, he isolated himself in his home, and he didn't see the symptoms.
He received his second dose of the COVID shot, and after getting fully vaccinated, he is back on the field.
What did Geno Auriemma say about Kim Mulkey?
Back in March 2021, Geno Auriemma defended Baylor Women's Basketball Coach Kim Mulkey. Well, Kim made the following statement about COVID:
"So you need to just forget the COVID test and let the four teams that are playing in each Final Four go battle it out."
Here, Geno defended this statement as he added "There were some facts behind what she was saying." However, many criticized her statement.
What is between Geno Auriemma and Candace Parker?
During Candace Parker's interview with Bleacher Report's Taylor Rooks, she stated that Geno Auriemma didn't want her on the 2016 team for personal reasons.
As per Parker, Geno didn't like her which eventually led to the two-time WNBA MVP's omission from the final roster.
"He doesn't like me. I don't like him. It wasn't on the court. So if it's me as an individual, as a person, I'm spending time away from my daughter to come and do these camps [where] I'm not even being judged off of how I'm playing."
–Candace Parker