George Hill is an American professional basketball player for the Milwaukee Bucks of the NBA. He was named Summit League Player of the Year and an honorable mention All-American his junior season while playing for Indiana University–Purdue University Indianapolis (IUPUI).
Hill signed a free-agent contract with the Sacramento Kings in July 2017 but was later traded to the Cleveland Cavaliers in February 2018. The athlete made his first trip to the NBA Finals with the Cavaliers.
Hill was traded to the Milwaukee Bucks in December 2018. He was transferred to the Oklahoma City Thunder in November 2020, but in March 2021, he was traded to the Philadelphia 76ers.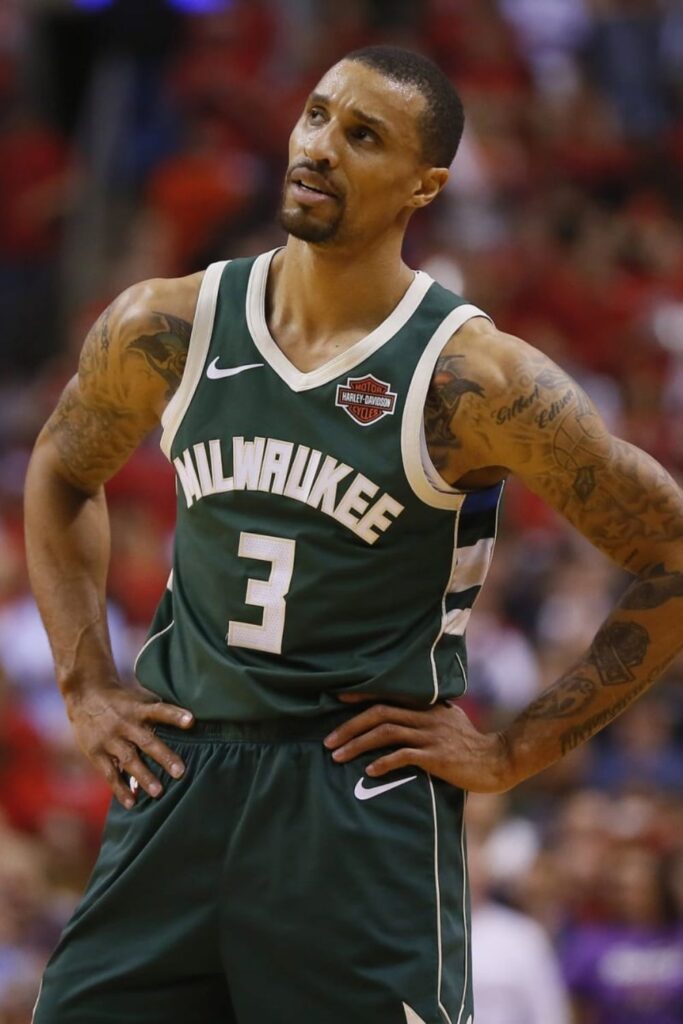 Hill signed a two-year deal worth $8 million with the Bucks in August of the same year.
George was recently featured against Charlotte Hornets on January 7, 2023, where he played 12 minutes and finished with 5 points, 3 assists, two rebounds, and one steal. Moreover, the game ended in a 138-109 loss to the Hornets.
Please stick to the article to get into his profession and personal life details. Before that, let's go through his quick facts.
Quick Facts
Full Name
George Jesse Hill Jr.
Known As
George Hill
Nickname
Indiana George
Birth Date
May 4, 1986
Birth Place
Indianapolis, Indiana
Religion
Christianity
Nationality
American
Ethnicity
African American
Education
Broad Ripple (Indianapolis, Indiana) and IUPUI (2004–2008)
Zodiac Sign
Taurus
Father's Name
N/A
Mother's Name
Tina Hill Woods
Siblings
No (single child)
Age
37 Years Old
Height
6'4″/1.93 m/193 cm
Weight
85 kg/188 lb
Eye Color
Brown
Hair Color
Black
Body Type
Athletic
Profession
Basketball Player
Marital Status
Married (2018)
Girlfriend

Samantha Garcia

Children

Zayden Jaxon Hill and Zo Jessie Hill

Active since
2008–Present
Teams

San Antonio Spurs
Indiana Pacers
Utah Jazz
Sacramento Kings
Cleveland Cavaliers
Milwaukee Bucks
Oklahoma City Thunder
Philadelphia 76ers

Achievements

Summit League Player of the Year (2008)
First-team All-Summit League (2008)

Net Worth
$30 Million
NBA Draft Pick
2008 / Round: 1 / Pick: 26th Overall
Position
Point Guard
League
NBA
Merch
Signed Jersey
Social Media
Facebook, Twitter
Last Update
November 2023
Early Life & Family
Hill, a standout at Broad Ripple High School and IUPUI, was raised by his mother, Tina Hill Woods, on 34th and Meridian Streets as an only child.
Neither of George Hill's grandfathers had ever met him. They were far from the image that neither of his parents had met them.
The broken truth of what Hill saw around him in his foundational years growing up in inner-city Indianapolis was that lost generation of men and the street life that can engulf communities across the country.
Hill's great-grandfather, Gilbert Edison, was the most prominent elderly male figure in his life. Hill remembers talking sports and listening to his grandfather's great-childhood stories as they sat together, describing Edison as a handsome man who loved to dress.
Hill stayed on track thanks to instructors like Edison, an older cousin named Albert Germany, and some of his basketball coaches, despite the allures of fast money and street stardom pulling his peers into orbit.
In the early 2000s, one local coach, Joseph Price, maintained a consistent presence and kept an eye on Hill.
High School Career
Hill was a member of Indianapolis' "Magnificent Seven" and attended Broad Ripple High School, where he excelled as one of the state's top high school players.
During his junior year of high school, he faced off against Oden and Conley, and he recalls playing pickup games with Gordon, then ten years old, when he was 13.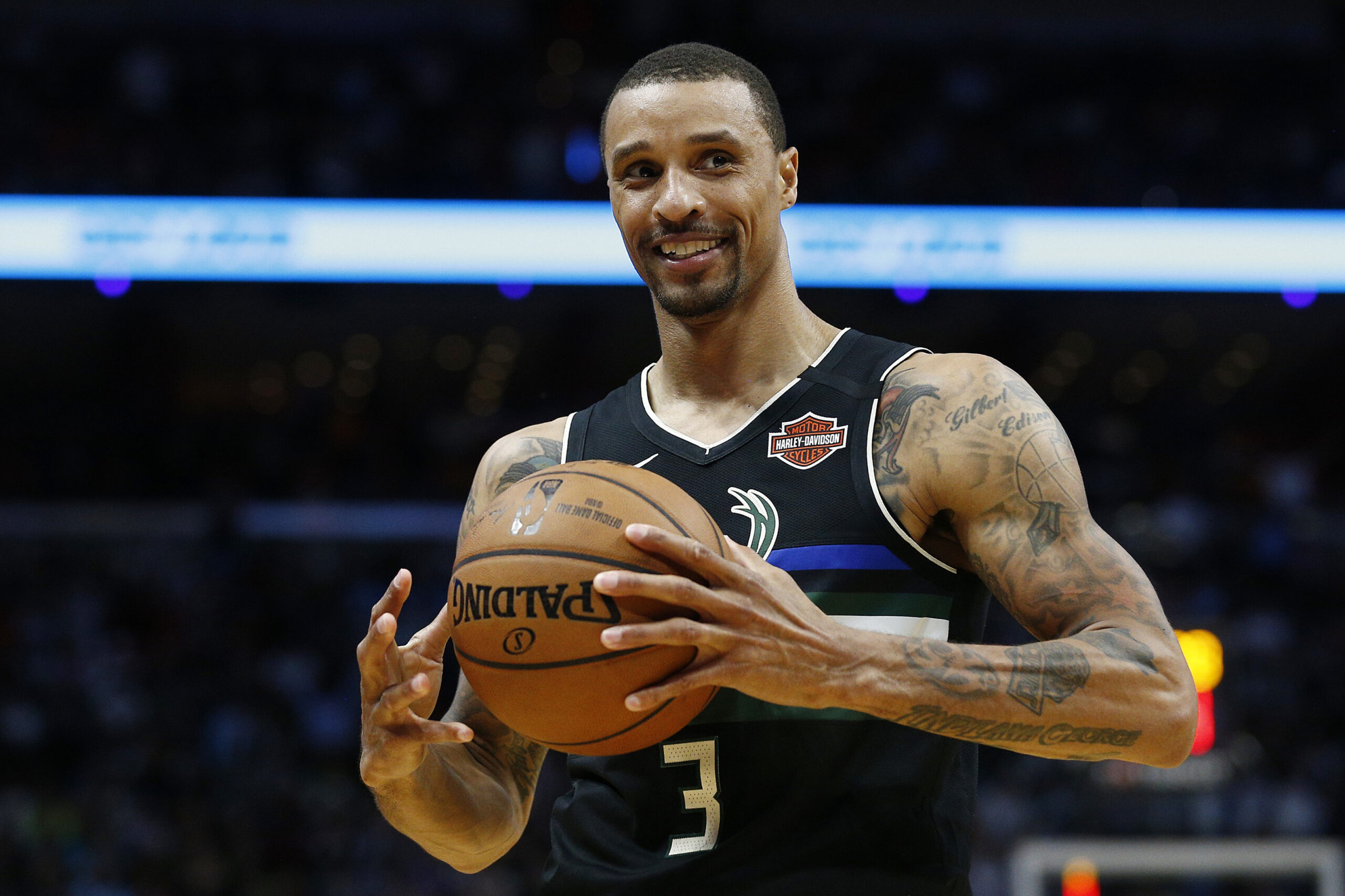 Hill scored 36.2 points per game as a senior, the fifth-highest single-season average in Indiana High School Athletic Association history.
Hill was titled Summit League Player of the Year in 2008 when the Jaguars were one game away from making the NCAA Tournament after a loss to Tulsa's Oral Roberts University.
College Career
Despite scholarship offers from several primary conference schools, including Temple and Indiana, Hill chose IUPUI to be closer to his ailing great-grandfather, Gilbert Edison.
His great-grandfather died just a few months after he decided to attend IUPUI, so he never got to see Hill play college basketball. Hill chose IUPUI over other offers because he remembered his grandfather's advice always to be a man of his word.
The athlete led the IUPUI Jaguars to a tie for the best record in the conference in his sophomore season.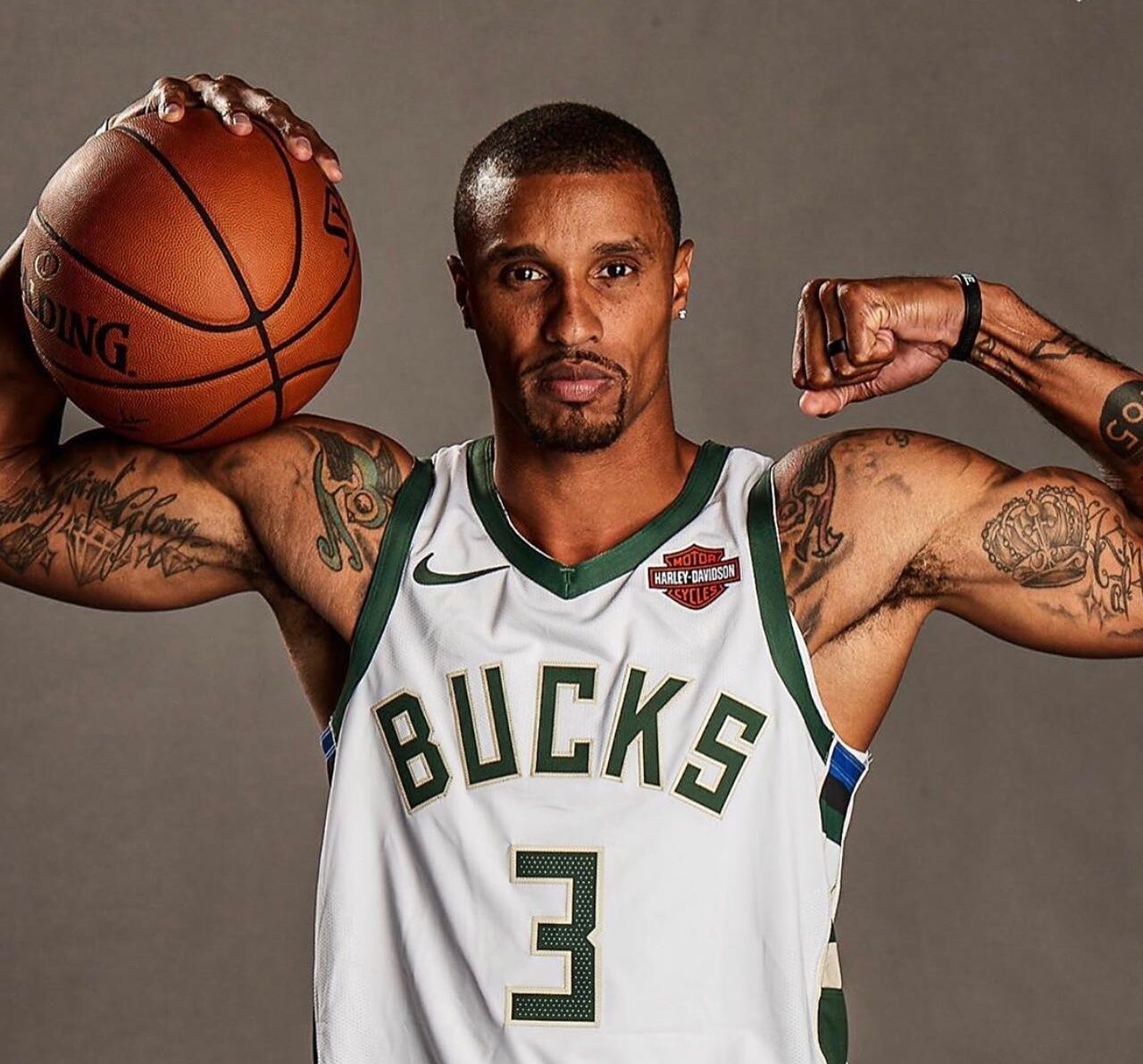 The NBA player returned the following season after an injury forced him to redshirt his third year at IUPUI, leading the Jaguars to a school-record 26 wins.
Moreover, he was in the Summit League Tournament finals before losing to eventual champion Oral Roberts University and missing out on the spot in the NCAA tournament.
The Jaguars were 61–30 during Hill's three seasons at IUPUI, excluding an injury-shortened 2006–07 season. Despite having one year of eligibility remaining, Hill declared himself eligible for the 2008 NBA Draft to "test the waters."
With 1,619 points, he left IUPUI as the fifth all-time leading scorer and the second IUPUI player to declare early after Carlos Knox in 1997.
Player Profile
George's athleticism, length, and strength are among his best qualities; before entering the NBA, he was said to have "NBA-ready" defense but offensively needed work.
Hill, who stands 6'4″/1.93 m with a 2.05 wingspan, is a beast of a point guard. Likewise, he weighs 85 kg/188 lb. The Point guard has 14 tattoos and a well-built muscular body.
His bust measures 42 inches, his waist measures 33 inches, and his biceps measure 14 inches. He has a dark complexion, black hair, and dark eyes.
George said he sees himself as a combo guard and an energy player who enjoys playing defense and getting into the passing lanes when asked which current NBA player he most resembles on multiple occasions.
The Spurs selected Hill as a backup point guard to All-Star Tony Parker. Hill idolized Michael Jordan, Magic Johnson, and Larry Bird as he aspired to play in the NBA.
When questioned about his goal of becoming a first-round pick in the 2008 NBA draft, Hill said, "It's my childhood dream."
Professional Career
George was the first player ever drafted from IUPUI and the second first-round pick in Summit League history when he was selected 26th overall by the San Antonio Spurs in the 2008 NBA Draft.
Hill spent his first three NBA seasons with the Spurs before being acquired by the Indiana Pacers on June 23, 2011, in exchange for the draft rights to Davis Bertans and Kawhi Leonard, among other assets.
He spent time in San Antonio with now-teammate Danny Green (Green played for the Spurs from 2010-18).
Moreover, Hill stayed with the Pacers for the next five seasons before being dealt to Utah on July 7, 2016, in exchange for Taurean Prince's draft rights.
George signed a multi-year contract with the Sacramento Kings on July 10, 2017, where he played alongside now-Sixers Assistant Coach Dave Joerger.
Hill was traded to the Cleveland Cavaliers on February 8, 2018, where he spent less than a year before being traded to the Milwaukee Bucks on December 7, 2018.
He became a free agent again in 2019, and on July 8, he signed a new contract with the Bucks. On November 23, 2020, he was traded to the Oklahoma City Thunder, where he began the 2020-21 season.
George was traded to the Philadelphia 76ers on March 25, 2021. The 76ers waived him on August 3. He signed a two-year, $8 million contract with the Milwaukee Bucks on August 6, 2021.
On April 8, 2022, Hill suffered an injury against the Detroit Pistons and was ruled out for the rest of the month. He returned on May 7 in a game against Boston Celtics.
George was recently featured against Charlotte Hornets on January 7, 2023, where he played 12 minutes and finished with 5 points, 3 assists, two rebounds, and one steal.
George Hill | Injury
On January 31, 2012, Hill left the game against the New Jersey Nets after enduring an ankle injury. It was a minor chip fracture, according to the Pacers.
With the injury, he missed 12 games before returning on February 22 against the Charlotte Bobcats. Pacers coach Frank Vogel announced on April 9, 2012, that Hill would start in place of Collison, who was injured.
Despite Collison's return from injury, Hill was retained as the starter for the remainder of the season. Hill finished the season with an average of 9.6 points per game and a .442 field goal percentage.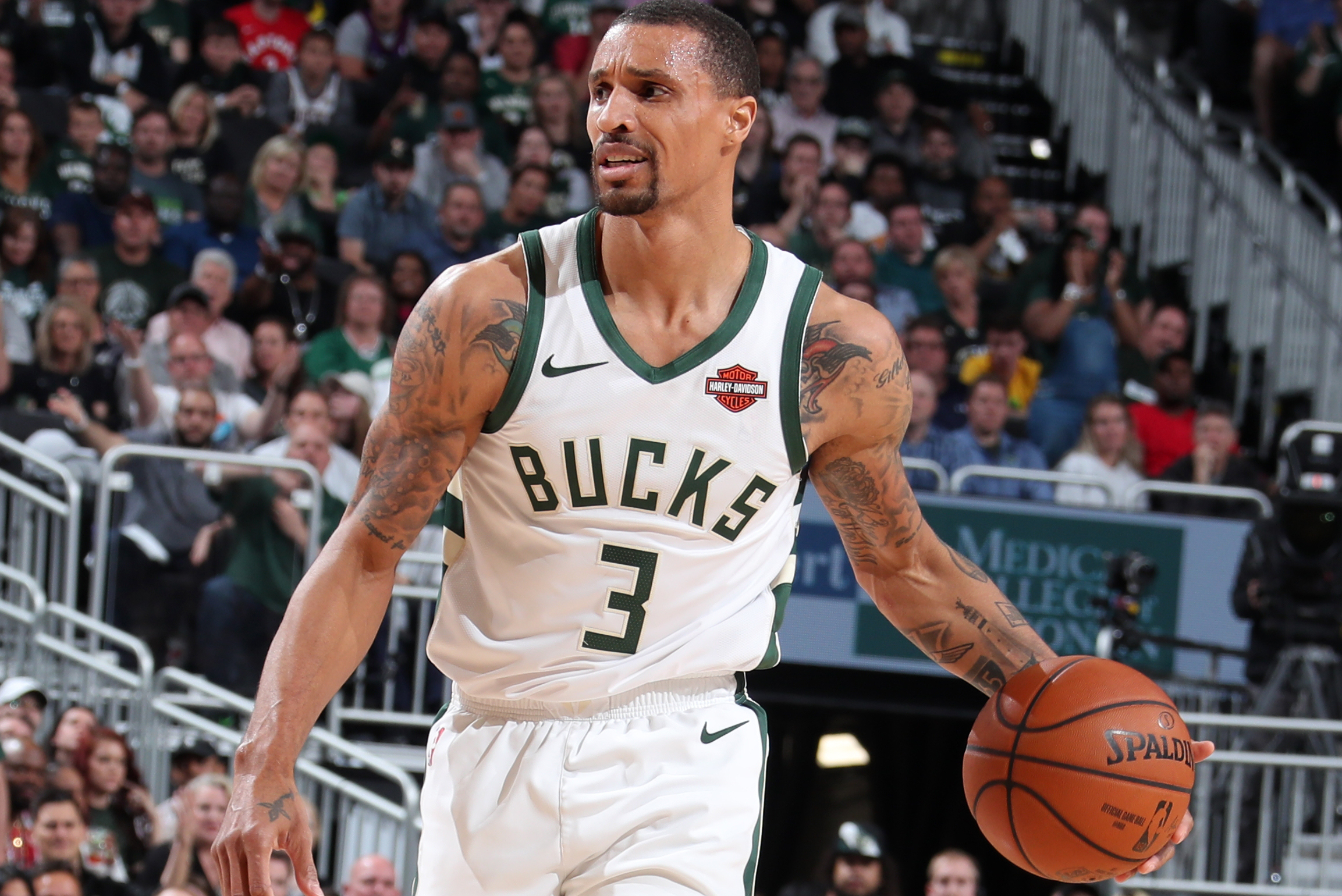 Hill suffered another significant injury again in 2014. However, he came into action on December 23 against the New Orleans Pelicans after missing the first 28 matches of the season due to a left knee injury.
He fractured his right thumb in his final game for the Thunder on January 24, 2021, and had surgery.
Moreover, George missed many games due to knee injury, reconditioning, and health safety protocols.
Strength
Hill's positioning and awareness are both strong suits, and he excels at getting out high and recovering from staying in the game when playing ICE.

He has a quick release and is excellent at locating open spaces and making himself available. He can also attack closeouts and create off-the-dribble against a disorganized defense.

Hill's size and quickness make him an excellent defensive rebounder for his position, and he'll frequently grab the rebound and lead the break when a defensive possession takes him close to the basket.
George Hill has also developed into a capable perimeter defender throughout his NBA career.
He played a crucial role in many defensive dynasties, including the San Antonio Spurs,

Paul George

's Pacers, and the Milwaukee Bucks.
George Hill | Net Worth
George Hill's fortune is estimated to be worth $30 million in 2023.
The point guard is estimated to earn around $113 million by the end of the 2022-2023 season in salary, according to Spotrac's financial data; his annual salary with Bucks is $4 million.
On the other hand, George Hill did not amass his fortune by chance. The point guard has created himself as a solid NBA professional during his time on the court.
Thanks to a 14-year NBA career, George Hill purchased an 850-acre ranch in central Texas with exotic animals.
He genuinely cares for common American animals like white-tailed deer and horses but focuses primarily on African safari animals like wildebeests, zebras, impalas, blackbuck, and red lechwe antelopes.
He likes to fish and hunt, but only for coyotes and wild hogs, which can be bothersome to his more exotic ranch guests.
Charity Works
On the other hand, George Hill isn't just sitting on his cash or buying exotic animals with it. The guard is helping to open a charter school in Indianapolis, where he grew up.
Hill and Harry Dunn founded the HIM by HER Foundation in 2014, with the acronym HIM by HER standing for "helping improve mankind by healing every race."
When the Him by Her Collegiate School for The Arts opens its doors in the fall, its efforts will take another step forward.
On October 5, 2020, the NBA announced that Hill was the recipient of the 2019-20 End of Season NBA Cares Community Assist Award, which Kaiser Permanente sponsors.
The award honors five NBA players who have demonstrated a sustained commitment to positively impacting their communities throughout the 2019-20 NBA season.
Stands For Justice
During the NBA's two off-seasons in 2020, Hill required the retreat that his Texas ranch provided.
The demises of George Floyd and Breonna Taylor hit the then-Milwaukee Bucks guard hard during the COVID-19-induced hiatus.
Hill was among hundreds of NBA players who went into the Orlando bubble with a commitment to social justice.
Hill took a stand after videos emerged of an unarmed black man named Jacob Blake being shot by police in Kenosha, Wisconsin.
Recognizing Hill's influence, the rest of his team followed suit, launching an unprecedented dialogue between players and the NBA Board of Governors to achieve genuine racial equality in each NBA community.
Hill created George's Gentlemen, a youth mentorship program in Milwaukee, to help Milwaukee Public School students remain involved during the pandemic.
George donated meals to healthcare workers in San Antonio. He significantly contributed to the Bucks Emergency Relief Fund, which provided financial assistance to Fiserv Forum employees to help those affected by COVID-19.
George Hill | Wife
Hill married Samantha Garcia, his longtime girlfriend and the mother of his children, in August 2018. Many of his teammates and friends attended the special ceremony.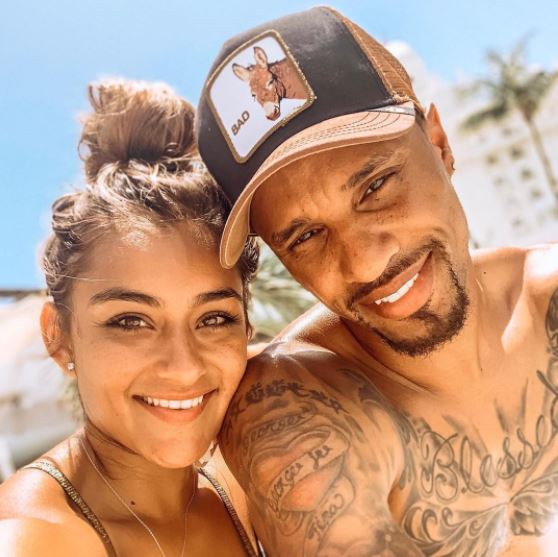 Samantha was born in Sao Paulo, Brazil, on April 2, 1992, but grew up in Los Fresnos, Texas. Hill and Samantha met when Hill was a member of the San Antonio Spurs.
Hill is the father of two children, Zayden Jaxon Hill, born on January 16, 2016, and Zo Jessie Hill, born on January 4, 2018.
George Hill |
Social Media Presence
Hill is only active on several social media platforms like Twitter and Facebook. His social media post includes pictures of his wife and children.
Twitter: 226.6k followers
Facebook: 211k followers
Moreover, he also gives updates about his charity work and exotic animals via stories and tweets.
George Hill | Popularity
Hill is renowned for his outstanding shooting skills. He was awarded Summit League Player of the year and was an honorable mention All-American during his junior year.
The graph shows his search graph for 12 months.
Frequently Asked Questions (FAQs)
Is George Hill good?
Hill has a knack for getting over the top of high screens and returning to the shooter. He can be highly disruptive when trailing the play and challenging shooters from behind or to the side.
Is George a champion?
In his career, George Hill has yet to win a championship.