The French-American professional basketball player Tony Parker played in the NBA for nearly two decades.
He is currently the mass owner of the ASVEL Basket of the French LNB Pro A.
The San Antonio Spurs picked him in the 2001 NBA draft.
However, he had already begun his professional career back in France in 1999.
While still playing for the Paris Basket Racing, his performance earned him widespread international fame.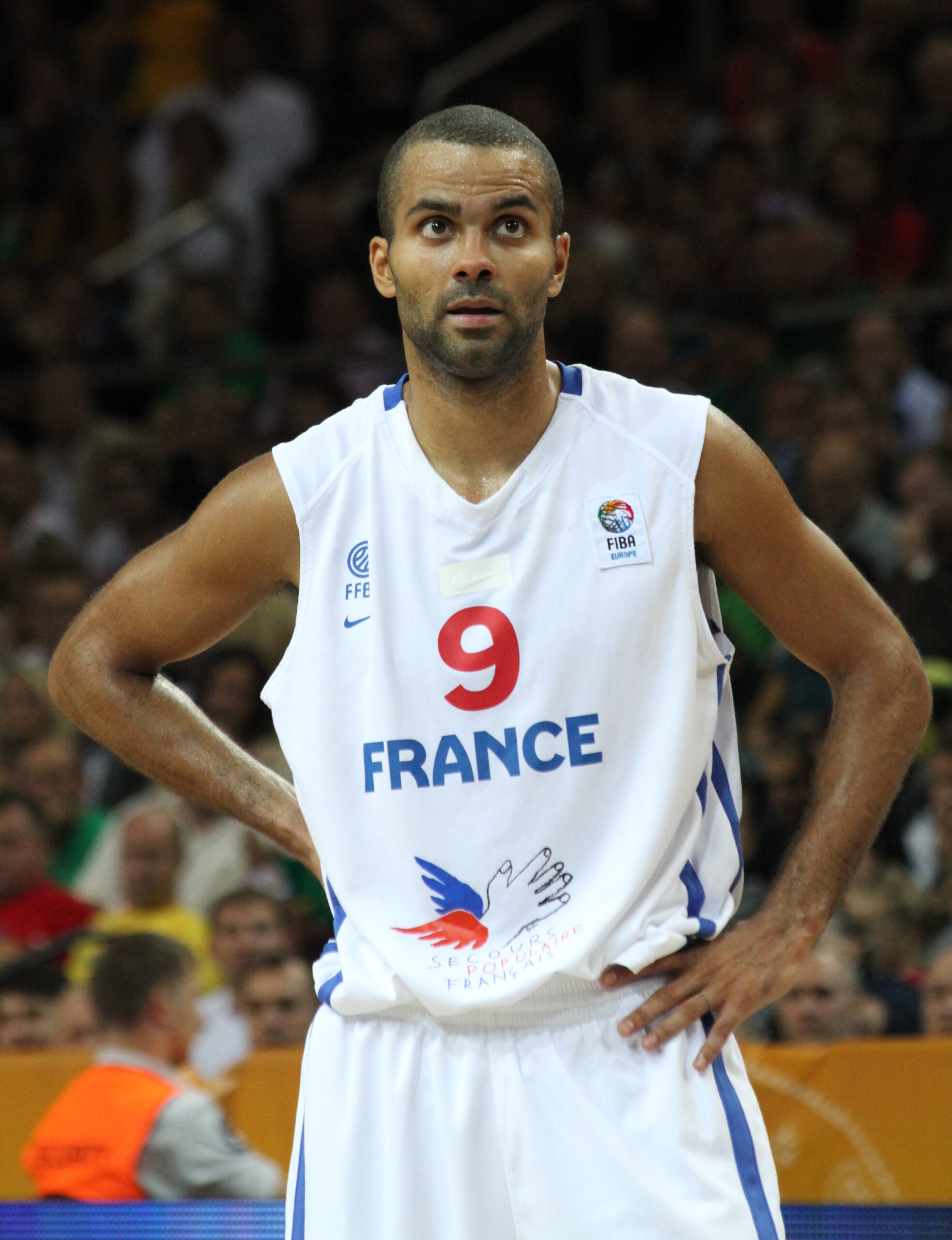 Moreover, Tony has appeared for the French national team in numerous international tournaments.
Not only had he participated in them, but he had led them to win multiple championships, including the EuroBasket.
Even though he was pretty short, the French point guard never considered it a disadvantage.
On the contrary, he had much confidence in his game, and because of lightweight, he could sprint at a fast pace and beat his opponents easily.
The French point guard eventually retired from all forms of basketball in 2019 after achieving so much from the sport.
Let's dive deep into this iconic French basketball star's early life, grand achievements, and all that concerns us as his fans.
But before moving on to that, here are some quick facts about Tony Parker.
Quick Facts
Full Name
William Anthony Parker Jr.
Full Name
Tony Parker
Date of Birth
May 17, 1982
Birth Place
Bruges, Belgium
Nicknames
T.P., Tony P, The Parisian Torpedo
Religion
Christianity
Nationality
French / American
Zodiac Sign
Taurus
Age

41

years old
Height
1.83 m (6 feet)
Weight
185 lb (84 kg)
Hair Color
Black
Eye Color
Black
Build
Athletic
Father's Name
Tony Parker Sr.
Mother's Name
Pamela Firestone
Sibling
T.J. Parker, Pierre Parker
Education
National Institute of Sport, Expertise, and Performance (INSEP)
Marital Status
Divorced
Ex-Wives' Names

Eva Longoria (2007-11)
Axelle Francine (2014-20)

Girlfriend's Name
Alize Lim
Kids
Josh Parker, Liam Parker
Profession
Former Basketball Player
Sexual Orientation
Straight
NBA Draft
2001
Position
Point Guard
League

LNB Pro A
EuroLeague
National Basketball Association (NBA)

Active Years
(1999–2019)
Clubs played for

Paris Basket Racing
San Antonio Spurs
ASVEL Lyon-Villeurbane
Charlotte Hornets

Net Worth
$85 million
Social Media
Instagram, Twitter, Facebook
Merch
Last Update

December 2023
Early Life, Family & Education
Tony Parker Jr. was born in Burges, Belgium, on May 17, 1982. His father, Tony Parker Sr., was a professional basketball player who played for many foreign clubs overseas.
Even though Tony Sr. was an American citizen, his family lived in France and played professional basketball.
However, Tony's mother, Pamela Firestone, was a Dutch citizen and a Dutch national tennis champion (1956).
Tony started enjoying sports from a very young age. He and his younger brothers often went to watch their father play basketball. However, he was initially interested in soccer.
Moreover, his two brothers, T.J. and Pierre, were equally good sportsmen, and the three brothers later followed in their father's footsteps.
As their family already had many renowned athletes in the past, his parents were very supportive.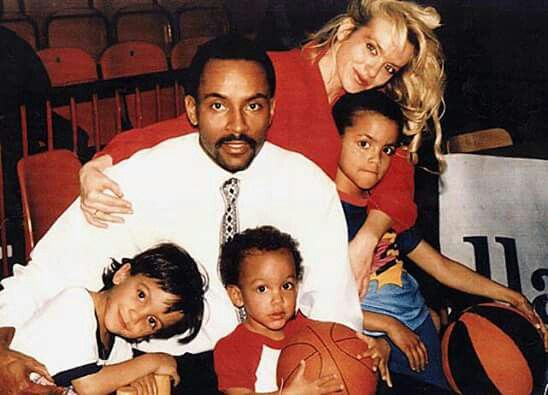 Consequently, both his brothers and he became successful professional basketball players.
T.J. even became a part of the French national team in numerous tournaments and now is the head coach at ASVEL.
While still at school, Tony gradually shifted his focus towards basketball from soccer. However, Michael Jordan's rise and popularity at that time had left a deep impression on him, and as a result, he became highly involved in the sport.
While he was 15, his family received the naturalized citizenship of France, and soon after, he received an offer to enroll in the elite sports learning institute, INSEP, in Paris.
After taking admission at INSEP, he did not pursue academic education.
Tony Parker | Career
Professional Career
French League
While he was still a student at INSEP, Parker played in the amateur league in Paris for two seasons.
Then, he signed with the famous French club Paris Basket Racing to play in the LNB Pro A after his graduation.
The player soon received wider recognition for his performance in the first season of the French League.
Consequently, in 2000, Tony received an invitation to play in the Nike Hoop Summit held in Indianapolis, USA.
Even though the event was full of top-class athletes from Europe and the USA, he did not hesitate to show his natural game and outshone almost everyone in the tournament.
Following his success, many universities in the USA offered him scholarships, but he refused. After that, he played one more French League season before going for the 2001 NBA draft.
Theo Pinson Bio: NBA & Net Worth >>>
NBA Career
His fame had already passed across oceans and reached America while still having a good time in Europe.
So, when the NBA clubs became aware of his intention to enter the league, many immediately went for the chase.
The San Antonio Spurs was the quickest to act as they invited him to their pre-draft summer camp. After going through two rounds of strict tests, Tony eventually impressed the Spurs.
Consequently, the Spurs picked him as the 2001 NBA draft's first-round 28th pick.
As the club already had an experienced point guard Antonio Daniels, he mostly played as a backup in his rookie season.
Moving on to the next season, Tony took on as the team's key point guard, and thus, he gained more playtime. He won his first-ever NBA championship ring in the same season.
The Spurs reached NBA playoffs every season he played with them.
Talking about his performance, he consistently gave his best for the team. It was undoubtedly because of his fantastic contribution that helped the Spurs lift three more championship rings in his lifetime.
In the meantime, he briefly played for the ASVEL Basket in 2011.
The French phenom was his team's favorite in all the years he appeared in their jersey and was always in the starting line-up except when he was injured.
After having a legendary career in the same club for eighteen years, he finally announced his retirement from all formats of basketball on June 10, 2019. However, he played his last season with the Charlotte Hornets.
The Spurs retired the jersey no. 9 in his honor on November 11, 2019.
National Team Career
Tony played in various international tournaments for the French national team, apart from his professional career. However, he holds American citizenship as well.
The Spurs legend started playing for junior national French teams as a teenager. He first made his appearance for France wearing their jersey at the 1997 FIBA Europe Under-16 Championship.
Following that event, he regularly secured his place in a French team of various age groups, and consequently, he represented them in the other FIBA Europe championships.
Tony even won the gold for his nation in the 2000 FIBA Europe U-18 Championship, where he was declared the MVP with 14.4 points per game.
He debuted for the senior French national team from the 2001 EuroBasket and played until 2016. In his international career spanning around 15 years, he led them to other events such as EuroBasket, Olympics, etc.
However, he retired from his international career after the French team failed to advance to Semi-finals at the 2016 Summer Olympics in Rio de Janeiro.
Tony Parker | Awards & Achievements
Tony Parker became one of the most successful overseas players joining the NBA in the early 2000s.
He achieved many most incredible feats from his professional career that many basketball players can only dream of.
Some of his awards and achievements in the NBA and the French League include:
NBA champion (2003, 2005, 2007, 2014)
NBA Finals MVP (2007)
Pro A Best Young Player (2001)
NBA All-Rookie First Team (2002)
LNB Pro A Most Improved Player
NBA All-Rookie First Team (2002)
His international career was also very successful, considering that he had noticeable individual performances.
In addition, he helped them win multiple championships and medals. Some of them include:
FIBA Europe Player of The Year (2013, 2014)
Gold at the 2013 EuroBasket
Likewise, his achievements as a president of the French club, ASVEL are:
French Cup winner (2019, 2021)
LNB Pro A champion (2016, 2019)
French Super Cup winner (2016)
Net Worth & Career Earnings
Tony Parker has guaranteed himself a lavish lifestyle playing professional basketball for the Spurs for many years. He has accumulated such a vast amount, mainly through NBA league games.
According to sources, Tony has a net worth of approximately $85 million. However, some websites have mentioned somewhere between $75 to $100 million.
Hailing from a wealthy background, Tony started earning money through the French League games before the NBA. Signing with the Spurs in 2001, he had received around $0.74 for his rookie season.
The NBA veteran played for Charlotte Hornets for his last NBA season. Even though there was a considerable decrease in his vigor and effect in his previous years, the club knew his worth and offered him $5 million that season.
Tony collected approximately $170 million from his entire NBA career.
Apart from his playing career, he has invested his capital in the French League club, ASVEL. As of now, he is its president and the club's prominent owner.
Similarly, he became the major shareholder of the ASVEL Feminin club in 2017. It participates in the French women's basketball league.
Jose Calderon Bio: NBA & Net Worth >>
Tony Parker Outside Basketball Court
Entertainment Industry
Most people who follow Parker are well aware that he has a great love for music, especially hip-hop music. He had always wanted to bring out his album for quite a long which he fulfilled by releasing T.P. in 2007.
Moreover, he has had numerous collaborations with music artists such as Booba, Jamie Foxx, Soprano, etc.
In addition, he has produced a biographical documentary film starring various sports stars, including Kobe Bryant, Sean Elliott, Zinedine Zidane, David Douillet, and many more.
Moreover, he has his film production company named Argent Pictures.
Likewise, he has starred himself in documentaries and tv series.
Moreover, he has co-directed a French film entitled Un chiffre, un home with director Jean-Marie Antonini.
Tony starred in the Netflix documentary Tony Parker: The Final Shot, led by filmmaker Florent Bodin in 2021.
He used to appear in TV ads and commercials as well frequently.
Other Business Ventures & Philanthropy
Tony has extended his business ventures in multiple fields. He had established a sports academy named Tony Parker Adequat Academy in 2018, which trains young basketball enthusiasts to succeed as better professional players.
Likewise, he bought a share in OL Reign, the National Women's Soccer League team based in Washington, in late 2019.
In addition, he got involved with the NorthRock Partners, the global advisory firm, to direct its sports, artists, and entertainment section in the same year.
Tony had opened up a hangout place for his fans named Nueve Lounge around 2012. Located in San Antonio, the place was frequently visited by his teammates and their wives.
His two brothers, TJ and Pierre, were also involved in the business. The place was emerging as a popular spot for Spurs fans to spend their time, but it unexpectedly ended in 2013.
Besides, the player has a good heart and has made good use of his money by involving in various philanthropic activities.
He has been assisting underprivileged and medically unfit children frequently all over these years.
He has associated himself with various non-profit organizations, the most notable being the Steve Nash Foundation, Eva's Heroes, and Make-A-Wish France.
Body Measurements
As of 2023, Tony is 41 years old and his zodiac sign is Taurus.
Tony was initially relatively short for a basketball player, so he thought it was appropriate for him to play in the point guard position.
As a result, he perfected himself, especially in that position.
However, he somehow had a growth spurt when he was around 15. As a result, he stands 1.88 meters (6 feet 2 inches) tall. In addition, he weighs about 185 lb (84 kg).
Tony Parker | Personal Life
When it comes to dating rumors, Tony's name has been linked with various women at different times. However, he married twice in his lifetime and has already been divorced.
Following his separation, he is currently in an intense relationship with the French professional tennis player, Alize Lim.
Tony has known Alize for so long, but they finally began dating in 2021.
Alize was born in France in 1990 to her Vietnamese father and a French mother.
She had made her Grand Slam debut in 2011 through the French Open and has since played many of them but without winning.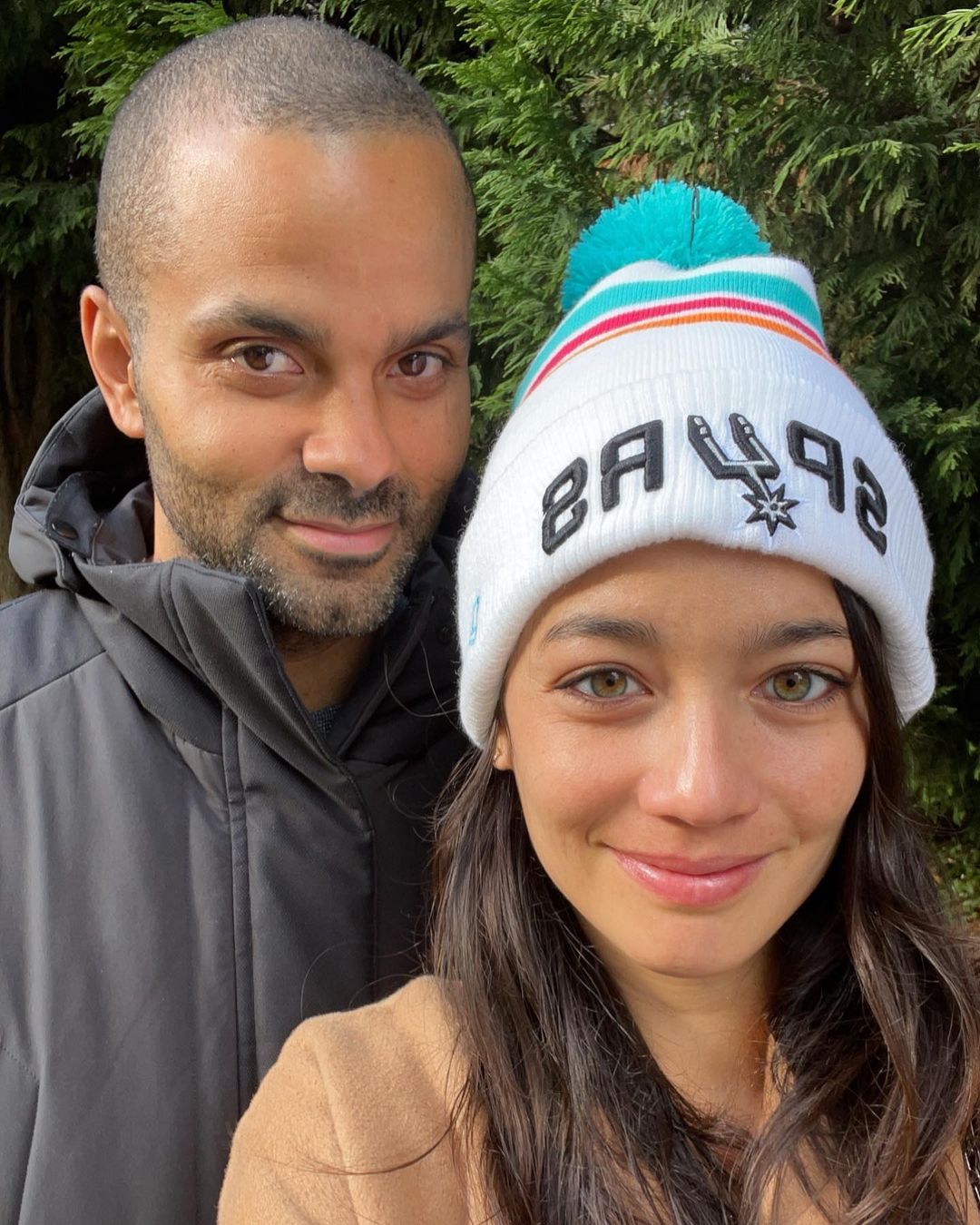 However, she has already won three ITF titles throughout her career.
In addition, she frequently works with the French television channel Eurosport as a presenter with other experts such as Johanna Konta and Tim Henman.
Previously, he was married to famous Hollywood actress Eva Longoria. They engaged in 2006 after dating for a while.
The two eventually married in 2007, but they divorced after she accused Tony of cheating on her with Alexandra Paressant, a model, and Erin Barry, wife of his teammate Brent Berry.
Even though Tony denied the allegations, Longoria showed no reconciliation, so their divorce was finalized in 2011.
After the split, he dated the French journalist Axelle Francine before marrying on August 2, 2014. In the April of that same year, Axelle gave birth to their first son, Josh, out of wedlock.
They welcomed their second son, Liam, in 2016. However, his second marriage also could not last long. The couple divorced in 2020.
Now that he is with Lim, they love each other very much and have a good time together. Both of them have a good relationship with Tony's kids as well.
Nightclub Incident
As a well-disciplined man with high morale, Tony usually doesn't get into controversies, let alone fights. However, one has to admit that he got unlucky on the night of June 14, 2012.
He had gone to the W.I.P nightclub located in New York to enjoy the late-night concert. However, the fight broke out between the singers, Drake and Chris Brown, after which the whole place went into a frenzy.
As a result, he sustained a severe injury and had to go through surgery to remove the glass piece that had penetrated near his eyes. It nearly cost him the 2012 Summer Olympics.
However, he became fit to join the team by July 6, 2012.
Social Media Presence
Instagram: @_tonyparker09
Twitter: @tonyparker
Facebook: Tony Parker
Thaddeus Young Bio: NBA, Wife & Kids >>>
Frequently Asked Questions
How old was Tony Parker when he started in NBA?
Tony Parker was 19 years old when he started in the NBA.
How many times did Tony Parker go to the NBA Finals?
Tony Parker went five times to the NBA Finals. Out of five, they won the finals four times.
Was Tony Parker a good basketball player?
Yes, Tony Parker was a good basketball player. When he was active, he was a world-class point guard and is still one of the few basketball players to win NBA championships multiple times.