George Mikan was a professional basketball player who played in the National Basketball Association. Besides the National Basketball League, this legend also played for the Basketball Association of America.
Furthermore, he served as a center for Chicago American Gears and Minneapolis Lakers. The late basketballer was also an NBA coach.
Mikan coached his former NBA team Minneapolis Lakers, now known as Los Angeles Lakers, from 1957-to 58. Besides that, the legendary player helped implement many NBA rules.
Some of the rules are goaltending, shot clock, and the Mikan rule. Moreover, he played a critical role in the formation of the NBA team Minnesota Timberwolves.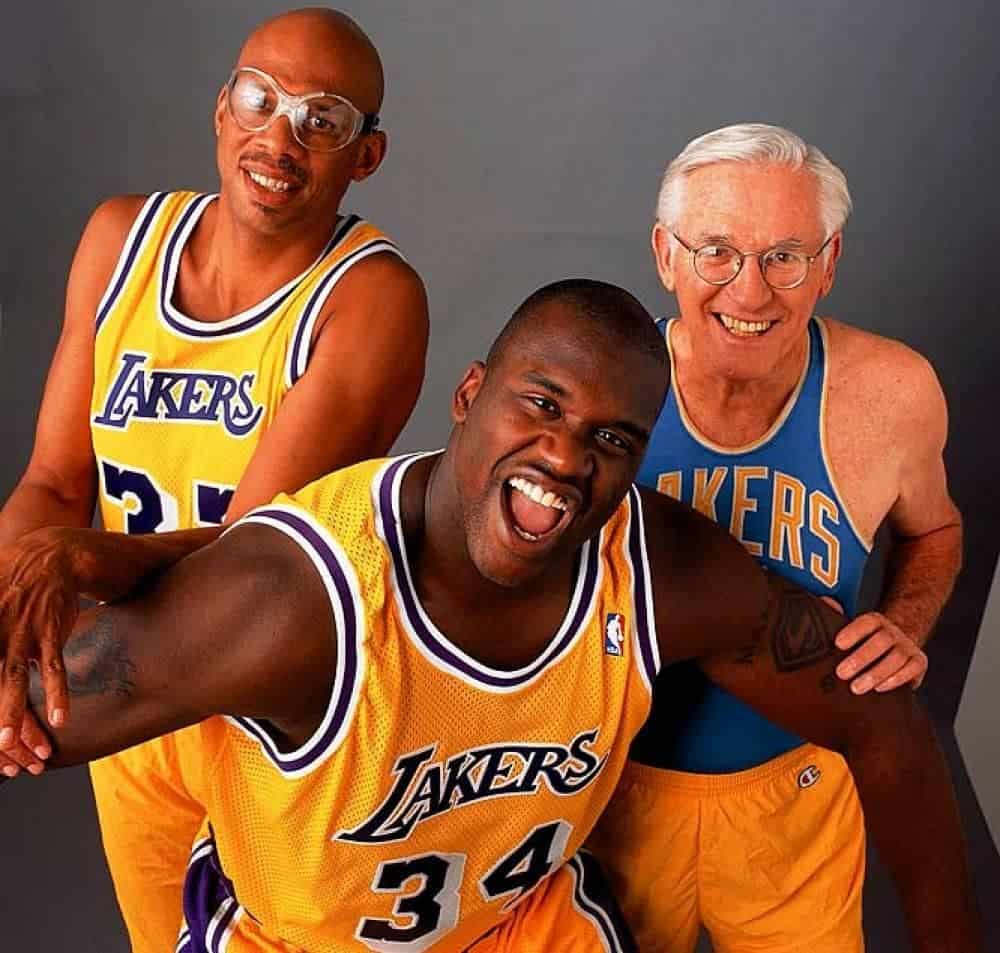 Hence, to honor him, Timberwolves has a Mikan statue shooting his trademark hook shot in their Target Center.
Aside from that, the basketball world regards him as one of the greatest players of all time. Likewise, he was also one of the 50 Greatest Players in NBA History in 1966.
The former basketball player played collegiate basketball at DePaul University. Correspondingly, he was an outstanding center for the DePaul Blue Demons.
George passed away just 17 days before his 81st birthday, on June 1, 2005. He died due to complications from his diabetes.
Before getting into details about the legendary player's life, career, and death, here are some quick facts about him.
Quick Facts
| | |
| --- | --- |
| Full Name | George Lawrence Mikan Jr. |
| Birth Date | June 18, 1924 |
| Birth Place | Joliet, Illinois, the United States |
| Death | June 1, 2005 |
| Religion | Christian |
| Nationality | American |
| Ethnicity | White |
| Education | DePaul University |
| Horoscope | Gemini |
| Father's Name | Joseph Mikan |
| Mother's Name | Minnie Mikan |
| Siblings | Three; Joe, Edward, and Marie Mikan |
| Age (At The Time Of Death) | 80 |
| Height | 6 feet 10 inches |
| Weight | 245 lb (111 kg) |
| Hair Color | Black |
| Eye Color | Brown |
| Build | Athletic |
| Profession | NBA Player, NBA Coach |
| Last Team | Minneapolis Lakers |
| Position | Centre |
| Active Years | 1946 – 1958 |
| Marital Status | Married |
| Wife | Patricia Lu Deveny |
| Kids | Six: Larry, Terry, Patrick, Michael, Trisha, and Maureen |
| Net Worth | $6.52 million |
| Nickname | Mr. Basketball |
| Merch | Basketball Card, Poster |
| Last Update | 2023 |
George Mikan | Early Life, Family, and Education
George Mikan, the NBA legend, was born in Joliet, Illinois, the United States. His parents are Joseph Mikan and Minnie Mikan.
Furthermore, his father is from Croatia, while his mother is from Lithuania. Aside from that, his grandfather Juraj migrated from Croatia to Braddock, Pennsylvania.
In Pennsylvania, Juraj married the former NBA player's grandmother Marija. Together they welcomed Joesph in 1907.
Along with that, the couple opened up a restaurant called Mikan's Tavern. After Juraj and Marija, Joesph and Minnie ran the tavern.
The former coach had a pretty normal life. Moreover, he grew up with two brothers, Joe and Edward, and a sister named Marie. His brother Edward is also a former NBA player.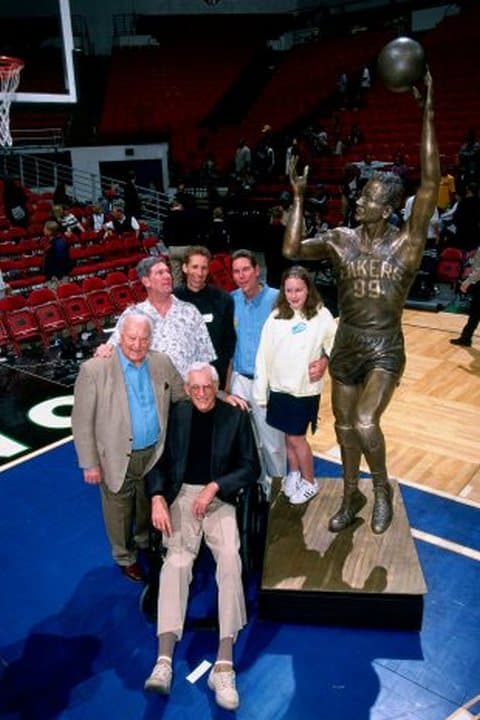 All of them were physically active and took part in various sports programs. Besides that, they helped in the restaurant whenever they could.
The five-time NBA champion attended Joliet Catholic Academy, where he played high school basketball. However, he was extremely discouraged from playing basketball by his high school coach and peers.
As he had Myopia and was quite skinny, the coaches considered him unfit for playing. Nevertheless, he didn't allow their negative comments to determine his potential, and he kept going.
On top of that, he dominated basketball games with his thick, nearsightedness glasses. But at one point, he broke his knees and was on bed rest for over a year.
In 1938, he contemplated being a Priest and attended Chicago Archbishop Quigley Preparatory Seminary. Nonetheless, he went back to school and completed his studies.
After high school graduation, he attended DePaul University, where he played collegiate basketball for the DePaul Blue Demons.
George Mikan | Age, Height, and Weight
The former NBA MVP was born on June 18, 1924. However, he sadly passed away on June 1, 2005. Mikan was 80 years old at the time of his death.
Besides that, he was 6 feet 10 inches tall and weighed 245 pounds, i.e., 111 kg.
You Might be Interested In Lakers' General Manager, Rob Pelinka Bio: Early Life, Agent, Wife, LA Lakers & Net Worth >>
George Mikan | Basketball Career
College Career
DePaul's basketball coach, Ray Myers, took great interest in the then-tall and clumsy high school basketballer. Furthermore, he saw great potential in him and suggested George consider playing for the DePaul Blue Demons.
Mikan took Myers up on that offer. Moreover, the coach changed the narrative of tall players in basketball.
Back in the day, Basketball leagues didn't consider tall athletes to be good basketball players. Recruiters and coaches thought they were too awkward and inconvenient to play well.
However, in a short period, Myers changed several opinions when he converted George into a confident and aggressive player. He even helped the NBA player embrace his tall height and use it in his favor.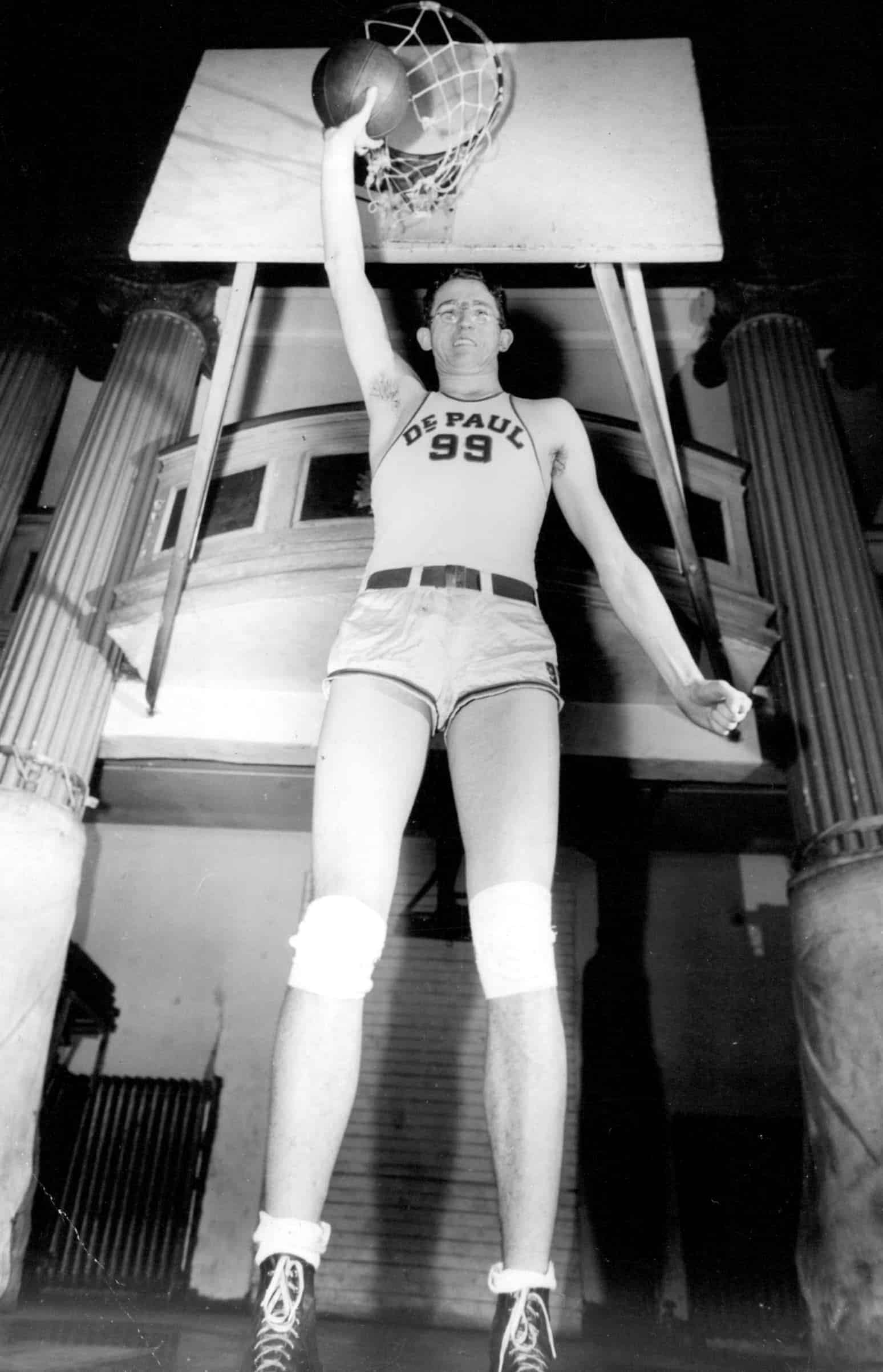 On top of that, they worked out daily where Mikan punched speed bags, took dance lessons, and jumped ropes. He also excelled at making hook shots with both hands.
Myers helped transform the insecure high schooler who was ashamed of his height into a confident one. Shortly after, the former center started ruling the NCAA games.
Besides that, he intimidated his opponents with his aggressive style, tall height, and physique. The former MVP became a prevalent name in the college basketball world.
Hence, he was also known as one of the grittiest players in the college basketball league. Likewise, he won several awards and honors for his outstanding games.
The former Lakers' player was the 1944 and 1945 Helms NCAA College Player of the Year. Similarly, he was a three-time All-American and was the 1945 NIT's Most Valuable Player.
BAA, NBL, And NBA Career
Chicago American Gears
The buzz about the player's immaculate collegiate career started spreading around. Shortly after, he grabbed the attention of the Chicago American Gears.
The Gears played in the National Basketball League and signed him in 1946. Furthermore, George assisted the NBL team in winning the World Basketball Tournament championship.
As a result, he won the MVP title and was the All-NBL Team. In the following season, the then president of American Gears pulled them out of NBL to create his league.
However, his league crumpled in less than a month, and the Gears' players were evenly distributed to the remaining 11 NBL teams. Hence, Mikan was passed along to the Minneapolis Lakers.
Minneapolis Lakers
In his first season with the Lakers, Mr. Basketball helped the team win the 1947 NBL title. As a result, he was the league's Most Valuable Player.
The following year, he led the Minneapolis team to a consecutive NBL title. After that, he helped them win the 1949 BAA title against the Washington Capitols.
When the NBA formed after merging the NBL and BAA, he again led the Lakers to their first-ever NBA championship title in 1950. Although the Lakers were unbeatable at the start, they eventually lost the 1951 NBA title.
Nevertheless, Mikan was more dominant than ever when he came back for the 1952 NBA season. From there on, he led the Lakers to three consecutive NBA titles till 1954.
Along the way, he helped build important NBA rules such as goaltending, shot-clock, and the Mikan Rule. After that, due to injuries, George missed the entirety of the 1955 NBA season.
Furthermore, he couldn't make a better comeback in 1956 and failed to reach the NBA finals. Eventually, the center retired from the game of basketball as a player.
Don't Forget To Check Out Lakers' Part Owner, Jim Buss: Bio, Net Worth, Wife, Lakers & Career >>
Post Basketball And Coaching Career
After his basketball career, Mikan became the Republican Candidate in Minnesota's 3rd congressional district. In 1956, he challenged Republican representative Roy Weir.
Nevertheless, he failed to secure victory when he managed to gather only 48% of the votes. Furthermore, the NBA legend faced a financial crisis when he did not get any assignments.
The former basketballer tried his luck as the coach of the Minneapolis Lakers. However, he led the team to one of their worst seasons in history.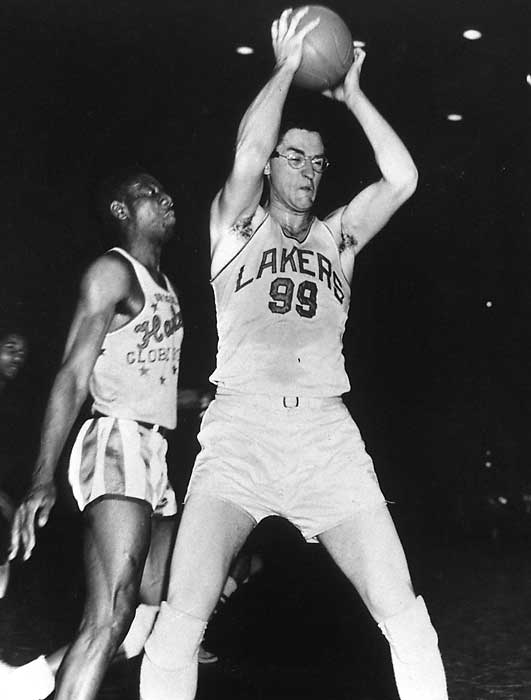 After that, he made a comeback in basketball as the first commissioner of the American Basketball League. The ABA was the rival league of the NBA. Nonetheless, it only lasted till 1969.
In the mid-1980s, he was engaged in forming a new basketball team called the Minnesota Timberwolves. Moreover, George led the task force to form the team when the Minneapolis Lakers moved to LA.
Mr. Basketball also became part owner of the professional roller hockey team Chicago Cheetahs. But the franchise failed miserably after their second season.
Learn More About Lakers' Small Forward, LeBron James Bio: Early Life, Basketball Career & Net Worth >>
Basketball Achievements
Five-time

BAA/NBA champion

in the years

1949,

1950,

1952, 1953,

and

1954

Two-time

NBL champion

in the years

1947

and

1948

National Basketball League's Most Valuable Player

in the year

1948

Four-time

NBA All-Star

from

1951

to

1954

NBA All-Star Game MVP

in the year

1953

Six-time

All-BAA/NBA First Team

from

1949

to

1954

Two-time

All-NBL First Team

in the year

1947

and

1948

NBL

scoring champion in the year

1948

Three-time

NBA

scoring champion from

1949

to

1951

NBA

rebounding leader in the year

1953

Greatest Player of the First Half-Century in the year

1950

NBA 50 Greatest Players

in the year

1996

No.

99

honored by

Los Angeles Lakers.

Two-time

Helms Player of the Year

in the year

1944

and

1945

Sporting News

Player of the Year in the year

1945

Three-time

Consensus first-team All-American

from

1944

to

1946

No.

99

retired by

DePaul Blue Demons.
Legal Battle Against The NBA
The star basketballer suffered from chronic diabetes in his old age. Furthermore, the disease led to kidney failures. He also had to amputate his right leg below the knee.
After his medical insurance stopped covering his bills, he faced great financial difficulty. Thereafter, he fought a long legal battle against the NBA and NBA Players' Union.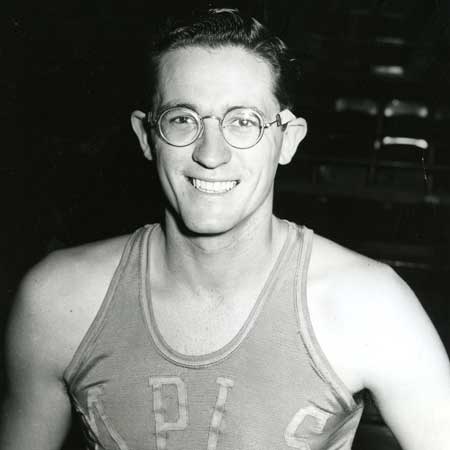 Mr. Basketball protested against the $1,700 monthly pensions for basketballers who retired before 1965. It also gave rise to the "big money era" in the NBA.
George Mikan | Marriage and Personal Life
The legendary player was married to Patricia Mikan. Furthermore, the two were married for 58 years before death departed them.
Patricia recently passed away in 2014 in Scottsdale, Arizona. Moreover, she was a loving and supportive wife to Mikan.
Together they had six kids, namely Larry, Terry, Patrick, Michael, Trisha, and Maureen. Besides that, they have twelve grandchildren.
The wife of the NBA player was a very caring and loving mother. She always had her children's and back. Along with that, she stood by her husband throughout his struggle with diabetes.
George Mikan | Net Worth And Salary
The basketballer's exact wealth amount is unknown.
Nevertheless, many sources claim his net worth to be between $6 million – $15 million.
However, the amount feels a little unbelievable as the player struggled financially after his basketball career. Moreover, he faced several financial difficulties when he had to pay his medical bills.
Nonetheless, there are rumors that he had reportedly invested in stocks whose prices boosted over the years.
Death Of The Legendary Player
In 2005, one of the greatest NBA players died at a rehabilitation center in Scottsdale, Arizona. Shortly after, his family announced his passing.
He passed away from the complications of chronic diabetes. On top of that, George had undergone dialysis three times a week, four hours a day since 2000.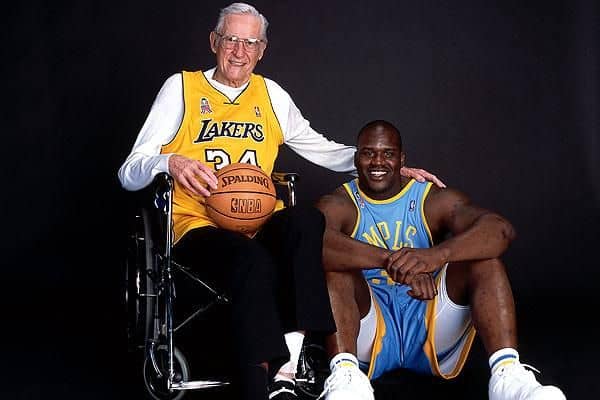 The entire NBA franchise and thousands of fans mourned Mikan's death. Former Lakers' Center Shaquille O'Neal paid for the legend's funeral stating, "Without number 99 [George Mikan], there is no me".
Furthermore, the NBA expressed its gratitude towards the basketball legend for bringing structure to the game. They also dedicated the 2005 NBA finals between the Detroit Pistons and the San Antonio Spurs to him.
Common Queries:
Is George Mikan jersey retired?
No, the late NBA player's jersey number 99 is not retired. However, it was honored by the Los Angeles Lakers.
On the other hand, Mikan's college team, DePaul Blue Demons, had retired his number 99 in his honor.
What is George Mikan known for?
George Mikan is known for being the greatest NBA center in the franchises' history. He is widely known for establishing modern NBA rules that are followed to date. Furthermore, he has five NBA Championship titles and two NBL titles.
Moreover, Mr. Basketball was the National Basketball League's Most Valuable Player in 1948. He was also a four-time NBA All-Star.
Who were George Mikan's teammates?
The following players were George Mikan's teammates.
Vern Mikkelsen
Slater Martin
Jim Pollard
Clyde Lovellette
Dick Garmaker
What is George Mikan's career statistic like?
During George Mikan's career in the NBL / BAA / NBA field, he posted a career statistic of 11,764 (22.6 ppg) points. Likewise, during his tenure at BAA / NBA, he had 10,156 (23.1 ppg) points and 1,245 (2.8 APG) assists. He had 4,167 (13.4 RPG) rebounds during his last five seasons.
Where is George Mikan's burial place?
George Mikan's funeral services were held at Messinger Pinnacle Peak Mortuary in North Scottsdale. He has been buried at Lakewood Cemetry in Minneapolis.
How much is a George Mikan autograph worth?
The price of George Mikan ranges as the 3×5/AP costs $12, 8×10 costs $35, and the ball costs $175.