Georges Niang, the "minivan," is a professional American- Senegalese basketball athlete currently signed with the Utah Jazz of the NBA (National Basketball Association).
This incredible basketball athlete has shown tremendous talents throughout his career with multiple awards and career highlights.
He was the first player to reach four-straight NCAA tournaments, the first two-time All-American, and the career leader in games played with the most wins.
He has played for various teams like Indiana Pacers, Fort Wayne Mad Ants, Santa Cruz Warriors, and Salt Lake City Stars.
Furthermore, let's explore more in-depth "Minivan," an outstanding basketball athlete that the world has known.
Before getting into details about the player's life and career, here are some quick facts about him.
Quick Facts
Full Name
Georges Niang
Birth Date
June 17th, 1993
Birth Place
Lawrence, Massachusetts
Age
29 Years Old
Nickname
Minivan
Religion
Not Available
Nationality
American
Ethnicity
American- Senegalese
Education
Tilton School, Iowa State University
Horoscope
Gemini
Father's Name
Sidy Niang
Mother's Name
Alison Niang
Siblings
None
Height
6'8″ (2.03m)
Weight
230 lb (104 kg)
Build
Athletic
Shoe size
Not Available
Hair Color
Black
Eye Color
Black
Position
Power Forward
League
NBA
Team
Utah Jazz
Jersey Number
#31 (Utah Jazz)
Marital Status
Unmarried
Girlfriend
Not Disclosed
Children
None
Profession
Professional Basketball Athlete
Active Years
2016-present
Former Teams
Indiana Pacers

Fort Wayne Mad Ants

Santa Cruz Warriors

Salt Lake City Stars

Net Worth
$3.7 million
Career Highlights& Awards
First-team All NBA G League-2018

Consensus second-team All-American- 2016

Third-team All-American – AP, NABC- 2015

Karl Malone Award- 2016

2× First-team All-Big 12- 2015 & 2016

Third-team All-Big 12- 2014

Big 12 Tournament MVP- 2015

Big 12 All-Rookie team- 2013

Social Media
Twitter, Instagram, Facebook
Merch
NBA Shorts, Rookie card, Bobblehead
Last Update
November, 2022
Georges Niang | Early Life, Origine, Family, & Education
In Lawrence, Massachusetts, Georges "Minivan" Niang was born on June 17th, 1993, to his proud parents Sidy Niang and Alison Niang.
Sidy Niang was born and raised in the Republic of Senegal, a country located in West Africa. Niang likes to keep his life mostly private.
Hence, there is very little information regarding his family. Moreover, Georges is an only child.
According to the horoscope, Georges is a Gemini. The most common traits in Geminis are outgoing, intelligent, and adaptive.
We can undoubtedly observe these traits in Niang throughout his career as a professional basketball athlete.
Education
For his education, Niang attended The Tilton School located in Tilton, New Hampshire. His high school was the start of his exceptional talents to making way toward his professional career.
A three-year starter and two-year team captain in high school made he was one of the greatest players in The Tilton School's history.
Furthermore, he attended Iowa State University for his college and paved the way for his remarkable career since his freshman year.
Niang's blooming high school and college career made him the professional athlete that we know today.
Georges Niang | Age, Height, and Body Measurements
Moreover, Georges is 29 years old in November, 2022. He stands at a remarkable height of 6'8″ (2.03m) and weighs 230 lb (104 kg).
According to various scouting reports with his build, Niang is considered an excellent ball-passer and handler.
Georges Niang | Career and Profession
High school career
A two-year team captain and three-year starter with a school record of 2,372 points, Niang was one of the outstanding athletes in his high school.
His average of 24.2 points and 8.2 rebounds as a junior and 25.1 points, 7.2 rebounds, and
2.1 assists per game as a senior, paved his team towards the 2011 NEPSAC Class AA championship, where they played against St.Mark and ended the game with a 72-56 win.
In the same match, Niang won the title of Outstanding Player of the Tournament, scoring 23 points on 11-of-11.
His remarkable talent made him a three-time First-Team All-NEPSAC AA pick and 2012 NEPSAC Class AA Player of the Year.
Furthermore, Niang played for the Boston-based BABC AAU team, which was also the program that featured former NBA player and Cyclone Will Blalock.
Georges and his BABC AAU team won one of the country's most competitive AAU tournaments called the 2011 Nike Peah Jam.
Nerlens Noel and Niang were teammates in both Tilton and AAU. Together, they won four NEPSAC titles: National Prep Championship, AAU National Championship, and Nike EYBL title.
College career
Niang's remarkable skill made him one of the best players on the East Coast, and as a result, he ended his prep career as a consensus national top -100 recruit.
In the 2012 prep national rankings, Georges was ranked No. 56 by ESPNU, No. 42 by Lindy's, No. 69 by Scout.com, No. 73 by Sporting News, No. 81 by CBS Sports, and No. 69 by Rivals.com.
He had college recruit offers from Iowa State University, Texas A&M, and Seton Hall. Eventually, he decided to attend Iowa State University for his college.
You might also like fellow basketball athlete Jaylen Adams Age, College, Basketball, Girlfriend, Net Worth, Salary, Instagram>>
Freshman Year
Georges started his college career as a freshman year in 2013. In the 2013 games, he was named to the Big 12 All-Rookie Team by the NCAA.
Unfortunately, in the second round of the 2014 NCAA Tournament, Georges broke his right foot's fifth metatarsal, forcing him to sit throughout the remaining event.
Sophomore Year
During his sophomore year, Niang had an average of 16.7 points and 4.5 rebounds as the thirst for the most pre-eminent offensive player for Iowa State University with Melvin Ejim and DeAndre Kane.
In the 2014 offseason, Georges cut back on his calorie consumption and weighed down to 230 pounds from 260 pounds.
Junior Year
Similarly, in his junior year, Niang led his team while scoring 15.3 points per game with 5.4 rebounds and 3.4 assists per game, placing third in the 2015 NCAA Tournament.
Later, Georges contemplated entering the 2015 NBA Draft but changed his decision and returned for his senior year.
During his interview, he was questioned by "Sports Illustrated" regarding his change of mind, to which he answered-
"I was COntemplating it, but I want to be loyal to the program and didn't want to go out this way, I didn't want to leave my mark like that."
Senior Year
Moreover, Georges surpassed 2000-points with an average of 20.2 points and 6.2 rebounds per game throughout his senior year.
On February 11th, he was named to the 35-man midseason watchlist for the Naismith College Player of the Year by the Atlanta Tipoff Club.
Altogether, he achieved several program records throughout Niang's college year, including being the first player to reach four-straight NCAA tournaments, the first two-time All-American, the career leader in games played, and the most wins.
Professional Career
Indiana Pacers
With the 50th overall pick in the 2016 NBA draft, Georges was selected by the Indiana Pacers on June 23rd, 2016.
During the 2016 NBA Summer League, Niang joined the team, and his early play drew praise from Larry Bird.
He signed with the Pacers on July 11th, 2016. The Pacers assigned Georges to multiple assignments during his rookie season, including the NBA Development League's Fort Wayne Mad Ants.
You might also like fellow basketball athlete Cheick Diallo Bio- Brother, College, Draft, NBA, Stats, Salary, Net Worth>>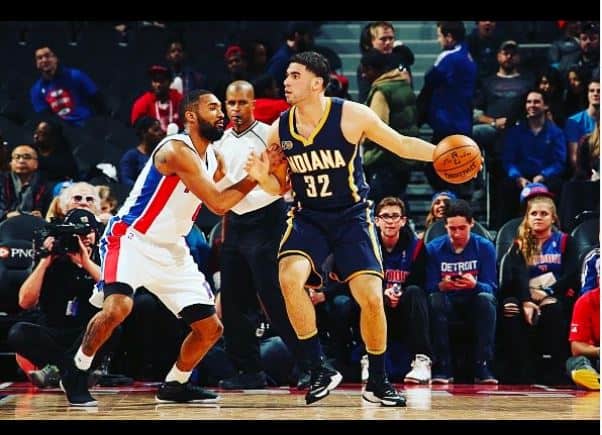 Santa Cruz Warriors
The Pacers waived Georges on July 14th, 2017. As a result, he signed a contract with the Golden State Warriors, and Santa Cruz Warriors assigned Niang as an affiliate player.
Later, the Warriors waived Niang officially on October 14th, 2017. Thereafter, he became a free agent.
Utah Jazz / Salt Lake City Stars
Niang signed a two-way contract with the Utah Jazz on January 14th, 2018, to take up a spot previously held by a former college teammate Nazareth Mitrou-Long.
He divided his playing time between the Utah Jazz and NBA G League affiliate, the Salt Lake City Stars, throughout the 2018th season.
Niang signed a standard 3 -year contract with the Utah Jazz on July 13th, 2018. During the 2021 regular season, he recently sustained an ankle injury in a game against the Bucks.
From the looks of his face, the injury seemed quite painful. Nevertheless, he was ready to play the next day.
Georges Niang | Stats
| | | | | | | | | | | | |
| --- | --- | --- | --- | --- | --- | --- | --- | --- | --- | --- | --- |
| Year | GP | GS | MPG | FG% | 3P% | FT% | RPG | APG | SPG | BPG | PPG |
| Career | 229 | 11 | 11.9 | .437 | .404 | .867 | 1.8 | .6 | .3 | .1 | 5.1 |
You can get more details regarding his stats and recruiting profile at 247sports.
Georges Niang | Salary and Net Worth
Most professional NBA players have a salary of up to $2 million.
Looking back at Niang's last contract details, his 2018's average salary is estimated to be around $200,000.
Likewise, he is one of the best-paid players of the Utah Jazz. So far, he has earned around $2.2 million from his entire NBA career.
Furthermore, his salary for 2021 is estimated to be around $1.7 million.
Thus, Georges Niang'S NET WORTH IS ESTIMATED TO BE AROUND $3.7 MILLION.
Georges Niang | Girlfriend
Niang is very secretive about his private matters. Therefore, there isn't much information regarding his dating life or relationships.
Reportedly, Georges had at least one relationship previously. However, it is still unknown who that lover was.
Therefore, we can state that Georges Niang is currently single and not seeing anybody.
Georges Niang | Social Media Presence
Niang is very active on his social media platforms.
He is most active on Instagram and has around 68.7k followers. He often likes to update about his behind-the-scenes and various moments of his games.
Niang also uses Twitter and has around 73.3k followers.
He is moderately active on Facebook and has around 5k followers.
Georges Niang | Podcast
Georges Niang's Drive & Dish is a famous video podcast of the Utah Jazz, which discusses everything about the NBA League. Niang hosted a total of seven episodes with various guests.
They were Jordan Clarkson, a laid-back tattoo enthusiast, an amateur sommelier, and a team-appointed leader of the "Good Vibe Tribe."
Donovan Mitchell, one of Utah Jazz All-Star, Amy Rodriguez Utah Royals soccer star, Erin Mendenhall Salt Lake City mayor, Anthony Zamora Utah Jazz chef, Kyle Whittingham Utah football coach, and NBA broadcaster Doris Burke.
The episodes are available on Utah Jazz's official youtube channel.
Interesting Facts about Georges Niang
Apart from basketball, Georges is interested in playing Golf.
Niang has his very own merch, which is based upon his famous nickname "minivan."
Every year, Georges organizes his annual camp known as the Georges Niang Basketball Camp, where he teaches basketball to young children.
Georges Niang | FAQs
Why do they call Georges Niang the minivan?
"Minivan" is a nickname given by Georges Niang's teammates for his slower pace of play while he is on the floor.
Is Georges Niang a free agent?
No, the basketballer is not a free agent. Currently, he is playing for the Utah Jazz / Salt Lake City Stars.
How much is Georges Niang's vertical leap?
The player's vertical leap is 25 inches.
Is Georges Niang injured?
No, Georges Niang is not currently injured. However, he did injure his right foot's fifth metatarsal in the second round of the 2014 NCAA Tournament.
What is Georges Niang's defense rating?
The athlete's defense rating this season is 11.05.
Is Georges Niang being traded?
As of now, there are no rumors regarding his trade. He is staying put with the Utah Jazz.
What is the correct pronunciation of Georges Niang?
His name is pronounced as zhawzh nee · ang.