Born in Greece to Nigerian immigrants and grew up in a humble background with a big dream to play in the National Basketball Association (NBA). Giannis is living his dream as he plays for the Milwaukee Bucks of the NBA and makes record after record.
Known for his sturdy figure, speed, and athleticism, Giannis Antetokounmpo is a Greek professional basketball player who plays for the Milwaukee Bucks of the NBA.
Interestingly, Antetokounmpo's nationality, in addition to his combination of size, speed, and ball-handling skills, earned him the nickname "Greek Freak."
Giannis, one of the top NBA stars, is a 6-time NBA All-Star and has been awarded NBA Most Valuable Player Award twice.
LeBron James and Giannis Antetokounmpo lead their respective conference in the third fan returns of NBA All-Star Voting presented by AT&T for the 2023 NBA All-Star Game.
Today, let's dive into the life of the Greek Freak and discuss all the information like his early life, family, achievements, net worth, personal life, and so much more.
But before diving into details, let's check out some quick facts about him.
Quick Facts
Full Name

Giannis Sina Ugo Antetokounmpo

Birth Date

December 6, 1994

Birth Place

Athens, Greece

Zodiac Sign

Sagittarius

Nick Name

The Greek Freak, The Alphabet

Religion

Christian

Nationality

Greek

Ethnicity

Nigerian

Father's Name

Charles Antetokounmpo

Mother's Name

Veronica Antetokounmpo

Siblings

4; Thanasis Antetokounmpo, Alex Antetokounmpo, Francis Antetokounmpo, Kostas Antetokounmpo

Education

Unknown

Age
28 Years Old
Height

7'0″/2.13 m/213 cm

Weight

110 kg/243 lb.

Body Build

Athletic

Hair Colour

Black

Eye Colour

Brown

Married

No

Partner

Mariah Riddlesprigger

Children

2 Sons; Liam and Maverick

Profession

Basketball Player

Position in team

Power Forward / Small Forward

Shoots

Right

Jersey Number

#34

Teams

Milwaukee Bucks (Current), Filathlitikos (Former)

Salary
$42.5 million
Net Worth
$70-$100 million
Social Media
Twitter, Instagram, Facebook
Merch

Books

, Poster
Last Update
September, 2023
Early Life, Family, And Education
Giannis was born to his Nigerian parents, Charles Antetokounmpo (father) and Veronica Antetokounmpo (mother), on December 6, 1994, in Athens, Greece.
He has four siblings; Thanasis Antetokounmpo, Alex Antetokounmpo, Francis Antetokounmpo, and Kostas Antetokounmpo.
His nationality is Greek, while his ethnicity is Nigerian as his parents belong to Nigerian ethnic groups; Charles was Yoruba, while Veronica is Igbo.
He is a devout Christian and was raised in the Greek Orthodox Church. He was baptized on October 28, 2012.
Three years before Giannis was born, his parents had moved from Lagos to Athens, leaving Francis behind with his grandparents.
Giannis and his three other brothers were born and grew up in the Athens neighborhood of Sepolia.
But they did not automatically receive full Greek citizenship as per jus sanguinis until 2013. Then, his family changed their surname from Adetokunbo to Antetokounmpo.
As employment was scarce for immigrants, his parents could not easily find work. He and his siblings would help by hawking watches, handbags, and sunglasses in the streets.
Giannis started playing basketball in 2007 and was playing competitively for the youth squad of Filathlitikos by 2009.
Brothers And Basketball
All four brothers of Giannis are linked to Basketball. His eldest brother, Francis, is a semi-professional basketball player and a professional soccer player.
Thanasis was drafted as 51st overall pick in the 2014 NBA draft by the New York Knicks and is currently playing as a power forward for Milwaukee Bucks.
Kostas was selected as the last pick in the 2018 NBA draft and plays for Fenerbahce of the Turkish Basketball Super League.
The youngest brother, Alexis, plays for the Wisconsin Herd of the NBA G League.
In July 2016, Giannis and Thanasis began their mandatory military service in Greece. The two brothers served a reduced three-month military service, as prescribed for Greek citizens who are permanent overseas residents.
Age, Height, And Body Measurement
Giannis is 28 years old as of 2023. Since, he was born on December 6, his zodiac sign is Sagittarius.
The Greek professional NBA player stands at an astounding height of 7 feet (2.13 meters) and weighs approximately 110 kg (243 pounds).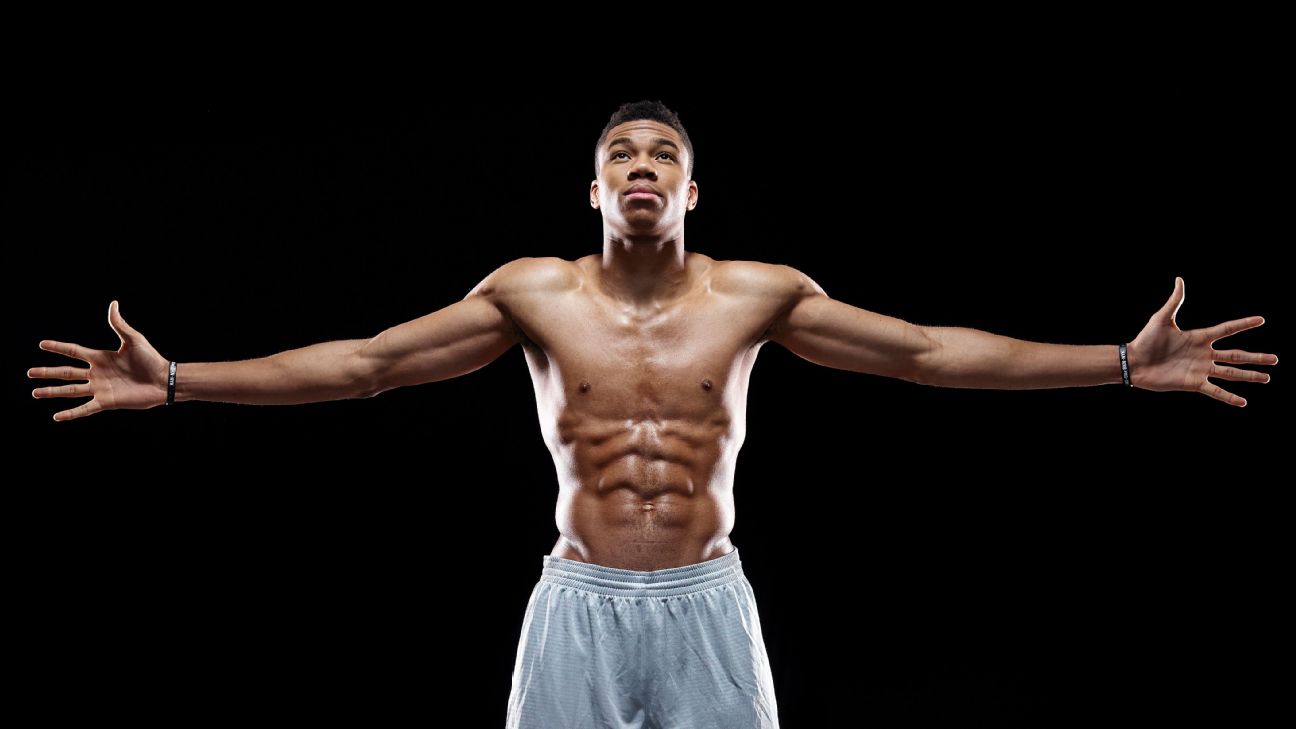 Antetokounmpo has a broad and impressive physique, measuring 44 inches in the chest, 33 inches in the waist, and 16 inches in the biceps.
Giannis' other physical features are his brown eyes and black hair, which complement his appearance.
Career
Filathlitikos (2012 – 2013)
During the 2011-12 season, Giannis played with the senior men's team of Filathlitikos in the semi-pro Greek B Basket League (Third Division).
He played in the Greek A2 League, Greece's second division, in the 2012-13 season.
At 18, he signed a four-year contract with Spanish club CAI Zaragoza, despite interest from other clubs such as Barcelona and Efes. For the remainder of the 2012-13 season, he stayed with the Filathlitikos.
During Giannis' time at the Greek A2 League, his scoring records were 46.4% from the field (62.1% on two-point field goals), 31.3% from the three-point range, and 72.0% from the free-throw line averaging 22.5 minutes per game.
Over 26 games, the power forward averaged 9.5 points, 5.0 rebounds, 1.4 assists, and 1.0 blocks per game. Besides, the coaches selected him as a unique participant in the 2013 Greek League All-Star.
Milwaukee Bucks
2013 – 2016
Giannis was eligible for the 2013 NBA draft on April 28, 2013. The Milwaukee Bucks picked him as the 15th pick overall in the first round. He signed his rookie scale contract on July 30, 2013.
Giannis made his NBA debut on October 13, 2013, and became one of the youngest NBA players ever at 18 years and 311 days. In his debut season, he averaged 6.8 points, 4.4 rebounds, 1.9 assists, 0.8 steals, and 0.8 blocks in 77 appearances.
Besides, he finished the season with 61 total blocks, the seventh-most by a Bucks rookie in franchise history.
Giannis participated in the Rising Stars Challenge at NBA All-Star Weekend in New Orleans and was named to the 2013-14 NBA All-Rookie second team.
During the second season with the Bucks, on February 6, 2015, he scored 27 points and 15 rebounds against the Houston Rockets.
Also, he was named the Eastern Conference Player of the Week, for the first time, for games played between February 2 and February 8.
He scored 29 points against New Orleans on March 9. During the 2014-15 season, he averaged 12.7 points and 6.7 rebounds in 81 games and made the playoffs for the first time.
He became the youngest Buck to record a triple-double at 21. He set a new Buck record for the most triple-doubles in one season.
2016 – 2018
Giannis signed a four-year rookie contract extension worth $100 million with the Bucks on September 19, 2016. He recorded 39 points, 8 rebounds, and 6 assists against Washington Wizards on December 23.
He was named to the Eastern Conference All-Star team for the 2017 NBA All-Star Game, making his the youngest player in franchise history to start in an All-Star Game at 22 years and 74 days.
Moreover, Giannis also became the first Greek to be named an NBA All-Star Starter. He won his first Eastern Conference Player of the Month on April 3, 2017.
He led the Bucks in every one of the five major statistical categories (points, rebounds, assists, steals, and blocks) in the 2016–17 regular season, becoming only the fifth NBA player to do so.
Giannis finished in the top 20 in the league in each of the five major categories in a regular season and became the first NBA player to do so.
Hence, he was named to the All-NBA Second Team and received the NBA Most Improved Player Award for the 2016-17 season, making him the first Bucks to achieve this award.
On April 24, Giannis set a then career-high 30 points in a playoff. At the beginning of the 2017-18 season, Giannis scored 44 points against Portland Trail Blazers.
After an impressive season, he was named a starter for the 2018 NBA All-Star Game, becoming the first Buck since Marques Johnson (1979–80) to be named a starter in two straight All-Star Games.
2018 – Present
Giannis won the Eastern Conference Player of the Month awards for October, November, December, and February.
With 45 points, 13 rebounds, and a win against the Philadelphia 76ers, he helped the Bucks get the No. 1 seed in the Eastern Conference.
Giannis eventually aided the Bucks to a 60-22 season and the best record in the league.
He scored 41 points in a win over the Detroit Pistons and sided with the Bucks to advance to the second round of the playoffs for the first time since 2001 and won the title of the league's Most Valuable Player.
Moreover, Giannis became the second Bucks player to win MVP and the third-youngest player to win the MVP over the previous 40 seasons.
The 2019-20 season began with Giannis scoring a triple-double, 30 points, 13 rebounds, and 11 assists against Houston Rockets on October 24, 2019.
He recorded a season-high of 50 points and 14 rebounds against the Utah Jazz. He made a career-high five three-pointers on December 19.
On January 23, 2020, he was named an All-Star Game captain for the second consecutive year.
Giannis finished the season with a record for single-season NBA Player Efficiency Rating (PER) at 31.87 and broke the previous record held by Wilt Chamberlain of 31.82.
The Greek NBA player won his second consecutive MVP award on September 18 and became the third player to win MVP and NBA Defensive Player of the Year awards in the same season.
In 2021, Antetokounmpo led his team to their first NBA championship since 1971 and was named Finals MVP. He joined Michael Jordan and Hakeem Olajuwon as the only players to have won the MVP, Finals MVP, and Defensive Player of the Year.
Giannis finished the 2021-22 season averaging 29.9 points, 11.6 rebounds, 5.8 assists, and 1.4 blocks while playing 67 games for the Bucks.
National Team Career
Giannis played for the Greek Under-20 national team for the first time in July 2013 at the 2013 FIBA Europe Under-20 Championship.
He averaged 8.0 points, 7.6 rebounds, and 2.2 assists across the 10 games and helped Greece finish fifth. He ranked second in defensive rebounds (7.0) and seventh in blocked shots (1.4).
Giannis debuted for the senior men's Greek national basketball team in 2014 and helped his team to finish in ninth place in the 2014 FIBA Basketball World Cup with a 5-1 record.
He averaged 6.3 points and 4.3 rebounds across the six games while shooting 45.8% from the field.
Giannis rejoined the Greek national team for EuroBasket 2015 and reached the quarter-finals. He finished the tournament with three double-doubles, averaging 9.8 points, 6.9 rebounds, and 1.1 assists per game.
The power forward also played at the 2016 Turin FIBA World Olympic Qualifying Tournament, where he averaged 15.3 points, 5.7 rebounds, 2.0 assists, 0.7 steals, and 2.0 blocks, playing 3 games.
Giannis missed the EuroBasket 2017 tournament due to a knee injury. He also represented Greece at the 2019 FIBA Basketball World Cup. He averaged 14.8 points, 8.8 rebounds, 2.4 assists, 2.4 steals, and 0.6 blocks in 5 games.
In 2019, he played with the senior men's Greek national team for 49 games and recorded 573 points, scoring 11.7 points per game.
Giannis scored a national team 40 points, along with 8 rebounds and 5 assists, on August 25, 2022, in the 2023 World Cup qualifiers. In the EuroBasket 2022, the forward scored 41 points in a win over Ukraine and later lost to Germany in the quarter-finals.
Antetokounmpo played with the senior men's Greek national team in 29 official games from 2014 to 2022. For the national team, he played a total of 59 games and scored 870 points.
Awards And Achievements
NBA Champion (2021)
NBA Finals MVP (2021)
NBA Most Valuable Player (2019, 2020)
NBA All-Star (2017-2022)
NBA All-Star Game MVP (2021)
NBA Defensive Player of the Year (2020)
NBA Most Improved Player (2017)
FIBA EuroBasket Top Scorer (2022)
Euroscar Player of the Year (2018)
Net Worth And Salary
The professional basketball player Giannis Antetokounmpo has had his career growing exponentially since being drafted in 2013.
As of 2023, the Greek professional basketball player possesses a whopping net worth of $70-$100 million. In his 10 NBA seasons, he has earned around $189 million from his salary.
On September 19, 2016, he signed a 4-year contract worth $100 million with Milwaukee Bucks.
Later, on December 15, 2020, the Greek Freak signed a 5-year/$228.2 million designated maximum contract extension with Milwaukee bucks with a base salary of around $42.5 million.
Giannis has endorsement deals from several companies as a basketball player does. He has endorsement deals with Nike, Hulu, and 2K Sports.
Net Worth of
Giannis

Antetokounmpo I

n Different Currencies

Here is the net worth of Giannis Antetokounmpo in different currencies, including the Pound and BitCoin.
| | |
| --- | --- |
| Currency | Net Worth |
| Euro | €64 – €92 million |
| Pound Sterling | £56 – £81 million |
| Australian Dollar | A$98 – A$142 million |
| Canadian Dollar | C$93 – C$134 million |
| Indian Rupee | ₹5707 – ₹8154 million |
| BitCoin | ฿3101 – ฿4430 |
Who Is Giannis
Antetokounmpo's Girlfriend? Personal Life And Son
Just like his professional life, Giannis is also successful in his love life as he found the love of his life, Mariah Riddlesprigger, and has been in a loving relationship for more than 9 years.
Mariah Riddlesprigger is a former volleyball player. She was born on September 17, 1992, to her parents Pat and Cathy, in Fresno, California.
Her father, Pat, played basketball for Fresno State University. Likewise, her mother, Cathy, works in sales at 'Allstar Fire Equipment, Inc.,' which deals with firefighting equipment worldwide.
Despite being in a relationship for so long, Mariah and Giannis are yet to tie the knot. However, the two lovely duo shares two sons at the moment.
On February 10, 2020, the couple welcomed their first child, Liam Charles Antetokounmpo, and on August 18, 2021, their second one, Maverick.
Social Media Presence
The Milwaukee power forward is very active on his socials. He keeps his fans updated and shares some snippets of his game. His social feeds are filled with pictures of him during the games, his family, and some sponsored post.
Giannis is available on Instagram under the handle @giannis_an34, Twitter @Giannis_An34, and Facebook @Giannis Antetokounmpo.
Twitter: 2.8m followers
Facebook: 3.4m followers
Instagram: 14.1m followers
View this post on Instagram
Popularity
In Giannis' journey from being drafted by the Bucks to becoming one of the best NBA players, the Greek player has earned millions of fan all around the globe.
The above graph shows the fluctuating popularity of the Greek professional basketball player in the United States based on Google searches over a year.
Frequently Asked Questions
Is Giannis Antetokounmpo better than Jordan?
It is doubtful Giannis will surpass Jordan in scoring, however, he is ahead of him in rebounding.
Where is Giannis Antetokounmpo's father?
Giannis' father, Charles Antetokounmpo, died on September 29, 2017, at his home in Milwaukee due to cardiac arrest.
Who is Giannis Antetokounmpo agent?
Alex Saratsis is the agent of Giannis Antetokounmpo.
Has Giannis Antetokounmpo been in a dunk contest?
Giannis Antetokounmpo competed in the 2015 NBA Slam Dunk Contest, finishing last with a total score of 65 for his two dunks.
What is Giannis Antetokounmpo's haircut called?
Giannis Antetokounmpo's haircut is called Drop Fade.
How big is Giannis Antetokounmpo hand?
Giannis Antetokounmpo has hands that are 9.85 inches (0.25 m) in length and 12 inches (0.3 meters) in width.
Can Giannis speak Greek?
Yes, Greek is Giannis' native language.
What is Giannis Antetokounmpo's vertical leap?
The professional basketball player Giannis Antetokounmpo has an incredible 40-inch (1.01 meters) vertical leap.
What did Giannis Antetokounmpo say about Kobe Bryant?
Giannis Antetokounmpo regards Kobe Bryant as his role model and mentor. In one of his interviews, he said, "I grew up with Kobe. Kobe influenced my life. Looking up to him, one of the reasons I started playing basketball. One of the reasons that I am here today. I always look up to him."