The Volleyball hero and one of the household names in volleyball history, Giba has an estimated net worth of more than $7 million as of 2021.
Giba, the man who shares a long name (Gilberto Amauri de Godoy Filho), also shares an explosive involvement in bringing his country's name to the forefront. He ruled the 2000s.
After all, he is the same guy who donned Brazil number 7 jersey and won three world titles, eight FIVB Volleyball World Leagues, two Olympic silver medals, one Olympic gold medal, and the small matter of 319 international caps.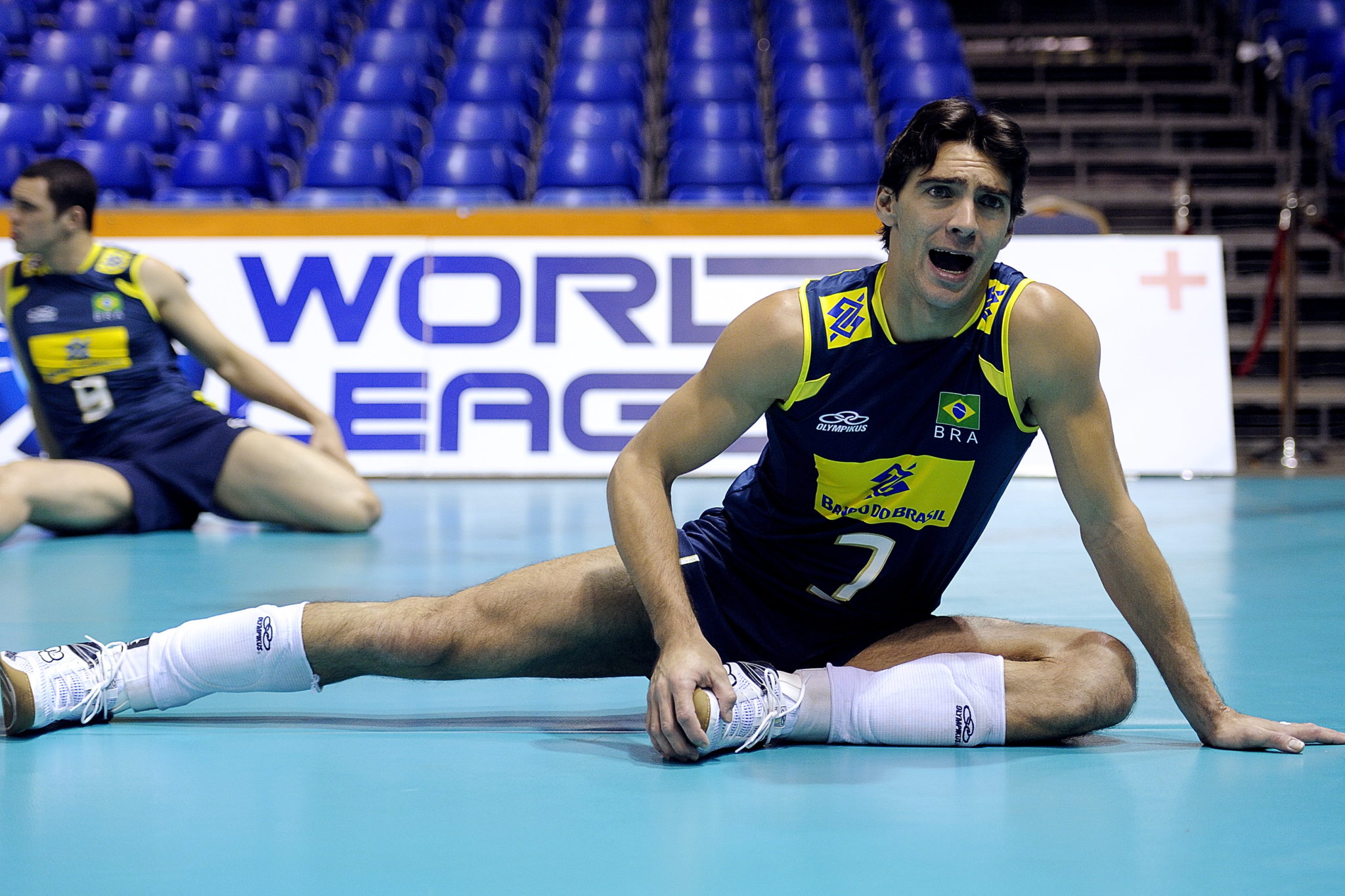 What makes it more exemplary is that despite the fact he suffered a serious left-arm injury at the age of ten, Giba embarked on his journey of achievements.
Initially, the injury did give him a major delay to initiate his passion and bring it to success.
However, he molded his path to give his story a name. And here he is, a leader in the volleyball industry who falls under the top 10 volleyball players of all time.
One thing from his story is certainly proved for sure. April shower does bring May flowers.
Without any further ado, let's dive into quick facts that will provide you with the major hints of him.
Giba | Quick Facts
| | |
| --- | --- |
| Full Name | Gilberto Amauri de Godoy Filho |
| Birth Date | 23 December 1976 |
| Birth Place | Londrina, PR, Brazil |
| Nick Name | Giba |
| Religion | Not known |
| Nationality | Brazilian |
| Ethnicity | Not known |
| Education | studied Journalism for 3 years |
| Horoscope | Capricorn |
| Father'sName | Gilberto Amauri de Godoy |
| Mother'sName | Solange Santamaria |
| Siblings | Fernanda Godoy (sister) |
| Age | 46 years old |
| Height | 1.90 m (6'3″) |
| Weight | 88 kg (194 lb) |
| Spike | 325 cm (123 in) |
| Hair Color | Dark Brown |
| Eye Color | Hazel Green |
| Block | 312 cm (123 in) |
| Build | Athlete |
| Marital Status | Currently single |
| Girlfriend | Maria Luiza Dautt (Ex-wife- Cristina Pirv) |
| Kids | Nicoll, Patrick |
| Profession | Former Volleyball Player |
| Net Worth | $7 million |
| Salary | not available |
| Current club | Retired at the age of 37 |
| Position | Outside hitter |
| Active Years | 1995-2012 |
| Social Media | Instagram, Twitter |
| Merch | Giba Neles (Book) |
| Last Update | November, 2023 |
Giba Net Worth and Earnings
Needless to say, the person who is named amongst the Top 100 Athletes of 21st century daily sports newspaper Marcamust attracted the majority of his earnings from the sports that he played.
During his professional career, Giba roamed country to country. He paid short visits to Brazil, Italy, Russia, Argentina, and United Arab Emirates.
Not to mention, serious highlights of Giba's victory include
8 South American Championships
3 America's Cups
8 World League titles
3 World Grand Champions Cups
3 World Championships (2002, 2006, and 2010)
Gold Medalist at the Summer Olympics in Athens
Silver Medal at the 2008 Summer Olympics in Beijing
Silver Medal – 2012 Summer Olympics in London
And this is the reason why people think of Giba when it comes to the brightest player of Brazil. Not only that, his name hits anyone's mind straight when the thought of top paid athletes in the Brazilian league.
Prior to his retirement in 2011, Giba still used to make R$1.5 Million (US$830,000+) for 1 season with club team Sky/Cimed as per volleywood.net.
Giba Planned for a Comeback
Yes, Giba did want to make a comeback to the sports, but this time it was not volleyball. Instead, he wanted to try his hands on a slightly molded version of the game, the new winter sport, snow volleyball.
And guess what, Giba found snow volleyball amazing. He was the most popular face in the courts of the first two events on the inaugural International Volleyball Federation (FIVB) Snow Volleyball World Tour held in March 2019.
The tour gave him the opportunity to play along with 45-year-old beach volleyballer Marcio Henrique Barroso Araujo, 2008 Olympic silver medallist, and 2005 world champion.
Moreover, Giba could gel along with a couple of young beach volleyball players Gabriel Heilborn Gouveia and Pedro Henrique Resende Santos, on the breathtaking Alpine peaks of Austria and Italy.
Prior to this, Ziba also performed in the exhibition game at the 2018 PyeongChang Olympics. However, the details regarding financial allotment for this match are not available.
Read, Kerri Walsh Jennings Net Worth: Income, House & Salary >>
Net Worth of Giba in Different Countries
Here's presenting you with the list that shows Giba's net worth in different currencies, including the cryptocurrency BitCoin.
| | |
| --- | --- |
| Currency | Net Worth |
| Euro | €5,865,475 |
| Pound Sterling | £5,037,550 |
| Australian Dollar | A$9,242,996 |
| Canadian Dollar | C$8,628,130 |
| Indian Rupee | ₹520,129,400 |
| BitCoin | ฿200.06371 |
Giba Net Worth | Management
It is no hidden headline that Giba was assigned as the President of the FIVB Athletes Commission in 2016. He served there as a President for four years.
And now Meppelink, two-time European Champion (2014, 2018), a two-time Olympian (London 2012, Rio de Janeiro 2016), former world number one ranked beach volleyball player (2013), replaced him, collecting the majority of votes cast.
The elections were held via a secure Lumi voting platform with PricewaterhouseCoopers (PwC) working as scrutineers.
Nevertheless, Giba has not left there and is selected as the Secretary of the Commission.
Giba Net Worth | Promotions
Scrolling down through his Instagram post, we found out that Giba always stood up for promotional talks.
He was seen inviting everyone to attend the launch of the exclusive vegan product, Wheypuccino. The first vegan protein cappuccino in Brazil with all different tastes.
The launch took place in Sau Paulo on June 9, 2018, with G-Action.
Giba was also a major part of the sports event JEB, where he could modify the power of sports in the lives of students and guide the development of new athletes, rendering them the opportunity to shine in sport and life.
Moreover, The Brazilian Olympic Committee produced a documentary under the title of Heróis Olímpicos for Giba.
Giba Net Worth | As a Spokesperson
Running through his Instagram profile, we have come across many facts about him. Like Giba has remained a spokesperson for several events.
Amongst them, one is Power Day Brazil, where there were 8 cities, 6 states, and 4 capitals, and Giba's only duty was to add proper fuel for motivation and inspiration through leadership.
He was also warmly welcomed to Sportworks PODCAST #018, hosted by Christiaan Page and Diogo Jurema, to talk about his path of becoming an Olympic Champion. Giba confronted all his tales on and off the courts.
He also went on live Instagram with Academia CEO to discuss the main aspects of being a leader with Antonio Maciel Neto inside and outside the field.
The topic also covered the mutuality between the executive world and sports leadership.
Giba Net Worth | Book
On October 30, 2016, Giba released his book cum biography "Giba Neles!" in partnership with journalist Luiz Paulo Montes.
The book is a whole lot a story of Giba where he has disclosed about his disease Leukemia at 4 months of life, his lesson-learning defeats, excellent victories and backstage of decisive games.
Ziba has also stated the reasons for the turbulent and sudden departure of setter Ricardinho. The book is a courageous, entertaining, and thought-provoking overview of the sport.
Giba Net Worth | Commercial
Okay, Giba has been involved with several commercials campaigns such as Vogue Italia (Italia Edition of Vogue Magazine), Nissan Motor Company Limited, Technos (a watch trademark), Olympikus (Brazilian sports brand).
Most probably, the deals were cracked after his retirement, and Giba enjoyed his post-volleyball life.
When asked, "What is more difficult: to be a model for Vogue or to win the gold medal?"
Giba answered, "Playing volleyball was an activity that I started at a very tender age of eleven. So, it went easy with time and practice. However, speeches, editorials for magazines are also fun.
Even the end result is beautiful. Here is a picture of Giba wearing Burberry and Giorgio Armani, much appreciated by women as well.
Giba got featured in a commercial ad for Technos where he looked all dashing in a black suit, The cinematography of the ad was all in black and white. However, Financial details are not revealed.
Giba Net Worth | Social Activists
He has always supported orphans and children who have cancer. Giba is also active in the campaign against prostate cancer.
Moreover, Giba and her ex-wife, Cristina Pirv, joined the campaign of the Institute Art of Living Well against breast cancer. He has also enjoyed Olympic day with 600 kids from social projects in Rio de Janeiro.
And as per online sources, Giba's sports shirts have reached more than 200 thousand Euros at charity auctions. Well, he put up his jerseys to collect donations for medical equipment in the children's cancer hospitals in Poland.
The amount helped to fund the new wing of a hospital in Curitiba (his hometown in Brazil). This will help in curing the children with Leukemia, a disease he suffered as a child.
What often catches Giba's interest besides volleyball?
If not volleyball, Giba lends a part of his time into history, Italian dialects, movies, traveling.
Aligning with the public sources, Giba owns two thousand DVDs, counting on "The Mask" to be his preferred flick.
Giba is into cooking as well. He says, "my barbeque Robalo fish is unbeatable." He also shares a lot more travel stories of his own.
Likewise, Giba's fascinated holiday destinations include Sistine Chapel, Mount Fuji, the Egyptian pyramids, Switzerland, and the Amazon jungle. He also dreams of visiting India.
Giba | A brief on his Personal Life
Giba's personal life is not that smooth-sailing as we think it should be just because he is an esteemed volleyball player. And how does even volleyball related to one's love life? It would be unreasonable to
Giba was earlier married to the Romanian-Brazilian former international volleyball player Cristina Pîrv in 2003. The duo shares two lovely kids together. A daughter Nicoll (born in 2004), and a son Patrick (born in 2009).
But life is not always a piece of cake. You never know what turn does life takes next. Out of nowhere, sudden news popped up, "The Brad Pitt & Angelina Jolie of Volleywood are DIVORCING!"
As per the Brazilian Website, UOL.COM, and one of Cristina's Instagram posts which were eventually deleted, the cause for filing a divorce against Giba was his disloyalty, too much partying, and alcohol problems.
Well, things did not just end here. The divorce was not an amicable one. It went by a lot of wrangles going on in between them regarding alimony and child support obligations.
However, Giba claims to fulfill all his must-duties. He affirms to pay enough that would help his kids to live more than average quality of life. He also spoke of leaving his ex-wife several properties in Brazil and Romania.
Not only that, but Giba also had to give up on some of his assets to pay in her debts while they were married.
He also stated to pay the tuition fees of his kids in one of the best schools in Curitiba, which is nearby. But, that offer was denied by her.
The bitter end to their marriage, they parted ways in 2012, and Giba started dating Maria Luiza Dautt in 2013.
Awards and Achievements
Most Valuable Player (1993, 1995, 2004, (two times) 2006, (three times) 2007)
Best athlete of the Year (2006)
2008 Best Server
Best Spiker (2009)
Best Volleyball Player of the Last Decade (2010)
Medal for promotion of Sports (2011)
The most famous Volleyball player in the World

(2011)

Best men's Volleyball player of all Time (2015)
Best Sports Active (2016)
FAQs
Is Giba currently Married?
Yes, he tied the knot with Maria in 2013 and shared a daughter together who recently turned nine months old.
Is Giba currently active in volleyball?
No, he has already taken his retirement. But sometimes, when opportunity knocks on his door, Giba does not leave a chance of playing. He joined other players at snow volleyball in Pyeongchang.
Facts
Giba's life motto is "to learn as long as I live."
He performed for eleven teams from 1996 until 2014, including Minas Belo Horizonte, Bre Banca Lannutti Cuneo, Pinheiros, and Al-Nasr Dubai.
Giba confessed his desire to study veterinary science according to vogue.it.com.
He knows three languages; Portuguese, English, and Italian.
See, Bode Miller Net Worth | Earnings & Lifestyle >>
Quotes
"I already have one Olympic gold medal. I just do my best."
"My life motto is to learn as long as I live."
Giba | Social Media Handles
We can discover Giba on Instagram. He seems fairly available there and has an equally supportive, loyal fam.
Here is the link to his social media handle. Please go and follow this legend. And also, Giba has an official fan page on Facebook.
Instagram- @giba7official with 376k followers.
Facebook- @Giba7 with 135k followers.
With the help of Instagram, Giba also chooses to stand against wrong activities. Likewise, he raised his voice coming in support of the teenagers who lost their lives in the 2019 fire at Flamengo's training center in Rio de Janeiro.
Giba captioned the post saying, "May God bless the family members who lost loved ones in the Flamengo fire and the hospitalized victims! Huge sadness!"