Golf, as we know, is a game played on a large open ground where a small hard ball is struck with a club into a series of small holes in the ground.
A golfer carries equipment in a golf bag made from many other materials. But as the times have evolved, so have the golf bags.
Modern golf bags are also made of nylon, canvas, or leather with plastic or metal framing.
Likewise, manufacturers have lifted their game in recent years for golf bags, with colors and designs to suit almost every taste.
Need for that Personal Touch
But for some players, the bags need a personal touch. That is where embroidery intrudes!
Normally, a golf bag has several pockets designed for carrying various supplies required for a round of golf. Also, professionals use different types of bags.
Are you thinking of having your name on your golf bag? Well, don't worry; it can be designed and developed to match your personality and game.
People usually opt to embroider their golf bag with names and logos, which is an excellent option for golfers of all levels.
Why Golf Clubs Are Expensive? >>
The design also depends on the type of bag
To know where to get your golf bag embroidered, first, know the type of bag you have and where you want the embroidery done.
Moreover, golf bags are not made for custom embroidery; hence, high expenses and shipping charges are costly too.
Also, manufactured golf bags are designed to promote the manufacturer's brand, ultimately have very little space for customization.
Thankfully, many online companies work with this process. The embroidery machine can complete the task in less than 10 minutes.
Ideas and designs for embroidery
There are various designs and ideas for golf bag embroidery.
Before deciding on a design, it is better to look upon the internet and websites like Pinterest, where the ideas are abundant.
One of the most popular designs that people opt for is their name on their golf bag using multi-colored threads. There are tons of choices available when it comes to colors and designs.
Likewise, there are no restrictions on how you want your golf bag to look. There are different font sizes and styles available, which allows for better personalization ideas.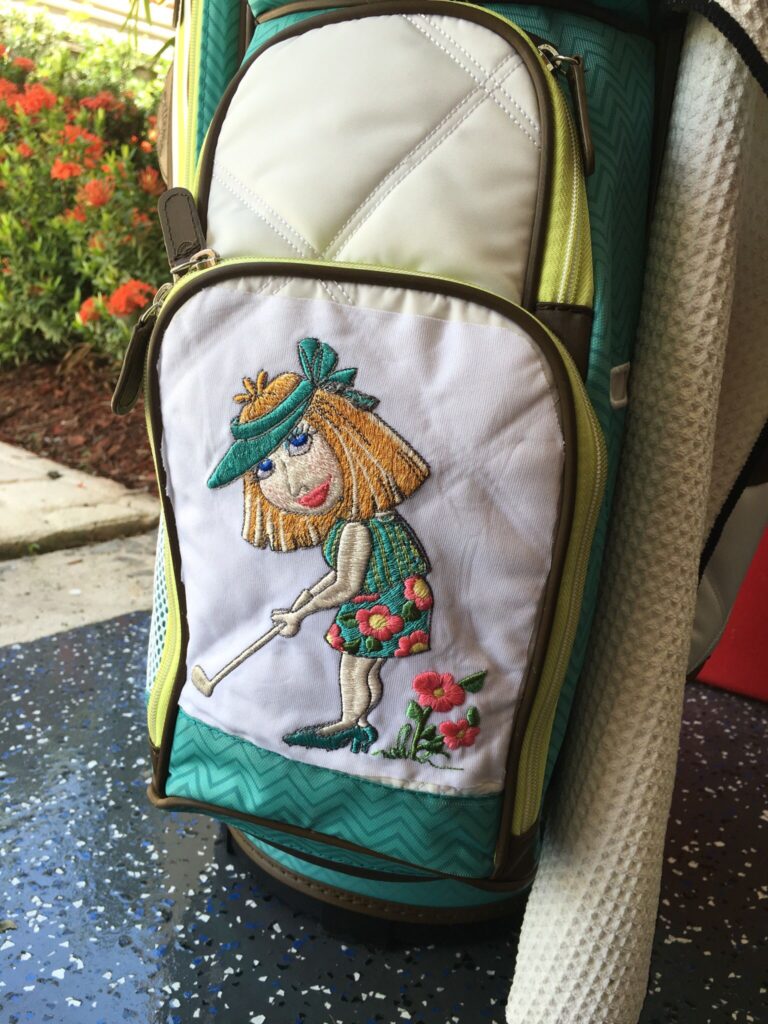 You will need to make sure that the color is going to match your golf bag.
When choosing a certain color, you must keep in mind that it is not similar to your bag as it will make the embroidery hard to read and barely noticeable.
Also, you make sure that the color is bright enough to let the design stand out.
How to Clean Your Golf Bag? >>
Cost to embroider a golf bag
Most companies will make a team of embroidery workers work on your golf bags. The first step is to digitalize the name or the logo meant for embroidery.
After the name has been digitized, the stitch count will help to determine the prices of the final product.
The next step is to send your designs to the company with an enclosed order form with detailed requests.
After that, the company will complete the work and send the bag to you. Similarly, the costs of the embroidery will vary depending on the design you give them.
In addition, the embroidery is based on the complexity, the quantity of the design, and the more items you include will reduce the average cost per product.
But the pricing of the embroidery varies from company to company, but you can expect to pay a minimum of around $30-$40—the price increases with larger and more complicated designs.
Moreover, you don't have to pay extra charges for shipping, and your embroidered bag will be delivered to you within a week.
Removal of embroidery
If you wish to remove embroidery work from your golf bag, it is easy to do so by using an embroidery eraser or stitch eraser. You can find the eraser at any fabric store.
You can also try to use a seam ripper. For that, you need to turn the backside of the embroidery.
After that, you can cut down the stitches with a seam ripper. Then, turn back to the front portion of the fabric and stitch out.
Conclusion
Having your bag embroidered is a great way of personalization. If you are looking to embroider the bag you have, the best way is to start local.
Ask around at clubs or find some nearby shops that sell golf equipment and do the embroidery work.
But if your budget allows you to buy a new bag and request the embroidery upon order, you won't have to pay for any extra shipping.
Embroidering the names and logos on your golf bag used to be an honor that only the tournament players had, but now these things are accessible to all golfers.
Since you have come so far, why not get to know some of the richest golfers there.
A golf bag is a part of your golfing outfit; hence, you should love your bag and the club you play at.
Not to mention, the overall cost of having your golf bag embroidery work is only worth it if it makes you look better and feel better about your game while you play.
Happy Golfing!