"No matter how tall a son grows, he will always look up to his dad." On that account, Calvin Hill is a retired football running back and the father of basketball legend and businessman Grant Hill.
The Baltimore, Maryland native Calvin Hill played in the National Football League for twelve seasons for the teams such as Cleveland Browns, Washington Redskins, and Dallas Cowboys.
The four times Pro-Bowl Hill also played a season with The Hawaiians of the World Football League in 1975.
Moreover, Hill's wife tragically passed away at 74 on 15 August 2022, surrounded by her family and friends.
Calvin was the 1969 NFL Rookie of the Year, and twenty-six years later, his son Grant Hill shared the 1995 NBA Rookie of the Year award with fellow shooting guard Jason Kidd. Interesting!
And, despite his retirement, Grant has not left basketball entirely.
Grant is the executive and co-owner of the National Basketball Association's Atlanta Hawks.
More on the father-son duo below. Please read the whole article but first check out the facts table.
Grant Hill Father | Quick Facts
Birth Name
Calvin G. Hill
Known As
Calvin Hill
Date of Birth
January 2, 1947
Birthplace
Baltimore, Maryland, United States
Religion
Catholic
Sexual Orientation
Straight
Father Name
Henry Hill
Mother Name
Elizabeth Hill
Gender
Male
Age
76 Years Old
Profession
Former NFL Player
Famous For
Former NFL Player, Father of Former NBA Player Grant Hill
Nationality
American
Education
Riverdale Country School, Yale University (1969-1981)
Height
6 ft. 4 in/1.93 m/193 cm
Weight
227 lb./103 kg
Eye Color
Black
Hair Color
Black
Build
Large
Marital Status
Married
Wife
Janet Hill (m. 1970-2022)
Children
Grant Hill
Siblings
None
Zodiac Sign
Capricorn
Played For
Dallas Cowboys (1969-1974), The Hawaiians (1975), Washington Redskins (1976-1977), Cleveland Browns (1978-1981)
Position
Running Back
NFL Stats
Games Played: 156

Rushing Yards: 6,083

Average: 4.2

Touchdowns: 42

Career Highlights & Awards
Super Bowl Champion (VI)

NFL Offensive Rookie of the Year (1969)

2X First-team All-Pro (1969, 1973)

2X Second-team All-Pro (1969, 1973)

4X Pro-Bowl (1969, 1972-1974)

NFL All-Rookie Team 91969)

2X All-Ivy League (1967, 1968)

NFL Draft
1969/Round:1/Pick:24
Roster Status
Retired
Jersey Number
35
Net Worth
$1.5 Million
Henry Grant Social Media
Instagram, Twitter
Merch
Signed Helmet, Signed Sports Illustrated Magazine Display, Signed Sports Magazine
Last Update
November 2023
Grant Hill Father | Early Life & Education
Super Bowl champion Calvin Hill was born on January 2, 1947, in Baltimore, Maryland, United States, to his father, Henry Hill, and mother, Elizabeth Hill.
Hill was introduced to organized football at Riverdale Country School in The Bronx, New York.
He was awarded a scholarship at Riverdale prior to attending ninth grade.
At Riverdale, he excelled in a bunch of sporting activities, including basketball, track and field, and baseball, aside from football.
He was a sprinter for the Yale track team and held the second record for the outdoor triple jump.
However, he ultimately chose football to pursue professionally.
Hill was named the starting quarterback as a sophomore.
He was a hyped high school football talent and an honors student at the secondary school.
After high school, Hill enrolled in Yale University, where he played for the Yale Bulldogs football team.
Grant Hill Father | Age, Height, Weight & More
Born in 1974, Calvin Hill is 76 years old as of 2023, and as a January born, he falls under the Capricorn sun sign known for being ambitious, determined, materialistic, and strong.
Hill has a large build with a towering height of 1.93 meters and 227 lbs. of body weight.
The 76 year-old former NFL running back, despite his advancing years, tends to keep his body fit and active by following a rigorous exercise regime and diet plans.
Grant Hill Father | Career
Calvin completed his three-year collegiate athletic career with 2,527 all-purpose rushing yards, 1,512 rushing yards from the line of scrimmage, and 298 passing yards.
He graduated from the Yale College Class of 1969 and joined the Delta Kappa Epsilon fraternity.
After completing his college education at Yale, Calvin continued his football passion and was drafted in the first round of the 1969 NFL Draft by the Dallas Cowboys.
And because he was drafted as an athlete, Hill spent his first few days in training camp as a tight end and a linebacker.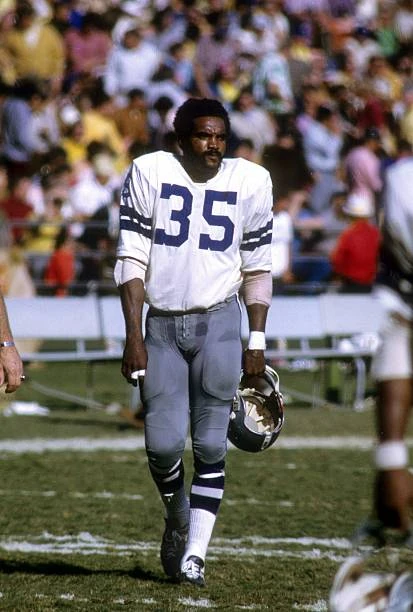 During his rookie season with the Cowboys, he received NFL Offensive Rookie of the Year, Pro Bowl, and All-Pro honors. He completed the season with 942 rushing yards and eight touchdowns.
Moreover, he played with the Cowboys for six seasons helping the team win Super Bowl VI and 2 NFC titles.
Hill was selected in the second round of the WFL Pro Draft by The Hawaiians in March 1974.
He played three WFL games in 1975, and when the league folded, he returned to the NFL.
Following that, he signed with the Washington Redskins on April 3, 1976, as a free agent.
He played for the Redskins for two seasons before announcing his retirement on August 1978.
However, after the Cleveland Browns convinced him not to retire, Hill signed a contract with the team on September 25, 1978.
Elisha Archibald Manning III, better known as Archie Manning, is a former American football quarterback who played for 13 seasons, mainly with the New Orleans Saints of the National Football League (NFL). He is the father of NFL legend Peyton Manning.
A Short Bio On Grant Hill
The former professional basketball player Grant Hill was born on October 5, 1972.
He attended Duke University and played for the Duke Blue Devils for four years.
One of the best players in Duke history, Hill is also one of the exceptional college basketball players of his era.
Over the course of his NBA career, Grant played for four teams: Orlando Magic, Detroit Pistons, Los Angeles Clippers, and Orlando Magic.
Considered one of the greatest players of all time, Grant played the small forward position for most of his career.
He graduated from Duke in 1994 and was drafted by the Detroit Pistons as the third pick in the NBA Draft.
And after playing 19 seasons in the NBA, one of the greats hung his boots on June 1, 2013.
Grant was inducted into the Naismith Basketball Hall of Fame on September 7, 2018.
After retirement, he pursued a broadcasting career and even became a minority stakeholder in the NBA team, the Atlanta Hawks.
Grant Hill Father | Personal Life
Calvin Hill's spouse Janet Hill graduated from Wellesley College, where she shared a suite with a future politician, diplomat, former lawyer, and the presidential candidate Hillary Rodham Clinton.
Calvin and Janet married in 1970, and on October 5, 1972, she gave birth to the NBA legend Grant Hill.
Unfortunately, Calvin's wife and Grant's mother tragically passed away at 74 on 15 August 2022, surrounded by her family and friends.
She served as a trustee in several organizations, most notably at Duke. She retired from the Duke University Board of Trustees in 2021. After her death's news came out, Duke lowered its flag in her honor.
Calvin also serves on the boards of various organizations and works as a corporate motivational speaker.
Similarly, he works as a consultant for the NFL team Dallas Cowboys.
On May 23, 2016, Hill received an honorary doctorate from his alma mater Yale University.
George Adams is a former professional football running back and the father of an American football strong safety Jamal Adams who plays for the Seattle Seahawks of the National Football League. Learn More Here >>
Grant Hill Father | Net Worth
The former NFL running back Calvin Hill has a net worth between $1 and $5 million as of 2023.
The man played in the NFL for nine seasons, through which he earned an enormous fortune to lead a comfortable life.
Even though there are no exact numbers about how much exactly he earned throughout his career, given his tenure with different teams, he must have made a handsome amount of money.
As for his son Grant, his net worth as of 2023 is an eye-watering $250 million.
In his 19 seasons of NBA career, Hill earned $142,845,650 in salary alone.
Similarly, he earned the rest of his fortune through brand deals, business investments, and other pursuits.
He signed a seven-year $80 million deal with Fila in 1997, making it the largest shoe deal in history up to that point.
He again signed a lifetime deal with the company in 2018 that will continue to pay him close to $10 million a year to endorse the company.
Grant earned his career-high salary of $16.90 million with Orlando Magic during the 2006-2007 season.
Grant Hill Father | Social Media Presence
The former NFL star Calvin Hill has no verified social media handles.
However, his son, the NBA star Grant Hill has over 342k Instagram and 381.7k Twitter followers.
View this post on Instagram
Grant shares his professional and personal life updates on both these handles.
On October 15, Grant shared a tweet thanking blackenentreprise for selecting him as a Black Men XCEL Honoree 2022.
Popularity Graph
Unknown Facts
In 1987, Edward Bennett Williams, Baltimore Orioles owner, appointed Calvin Hill to the team's board of directors.
Grant Hill is featured in the music video of the song Rockstar by the popular rock band Nickelback.
In the 1990s, the soft drink Sprite's longest-running advertising campaign was "Grant Hill Drinks Sprite."
Frequently Asked Questions (FAQS)
Did Grant Hill win Golden Plate Award?
Yes. As a matter of fact, he did. He received the Golden Plate Award from the American Academy of Achievement in 1999.
What is Grant Hill's educational background?
The NBA star Grant Hill obtained his bachelor's degree from Duke with a double major in history and political science.
Does Calvin Hill have an honorary degree?
Calvin Hill received an honorary Doctor of Humane Letters from Yale University at its 2016 commencement.
Like father like son, the former football running back Tony Brooks is the father of outside linebacker Anthony Barr who plays for the Dallas Cowboys of the National Football League (NFL). Learn More Here >>