Basketball is a team game that has gained immense popularity and is considered one of the major professional sports. It is a game where only people who work hard shine, and one of those players happens to be Grant Hill.
He is a gifted all-rounder player who dedicated his hard work in 19 seasons of the NBA. At present, his overall contribution to the game of basketball is continued to be recognized.
He played for various teams during his NBA professional career, including Detroit Pistons, Orlando Magic, Phoenix Suns, and the Los Angeles Clippers.
Contributing to the NBA career, Grant Hill is now a renowned NBA TV's Inside Stuff and co-owner of the team, Atlantic Hawks.
Before diving into his life events, here are some interesting quick facts.
Quick Facts
Full name
Grant Henry Hill
Nickname
Unknown
Birthdate
October 5, 1972
Birthplace
Dallas, Texas
Nationality
American
Ethnicity
African-American
Religion
Unknown
Zodiac Sign
Libra
Age
50 Years Old
Father's name
Calvin Hill
Mother's name
Janet Hill
Sibling
None
High School
South Lakes High School
College
Duke University
Marital status
Married
Wife's Name
Tamia
Ex-Girlfriends
Unknown
Children
Two Daughters
Children's Name
Myla Grace Hill

Lael Rose Hill

Weight
102kg (225 lbs)
Height
2.03m (6 feet 8 inches)
Wingspan
Approx. 7 feet 5 inches
Eye Color
Dark Brown
Hair Color
Black
Beard or Mustache
Both
Body type
Athletic
League
National Basketball Association (NBA)
Profession
Basketball Player
Position
Point guard

Shooting guard

Small Forward

Forward

Played for
Detroit Pistons

Orlando Magic

Phoenix Suns

Los Angeles Clippers

Jersey Number
#33
Drafted Year
1994 Round: 1 Pick: 3rd Overall
Playing career
1994-2013
Current Profession
Analyst for NBA TV
Salary
$10.5 million (Annually)
Net Worth
$250 million
Tattoo
Unknown
Social Media
Twitter, Instagram
Merch
Trading Card, Jersey, Shoes, Rookie Card, Autographed Basketball
Last Update
November, 2022
Grant Hill | Early Life, Childhood, and Education
The NBA player Grant was born on the 5th of October in 1972 in Dallas, Texas. He was born to a football player at Yale University, Calvin Hill, and Janet Hill.
His father was a footballer, his mother was a successful attorney and consultant, and Grant was the only child of his parents. So, we can assume that Hill grew up amidst wealth, privilege, and fame.
Later, when Calvin was traded to the Redskins, the family relocated to Washington, D.C. There, Hill grew up in Reston, Virginia, an upper-middle-class suburb.
The Hill house was a frequent visitor of several well-known athletes, entertainers, and politicians.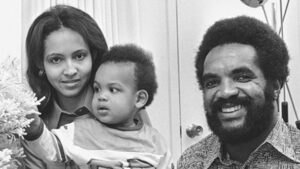 Despite all the wealth and fame of his parents, Hill was never comfortable with his privileges.
He never wanted to portray that he was better than his friends and wanted to be a down-to-earth guy and make an identity for himself.
When Hill would feign illness in school, he preferred to be treated to the nurse's office rather than enduring extra attention.
Similarly, his parents had kept him under strict rules at home, such as no phone calls until the weekend and only one call a day.
Education
For his high school education, Grant studied in South Lakes High School. After completing high school, his parents had different opinions about his university.
His mother told Fox Sports that she wanted him to attend Georgetown University. However, his father hoped he would attend the University of North Carolina. Later, Hill decided to attend Duke University.
Click here to know about the president of the Los Angeles Lakers, Magic Johnson >>
Grant Hill | College Basketball Career
During his days in University, Hill played four years with the Blue Devils. His team was also able to win national titles consecutively in the years 1991 and 1992.
They became the first Division I program to win the title consecutively since UCLA in 1966 and 1973. In 1994, Hill led the team to the championship game, but later, they lost to Arkansas Razorbacks.
During his collegiate days, Hill had won various awards, such as the Henry Iba Corinthian Award for the nation's top defensive player in 1993.
Similarly, he also was presented as the ACC Player of the year in 1994.
He became the first player in ACC history at such a young age to collect more than 1,900 points, 700 rebounds, 400 assists, 200 steals, and 100 blocked shots.
This led him to be the eighth player in Duke history to have his jersey number (33) retired.
After completing his first year, he contributed to playing on the bronze medal-winning U.S team at the 1991 Pan American Games.
One of the major roles he is known for is in the 'Hail Mary' play in the NCAA tournament in a regional final against Kentucky in 1992. The game was considered to be one of the greatest basketball games of all time.
The people who came across Hill touted him as one of the best players in duke history and one of his era's greatest college basketball players.
Grant Hill | NBA and Team USA
Hill started his NBA career with Detroit Piston, later played for various other teams, and contributed to their success.
NBA Debut with Detroit Pistons
Grant Hill graduated from Duke in 1994 and was drafted by the Detroit Pistons with the third pick in the NBA draft. During his NBA career, he played the position of small forward.
After Isiah Thomas, Hill became the first Piston to score 1,000 points in the game. Grant shared the NBA Rookie of the Year Award honors with another player, Jason Kidd of the Dallas Mavericks.
Hill's way of playing earned him the Sporting News Rookie of the year award. Similarly, he was named of all NBA First Team in 1997 and All-NBA Second Teams in 1996 and consecutively in 1998, 1999, and 2000.
Get to know about the rising shooting guard in the NBA, Max Strus >>
He continued playing in the NBA ALL-Star Game and made history in 1994-1995, marking the first rookie to lead an NBA All-Star fan balloting with 1,289,585 votes while defeating Shaquille O' Neal.
Likewise, Hill was considered the first rookie in any of the four major professional sports leagues to lead all-star fan voting.
In a game at the 1996 Summer Olympics in Atlanta, he had the team's fifth-highest scoring average of 9.7 points and led the team in 18 steals.
This contribution led him to earn a gold medal as a member of the U.S men's basketball team.
Hill once again had led the league in triple-doubles with his 13 triple-doubles, which represented 35% of the league's triple-double in that season.
Detroit Pistons
In January, he was considered the Player of the Month and was honored with the NBA's IBA Award, which was given to the player with the biggest statistical contributions to his team.
Hill played the role of a point forward in Detroit's team, running the Piston's offense.
However, despite all the contributions and gained points by Hill, the Pistons could not make it far in the playoffs. As a result, the Detroit Pistons would either lose in the first round or miss the entire playoffs like 1994-95 and 1997-1998.
Before starting the 2000 playoffs, while playing against the Philadelphia 76ers, Hill had sprained his left ankle in the game.
He played until the first round in the playoff series against the Miami Heat despite the pain.
However, the pain was unbearable and got worst, which led him to leave the game halfway through game 2.
Trade to Orlando Magic and Injury
Since Grant Hill was an unrestricted free agent, He had planned to sign with the Orlando Magic.
The Magic sign and trade deal allowed him to receive a slightly more profitable contract, whereas Detroit's previous team received some compensation for losing him.
In 2003, he underwent a major surgical procedure where the doctor realigned his ankle with his leg bone.
However, five days after the surgery, he suffered from a 104.5 F fever and convulsions, due to which he was rushed to the hospital.
Later, he was hospitalized for a week and had to take intravenous antibiotics for six months.
In the 2004-2005 seasons, Hill started and played 67 games for his former team, Orlando Magic, despite the bruised left shin.
For the 2004 season, he was honored with the title of Eastern Player of the week for November 15-21. In total, Hill averaged 19.7 points per game on a .509 field goal percentage.
Hill was again voted as an All-Star started and led the Eastern Conference All-Star Team to a victory over the West. Similarly, Grant Hill was honored with the Joe Dumars Trophy presented to the NBA Sportsmanship Award Winner.
Added Injuries
At the start of the 2005 2006 season, Hill was again injured due to his nagging groin injuries, which kept him sidelined for the first half of the season, limiting him to 21 games.
Later, Hill suffered due to a sports hernia caused by uneven pressure on his feet while running. He underwent surgery for the hernia and stated that he would consider retirement if he were to undergo another surgery.
Finally, he returned to the game for the 2006-2007 seasons despite his retirement rumors.
After returning to the team, he played a shooting guard position. Despite having issues due to his left knee injuries, he managed to play over 65 games.
Move to Phoenix Suns as Unrestricted Free Agent
In 2007, Grant Hill became an unrestricted free agent and later on 5th July, addressed that he intended to sign with Phoenix Suns.
For the 2007-2008 season, he earned $1.83 million with a $1.97 million player option for the next year.
Along with Steve Nash, Hill was also named captain. In 2009, Hill re-signed a 2 year deal with the Phoenix Suns despite getting a great offer from the New York Knicks and the Boston Celtics. It is believed that Hill's first-year contract was worth around $3 million.
In 2010 the Phoenix Suns advanced to the Western Conference Semifinals, which marked Hill's first playoff series victory.
This playoff series marked him as the first NBA player to win his first playoff series after 15 years in the league.
Similarly, Sporting News chose him as the tenth-smartest athlete in sports. In December 2011, he resigned from a one-year contract worth $6.5 million with the Phoenix Suns.
At the end of the 2011-2012 season, Hill has 17,000 career points, 79th in career assists, and 66th in career steals.
Retirement
After the expiration of Grant Hill's contract with the Suns, he was pursued by various contenders such as Miami Heat, Los Angeles Lakers, New York Knicks, Oklahoma City Thunder, and Portland Trail Blazers.
He signed a contract with the Los Angeles Clippers among all these contenders.
He again suffered due to a bruised bone in his right knee during the preseason, due to which he was unable to participate in the game for 3 months.
The legendary basketball player of the NBA, Greg Kite >>
Finally, in January 2013, he debuted as a Clippers member in a game against his previous group, Orlando Magic. In total, he played 29 games, with an average of 3.2 ppg and 2.7 EPG in 15.1 mpg.
After contributing 19 seasons in his basketball career, Hill announced his retirement on 1st June 2013.
Acknowledging his achievements and honors, he was inducted into the Naismith Basketball Hall of Fame on 7th September 2018.
Leading US Team After Tokyo 2020 Olympics
As a player, Grant led the US men's national basketball team to a win at the 1996 Atlanta Summer Olympics. Furthermore, he was also selected for the 2000 Sydney Olympics but could not compete due to an ankle injury.
Hence, he only made a single appearance in the Olympics in his entire playing career. However, the former basketballer, who is the co-owner and vice chairman for the Atlanta Hawks, is taking on new responsibilities.
Hill will take Jerry Colangelo's place as the managing director of USA Basketball. Colangelo is a well-known businessman who formerly owned Phoenix Suns of the NBA, the Phoenix Mercury of the WNBA, Arizona Diamondbacks of MLB, etc.
As the managing director of the USA Basketball, he helped the men's team recover from the 2004 Athens loss and assisted them to three gold medals in the 2008, 2012, and 2016 Olympics.
Moreover, he hopes to bring one more gold at the Tokyo 2020 Olympics before allowing Grant to take his place. Not to mention, Jerry is very happy and satisfied to pass on his job to Hill, who is also on the Duke's board of trustees.
Besides that, the former NBA player is very excited to take on this new responsibility. In an interview, he explained his reason behind accepting the job,
"Another opportunity to represent your country, to serve your country in this capacity, that was the reason for me."
NBA Stats
| | | | | | | | | | | | |
| --- | --- | --- | --- | --- | --- | --- | --- | --- | --- | --- | --- |
| Year | GP | GS | MPG | FG% | 3P% | FT% | RPG | APG | SPG | BPG | PPG |
| Career | 1026 | 972 | 33.9 | .483 | .314 | .769 | 6.0 | 4.1 | 1.2 | .6 | 16.7 |
| All-Star | 6 | 6 | 22.2 | .571 | .500 | .545 | 2.5 | 3.2 | 1.2 | .2 | 10.5 |
Highlights
Seven-time NBA All-Star from 1995 to 1998 and in 2000, 2001, and 2005
Made it to the 1997 All-NBA First Team
Four-time All-NBA Second Team in 1996 and from 1998 to 2000
NBA Co-Rookie of the Year in 1995
Named to the NBA All-Rookie First Team in 1995
Three-time NBA Sportsmanship Award in 2005, 2008, and 2010
1997 IBM Award
Two-time NCAA champion in 1991 and 1992
Grant Hill | Post Retirement Career
After his retirement in 2013, Grant Hill became a host in the NBA inside Stuff on NBA TV. Presently, he also works at CBS as a sports broadcaster.
Hill's hosting abilities earned him a position in the lead announcing team for CBS and Turner Sports joint coverage on the NCAA Men's Basketball Tournament.
Grant Hill | Charitable Activities
Despite achieving fame and popularity, Hill has been humble to his roots. He has conducted and participated in various charity activities.
Along with his mother, Janet Hill, and his grandmother Vivian McDonald, he established a scholarship at the Dillard University in New Orleans in memory of his grandfather.
Similarly, his feature on a poster, "Read' supported libraries, literacy, and encouraged reading.
Hill also engaged in the daycare center, which focused on helping children and families in the local community. The daycare center was established by his father in New Haven, Connecticut, by donating funds.
He also contributed to an organization in his hometown, Virginia, which helped needy students of any age pursue education by providing funds.
Grant Hill and His Wife
Grant is happily married to a Canadian singer and songwriter, Tamia Marilyn Washington Hill. The former couple met with Grant's friend Anita Baker in Detroit, Michigan.
Finally, they got married on 24th July 1999 with a life full of love and success, creating a beautiful home life.
The former couple was blessed with two beautiful daughters. Their first daughter, Myla Grace, was born in 2002, followed by their second daughter, Lael Rose, five years later.
Grant Hill and Tamia Celebrated 20 Years of Marriage in the Bahamas!
The ever-loving couple Grant and Tamia has maintained a 20-year marriage, and everyone can see their sweeping love for each other.
To celebrate their 20 years of long love, the couple decided to destine to the Bahamas and their daughters Myla and Lael for family vacation and fun.
The family seemed full of happiness and smiles, soaked in the beauty of Highborn Cay, far away from their monotonous lifestyle.
The couple seemed at peace with the crystal blue waters and Oceanside swing surrounding them.
Grant Hill | Net Worth, Career Earnings, and Assets
Hill was one of the highest-paid American basketball players who is now retired. It is reported that most of his earnings are due to his salary alone.
Due to his contribution to the NBA career, he earned 140 million dollars. Similarly, it is believed he gained another 120 million dollars from endorsements. Therefore, he has a net worth of $250 million.
Similarly, Hill owns a $13 million mansion in Windermere, Florida, consisting of seven bathrooms, six full bedrooms, a library, a swimming pool, and two guest suites.
Grant Hill | Social Media Presence
Grant Hill is seen active on social media sites like Twitter and Instagram. Likewise, he has a roaring amount of followers, and one can follow him to know about his lifestyle and events on social media.
Instagram: 307k followers
Twitter: 374.8k followers
Grant Hill | Frequent Asked Questions
Where is Grant Hill today?
Hill announced his retirement in the 2013 season and started working as the co-host of NBA Inside Stuff and, at present, is the owner of Atlantic Hills.
Is Grant Hill still married to Tamia?
The former NBA host, Grant Hill, is still married to Canadian singer Tamia since 1999 and is even blessed with two beautiful daughters.