Can you name some of the greatest female bodybuilders? When we think about bodybuilding, most of us imagine huge muscular men flexing their bodies.
Bodybuilding is also for female athletes having several categories or classes like bikini, figure, female physique, and female bodybuilding.
Female bodybuilding competition was first held in Canton, Ohio of the U.S.A., back in 1977. From there on, many matches have been held all over the world. Consequently, these competitions have given rise to many greatest female bodybuilders.
In this article, we have compiled some of the greatest female bodybuilders of 2022 from different sources.
15 Greatest Female Bodybuilder in 2022
The following list of female athletes is based on their achievements and overall influence in the female building.
These are the greatest female bodybuilders in 2022:
| | |
| --- | --- |
| Name | Country (Originally) |
| 1. Iris Kyle | USA |
| 2. Andrea Shaw | USA |
| 3. Yaxeni Oriquen | Venezuela |
| 4. Debi Laszewski | USA |
| 5. Alina Popa | Romania |
| 6. Sheila Bleck | USA |
| 7. Theresa Ivancik | USA |
| 8. Juliana Malacarne | Brazil |
| 9. Monique Jones | USA |
| 10. Cydney Gillon | USA |
| 11. Helle Trevino | Denmark |
| 12. Sarah Villegas | USA |
| 13. Melina Keltaniemi | Finland |
| 14. Elisa Pecini | Brazil |
| 15. Beatriz Biscaia | Portugal |
15. Beatriz Biscaia
Beatriz Biscaia is a Portuguese/Canadian female bodybuilder who won her pro card when she was just a 17 year old. She is one of the rising beauties in the Pro Bikini Class of IFBB.
She secured victories in the Kai Greene Classic Pro Bikini (2018) and the Big Man Weekend Pro Bikini (2019).
Whereas she came 2nd runner up in the Vancouver Pro Bikini (2019), Yamamoto Cup Pro Bikini (2019), and recently in the European Pro Bikini (2020). In addition, she has also participated in Olympian contests.
Before entering into bodybuilding, she was a dancer for some years. However, after being inspired by her father, an experienced weightlifter, she decided to get into physical fitness.
14. Elisa Pecini
Elisa Pecini is a Brazillian rising star in the bikini division of female bodybuilding. This female bodybuilder has been an inspiration for many female athletes.
Pecini has a story of herself. During her teenage, she suffered from anorexia nervosa, which caused colossal weight loss.
However, after 2-3 years of struggling with health conditions, she built herself and got stronger.
Her achievements include the 2016 South American Open Expo, 2017 Tampa Pro, 2019 Bikini Olympia, 2018 Muscle Contest Brazil Pro Bikini, and 2018 Muscle Contest Nacional Pro Bikini.
In addition, she also has her own business of fitness clothing called ISA PECINI-Beach Wear.
13. Melina Keltaniemi
Melina is a stunning young Finnish female athlete having an impressive starting career in females bodybuilding.
At an early age, Melina enjoyed gymnastics, dancing, skating, and cheerleading. Consequently, she started going to the gym and aero-gymnastics when she was 17.
She has earned many victories in the Women's Bikini-Fitness class of bodybuilding, which are mentioned down below:
IFBB Elite PRO World Women's Championship (2018)

2019 IFBB World Professional Championships

IFBB Nordic Elite Pro (2019)
Melina is someone who likes to have a balance between her career and everyday life. Therefore, she takes proper rest and gets involved in her other hobbies and projects during the off-season.
And during the time of sports season, she gives her complete focus and efforts towards winning another title.
12. Sarah Villegas
Sarah Villegas is the winner of the 2020 Olympia Women's Physique. Likewise, she is the 2nd runner-up of the same title in 2019.
In addition, she became first at the 2019 Atlantic Coast Pro Women's Physique and 2018 Chicago Pro Women's Physique.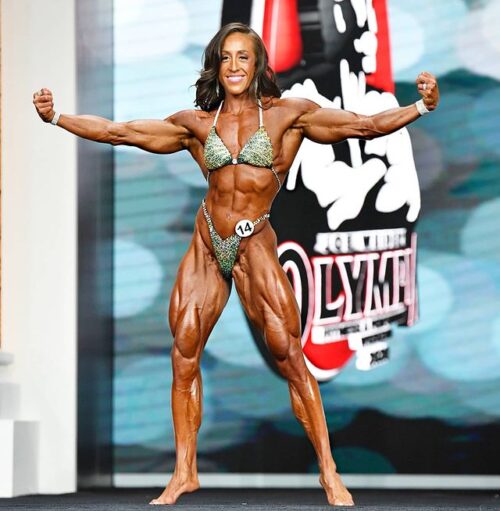 Moreover, Villegas earned her pro status in 2017 at the Universe Championships.
Her extensive experience in the field of physical fitness has helped many individuals to achieve their fitness goals. Similarly, she is the Fitness Director at AFS Premier Fitness and an expert personal trainer and nutritionist.
11. Helle Trevino
Helle Trevino is a well-known name among the list of the greatest female bodybuilders. She is a two-times World Female Bodybuilding Champion.
In addition, she became the first runner-up of the Rising Phoenix World Championships in 2017 and 2019.
She had a great start in her career by winning two championships, the Danish Nationals and the Scandinavian Championships in 1988. Moreover, she was just 22 years old at that time.
When she was 17, she started to build her body and found out that her genetics was well suited for bodybuilding. Consequently, at the age of 27, she became a pro bodybuilder. From there, she went on to become a world-class female bodybuilder.
10. Cydney Gillon
Cydney Gillon is four times Ms. Figure Olympia winner. She was lucky to be born to bodybuilders. Thus, she got the necessary support, guidance, and inspiration from her parents during her career.
Further, she was only 14 years old when she first competed.
At the age of 20, she got her pro card by winning in the NPC nationals (2012). Her mother, a two times breast cancer survivor, has been a massive inspiration for her. Despite being sick, her mother attended Gillion's competition show.
Gillion has also appeared in the Survivor TV reality series, where she became fourth. She is currently CEO of Cake Factory Fitness, which deals with fitness-related products.
9. Monique Jones
Monique Jones started her journey in fitness and bodybuilding at the age of 16. She first appeared in a bodybuilding competition at the age of 29 at the South Carolina State show in Columbia, where she won 1st place in Heavy Weight and Overall.
Following her passion for bodybuilding, she won another first place in IFBB North American Championships (2009).
Similarly, her other victories as the first runner-up are IFBB Wings of Strength Chicago Pro-Am Extravaganza (2012 and 2013) and IFBB WOS Romania Muscle Fest Pro Women's Bodybuilding (2018).
Jones always focuses on putting her feminity before bodybuilding. Because of that, like other female bodybuilders, she also got massive inspiration from Lenda Murray.
8. Juliana Malacarne
Juliana Malacarne is a 4 times Miss Physique Olympia. She is originally from Brazil, now living in New York.
The 48 years bodybuilder got her pro card by winning a trophy at the 2005 IFBB Amateur BodyFitness Championships in Sao Paulo, her hometown.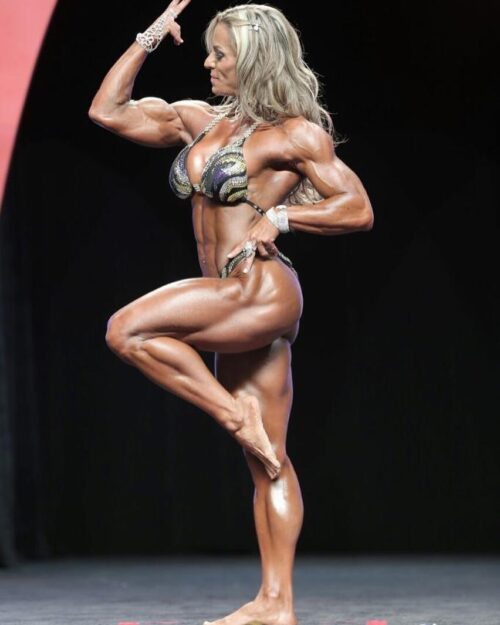 Monica Brant, a famous figure in the female bodybuilding arena, is one of her inspirations. Malacarne showed interest in physical activities from her early school days. She used to be fascinated by the fantastic physique of the action heroes like Arnold Schwarzenegger.
Brant is very determined to achieve her goals despite many failures. Therefore, she has inspired her vast number of social media followers to make the best of their bodies.
7. Theresa Ivancik
Theresa got motivated to be a female bodybuilder while looking at the fantastic body of female fitness models in Oxygen Fitness Magazine. This was back in 2001. Since then, she has competed and won in several bodybuilding sports.
She recently secured 1st place in IFBB Chicago Pro (2020). Similarly, in 2019, she won IFBB Norfolk pro as the first runner-up.
In addition, she is also the first runner-up of NPC Miami Nationals (2016) and NPC IFFBB Northern Americans (2015).
Ivancik is one of the rising stars in female bodybuilding, and her next goal is to be the best in the world.
Here's another list of The Top Richest Bodybuilders in the World.
6. Sheila Bleck
Sheila Bleck has been in the top 10 winners of the IFBB Ms. Olympia four times. Therefore, she is one of the highest-ranking American female bodybuilders of IFBB. Recently she was the 3rd runner up in the 2018 IFBB WOS Rising Phoenix World Championships.
She got her pro card in 2008 by winning the NPC Nationals. When Bleck was just 12 years old, her mother bought a weight bench for her and her twin sister, Sherry. The character Rocky Balboa played by Sylvester Stallone, and The Incredible Hulk were her inspirations.
Bleck remains close to her twin sister, who competed in boxing tournaments from age 19 to several years. Bleck also provides posing/stage choreography lessons to aspiring athletes.
5. Alina Popa
Alina Popa was born in Romania and currently resides in the U.S.A. She is the winner of the Rising Phoenix World Championships (2018).
Similarly, she was also the 2nd runner-up of the Ms. Olymia title in 2012 and 2013.
At an early age, she used to compete in track and field. Then, she got into bodybuilding from the age of 19, by being inspired by a female competitor in her hometown.
Consequently, she achieved her pro card in 2008 after winning at the IFBB Worlds Santa Susanna. Nowadays, she is involved in online coaching and training.
4. Debi Laszewski
Debi Laszewski once ranked 3rd in the IFBB Pro Women's Bodybuilding Ranking List. At an early age, she played track and field in her high school. Later, she got interested in bodybuilding by being inspired by the physique of Linda Hamilton from The Terminator movie.
At the age of 20, she started bodybuilding and got her first victory at 24. Likewise, she secured 2nd position in Ms. International and Ms. Olympia in 2012. In 2013, she was placed third in both titles.
Similarly, she also won 3rd position in the IFBB Wings of Strength Rising Phoenix World Championships (2015).
Laszewski is now a professional fitness trainer and has an interest in home decor and interior design.
3. Yaxeni Oriquen
Yaxeni Milagros Oriquen-Garcia Perez is a Venezuelan-American bodybuilder with top rankings. At an early age, she pursued the career of modeling and studied theater.
In 1989, she decided to enter the world of female bodybuilding. Eventually, in 1993, she won four amateur contests and earned her professional card after winning Ibero (Central) American Championship.
Above all, Ms. Olympia (2005) is one of her most noteworthy achievements. Similarly, she won Ms. International titles in 2002, 2003, 2005, 2008, and 2012.
She now owns Rypt Gym in Miami, Florida. In addition, she works as a fitness trainer with expertise in nutrition, weight training, body sculpting, and contest preparation.
You might like to read about The Top Ten Wrestlers of All Time.
2. Andrea Shaw
Andrea Shaw is the Ms. Olympia of 2020. In the same year, she won IFBB Omaha Pro and IFBB WOS Rising Phoenix World Championships. Additionally, she has won many titles in her professional career.
During her early life as a child, she used to show interest in gymnastics and competitive cheer. On top of that, her mother was a nurse and former fitness trainer who guided and motivated her to be involved in athleticism and physical fitness.
From the age of 17, she started doing formal bodybuilding exercises. Like many other females bodybuilders, she was inspired by looking at the pictures of fitness models in Oxygen Magazine.
1. Iris Kyle
Iris Kyle is one of the greatest female bodybuilders globally, with high-ranking achievements year after year.
Kyle won the IFBB Ms. Olympia title as the 1st runner-up in 2001, 2004, and from 2006 to 2014. Likewise, she became first in the IFBB Ms. International in 2004, 2006, 2007, 2009 to 2011, and in 2013. That's quite an achievement!
In her early life, she used to get involved in running, basketball, and softball. By being inspired by the picture of Lenda Murray, a famous bodybuilder, she decided to build an impressive physique.
In 1994, she decided to compete in Long Beach Muscle Classic and became the winner. After that, she participated in various competitions and became one of the top female bodybuilders.
Conclusion
Female bodybuilding is introducing more and more talented athletes every year, setting new milestones to achieve. Did we miss anyone of the greatest female bodybuilders? Please mention this in the comment.