An accomplished swimmer, Gregorio Paltrinieri is one of those few names people cannot miss out on while talking about professional swimming. As a matter of fact, he has been on this lane ever since Gregorio stepped into this mortal realm.
At present, Gregorio is the world record holder for the 1500 m freestyle (short course). In the meantime, he also holds the record in Europe for the 800 m and 1500 m freestyle events (long course).
Talking about his accolades and achievements, he has bagged and collected numerous since his early days as a child. In short, Gregorio is the Olympic and world long course and short course champion.
Before his thorough description and journey, let's get through a quick dose of facts.
Quick Facts
Full Name
Gregorio Paltrinieri
Date of Birth
5 September 1994
Birth Place
Carpi, Italy
Nick Name

Greg, Frecciarossa di Carpi (Frecciarossa is a high-speed train in Italy)

Religion
Unknown
Nationality
Italian
Ethnicity
White
Zodiac Sign
Virgo
Age
28 years old
Height
1.91 meters (6'3″)
Weight
72 kg (159 lb)
Hair Color
Light brown
Eye Color
Dark brown
Build
Athletic
Father's Name
Luca Paltrinieri
Mother's Name
Lorraine Paltrinieri
Siblings
None
Education

LUISS Guido Carli University, Rome, ITA

Marital Status
Unmarried
Girlfriend
Letizia Ruoli
Kids
None
Profession
Swimmer
Club
Fiamme Oro
Coopernuoto
Coach
Fabrizio Antonelli
Strokes
Freestyle
Languages Spoken
Net Worth
Around $3 million
Social Media
Instagram, Twitter, Facebook
Merch
Il peso dell'acqua (Book)
Last Update
March, 2023
Body Measurements
Gregorio Paltrinieri is a handsome hunk with a face as if cut right through a magazine. With a towering height of 1.91 meters (6 feet 3 inches), Gregorio weighs 72 kg (159 lb).
As for his appearance, he stands with a toned physical body with fair skin. Also, he has dark brown eyes and lights brown hair to complement his looks.
Click to follow about Andre de Grasse's career, earnings, and personal life events.
Workout and Eating Habits
As an athlete, Gregorio Paltrinieri is constantly training to get better and learn better. Well, he trains six days a week, at least five hours daily in the pool. As for his ritual during training, he listens to the same music in repetition.
Also, the music he listens to is a mix of hip hop, rap, and R&B, strictly in English. At the same time, back in 2017, Gregorio moved to Australia for training.
As for his diet habits, Gregorio opened up that he didn't have a specific routine or plan. However, he tries to eat well every time and load up on carbs. Among all the food, his favorite is cappelletti.
Gregorio Paltrinieri | Early Life
Gregorio Paltrinieri was born on 5 September 1994 to his parents Lorraine Paltrinieri and Luca Paltrinieri. Also, he was born in Capri, Italy, under the sun sign of Virgo. Apparently, his father is also a swimmer, and hence, he started learning to swim in his early days.
In fact, Gregorio started swimming at age three months; however, he commenced competing at six.
By the age of twelve, he specialized in breaststroke. Following it, Gregorio advanced to freestyle, specializing in the longer pool distances.
Talking about his education, Gregorio is a graduate of LUISS Guido Carli University, Rome, ITA majoring in political science.
Gregorio Paltrinieri | Career
Due to Gregorio's early training and hard work, he bagged an international win at the early age of sixteen.
Initially, he bagged gold at the 1500 meter freestyle at the 2011 European Junior Swimming Championships in Belgrade. In the meantime, he also collected bronze in the 800-meter freestyle.
After it, Gregorio collected a 1500 meters freestyle silver and an 800 meters bronze at the World Junior Championships in Lima, Peru. After winning the Italian 800 meters freestyle title the next year, he defeated the renowned names at the European Championships in Debrecen.
By the age of seventeen, he made himself qualified for the 2012 Summer Olympics and finished 5th in 14:51.92. Before 2012 ended, he got himself to stand second at the 2012 FINA World Swimming Championships (25 m).
However, Danish swimmer Mads Glæsner was out due to a doping test so, Gregorio gained the gold medal in the 1500 meter freestyle.
In 2013, he set a national record in the 1500 meter freestyle after winning bronze at the 2013 World Aquatics Championships.
If you are interested in swimmer's bio, you might also want to read about swimmer Conor Dwyer.
Following Career
After his 2013 games, Gregorio Paltrinieri had surpassed several records to set his new one. Even with the 800 m and 1500 m freestyle, he won the events setting his record at the 2014 European Aquatics Championships.
Right after it, he became the world champion with his performance at the 2014 FINA World Swimming Championships (25 m) in Doha.
In 2015, he bagged silver in the 800-meter freestyle at the 2015 World Aquatics Championships in Kazan, while he bagged gold in 1500 meter freestyle.
Likewise, he had another record with gold at the 2015 European Short Course Swimming Championships in Netanya. It was the same time when Gregorio surpassed Grant Hackett's record by 2.04 seconds.
Furthermore, he bagged the 1500 meter freestyle in the 2016 Rio Olympics and again gold for the same event at Budapest's 2017 World Aquatics Championships. With the same event, Gregorio bagged bronze for the 800-meter race.
Recent Events
Starting with 2019, Gregorio Paltrinieri bagged the 2019 World Aquatics Championships in Gwangju in the 800-meter race. By the end of this event, he had added another bronze and a silver medal.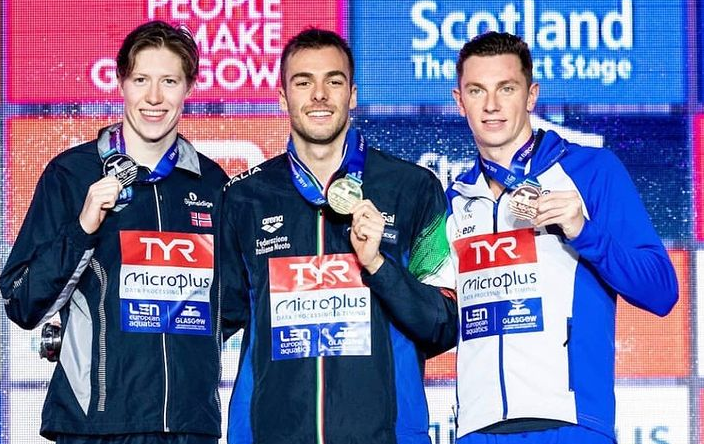 During the pandemic, the European Championships in Budapest 2020 was moved to 2021. He bagged three gold medals in the three races and even had a double silver medal.
Diving into his recent activity, Gregorio Paltrinieri was the part of the 2020 Tokyo Olympics. In it, he bagged gold for both the 800-meter race and the 1500 meter race.
Gregorio Paltrinieri | Awards and Achievements
Olympic Games (one gold, one silver, and one bronze)
World Championships (three gold, three bronze, and two silver)
World Championships (one gold and three silver)
European Championships (five gold, four silver, and one bronze)
European Open Water C'ships (three gold)
Mediterranean Games (two gold)
European Championships (three gold and one silver)
Summer Universiade (three gold)
2014 World Champion
Click to learn in detail about Mack Horton, his swimming career, and earnings.
Mononucleosis
Recently, in June, Gregorio Paltrinieri struggled with mononucleosis, an acute infection caused by the Epstein-Barr virus (EBV).
Hence, it jeopardized Gregorio's training timeframe, and hence, many suspected he could even partake in the 2020 Tokyo Olympics.
Fortunately, Gregorio recovered early and did appear in the 2020 Tokyo Olympics. Also, he wasn't in his perfect phase; however, he performed and put out his best.
"I struggled enough, but I am very happy to have won the qualification for the final. I was able to return, albeit very little. But I couldn't do more. Until a few days ago, the situation was critical, and I did not know in what condition I would arrive."
-Gregorio Paltrinieri
Gregorio Paltrinieri | Net Worth
Although Gregorio Paltrinieri hasn't opened up about his career earnings to date, it is estimated that he has a net worth of over $3 million. Most of Paltrinieri's earnings come from his swimming career.
Besides, he is also the current brand ambassador for the Panerai of Italy. Back during his 2018 win, the Car Server gifted Gregorio a brand new Mercedes-Benz G-Class.
Gregorio Paltrinieri | Personal Life
At present, Gregorio Paltrinieri is dating his longtime girlfriend, Letizia Ruoli. Back in the days, he used to live and share the room with Detti since a teenager.
However, after graduation, he had his own house and shredded it with Letizia Ruoli.
Social Media
If you are interested in Gregorio Paltrinieri's personal uploads and posts, you should check out his social media sites. He is on Instagram as Gregorio Paltrinier (@greg_palt) with 320k followers.
Likewise, he is on Twitter as Gregorio Paltrinieri (@greg_palt) with 45.5 k followers. Also, his facebook page Gregorio Paltrinieri (@greg.palt) has 70k followers.
Quotes
"Competitive malice is part of the game, but fairness must not fail, as well as respect for teammates and opponents."

"A few seconds can change the outcome of a whole event."
You might be interested in reading about the swimmer Chad le Clos and his swimming journey!
Gregorio Paltrinieri | FAQs
What is Gregorio Paltrinieri interested in?
During his free time, Gregorio Paltrinieri is indulged in his hobbies, including watching NBA basketball, architecture, and design.
Who does Gregorio Paltrinieri look upon?
As his inspirational idol, Gregorio Paltrinieri, looks upon Australian swimmer Ian Thorpe.
If it was the talk out of the swimming lane, he takes US basketball player Michael Jordan as his hero. Not to mention, coach Stefano Morini also has had a great influence on him.