Ian Thorpe has the most Olympic gold medals of any Australian, with five. He competed in 13 events at a state meet at the age of 12 and set under-age NSW records in all of them.
Thorpe first gained international recognition when he won the world 400m freestyle title in Perth in 1998, at 15, becoming the world's youngest world champion.
He is regarded as one of the legends of swimming sports with numerous world records. He began swimming and represented his country at 14 and dominated the sport for ten years.
His outstanding performance as a young boy established him as one of Australia's rising stars. In addition, Thorpe was awarded Young Australian of the Year in 2000.
Today we will discover everything there's about swimmer Ian Thorpe. But before getting into details, let's take a look at quicks facts about him.
Ian Thorpe: Quick Facts
Name
Ian James Thorpe
Birthdate
October 13, 1982
Birthplace
Sydney, New South Wales, Australia
Age
41 years old
Nationality

Australian
Ethnicity

Australian
Religion

Christianity
Father's Name
Ken Thorpe
Mother's Name
Margaret Thorpe
Siblings

1, Christina Thorpe (elder sister)
Education

East Hills Boys Technology High School
Profession
Competitive Swimmer
Nickname
"Thorpedo," "Thorpey"
Height
1.96 m (6'5″)
Weight

104 kg (229 lb)
Body Measurements
Not Available
Hair Color
Light Brown
Eye Color
Blue
Coach

Doug Frost (1995–2002)
Tracey Menzies (2002–2006)

Net worth

$2 million

Zodiac Sign
Libra
Achievement

Australian Swimmer of the Year (1999 to 2003)
Swimming World Swimmer of the Year (4 times)
23 Olympics Gold Medal

World Records
1:44.06 World record over 200 meters freestyle (2001)
Salary
$566,100
Strokes
Freestyle
Club
SLC Aquadot
Endorsements

Coca-Cola Japan
Japanese TV network, TV Asahi
Armani
Adidas

Sexual Orientation

Gay
Marital status

Single
Partner
None
Children
None
Merch
This Is Me (Autobiography), Swimming equipment
Hobby

Water skiing, computer games
Olympic debut
2000 (Age 17)
Social Media

Instagram, Twitter
Last Update

November, 2023
Who is Ian Thorpe?
On October 13, 1982, Ian James Thorpe is an Australian retired freestyle swimmer who also competed in backstroke and individual medley.
The former swimmer was the most successful athlete at the 2000 Summer Olympics, hosted in his hometown of Sydney. Thorpe won two silver and three gold medals.
Moreover, his victory in the 400-meter freestyle at the 1998 Perth World Championships made him the world's youngest individual male World Champion.
After that victory, he dominated the 400 m freestyle, winning the race at every Olympic, World, Commonwealth, and Pan Pacific Swimming Championships.
Because of his swimming speed, he earned the nickname "Thorpedo." Thorpe retired from competitive swimming in November 2006. However, he returned for a brief comeback in 2011 and 2012.
Learn about; Who is Michelle Powell? | Kids, Family & Net Worth >>
Early Life & Childhood
Thorpe was born in Sydney and grew up in the Milperra area of Sydney, where he came from a sports family. Ken, his father, was a talented former junior cricketer. He played for the Bankstown District Cricket Club in the Sydney district tournament.
Unfortunately, Ken's pleasure of cricket was harmed by paternal pressure, and he retired at the age of 26. Thorpe's mother, Margaret, was an A-grade netball player, but he lacked his family's ball skills.
Christina, his older sister, was encouraged to swim to strengthen a fractured wrist. So Thorpe, who was five at the time, followed her into the water by coincidence.
But Thorpe was unable to participate in sports as a child due to chlorine sensitivity. As a result, he didn't swim in his first race until he was seven years old, at a school carnival.
Despite this ungainly style, he won the race, owing to his enormous size advantage.
Early Career
Ian began competitive swimming at eight, and despite his lack of coordination in other sports, he excelled in the pool. He smashed ten national age-group records in one competition when he was 13 years old.
Moreover, the following year, he became Australia's youngest national team swimmer.
Thorpe, then 15, set a world record in the 400-meter freestyle at the 1998 world championships. He was the youngest world swimming champion.
At the 1998 World Championships in Perth, Ian made his first international debut in his home country.
Also, he set a split of 1 min 47.67 s, just 0.26 seconds slower than Klim's winning mark in the 200 m final.
His contribution to the swimming world was recognized when he was selected for the Swimming World Swimmer of the Year at seventeen.
Professional Career
Thorpe was well-known in Australia when he won three gold medals (400-meter, 4 x 200-meter, and 4 x 100-meter freestyle relay) and one silver medal at the 2000 Sydney Olympics.
In addition, he set world records in all of them at the World Swimming Championships the following year.
He was also a member of the world-record-setting 4 x 200-meter freestyle relay team. Thorpe also won gold in the four × 100- freestyle and four × 100- medley.
He was voted best male participant after his performance helped Australia win the team title in the event. Thorpe's freestyle dominance continued at the 2003 world championships, where he won three gold medals.
Thorpe took a year off from swimming after his victory in Athens. He returned to the pool to train for the Commonwealth Games in 2006; however, he was forced to withdraw due to illness.
Why did Ian Thorpe retire early?
Ian Thorpe quit competitive swimming in 2006 at 24. The five-time Olympic winner stated he retired at such a young age because he couldn't handle the immense pressure.
Thorpe stunned the sports world when he announced his premature retirement in 2006. However, later he admitted that he regrets quitting earlier.
Ian went on to explain that if he hadn't been under 'pressures,' he believes he could have competed in 'another two Olympics' at the time.
He endured the mental demons of being imprisoned between his sporting ambitions and a desire for an everyday existence away from the grind of training and the glare of the spotlight.
Post-Swimming Career
Thorpe used hidden-camera footage to portray a victim's-eye-view of bullying in a two-part television documentary called Bullied on ABC Television. It first aired on March 14, 2017.
He advocated for a "yes" vote in the run-up to the Australian Marriage Law Postal Survey. In addition, he encouraged people to register to vote at City2Surf.
Later, Thorpe and his companion starred in a campaign ad. He claimed that he could update his electoral information faster than his partner could swim 100 meters.
Read about; Patrick Kane Bio: Wife, Kids, Net Worth & Contract >>
Ian Thorpe: Sexuality
Thorpe came out as gay in a July 2014 televised interview with British talk show host Michael Parkinson, after years of publicly denying his homosexuality.
According to him, "I'm at ease identifying as a gay man. And I don't want others to experience what I did. You can grow up, be content in your skin, and be gay."
He said, "I'm announcing my homosexuality to the world… I hope this makes it simpler for others today, and it feels better to get it out even if you've been holding it in for years."
He began dating model Ryan Channing in 2016. However, Thorpe stated in December 2017 that he had no intention of marrying his boyfriend "anytime soon." Instead, he aspires to have a family of his own.
Sadly, Thorpe and Channing broke up in June 2019.
Thorpe's sexual orientation and some obstacles due to his homosexuality in competitive swimming were discussed in a question-and-answer format interview. The International Olympic Committee published it in September 2020.
Autobiography
Thorpe published an autobiography titled This is Me shortly after the London Olympics. The book received a lot of attention, primarily because of a chapter about depression. In addition, he also addressed the gay accusations in his book.
He described them as another unjustified strain that made him feel alienated, not because of his sexuality but because his honest denials were misinterpreted as miserable lies.
Michael Jordan and other renowned athletes praised Thorpe's honesty on Twitter and in interviews, emphasizing the seriousness of the illness.
While Thorpe has been careful to emphasize that his depression was not caused by media attention.
However, he has also been forthright in admitting that the negativity of Australian media did not help him. Moreover, he has struggled with the pain for years, even (and perhaps especially) during his peak of fame in the early 2000s.
Philanthropy
Thorpe has made a name for himself as a philanthropist, establishing Ian Thorpe's Fountain for Youth in 2000. The organization raises cash for childhood sickness research and supports a Beijing school for orphaned and disabled children.
It also collaborates with The Fred Hollows Foundation to enhance health and living circumstances in Australia's indigenous communities.
Struggle with Depression
Thorpe's always been forthright about his battle with depression, which began when he was a youngster.
After neighbors discovered Thorpe dazed at his parents' Panania house in 2014, he was confirmed to be taken to a rehabilitation clinic.
Thorpe was transferred to Bankstown Hospital before being admitted to a rehabilitation facility.
In his 2012 autobiography This is Me, Ian admitted that he had considered suicide and had consumed "massive amounts" of alcohol to cope with "crippling depression."
He explained that he thought doctors were lying to him for several years when they said it was manageable.
The swimmer told the Daily Mail Australia that he has never been hesitant to seek assistance in his life.
Ian Thorpe: Interests
Thorpe is well-known for his fashion interests, serving as an Armani ambassador and having his line of luxury jewelry and underwear.
Thorpe's passion for fashion and culture led him to many journeys to New York City. Moreover, he refers to the city as his "second home," often for Armani engagements.
In addition, because of the city's prominence as a worldwide fashion powerhouse. Thorpe's interests have also led him to work in the television industry.
He starred in the reality television show Undercover Angels, which was based on the Charlie's Angels series, in 2002. In addition, Thorpe has also appeared in the American sitcom Friends as an extra.
Popularity
Thorpe is well-known in Asia, especially Japan. In 2000, TV Asahi chose him as the event's marketing icon after identifying him as the swimmer most likely to succeed in the 2001 World Championships in Fukuoka.
Thorpe traveled to Japan in the lead-up to promote Asahi in a series of television programs.
When he returned for the competition, he was greeted by a 25-meter-long crowd of young people at the airport, with hundreds camped outside the Australian team's hotel.
More than 80% of the Japanese population was said to have watched his races on television.
Thorpe decided to be an ambassador for the Australian Tourism Commission in Japan in 2002, following a tourism fall following the terrorist attacks of September 11. A meeting with Japanese Prime Minister Junichiro Koizumi was part of the high-profile campaign.
Moreover, Thorpe was credited with increasing Japanese tourism to Australia as a result of the marketing campaign. Yakult developed a 'Thorpedo' energy drink in Japan in 2005, with an image of the swimmer on the bottle.
Where is Ian Thorpe now?
Thorpe has lately begun a new position as a coach to Australia's future Olympians and Olympic aspirants.
In an article by Neil Cross, Thorpe says:
"I've always wanted to be more active in the sport, and I've always wanted to be a supporter of our athletes because, when you spend time with them and get to know them, they're a wonderful group of young people."
Ian Thorpe will coach Olympic swimmers ahead of the Rio Games.
Ian Thorpe: Net Worth
Thorpe has an estimated net worth of $2 million. He was one of Australia's most well-known and popular athletes during his career. Most of Thorpe's wealth is accumulated from his professional career as a swimmer.
Despite competing in a sport where most international athletes' wages are below the poverty line, Thorpe has routinely ranked as the most sought-after Australian athlete for sponsorship deals.
Moreover, he beats footballers who compete weekly in considerably larger arenas.
Apart from his swimsuit sponsor Adidas, Thorpe was sponsored by Qantas, Telstra, and the Seven Network, all Australian corporate titans.
Ian Thorpe: Legacy
Thorpe's performance has been linked to his work ethic, mental toughness, powerful kick, ability to accelerate, and swimming-specific physiology.
Former Australian head coach Don Talbot dubbed him "the greatest swimmer the world has ever seen" due to this. Even though Swimming World praised Thorpe's technique as "amazing" and "outstanding."
Talbot disagreed, believing Thorpe relied too heavily on his kick at the expense of his arms. Ian's ability to manage his workload and his day-to-day recovery between races during a meet were also mentioned as flaws by him.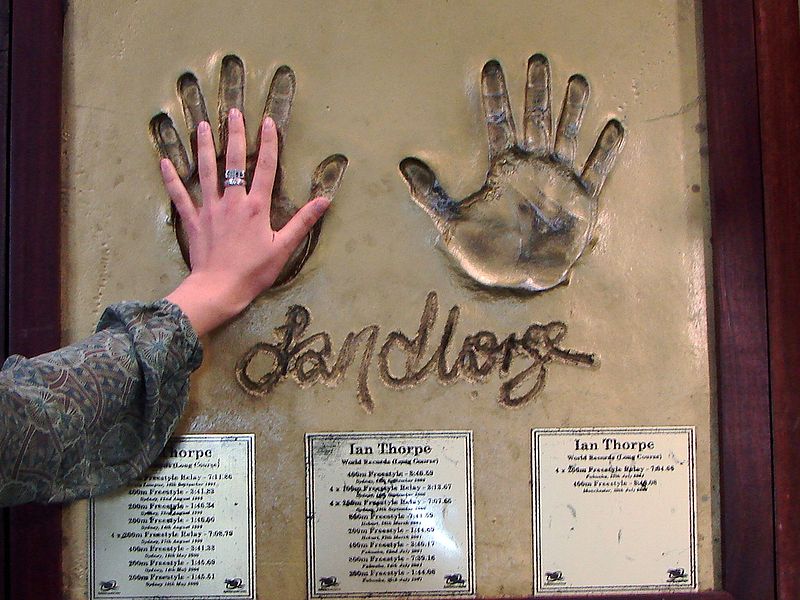 Following his retirement, Bob Bowman, the head coach of the United States men's swimming team and mentor to Michael Phelps, commented on Thorpe.
He dubbed him "the best middle-distance swimmer of all time" and "the greatest relay swimmer I have ever seen." Bowman also praised Thorpe's ability to enhance the sport's prominence and appeal, adding that Phelps' public persona was modeled after Thorpe's.
"In 50 years, Australians will still marvel at Ian Thorpe's accomplishments," said Australian Olympic Committee President John Coates.
Thorpe was the "best [freestyle] swimmer in the world," according to Dawn Fraser, one of only two athletes to win the same Olympic event three times.
Ian Thorpe: Drug Allegations
In the 2000s, Ian Thorpe, an Australian freestyle swimmer, and five-time Olympic gold winner was criticized for allegedly using performance-enhancing medicines and steroid drug doping to fuel his athletic exploits.
Despite several examinations, there has never been any proof of these assertions. Thorpe has categorically disputed the charges.
Moreover, he has been a vocal opponent of the World Anti-Doping Agency's and the International Swimming Federation's (FINA) drug standards, which he believes are too permissive and inadequately implemented.
German Allegations
German head coach Manfred Thiesmann leveled accusations against him at the 2000 Summer Olympics. Thiesmann claimed that Thorpe was using steroids.
Ian and American backstroke World Champion Lenny Krayzelburg were drugs tested at their tour in Berlin. In the absence of the requisite containers, testing officials sought the swimmers for permission to leave their samples unsealed in a fridge overnight.
However, it violated drug testing security policy, which the Australian and US officials declined.
Later in the year, more accusations of drug use surfaced. There was from German captain Chris–Carol Bremer. He claimed that Thorpe's "hands and feet are unnaturally large" due to his use of human growth hormone.
L'Equipe Allegations
According to L'Équipe, a French daily sports publication, Thorpe tested positive for "abnormal amounts" of two banned substances in May 2006.
Thorpe was checked for elevated levels of testosterone and luteinizing hormone (LH). According to the Australian Sports Anti-Doping Authority (ASADA), both are naturally found in the body.
Anti-drugs Campaign
Thorpe is a significant figure in the anti-drug campaign, both in and out of sports. He has asked for blood testing and has criticized FINA for supposedly insufficient drug-testing methods.
He said, "anyone who thinks they're swimming in a clean Olympic Games is stupid." Despite the admiration of swimmers and coaches, FINA denounced him, accusing him of bringing the sport into shame.
The UN chose Thorpe to lead an anti-recreational drug campaign in Japan and promotional work for UNICEF during UN Children's Week.
Awards & Achievements
Ian has won eleven World Championship gold medals in total, the fifth-highest capacity of any male swimmer. In addition, Thorpe was the first person to be named Swimming World Swimmer of the Year four times.
In addition, from 1999 to 2003, he was the Australian Swimmer of the Year. Thorpe was named Young Australian of the Year in 2000 for his sporting achievements, which made him one of Australia's most famous athletes.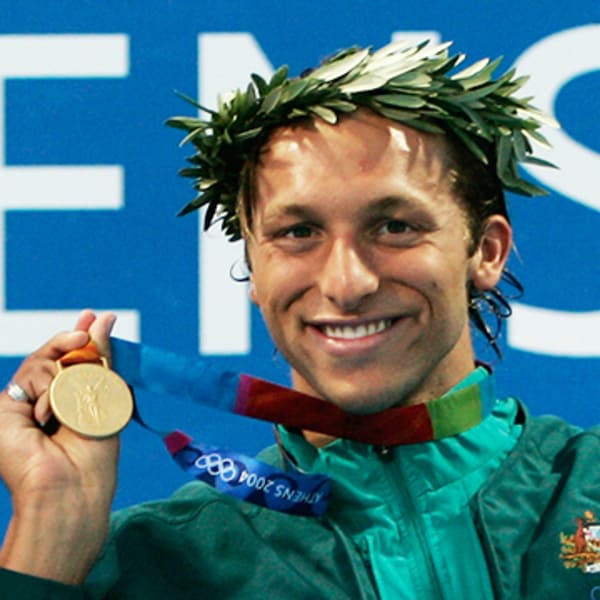 In 2000, he earned a Medal of the Order of Australia (OAM) at the Sydney 2000 Olympic Games for service to sport as a gold medallist.
In 2012, he accumulated Human Rights Medal for his work with indigenous children as a volunteer.
Moreover, in 2014 Macquarie University bestows an honorary Doctor of Letters on him in honor of his outstanding contributions to athletics, philanthropy, and Indigenous rights.
Don't miss out; Henrik Lundqvist: Net Worth, Earnings, Retire & Wife >>
Social Media Profile
Thorpe is quite active on various social media platforms. He often posts pictures and gives updates about his life via social media.
Facebook– 149k followers
Twitter– 95.2k followers
Instagram– 73.3k followers
FAQs
Was Michael Phelps better than Ian Thorpe?
Thorpe was swimming's biggest star, but Michael Phelps' hype was real. The American had accumulated six medals at the 2003 World Championships, including a two-length victory against Thorpe in the 200m medley.
When did Ian Thorpe false start?
Ian Thorpe competed in the 400 m freestyle at the Australian Championships in Sydney in late March 2004 but overbalanced on the blocks and fell into the water. He got disqualified.
What episode of Friends is Ian Thrope in?
Thrope appeared in 'The One With Ross's Library Book' episode of Friends. He played the uncredited role of Coffee Shop Customer in the episode.