Andre De Grasse is a household name in Canada, well-known for his track and field. Today, he is the only Canadian sprinter to win three medals in a single Olympics.
Often considered as one of the best sprinters, Grasse is quite popular for his medal haul. Hence, he currently holds the weight of Canada in the upcoming Tokyo Summer Olympics.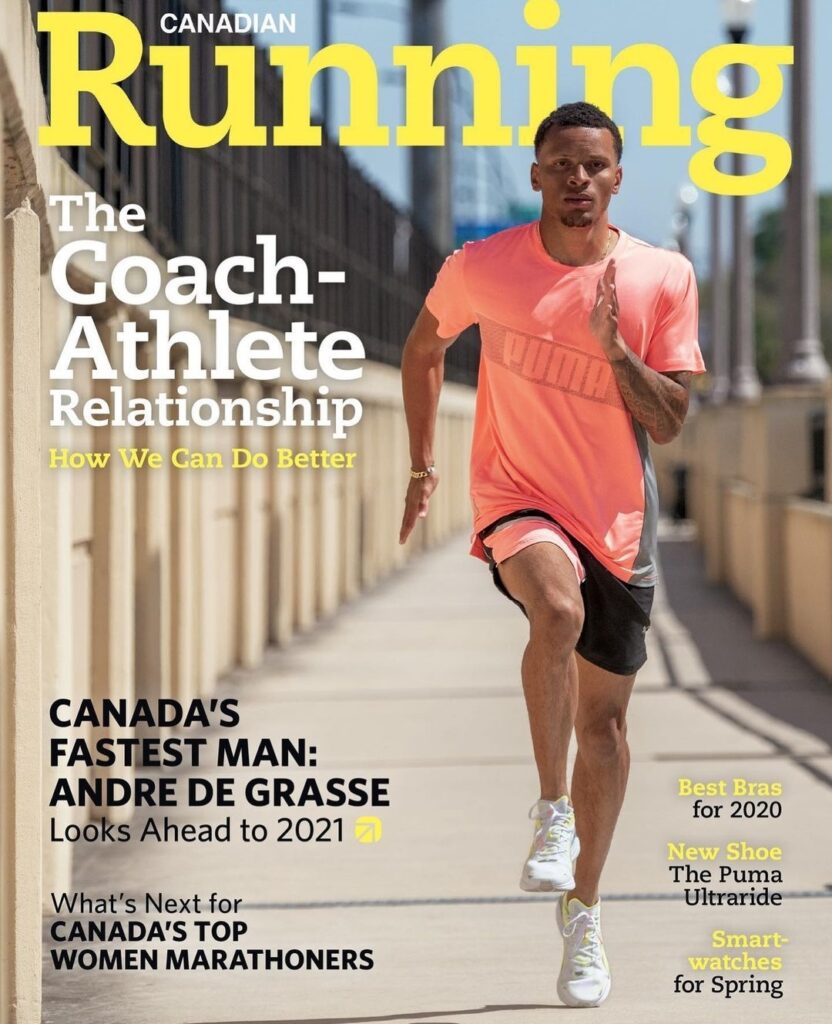 Also, Grasse goes by the nickname "TIP" and is mostly called the 'Sprint King.'
With it, we will dive through his life and career but first, let's get a quick dose of facts.
Quick Facts
Full Name
Andre De Grasse
Date of Birth
November 10, 1994
Birth Place
Scarborough, Toronto, Ontario, Canada
Nick Name
TIP, Sprint King
Religion
Roman Catholic
Nationality
Canadian
Ethnicity
Unknown
Zodiac Sign
Scorpio
Age
26 years old
Height
5'10" (1.78 meters)
Weight
155 lb (70 kg)
Hair Color
Black
Eye Color
Black
Build
Athletic
Father's Name
Alexander Waithe
Mother's Name
Beverly De Grasse
Siblings
Three siblings; Dantee Waithe, Alexander Waithe, and Julian Waithe
Education

St. Marguerite Bourgeoys Catholic Elementary School
Mother Teresa Catholic Elementary School
Father Michael McGivney Catholic Academy
Milliken Mills High School
Coffeyville Community College
University of Southern California(USC)

Marital Status
Married
Wife
Nia Ali
Kids
A daughter
Profession
Sprinter
Sports
Track and field
Events
Sprints
Club and Team
Coaches

Rana Reider (since 2018)
Stuart McMillan (2015–2018)

Net Worth
$4 million
Social Media
Instagram, Twitter
Merch
Sprinting Shoes, Track & Field Equipments
Last Update
October, 2021
Andre De Grasse | Body Measurements
Compared to other sprinters, Andre is relatively shorter and muscular. Apparently, he stands at the height of 5 feet 10 inches (1.78 meters) while weighing 155 lb (70 kg).
Furthermore, he is slim, tam skinned with an oval face. Likewise, he has trimmed and very short black hair, which matches his eye color.
Click to follow more on Kinari James Bio, his career, earnings, and life.
Workout Routine
Staying on one's top condition is the unspoken rule for an athlete, whether during the games or in leisure.
Although Andre has often shared short glimpses on his training schedule, many still love to give theories regarding his performances.
With his small built, many states that his shorter legs give him faster strides in regards to other sprinters. Anyways, back to his workout routine, there is no such specific schedule as per Andre.
With the ongoing pandemic, he makes sure to be inside his home most of the time and uses an exercise bike. Especially, this workout is mostly done when Andre has a low tempo or if it's raining.
Additionally, he also jogs around his home and uses the Peleton system for yoga and Pilates workouts. Similarly, he is involved in speed drills, push-ups, and pull-ups.
Diet Plan
Like every athlete, Andre learned a lot after his injuries and treatments. According to him, he has now improved his sleeping schedule and eating habits.
Indeed, he has been far away from junk foods and snacks. Following it, he has a sound sleep of ten hours with every chance he gets. Most importantly, he keeps himself hydrated throughout the day.
Andre De Grasse | Early Life
Andre De Grasse, the athlete, was born on 10 November 1994 in Scarborough, Ontario, under Scorpio's zodiac sign. Well, he was born to Alexander Waithe and Beverly De Grasse.
Moreover, Grasse has three siblings named; Dantee Waithe, Alexander Waithe, and Julian Waithe. As a matter of fact, both of his parents moved to Canada during their teenage days.
In fact, his mother, Beverly De Grasse, used to be a high school sprinter in Trinidad and Tobago.
Well, the information about his father is unknown. However, Alexander Waithe moved to Canada from Barbados.
As a kid, Andre was quite a confident child. He often wanted a dog as a pet. Talking more, Andre was the one to perform on stage, give presentations, and indulge his friends and teachers.
Education
While in Scarborough, Andre attended the St. Marguerite Bourgeoys Catholic Elementary School. He was there until the second grade when his parents then moved to Markham.
Right there, Andre studied in Mother Teresa Catholic Elementary School. However, it was also only up to until the eighth grade, and later, he attended Father Michael McGivney Catholic Academy.
It would be quite safe to say that Andre was quite athletic since his early days. Well, he won a race back as an eighth-grader. In the latter days, Andre attended the Milliken Mills High School.
You might want to read about Justin Gatlin's bio, his journey, lifestyle, and career.
High School
As a high schooler, Andre De Grasse initially enrolled in the basketball games. Following it, he joined the school's track and field, where his first race was in the York Region Championships.
We all know how his first race in life is the talk of the town all the time. For elaboration, in his first race, Andre appeared in basketball shorts and a borrowed spikes.
Also, he ignored the starting blocks. Despite these, he stood second in 100 meters, third in 200 meters, and seventh in the long jump.
At the same time, Olympian Tony Sharpe spotted him and invited him to his team in Pickering's Speed Academy. Therewith, it marked his beginning to learn under the coaching of Tony Sharpe.
College
"World champion? Olympic champion? Why not me? I've come this far, and I've only scratched the surface. I want to keep it going." -Andre De Grasse
At first, Andre attended the Coffeyville Community College for his college years. Eventually, after two years, he transferred to USC in 2015.
The same year with the USC, Andre ran under ten seconds and thus, became the first Canadian to do so.
Following it, he gained global attention as he won both 100 and 200 meters races in the NCAA Championships.
Andre De Grasse | Professional Career
Right after it, Andre also bagged the 2015 Pan American Games held in Ontario. Likewise, he also set the national record for 200 meters with his own 19.88 seconds.
Next, his comparison to Usain Bolt came in the 2015 World Championships in Athletics.
Well, back then, he nearly caught up to the legendary sprinter. Anyways, he won the track's marquee event and became the first Canadian sprinter to do so.
Later, the first half of 2016 was just fine for Andre as he struggled with his works. However, in the 2016 Rio Olympics, Andre gave a constant competition, and his plays were similar to that of Bolt's. Altogether, he bagged a bronze medal back then.
Additionally, he had a record of 19.80 seconds in the 200 meters, which topped the chart, and he was again the first Canadian to get into the finals of the Olympics.
With the hard start of 2017, Andre ended the whole season due to his hamstring injury.
Also, in 2018, he was supposed to be in Canada's 2018 Commonwealth Games team. However, he had already withdrawn due to his injury. Only in 2019, Andree bagged a victory in the Diamond League at Rabat 200m event.
Later, in London, he also broke the ten seconds for the Diamond League.
Therefore, he represented the Canadian team in the 2019 World Athletics Championships in Doha. Herewith, he was the first Canadian to win the World Championships.
Follow Lewis Hamilton's lavish lifestyle and earnings!
Injury
Back in the 2017 world title in London, Andre set a goal to beat Usain Bolt in the 100 meters race before the Championship ends. Well, yes, many also state their opinions and support the goal.
Unfortunately, Andre ended up with a strained hamstring and was forced to pull out of both events. Back then, his coach states that his injury was Bolt's doing. But, of course, it did store up the news.
Later, Bolt opened up in one of his interviews to state that one of whom he claimed to be great had disrespected him.
With this claim, many directly pointed out that Bolt was talking about Andre. Following it, Bolt also expressed his desire to compete against Andre in the race.
Keeping them aside, Andre was affected by his injury, and hence his rank dropped during the Shanghai game. With this, he also left behind ALTIS and his coach Stuart McMillan in Arizona.
Therefore, he had a new coach to train under, Rana Reider.
Awards
2013 Canada Games (three golds)
NCAA champion (2015)
2015 Pan American Games (gold)
2015 World Championships in Athletics (bronze)
2016 Rio de Janeiro – Summer Olympics (silver in 200 meters and bronze in 100 meters)
2015 World Athletics Championships in Beijing (bronze)
2019 World Athletics Championships in Doha (bronze)
Lionel Conacher Award
Canadian Press' Male Athlete of The Year
2017 recipient of Harry Jerome Award
Andre De Grasse | Net Worth
At present, Andre De Grasse's net worth estimates around $4 million. Although is the main source of income comes from being a sprinter, and with races, he also earns a huge amount from endorsement and other plans.
Back in 2015, Andre professionally first signed with the Puma with a contract worth $11.25 million. This contract is expected to reach $30 million with incentive bonuses.
Not to mention, this contract was the richest one for a track and field athlete.
Brand Deals
Likewise, he has several other projects and commercials under his name. Alongside IAAF, Andre starred in the 'Day in the Life' series.
Furthermore, he deals with PriceWaterhouseCoopers and a TV ad with a pizza chain called Pizza Pizza.
In the meantime, he also maintains a deal with Gatorade. Back then, he was also part of the P&G's 'Thank You Mom' campaign, where he worked with fashion brands such as Hugo Boss and Harry Rosen.
Additionally, he has recently signed with a Canadian mattress brand, ENDY. Similarly, he also features in the Honey Nut Cheerios boxes.
Overall, his deals are spread all around the area of electronics, automotive, male grooming, luxury watches, and telecommunications.
Books
Andre De Grasse has written a comic book for children aged six to ten titled "Race With Me." This book leaves the message to play and grow, a simple motivational guide to kids.
Charity
In 2016, Andre De Grasse commenced a charity event named Andre De Grasse Holiday Classic Basketball Tournament.
Yearly, he also participates in the "Holiday Classic at Markham" at Pan Am Centre, which is a basketball tournament.
In 2017, Andre also supported the WE Day, a WE Charity event in Toronto.
Click to learn in detail about Jadeveon Clowney's bio, career, earnings, and achievements.
Andre De Grasse Family Foundation
Andre De Grasse's charitable foundation works to inspire and empower youths through sport and education. It works alongside Andre De Grasse Future Champions Fund.
Well, this foundation provides mentorship and/or resources to youth across Canada. They also provide various scholarship schemes and gives strength training programs.
Andre De Grasse | Personal Life
Andre De Grasse is a married man with a daughter born in June 2018. His partner is American hurdler Nia Ali, a graduate of Pleasantville High School.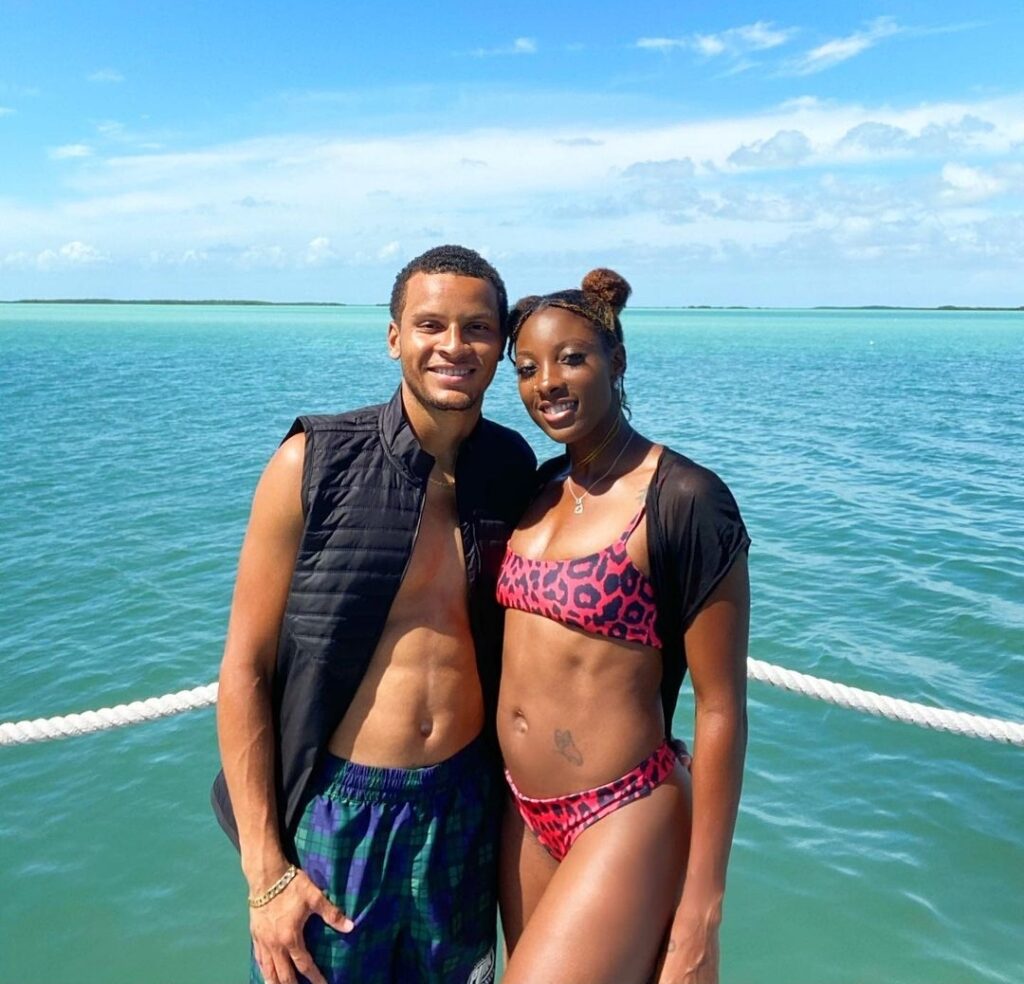 Before this, Nia Ali was tied with American Olympian Michael Tinsley. Altogether, she specializes in the 100 m hurdles, heptathlon, and other events.
Social Media
If you are interested in looking for more information about Andre De Grasse, check out his social media uploads and posts. He is on Instagram as Andre De Grasse (@de6rasse) with 256k followers.
Likewise, he is on Twitter as Andre De Grasse (@De6rasse) with 58.7k followers.
Andre De Grasse | FAQs
Where does Andre De Grasse live? Is he rich?
Andre De Grasse is reportedly living in Jacksonville. Of course, Andre is quite rich and owns several cars and luxury items.