To become a tennis player, one needs to have flexibility, speed, strength, and dynamic balance. Guido Pella has mastered all of them.
For those curious hearts, Guido Pella is an Argentine professional tennis player. The agile player turned into a professional tennis player in 2007.
Pella's highest ranking so far happens to be No. 20 in singles and No. 55 in doubles, back in 2019.
Whatever he is today, all of the credits go to his father, Carlos, and grandfather, Ronaldo Fernandez. It was them who taught him everything there is to know about tennis.
As for his current status, the handsome tennis player Guido is currently in a stable relationship with Stephanie Demner, an Argentine model.
Likewise, the duo was supposed to get married in 2020, but they postponed their wedding due to some unknown issues.
There is a lot to discuss this exciting phenomenon. But before going further, let's check some quick but valuable facts about Guido.
Quick Facts about Pella
| | |
| --- | --- |
| Full Name | Guido Pella |
| Birth Date | May 17, 1990 |
| Birth Place | Bahia Blanca, Argentina |
| Residence | Buenos Aires, Argentina |
| Nick Name | Not Available |
| Religion | Not Available |
| Nationality | Argentine |
| Ethnicity | Not Available |
| Education | Not Available |
| Horoscope | Taurus |
| Father's Name | Carlos Pella |
| Mother's Name | Charo Pella |
| Siblings | Catalina Pella, Sol Pella |
| Age | 33 years old |
| Weight | 79kg (174 lbs) |
| Height | 6 ft (1.83 m) |
| Build | Athletic |
| Married | No |
| Girlfriend | Stephanie Demner |
| Profession | Professional Tennis Player |
| Plays | Left Handed |
| Current ATP Ranking (2021) | 48th |
| Net Worth | $4.8 million or more |
| Retirement | Active |
| Social Media | Instagram |
| Tennis Merch | Shoes, Racquets, Bag |
| Latest Update | June, 2023 |
How old is Guido Pella? | Age, Body Measurement, and Horoscope
The good-looking tennis player Guido looks younger than he is. Guido, the Argentine, was born on May 17, 1990, which makes him 33 years old.
Pella lives in Buenos Aires, the capital and the largest city of Argentina, but he was born in Bahia Blanca, located in Buenos Aires' southwest.
Moreover, this attractive gentleman possesses a lean yet muscular body with a height of 6 feet. With that kind of look, he can even consider a career in modeling and acting like his fiancé.
Being born on May 17 makes Guido's sun sign Taurus. And these people are some of the most loyal, trustworthy, and holy people in relationships.
After discussing the physical aspects of Guido, let's get into his early life and family background.
Who taught Guido his first tennis lesson? Family & Sister
People often pursue a career that is encouraged and supported by their families. Similarly, Guido followed the footsteps of his father and grandfather.
Guido received his first few tennis lessons from his grandfather Ronaldo when Pella was just five, and his father, Carlos, supported him throughout his life.
Moreover, Guido is the eldest among the three children of Carlos Pella and Charo Pella. He has two younger sisters, Catalina Pella and Sol Pella.
Like, Guido, Catalina is a professional tennis player. The competitive player Catalina has won 11 singles and 11 doubles on the International Tennis Federation (ITF) circuit.
It looks like tennis runs in Pella family blood. It is good to have people in your family who understand what you do.
Guido Career | ATP Ranking
After holding the tennis racket at age five, there is no looking back for Guido. He won many titles and the hearts of millions of tennis fans.
Though Guido turned pro in 2007, he started to display his professional attitude long before that.
In 2005, Pella started playing in future tournaments and won his first title in Peru in July 2008. The same year he reached No.42 in the combined world ranking. Also, he got in the semi-finals of the French Open boy's singles.
The following year, Guido won six Future titles. But his participation in ATP Challenger did not occur until the end of 2011.
His first match occurred in Ecuador against Matteo Viola, which he lost in straight sets.
The competitive soul, Guido completed the 2011 season holding the world rank of no. 350 in singles while coming at no. 501 in doubles.
In Ecuador, the Challenger brought Pella his first victory in 2012 against Paolo Lorenzi at Salinas Challenger.
Similarly, he won his first doubles Challenger title, partnering with Martin Alund at the Pereira Challenger in Colombia.
Moreover, Guido faced defeat in the French Open qualifying draw against Tommy Haas, a former world no. 2 champion.
Soon his defeat got compensated with victory. In September 2012, Guido won the Campinas Challenger defeating Alex Bogomolov, Jr. and Leonardo Kirche in Brazil.
Similarly, the same year Pella was ranked world no. 97 in singles and world no. 187 in doubles which were his career-high.
How did Guido's career go after 2012?
In the 2013 Australian Open, Guido faced Amir Weintraub; he lost in the first round. Then he went against Federico Delbonis in Vina del Mar; Guido faced defeat again.
After a few setbacks came the Brasil Open, when he won his first ATP World Tour-level match against Fabio Fognini, but Guido lost against David Nalbandian in the second round.
March 2019 came with a significant win for Guido; he won his first title in the Brasil Open. The determined player, Pella, defeated Christian Garin.
In July of the same year, Guido reached his first Grand Slam singles quarterfinal at Wimbledon.
Guido has played five ATP world tour singles; he won 1 and lost 4. As of 2021, ATP has ranked him at no. 48 in singles.
Guido has experienced good times and bad in his career, yet he is determined to continue with the same agility and enthusiasm.
You may also want to read: Rafael Nadal Bio – Personal Life, Tennis Career & Net Worth >>
Novak Djokovic strongly supported Guido Pella and Hugo Dellien during Covid-19.
The Serbian tennis player Novak Djokovic and a few other players criticized the United States Tennis Association (USTA) for removing Guido Pella and Hugo Dellien from the Western and Southern Open last year.
They got disqualified when their trainer, Juan Manuel Galvan, tested positive for Covid-19 Infection.
Both Pella and Dellien got negative test results, yet the USTA removed them. Unfortunately, that decision also had decreased their playing in US Open.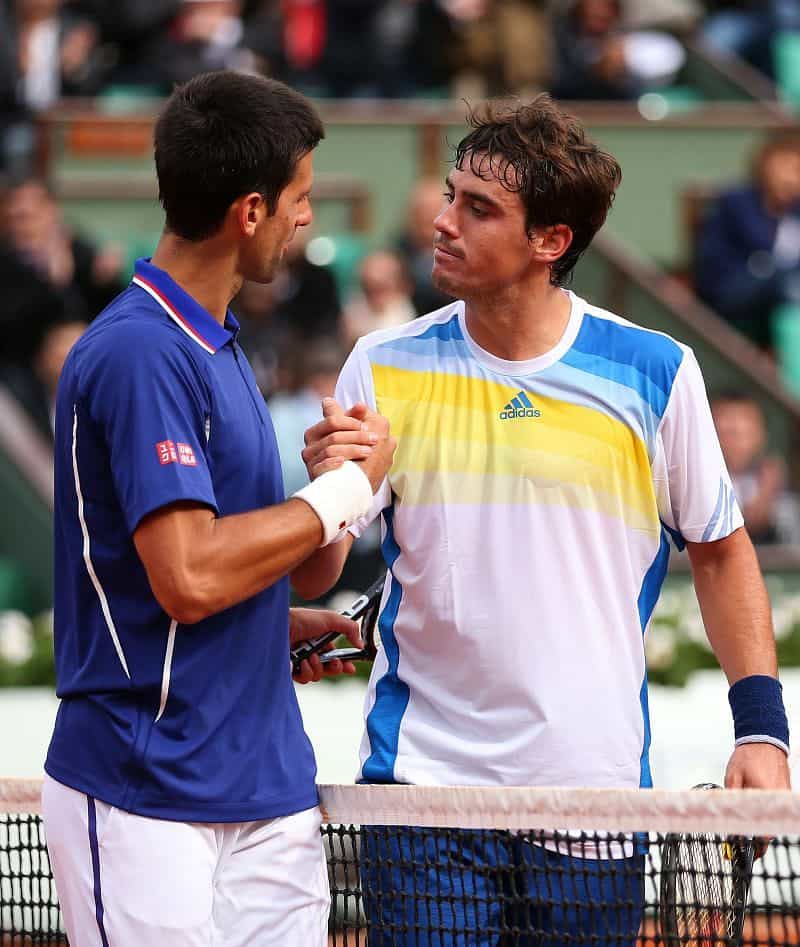 Novak, along with other tennis players, had a Zoom meeting where they got the information about who is eligible to play in the USTA doctor's tournament.
The doctor said that if a player is not in the same room with the infected person and shows negative test results, he/she can play.
The decision was contradictory in the case of Pella and Dellien. Naturally, therefore, the top-ranked player Djokovic got miffed with the USTA.
For details about this news, read Djokovic angry with the USTA for removing Pella & Dellien >>
Who is Pella dating? Girlfriend, Wife, Marriage
The ambitious tennis player Pella has been dating Stephanie Demner, an Argentine model and TV personality. However, in most of her social media posts, the gorgeous lady looks picture-perfect with Guido.
Moreover, the gorgeous couple seems to enjoy time with each other no matter where they are.
Guido may seem a bit shy, but Stephanie's social presence somehow balances their energy.
The couple got engaged in 2019 and were all set to marry last September 2020, but they had to postpone it.
After announcing their wedding's postponement, Stephanie said that their marriage did not occur even after preparation. Guido's fiancé, Demner, added she even had her wedding dress ready long before the wedding date.
Though the beautiful couple has rescheduled the wedding date, it is unknown for now.
Further, Stephanie said she would have a second dress for her marriage whenever they get married.
The stunning duo, Guido and Stephanie, are likely to get married this year or next when Guido has all playing schedules worked out.
If you want to know more about Stephanie Demner, you can check his Instagram account.
The supermodel, Demner, has earned more than a million followers on her Instagram. All their fans and well-wishers would love to see them together sooner than later.
Guido Pella | Net Worth
The good-looking athlete Guido earns most of his net worth playing tennis. However, he has been active professionally since 2007 and has earned himself great value.
As of 2023, Guido Pella has an estimated net worth of $4.8 million or more.
With the kind of talent Guido possesses, he will surely increase his value in the future. And who knows what Guido might pursue, which may add to his value.
Net Worth of Guido Pella in Different Currencies
Below is the net worth of Guido Pella in different currencies, including the Euro and Dollar.
Currency
Net Worth
Euro
€

3,551,760

Pound Sterling
£

3,017,180

Australian Dollar
A$

5,600,280

Canadian Dollar
C$

5,150,120

Indian Rupee
₹

305,670,000

BitCoin
฿

84
Also, read Ugo Humbert Bio: Early Life, Tennis, Career & Net Worth >>
Guido on Social Media Scene
We can often get a peek into stars' and athletes' lives through their social media accounts. Some people are shy, but others are transparent about their life events.
Guido seems to be an amalgamation of both. The competitive player Guido has an Instagram account, where he has 174k followers and 409 followings.
Moreover, his Instagram gives glimpses of Guido's remarkable life with beautiful pictures of him with Stephanie, his matches, and traveling worldwide.
He knows how much information to give to his fans and followers to come for more.
FAQs
Who did Guido Idolize in tennis? Who won between Guido Pella and Alexander Zverev?
While growing up, Pella looked up to Roger Federer, a legendary tennis player.
Between them two, Alexander Zverev took the win.
When did Guido start playing tennis? What is his clay record or career statistic like?
Guido was born to tennis coach Carlos, his father, who inspired Guido to play tennis at five. After that, Pella never looked back.
As for his match statistic, Guido has a single career record of 119–138 with his current ranking at No. 101.
Likewise, he maintains his double career record with 37–62 and the current ranking at No. 158.
Is Guido's sister also a professional tennis player?
Yes. Guido is the eldest among the three. He has two sisters, Catalina and Sol. Catalina also is a professional tennis player.
What happened to Guido Pella?
Well, Guido Pella got into a knee injury during the Australian Open match in Moscow in mid-October.
Well, he was to be sidelined until at least after the Australian Open in mid-January. However, he hasn't yet returned to the field.