Hanna Oberg is a rising star in the realm of Biathlon. Her life has always been filled with physical activity, fresh air, and a constant desire to improve.
She has orienteered, played football, and biathlon. Hama has always enjoyed all kinds of sports in the forest and mountains.
However, it was during the biathlon that her heart skipped a beat.
Hanna enjoys her life as an elite athlete. It is a demanding lifestyle. However, Hanna has never felt like she is sacrificing anything.
It gives her a lot to work towards different goals as it is a development that drives her the most.
Hanna loves practicing every day and reaching closer to perfection every day.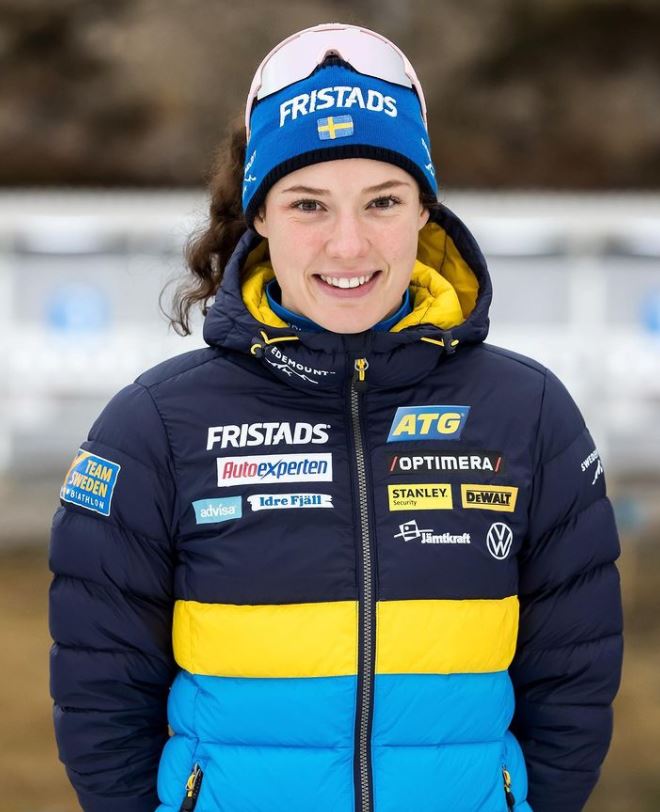 Today, we have accumulated all the information about Hanna Oberg in this article.
So, read the article until the end and learn everything you need about the Olympian.
Quick Facts
| | |
| --- | --- |
| Full Name | Hanna Öberg |
| Nickname | Hanna |
| Date of birth | November 2, 1995 |
| Age | 28 years old |
| Nationality | Swedish |
| Ethnicity | White |
| Religion | Christianity |
| Horoscope | Scorpio |
| Chinese Zodiac sign | Pig |
| Place of birth | Kiruna, Sweden |
| Hobbies | Skiing, Cycling, Walking around |
| Languages | Swedish, English |
| Food Habit | Non-vegetarian |
| Sexual Orientation | Straight |
| Father's name | Not available |
| Mother's name | Not available |
| Siblings | Elvira Oberg |
| High School | Not available |
| Profession | Biathlete |
| Height | 5 feet 10 inches |
| Weight | 65 kg |
| Sport | Biathlon |
| Club | Piteå Skidskytteklubb |
| World Cup Debut | November 27, 2016 |
| Olympic Medals | 2 (1 gold, 1 silver) |
| World Championships Medals | 7 (1 gold, 2 silver, 4 bronze) |
| Individual podiums | 24 |
| All podiums | 40 |
| Hair Color | Blonde |
| Eye color | Brown |
| Married Status | Not married |
| Boyfriend | Martin |
| Salary | Under review |
| Net worth | $1.5 Million |
| Social Media | Facebook, Instagram, Twitter |
| Merch | Ski Bag and Ski Boot Bag |
| Last Update | November 2023 |
Hanna Oberg: Age and Body Measurements
The Olympian, Hanna Oberg, was born in the year 1995. So, she is currently 28 years old.
Hanna was born in the Pig year, according to the Chinese calendar. It is the twelfth year of the 12-month Chinese zodiac calendar.
Talking about Hanna's physical appearance, she has a slender body and looks very attractive. She maintains her body with healthy nutrition and daily exercise like skiing, cycling, etc.
Further, the Swedish biathlete stands tall at 5 feet 10 inches and weighs around 65 kg.
Likewise, Hanna does not have any tattoos on her body. Further, Oberg looks beautiful with her blonde hair and brown eyes. Her nationality is Swedish, and her ethnicity is White.
Further, Hanna's zodiac is Scorpio. Sapiens with the Scorpio sign is competitive, brave, and versatile. They are also great advisors and mentors.
Hanna Oberg: Career
Hanna Öberg was born on November 2, 1995. She is a Swedish female biathlete.
Hanna is the pride of Sweden as she has represented and led her country to victory in the international arena.
The talented athlete has been good at biathlon since her early days. To those who do not know, biathlon is a winter sport. It is a mix of cross-country skiing and rifle shooting.
Further, the biathlon is treated as a race, and contestants ski through a cross-country trail. The distance is also divided into shooting rounds.
Hanna won the IBU Female Rookie of the Year Award as a rookie. It was back in 2017, which was also her World Cup debut season.
Hanna won the rookie award alongside her male counterpart, Sebastian Samuelsson.
Don't miss out on Marcel Hirscher: Olympic Skiing Champion & Net Worth>>
Victory at Olympics
Hanna has also represented Sweden in Olympics. She bagged the gold medal at the 2018 Winter Olympics in Pyeongchang, China. She won the gold in the individual category after four clean shootings.
The victory at the Olympics was of great importance to Hanna, as it was the first podium of her career.
It was also the first victory of her professional career. Hanna's previous best was fifth place in the World Cup before the Olympics.
Her winnings at the Olympics did not end in the individual category. She successfully secured the silver medal in the relay race.
Additionally, she claimed the fifth position in both the mass start and the pursuit. Further, Hanna stood seventh in the sprint.
2019 Biathlon World Championships
The Olympics gold was just the beginning of Hanna's career. Following the Olympics, she achieved another success at the 2019 Biathlon World Championships in Ostersund.
In the World Championships, Hanna claimed first at the individual with a perfect shoot. Likewise, she also placed fourth in the sprint and fifth in the pursuit.
A thing that needs to be noted is that Hanna is the first female biathlete to win the individual World Championship title and the Olympic individual gold consecutively.
Likewise, in 2018, Hanna received the Svenska Dagbladet Gold Medal. The Jerring Awards followed the Svenska in 2019.
Further, in July 2019, she also received the Victoria award.
Hanna Oberg's Sister, Elvira Oberg
Hanna Oberg has a younger sister named Elvira Oberg. Elvira was born on February 26, 1999. Hence she is only four years younger than her sister.
Elvira is no less than Hanna when it comes to Biathlon. Despite being young, Elvira is a tough competition to her. Just like Hanna, Elvira shares a passion for biathlon.
Elvira clinched three gold medals at the 2018 Biathlon Junior World Championships. The event was held in Otepaa. Elvira had participated in the youth category. Elvira bagged the three gold medals at the 10 km individual, the 3 × 6 km relay, and the 6 km sprint, respectively.
Further, Elvira also stood twelfth in the sprint at the Biathlon World Cup held in Ostersund. The World Cup was Elvira's debut World Cup.
The Oberg sisters now participate in various races together. They also go on adventures together.
After getting defeated by her sister, Elvira posted on Instagram with the caption:
"After two heavier days on the track, it was nice to get revenge on today's long-distance competition🥈 After a tight fight, I finally got defeated by 1.1s by my sister🤷🏻‍♀️ but next time it's my turn, or what do you say @hannaaoberg? 😉"
Hence, we can see that despite being competitors, the sisters share an incredible bond and always support each other.
They are the shining stars of Sweden. Both of them constantly post about each other on their social media. They use the caption "Team Oberg" whenever they post a picture of themselves.
Further, they constantly comment on each other's posts and show their love and support.
Annecy Biathlon World Cup
Recently, the sisters together participated in the Annecy Biathlon World Cup. The World Cup was held in France, and Elvira won her first International Biathlon Union (IBU) Cup.
Elvira Öberg shared a special moment on the podium with her sister Hanna after the win. Further, Elvira posted on her Instagram handle with the caption, "A DREAM COME TRUE."
Hanna also celebrated her sister's win. She posted on her own Instagram a picture of her hugging Elvira and captioned it as " En stor dag idag!🥇🥉😭❤️" which translates as "Good morning today! 🥇🥉😭❤️".
The win was Elvira's fourth win in December 2021.
Hanna Oberg: Relationship
Hanna Oberg is currently in a relationship with Martin Ponsiluoma.
Martin is also a Swedish biathlete. He was born on September 3, 1995, the same year as Hanna.
Martin is a talented and versatile athlete. He also represents Sweden in the international arena. Moreover, Martin also participated in the 2018 Winter Olympics.
Marin's first time in a World Cup podium position was on 20 December 2018. It was in the Nové Město na Moravě in Czech Republic. Martin stood third in the competition.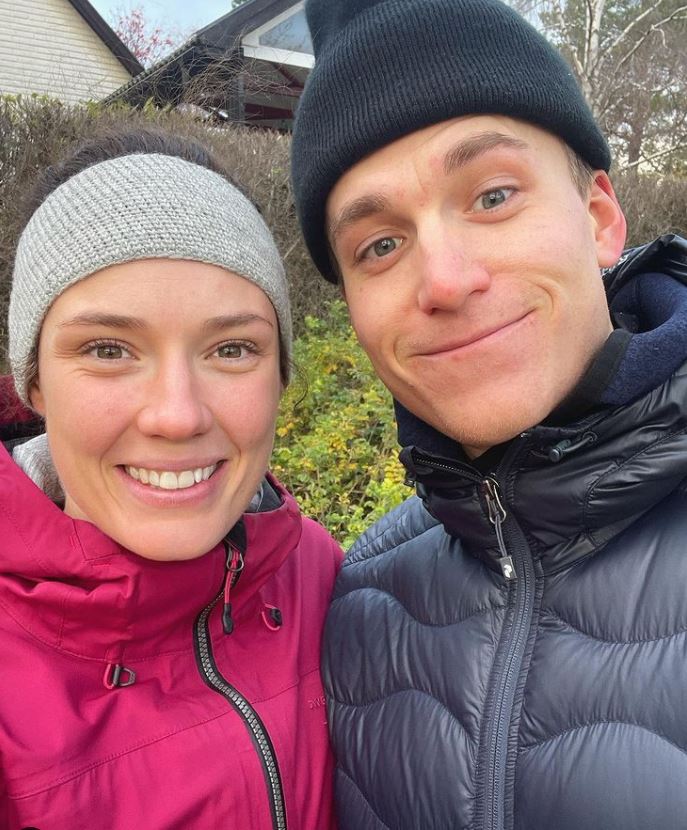 Likewise, Martin also won the gold medal in the sprint in the 2021 World Championship. The 2021 win was his first world cup win.
After the World Championship, Martin Ponsiluoma and Hanna Oberg got together in 2021. Hence, their relationship is quite new and filled with love.
The couple does not hesitate to portray their love for each other on social media.
Hanna Oberg: Ex-Boyfriend
Before Hanna got together with Martin, she was dating Jesper Nelin.
Nelin is also a Swedish biathlete. He was born in 1992, making him three years older than Hanna.
Nelin and Hanna were long-time lovers until they broke up in 2021 and chose a different partner for each other.
Like Hanna and Martin, Nelin is also a part of the Swedish National team and represents the country in various international events.
He competed in the World Cup and represented Sweden in the 2016 World Championship in Oslo, Norway.
Further, Nelin also bagged the gold medal in the 2018 Pyeongchang Olympics. The win was in the biathlon relay, where he won the gold with the Swedish team, along with Sebastian Samuelsson, Fredrik Lindström, and Peppe Femling.
Also Related: Alex Ferreira Bio | Career & Net Worth>>
The Love Drama
Before Martin Ponsiluoma dated Hanna, he was in a relationship with another Swedish biathlete, Fanny Johansson.
However, after the 2021 World Championship, Martin got close to Hanna and the couple soon got together. Martin broke up with Fanny.
Likewise, Hanna also left Jesper Nelin for Martin.
Hanna Oberg, Martin Ponsiluoma, and Jesper Nelin are a part of the Swedish National Team.
After Hanna and Martin left their partners for each other, their exes, Fanny and Nelin, got together.
When Hanna and Matin got together, Nelin was disappointed. After that, he started talking to Fanny. Talking to Fanny helped, and he also started getting closer to her.
So, currently, Fanny and Nelin are also dating each other.
After the change in boyfriend, Nelin exclaimed that the mood of the national team had deteriorated. However, Oberg and Martin stated they had no problem with Nelin getting together with Fanny.
Although there aren't any obvious hard feelings between the athletes, the Swedish National Team coach is worried that the love Drama might affect their performances.
Both couples share their moments with their new partners on their social media. Although Nelin posts pictures with his new girlfriend on his handle, we can still see his older posts with Hanna on his Instagram handle.
When Nelin won the 2018 Olympics, he shared a picture alongside Hanna with the caption, "The best girlfriend in the world🥇❤️#olympicgold #pyeongchang2018."
The post can still be found on his Instagram handle.
Social Media
At present, the Olympian is on Instagram, Facebook, and Twitter. She has thousands of followers altogether.
Hanna usually shares information related to her personal and professional life on her social media platforms.
If you guys are curious about Oberg and her lifestyle, feel free to follow her on her following accounts:
Facebook: Hanna Oberg (9.5k followers)
Instagram: @hannaoberg ( 101k followers)
Twitter: @hannaoberg (2.4k followers)
Hanna does not have a YouTube channel yet.
However, her videos are posted on YouTube by various sports channels, including the official channel of the Olympics. As a result, all her videos have many views.
Get to know Mario Matt Bio | Career & Net Worth>>
Hanna Oberg: Net Worth
The Olympian has accumulated enough wealth through her successful career to earn a lavish life.
Hanna secured an Olympic gold early, and the girl still awaits a more prosperous life.
The estimated net worth of the Swedish athlete is $1.5 Million.
Besides, the information about Hanna's salary, houses, cars, etc., is still under review.
Frequently Asked Questions
Why did Hanna Oberg choose Biathlon?
For Hanna, biathlon has the ultimate blend of physical and mental exertion. To push the body to its maximum in skiing, switch to high precision and entire focus in the shooting.
To stand on the last shot, shoot for medals, and enjoy the situation. She has always loved every bit of Biathlon.
When did Hanna start skiing?
Hanna started skiing when she got her first pair on her second birthday. It was a gift to her from her parents.