Harrison Barnes is unlikely to be at the top of anyone's list of today's biggest NBA stars. On the other hand, the forward has amassed quite an impressive resume during his time on the court.
Following his 29-point performance against the Bucks, Harrison Barnes became one of only 55 active players with over 10,000 career points.
When the Kings need a big basket, they often turn to Barnes, who has delivered on numerous occasions during the seasons.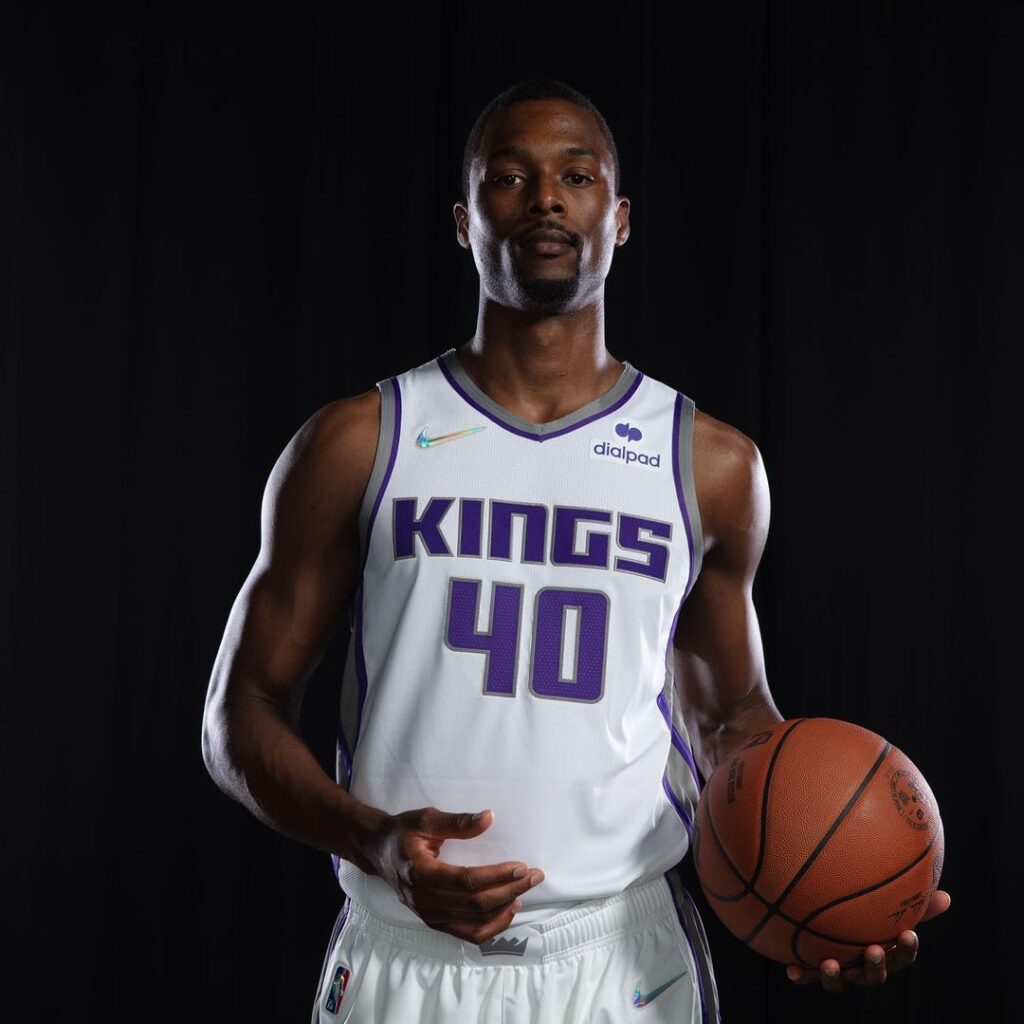 His game is versatile, and his ability to hit an outside shot is just as valuable as his ability to back down his man in the post and hit a tricky layup.
During his time with the Kings, Barnes has been one of the team's most dependable players. He is the team's second-leading scorer (16.3 PPG), trailing only De'Aaron Fox, and he also has the third-most rebounds.
In addition to his extraordinary play on the court, Harrison provides the veteran leadership that every team requires, especially one of the NBA's youngest teams.
Quick Facts
Full Name
Harrison Bryce Jordan Barnes
Known as
Harrison Barnes
Nickname
The Black Falcon / The Senator
Birth Date
May 30, 1992
Birth Place
Ames, Iowa
Residence
Not Available
Religion
Christianity
Nationality
American
Ethnicity
African American
Education
Ames (Ames, Iowa) and North Carolina (2010–2012)
Zodiac Sign
Gemini
Father's Name
Ronnie Harris
Mother's Name
Shirley Barnes
Siblings
Jourdan-Ashle Barnes (sister)
Age
30 years old
Height
6 feet 8 inches
Weight
225 lb (102 kg)
Eye Color
Brown
Hair Color
Black
Body type
Athletic
Profession
Basketball Player
Marital Status
Married
Wife
Brittany Johnson
Children
1 (daughter)
Active since
2012– present
Teams
Golden State Warriors
Dallas Mavericks
Sacramento Kings
Endorsements

Harman International, Hy-Vee, PepsiCo, and United Sports Brands.

Net Worth
$23 million
NBA Draft Pick
2012 / Round: 1 / Pick: 7th overall
Position
Small forward and Power forward
League
NBA
Merch
Basketball Card
Social Media
Instagram, Twitter, Facebook
Last Update
April 2023
High School Career
Scout.com and the ESPNU 100 ranked Harrison Barnes as the top player in the class of 2010. Rivals.com ranked him second in the world.
Barnes and teammate Doug McDermott led Ames High School to an Iowa 4A state championship in his junior year, where he had 24 points and eight rebounds in the final, capping a 26–0 season.
Barnes and McDermott led Ames to a 27–0 season and a second straight Iowa 4A state championship in his senior year, becoming Iowa's first big-school class to go undefeated in consecutive seasons.
Barnes finished his high school career as the all-time leading scorer at Ames High School, with 1,787 points.
He also competed in the Jordan Brand Classic in 2010, where he was named co-MVP alongside Kyrie Irving.
On March 10, 2010, Barnes received the Morgan Wootten Player of the Year Award, given to the best player in the country. Barnes earned nine AP credits before graduating from high school.
Recruitment
Barnes received scholarship offers from Duke, Iowa State, Kansas, North Carolina, Oklahoma, and UCLA.
Barnes visited Kansas twice unofficially, once for Late Night in the Phog in October 2008 and once for a spring game against Tennessee.
He made official visits to North Carolina, Duke, Kansas, UCLA, and Oklahoma, but he did not make an official visit to Iowa State. Instead, he visited unofficially because he lived only a mile from campus.
Barnes contacted North Carolina coach Roy Williams via Skype on November 13, 2009, to announce his decision to join the Tar Heels.
You might like; Nick Johnson Bio: Net Worth, Career & Wife>>
Barnes scored 21 points in his North Carolina debut against the Commonwealth Bank Giants in an exhibition game in the Bahamas. UNC won the game with a score of 130–87.
Barnes hit the game-winning three-point shot against Miami, giving the Tar Heels the lead with 6.6 seconds remaining.
He nailed a three-point shot to give the Tar Heels the victory against Florida State just a few weeks later.
On April 18, 2011, Barnes announced that he would return to North Carolina for his sophomore season despite being projected as a lottery pick in the 2011 NBA draft.
Barnes was considered a possible first-round pick, along with Jared Sullinger, Kyrie Irving, and Derrick Williams. He was the ninth player in school history named ACC Rookie of the Year and the fourth under coach Roy Williams.
Barnes scored the most points in the ACC tournament as a freshman since Phil Ford scored 78 points in 1975. He had the most points of any UNC freshman in history in the NCAA tournament, scoring 84.
Harrison Barron: Height & Weight
Harrison Barnes stands 6 feet 8 inches (2.03 m) tall, just one inch taller than the NBA's average size. Likewise, he weighs 225 lb which is 102 kg.
When Harrison is not competing on the field, he is almost always the tallest man in the room, with the average height of an American man being 1.79 meters.
Professional Career
When draft night arrived, Barnes was selected seventh overall by the Golden State Warriors.
His versatility aided him in making an immediate impact, and he started 81 games as a rookie. While Barnes was the sixth man during his sophomore season, things only got better.
Barnes returned to the Warriors' starting lineup after Steve Kerr took over on the bench. Before leaving town in free agency, he was a vital member of the 2015 championship team and the 72-win 2015-16 team.
Barnes signed with the Dallas Mavericks but was traded to the Sacramento Kings in February 2019. While those teams did not have the same success as the Warriors, the forward has proven to be a capable player.
Barnes has played for three different NBA teams and has scored over 3,000 points in each, including 3090 in Sacramento. He hopes there will be many more.
Improvement on Basketball Skills
So far, Barnes' scoring profile has primarily excluded the midrange. He made 75 percent of his shots from three feet or less throughout his career. That figure now rose to nearly 93 percent in 2021-22. His shooting has also been highly versatile.
He's used in pick-and-pops and stagger screens, as well as as a stretch big. Defenders' fate is written when they provide airspace on dribble handoffs.
In close fights, he's shown a talent for accelerating his release to avoid being bothered by their presence.
He's even knocked down five of his ten pull-up long balls, and these aren't your average attempts. A few of his buckets show off some serious shot-making prowess.
Don't miss out; Kostas Antetokounmpo: Career, Family & Net Worth>>
Harrison Barnes married Brittany Johnson, his girlfriend with whom he had a long-term relationship.
The couple married in July 2017 in Newport, Rhode Island, at a star-studded ceremony in Oceanside, after getting engaged in August 2016 while on vacation in Costa Rica.
Mrs. Barnes was raised in San Francisco. She graduated from Spellman College with a B.S. in English and Literature and the University of North Carolina with a B.S. in Global Studies and African-American Studies.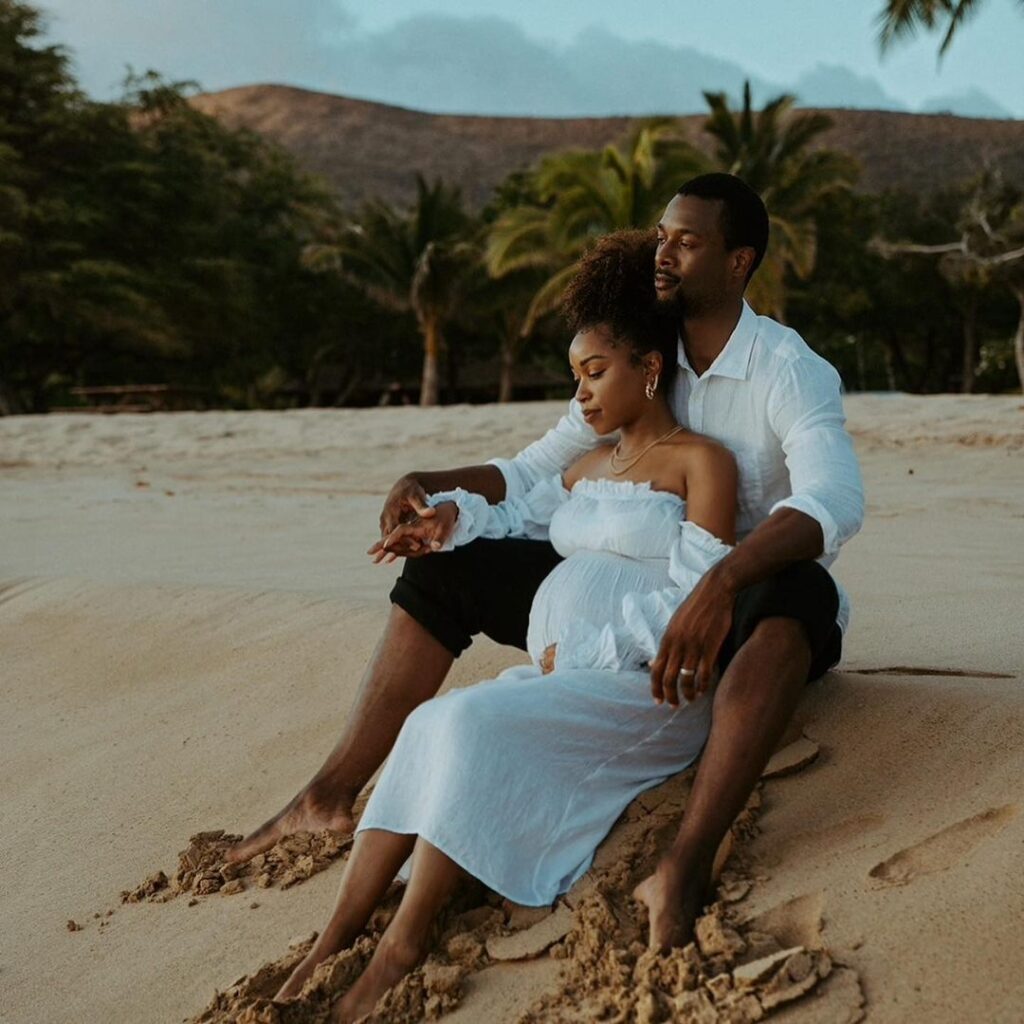 It would be an understatement to say they aren't into the glitz and glamour that many fans and players associated with the NBA, particularly for Brittany.
She laughs at how unlikely their relationship appeared during a chance meeting with Harrison when they were both students at the University of North Carolina.
Brittany was so far removed from any sort of basketball life at UNC that she had no idea her university was more renowned for being Michael Jordan's school than for the superior journalism department for which she had traveled cross-country.
How Did Harrison Barnes and Brittany Johnson Meet?
Harrison and Brittany Barnes, then senior year college students out with their friends catching some food on a typical summer day, ended up meeting in the [B]Skis food court on Franklin Street in Chapel Hill.
The minor incident grew into a love story between the two that only they knew about at the time.
Harrison connected when he realized he wanted Brittany more than anything else. Like a hopeless romantic, he threw his moves on impressing the girl who wasn't into Basketball players at the time.
Harrison practiced his Hollywood moves to get Brittany's number and meticulously scouted out her favorite ice cream flavor.
It wouldn't be an exaggeration to say that the ice cream served as a catalyst for Brittany, who stood impressively watching the NBA player outside her house holding her favorite Java chip ice cream!
Mr. Basketball's unwavering spirit altered the course of events. His ignore calls and texts were soon answered, and the couple made their relationship official in November 2012.
Harrison Barnes: Net Worth
As previously stated, Harrison Barnes has yet to reach the pinnacle of NBA stardom.
That reality hasn't stopped the forward from earning a sizable salary and amassing a sizable net worth.
Harison Barnes' net worth is estimated to be $23 million as per CelebrityNetWorth.
Even if that figure pales compared to LeBron James, it's still nothing to sneeze at.
Barnes has earned more than $127 million in salary by the end of the 2020-21 season, according to Spotrac's financial data.
While he was a vital member of the Warriors' championship team, the forward only earned $12 million during his time in the Bay Area. However, his earning potential has grown since then.
In 2016, he signed a four-year, $94 million contract with the Mavericks, and in 2019, he signed a new $85 million contract with the Kings.
Barnes is sponsored by Harman International, Hy-Vee, PepsiCo, and United Sports Brands.
First NBA Paycheck
When you think of big-time NBA players making millions of dollars per season, it's easy to imagine them spending it all on cars, mansions, and other 'toys.'
On the other hand, Sacramento Kings forward Harrison Barnes has chosen to focus on something else.
While the NBA champion now has a sizable net worth, things were a little different when he first entered the league. Harrison used his first big check as a rookie to ensure he got a good night's sleep.
Harrison Barnes' net worth leads him to afford almost anything he wants. However, when he first joined the league, he was more concerned with something more mundane: a new mattress.
While going mattress shopping isn't the most exciting activity in the world, Barnes wasn't afraid to put in the effort to find his ideal sleep setup. If anything, he felt it was "like Christmas," and he was there to get his present.
Harrison Barnes: Family
Harrison Barnes was born to Shirley Barnes and Ronnie Harris. However, he was raised solely by his mother after his father abandoned him and his younger sister to care for Barnes' ailing grandparents, but he never returned.
In late 1991, the future mom of Dallas Mavericks veteran forward Harrison Barnes was unmarried, facing financial difficulties, and soon discovered she was carrying a baby boy.
Shirley spent a large portion of her free time obsessively analyzing films of her favorite basketball player, Michael Jordan, as Harrison grew in his mother's womb.
She was meticulous in analyzing how MJ slashed the lane, dazzled opponents with flawless shooting, and shrugged his way to greatness. She admired his competitive spirit and dedication to excellence both on and off the court.
Shirley gave birth to Harrison Bryce Jordan Barnes on May 30, 1992, during Game 6 of the NBA Eastern Conference Finals.
That night, the man after whom he was named went on to score 16 of his 29 points in the fourth quarter as Jordan and the Chicago Bulls advanced to the NBA Finals for the second consecutive season.
From Homelessness to NBA
Shirley faced one of her most difficult challenges when Harrison was three months old. It turned out to be her and her son's first experience with homelessness.
Shirley was preparing to move into public housing when officials called two weeks before her move to tell her she didn't qualify.
She was forced to swaddle her son in a baby blue blanket and walk through the doors of a local homeless shelter because she was desperate and had few resources.
The family fished for coins between seats or ate very little to afford basketball registration fees to get a few dollars for gas. Shirley's memories are still vivid even after all these years.
Harrison was too young to recall his humble origins. But he remembers vividly the extraordinary life his mother provided for him and his younger sister, Jourdan-Ashle Barnes, who was also named after Michael Jordan.
Charity Works
Throughout his eight NBA seasons, Harrison Barnes and his wife, Brittany, have worked hard to connect with those in the various communities in which they live.
Barnes donated $25,000 to a different foundation for each game he played in the NBA's bubble, highlighting their mission on his various social media.
One of the eight organizations he chose was the Atatiana Project, which focuses on assisting children in pursuing careers in science, math, engineering, and technology.
He has contributed nearly $200,000 to renovating his alma mater, Ames High School in Iowa.
He gave $40,000 to deliver weekly groceries to Sacramento families and seniors and another $40,000 to provide daily meals to the Dallas Independent School District.
Harrison and his wife hope to continue imparting change off the court whenever that may be.
Interests
Barnes' mother worked as a secretary in Iowa State's music school, so he attended concerts there as a child. He admired how a large group of people could come together and play as one.
In fifth grade, he began playing the instrument and marched in the band throughout high school; he also played cello. Last season, Barnes competed in the NBA Talent Challenge on alto sax, performing John Legend's "All of Me."
Barnes has expressed some interest in a political career after his basketball career is over, whether he was serious or not.
Growing up in Iowa, the first state to hold a presidential caucus each cycle, the young wing has witnessed how competitive election races can be.
Read about; Bam Adebayo: Career, Net Worth & More>>
Harrison Barnes: Most Disrespected NBA Player
Harrison Barnes is one of the NBA's most underappreciated and overlooked players. He may be one of the league's most overlooked assets. The first factor that contributes to Barnes' common misconceptions is his reputation.
Following his poor performance in his final games with the Warriors, he was rewarded by Mark Cuban and the Mavericks with a $22 million per year contract that many claimed he did not deserve.
Later, he signed a four-year contract with Sacramento that would pay him $24 million in the first year.
Big bucks for a guy who had only played 28 games for Sacramento and had averaged 14.3 points per game.
Not only does Barnes have a reputation as an overpaid role player in the NBA, but a large portion of the Kings fan base is also unhappy with his contract and overall position on the team.
Awards & Achievements
NBA champion (2015)
NBA All-Rookie First Team (2013)
First-team All-ACC (2012)
Second-team All-American – NABC (2012)
ACC Rookie of the Year (2011)
No. 40 honored by North Carolina Tar Heels
Mr. Basketball USA (2010)
McDonald's All-American Game Co-MVP (2010)
First-team Parade All-American (2010)
Second-team Parade All-American (2009)
Social Media Presence
Harrison Barnes is active on various social media platforms. Below is the link to his social media accounts;
Instagram– 1m followers
Twitter– 593.2k followers
Facebook– 1m followers
FAQs
Is Harrison Barnes GOOD?
Barnes isn't a star in the NBA, but he's versatile, dependable, and a significant minutes eater for the Kings. Despite the Kings' overall struggles, he receives a solid grade. However, this is typical of many of Sacramento's top rotational players.
How many seasons has Harrison Barnes played?
Harrison Barnes has played for the Warriors, Kings, and Mavericks over the course of ten seasons. In 713 regular-season games, he averaged 14.0 points and 5.1 rebounds.
Does Harrison Barnes have a kid?
Harrison Barnes, a former North Carolina star, announced on Instagram in late 2021 that he and his wife Brittany are expecting their first child, a girl.