Batting in Test cricket is different from batting in other game formats. This is because the match has the longest duration and is considered the highest standard format in cricket.
The test match is played for a five-days between two teams. It examines the team's ability and endurance. Therefore, very few of the biggest batsmen also fail to replicate their feats of one-day or Twenty-20 in Test matches.
Keeping this in mind, we are back with the list of the batsmen with the highest test batting averages in cricket history.
So, let us go through this list together without further delay, shall we?
Top 12 Batsmen With Highest Test Batting Averages
This list has been created with the help of various sources from the internet like ESPNcricinfo.com. But before hopping into the details, let us take a quick look at the table below.
| | |
| --- | --- |
| Players Name | Batting Average |
| 12. Kumar Sangakkara | 57.40 |
| 11. Garfield Sobers | 57.78 |
| 10. Wally Hammond | 58.45 |
| 9. Everton Weekes | 58.61 |
| 8. Ken Barrington | 58.67 |
| 7. Eddie Paynter | 59.53 |
| 6. Steve Smith | 59.87 |
| 5. Herbert Sutcliffe | 60.73 |
| 4. George Headley | 60.83 |
| 3. Graeme Pollock | 60.97 |
| 2. Adam Voges | 61.87 |
| 1. Don Bradman | 99.94 |
12. Kumar Sangakkara
We will start our list with former Sri Lankan cricketer and commentator Kumar Sangakkara. Kumar is regarded as one of the greatest wicket-keeper-batters in cricket history.
In his career span of 15 years (2000-2015), Sangakkara was rated officially in the top three current batters in the world in all three formats of the game. Likewise, this left-handed batsman played the wicket-keeper position in his playing career.
At his retirement, Sangakkara had 28,016 runs in international cricket in all formats. Similarly, he was the second-highest run-scorer in ODI cricket and the sixth-highest run-scorer in Test cricket.
According to Wisden Cricketers' Almanack 2012 and 2015 editions, he was selected as the leading cricketer. Sangakkara received many awards, and he held many records in his playing career.
In 2019, he became the president of the Marylebone Cricket Club. In addition, Sangakkara was the second Sri Lankan to be inducted into the ICC Cricket Hall of Fame in 2021.
Various cricket tournaments attract fans of the sports worldwide. Read here about famous cricket tournaments!
11. Garfield Sobers
The next batsman with a batting average of 57.78 is Sir Garfield Sobers. He is a former West Indies cricketer regarded as the greatest ever all-rounder and greatest cricketer of all in cricket history.
Sobers was a highly skilled bowler, an excellent fielder, and an aggressive left-handed batsman. At 16, the batsmen made his first-class debut for the Barbados cricket team in 1953.
The following year, Sobers made his Test debut. In 1958, the Barbadian cricketer scored his maiden Test century and recorded the highest individual score in an innings.
Likewise, he served as captain for the West Indies from 1965 until 1972. Sobers played 93 Test matches for the West Indies and scored 8.032 runs during his playing career.
He has the fifth-highest batting average in Test cricket in the list of cricketers with more than 5,000 runs. Moreover, for his services in cricket, Queen Elizabeth II knighted Sobers in 1975.
Garfield was inducted into the ICC Cricket Hall of Fame in 2009.
10. Wally Hammond
Born as Walter Reginald Hammond, Wally Hammond was an English first-class cricketer who played for Gloucestershire. Born on June 19, 1903, he is considered the best English batsman of the 1930s.
Hammond's professional career spanned from 1920 to 1951. However, it was only from 1923 he started playing full-time. Then from the 1930s, he began to dominate county cricket.
He captained England's cricket team in 1938 and continued the captaincy even after Second World War. Aside from being one of the best batsmen, Hammond was also one of the best slip fielders ever.
Likewise, he played 85 Test matches in his career (from 1927-1947), 20 of which he was the team's captain. He had the record for the highest runs in Test cricket until 1970.
Similarly, Hammond accumulated several awards and held records as a first-class cricketer. Wisden Cricketers' Almanack even described him as one of the four best batsmen in cricket history.
Unfortunately, this legendary English cricketer died of a heart attack at age 62 in 1965.
9. Everton Weekes
Sir Everton DeCourcy Weekes was a professional cricketer hailing from the land of Barbados. He was born on February 26, 1925. Weekes was one of the hardest hitters in cricket history.
Weeks was selected to play first-class cricket in 1945. His performance in the Barbados club cricket trial match led to his selection. He made his first-class debut the exact year at age 19.
Weekes was one of the batsmen from Barbados who made his debut in the 1948 Test match against England. He was amongst the one of the "Three Ws," along with Clyde Walcott and Frank Worrell of the West Indies cricket team.
Although Weekes's Test cricket career spanned from 1948-1958, he continued to play first-class cricket until 1964. Then, he retired from Test cricket due to a persistent thigh injury.
After his retirement, Weekes transitioned into a successful coaching career. Moreover, in 1958 he was appointed a Barbados Government Sports Officer. Unfortunately, he passed away at age 95 on July 1, 2020.
8. Ken Barrington
On our highest test batting averages list, our number 8 is a former English international cricketer, Ken Barrington. He has a total batting average of 58.67.
Known for his cheerful good humor and long, defensive, Barrington was influenced by his father, Percy Barrington, to play cricket.
At age 15, he joined Reading Cricket Club as the assistant groundsman, giving him unlimited opportunities to practice cricket. Ex-England and Surrey batsman Andy Sandham spotted him and invited him to play for the Surrey Colts the following year.
Aside from playing cricket, Barrington also served as a Lance-Corporal in the Wiltshire Regiment. After his discharge in 1950, he came back to Surrey's old team.
Barrington's score of 256 in the fourth Test at Old Trafford in 1964 is the third-highest score by an Englishman against Australia. Likewise, it is the highest score after the Second World War.
Similarly, he made centuries twice in four successive Tests and was the first batsman from England to make hundreds on all six traditional Test grounds.
Barrington's Test career ended in 1968 after he suffered a heart attack. On March 14, 1981, he passed away after suffering from a second heart attack.
7. Eddie Paynter
We have another English cricketer on our 7th number with a batting average of 59.23. Eddie Paynter was born Edward Paynter on November 5, 1901. He was considered to be an outstanding fielder and was an attacking batsman.
Paynter had a slow start in his career. He made his first-class debut in 1926 at age 24 for Lancashire County Cricket Club. However, only after 1930 was he able to establish himself as a first-team player.
In 1931, Paynter made his Test match debut against New Zealand. His 1932-33 Test match against Australia is one of his most famous Test match appearances.
Although Paynter was limited to only fielding during the match, he was given a chance to bat in the second innings. He hit the winsome runs with a six-off against Australia's Stan McCabe.
In 1938, he was named the Wisden Cricketer of the Year. However, after the Second World War in 1939, Paynter's career also ended. In February 1979, he passed away at the age of 77.
Only thirteen cricketers have taken over 300 wickets in the game's history. Read here about most ODI wickets takers in cricket!
6. Steve Smith
34 year-old
Steve Smith
is an international cricketer and the current vice-captain of the Australian national cricket team in Tests. He has a batting average of 59.87.
The ICC Player Rankings rated him as one of the top-ranked Test batsmen in the world. Furthermore, due to his high Test batting average, Smith is widely regarded as the greatest batsman of all time.
Smith began his playing career from the Under-19 cricket team and was a member of Australia's Under-19 team playing in the 2008 Cricket World Cup. He made his first-class debut in 2008. His test career in cricket began in 2010 and ended in 2022.
Similarly, Smith was also a former captain of the Australian national team. Over the years, he has been the recipient of many awards.
Some of the awards include Sir Garfield Sobers Trophy in 2015, ICC Test Player of the Year (2015, 2017), Allan Border Medal in 2015, 2018, and 2021, Australian Test Player of the Year in 2015, 2018, etc.
In 2016, Wisden named Smith Cricketers of the Year. Then in 2017, he reached a Test batting rating of 947, which is the second-highest of all time. Thus, he is sixth on our list of highest test batting averages.
5. Herbert Sutcliffe
The next batsman with the highest test batting averages on our list is Herbert Sutcliffe. Born on November 24, 1894.
Sutcliffe was an English professional cricketer who was also the first cricketer to score 16 centuries in Test match cricket. His test cricket career spanned from 1924 to 1935.
World War I had delayed his first-class career with Yorkshire. He succeeded to make his debut in 1919. Sutcliffe's first-class career period spanned between the two world wars.
Herbert is remembered as one of the game's finest "bad wicket batsmen." Sutcliffe played a total of 54 Test matches for England.
However, in 1939, Sutcliffe was called up for military service at the start of the Second World War. This marked an end to his professional playing career.
Sutcliffe was one of the most successful Test batsmen from England. His batting average of 60.73 is the highest among any English batsman. He passed away on January 22, 1978, at age 83.
4. George Headley
Regarded as one of the most pleasing batsmen of the West Indies and one of the greatest cricketers of all time is George Headly. Born on May 30, 1909, he was a West Indies cricketer who played mostly before Second World War.
The Panamanian cricketer played cricket in his school days. He participated in local cricket matches where he started to gather local attention. Then at 16, he joined Raytown Cricket Club.
Although he had plans to move to America to pursue a career in dentistry, this was delayed. However, this delay allowed him to make his first-class debut for Jamaica in 1928 against Lord Tennyson's XI.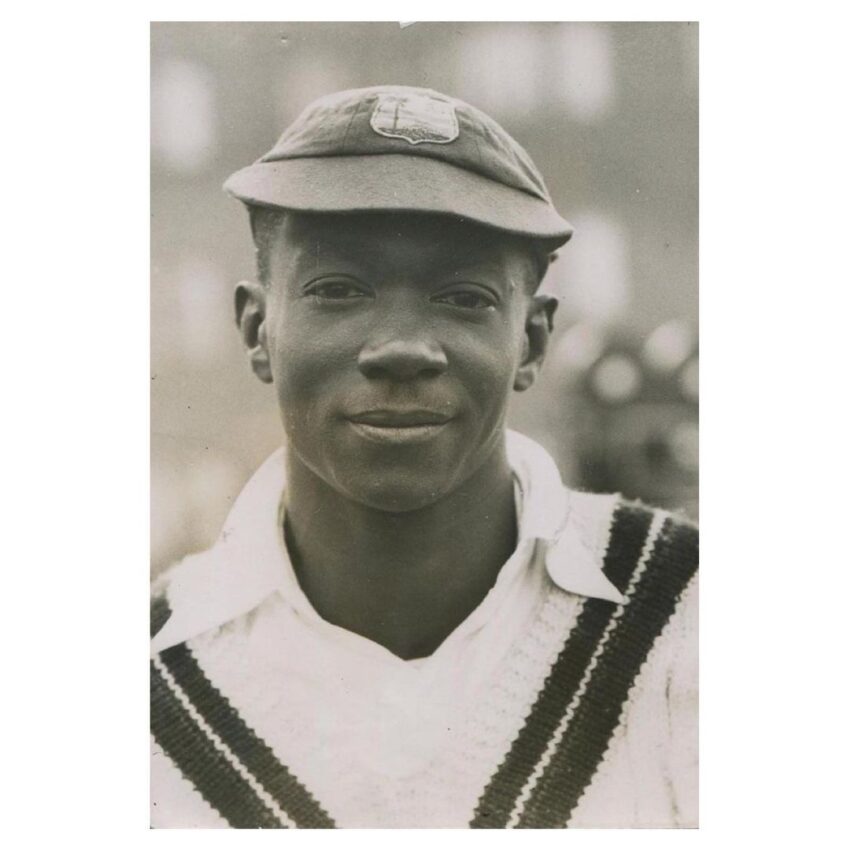 Similarly, Headly made his first Test debut for the West Indies in 1930. He scored 176 in the second innings, making him the first West Indies to score a century in his Test debut. He was the dominant figure in the West Indies batting at the time.
Headly was signed at Haslingden in the Lancashire League following his 1933 tour to England. He continued playing until the outbreak of the war. Although he returned to Test in 1948, his injuries would not let him regain his former glory.
In 1954, Headly returned to Jamaica and thus, ended his playing career. Unfortunately, this West Indies legend passed away at 74 on November 30, 1983.
3. Graeme Pollock
On our number 3 of the highest test batting averages is Graeme Pollock. He is a former cricketer from South Africa. Graeme is considered as one of the greatest ever cricketers from South Africa and one of the best batsmen to have played Test cricket.
Born in February 1944, Pollock came from a famous cricketing family. His father was a former first-class cricketer with Orange Free State. He started playing in his school years.
In 1960 while Pollock was 16, he played for Eastern Province. He made his first-class debut at the Jan Smuts Ground in East London against Border.
At age 19, Pollock became the youngest South African to score a double-century in first-class cricket. Graeme made his Test debut at the Gabba in Brisbane. However, his debut was not a very successful one.
Unfortunately, Pollock's international career did not last long and ended when he was just 26. However, he played 23 Test matches (1963-1970) and made many records during his career.
Over the years, Pollock has won numerous honors like South Africa's Cricketer of the 20th Century in 1999, Wisden's Cricketers of the Year in 1966, Wisden Leading Cricketer in the World in 1967 and 1969, etc.
Pollock was inducted into the ICC Cricket Hall of Fame in 2009.
2. Adam Voges
We are nearing an end to our list. Our number 2 is 44 year-old former Australian cricketer Adam Voges. He has the second-highest batting average of 61.87 and is among the batsmen who have played a minimum of 20 innings.
Voges played cricket from an early age and was part of the Under-19 Australian team. In 2002-03, he made his first-class debut for Western Australia. Similarly, during the Chappell-Hadlee Trophy, he made his debut for Australia in 2006-07.
In 2015, Vogues made his Test debut playing against the West Indies. He was 35 at the time and scored a century in his debut. His second-century score came in the same year while playing against New Zealand.
Aside from playing all game formats, Voges also served as a captain for the Western Australia team and the domestic cricket team Perth Scorchers. In 2016, he broke Sachin Tendulkar's record for the most runs between dismissals in Test cricket.
Vogues announced his retirement from international cricket in 2017. The same year, he announced his retirement from domestic cricket as well.
If you've just started watching Women's Cricket, you might want to know about the best female bowler. Read here!
1. Don Bradman
The number 1 on our highest test batting averages list is Australian international cricketer Don Bradman. Nicknamed "The Don," he was born on August 27, 1908. He is widely regarded as the greatest batsman of all time.
Bradman started playing from the local Bowral team. His playing career began in 1920 when he filled in for the team's one-man short. He was 19 when he made his first-class debut With the NSW team.
It took Bradman only two years to raise a player playing in local teams to the Australian Test team. He already had scored many records by the time he was 22, becoming the country's sporting Idol.
His Test batting average of 99.94 is the highest among other batsmen. Similarly, this feat has also been cited as the greatest achievement in any major sport by any sportsman.
Bradman is Australia's national icon. In 1997, Prime Minister of Australia John Howard dubbed him the greatest living Australian. He has a museum dedicated to his life, and his image has been on postage stamps and coins.
This Australian legend passed away on February 25, 2001. He was posthumously inducted into the ICC Cricket Hall of Fame in 2009.
Conclusion
Test matches are the toughest among all the formats of the game. It truly examines a player's skillset and endurance. Let us pay tribute to these incredible players for their phenomenal skills and achievements.