Top 12 Hottest Women Golfers!! We have seen thousands of female golfers try to make history over the previous years, and many of them have had long, prosperous careers as a result. Of course, there are very few women golfers who can be regarded as the best of all time. While there are many considerations when compiling a list of the hottest women golfers.
Golf has always been considered a game of sophisticated people. Along with being one of the most elitist games, it is also a very expensive hobby.
However, on a professional level, prominent golfers tend to make millions from the sport.
Although not as popular as soccer or basketball, players like Tiger Woods have made the game more widespread among sports fans.
To be a golf player, you need to be both graceful and smart. Women bring a hotness quotient to the already exciting game.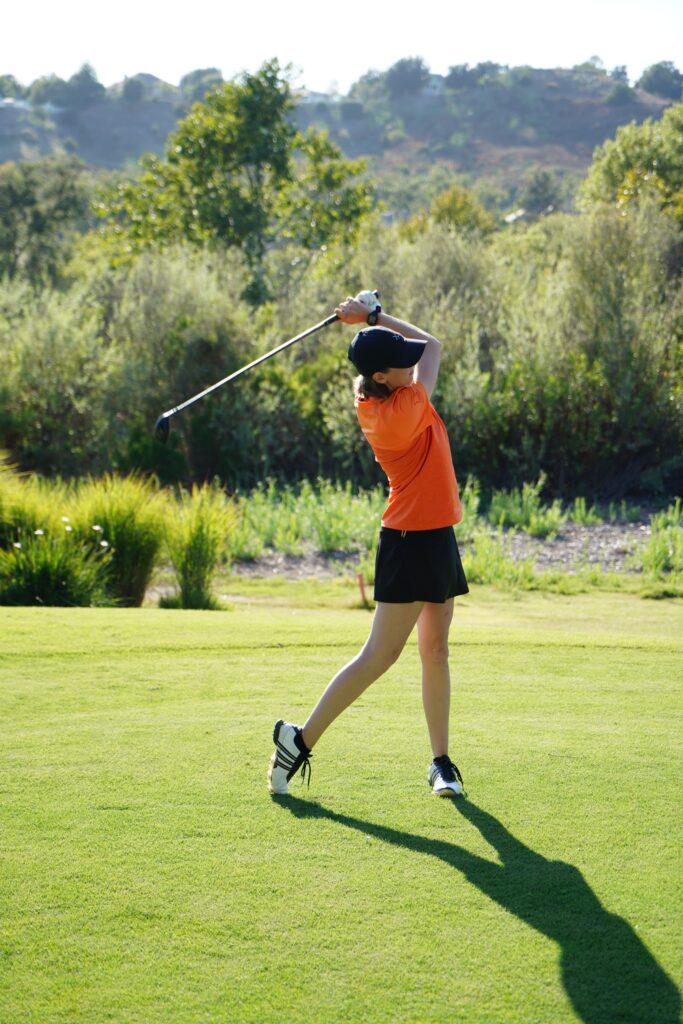 However, only a few women have risen to fame in the golf world in comparison to gentlemen. As females begin to claim their place in sports worldwide, you can expect more women golfers in the upcoming years.
The most recent for the year 2023 update of all the female golfers has been added to the article. Click down below to know.
Quick Overview
Below mentioned is the list of the top 12 hottest women golfers as of 2023. Go through the end to figure out if your favorite female golfer has made it to the list.
| | | |
| --- | --- | --- |
| S.N | Name of Players | Nationality |
| 12 | Cheyenne Woods | American |
| 11 | Jessica Korda | American |
| 10 | Sharmila Nicollet | Indian |
| 9 | Sandra Gal | German |
| 8 | Lexi Thompson | American |
| 7 | Nelly Korda | American |
| 6 | Holly Sondors | American |
| 5 | Paige Spiranac | American |
| 4 | Bella Angel | British |
| 3 | Lucy Robson | British |
| 2 | Muni "Lilly" He | Chinese |
| 1 | Blair O'Neal | American |
Top 12 Hottest Women Golfers
12. Cheyenne Woods
Cheyenne Woods is an American professional golfer who plays for the LGPA tour. The 32 years old athlete is half-niece of Tiger Woods.
In her remarkable amateur career, she had more than 30 tournament wins. In addition, she won Volvik RACV Ladies Masters under the women's European tour in 2014, which is one of her biggest achievements so far.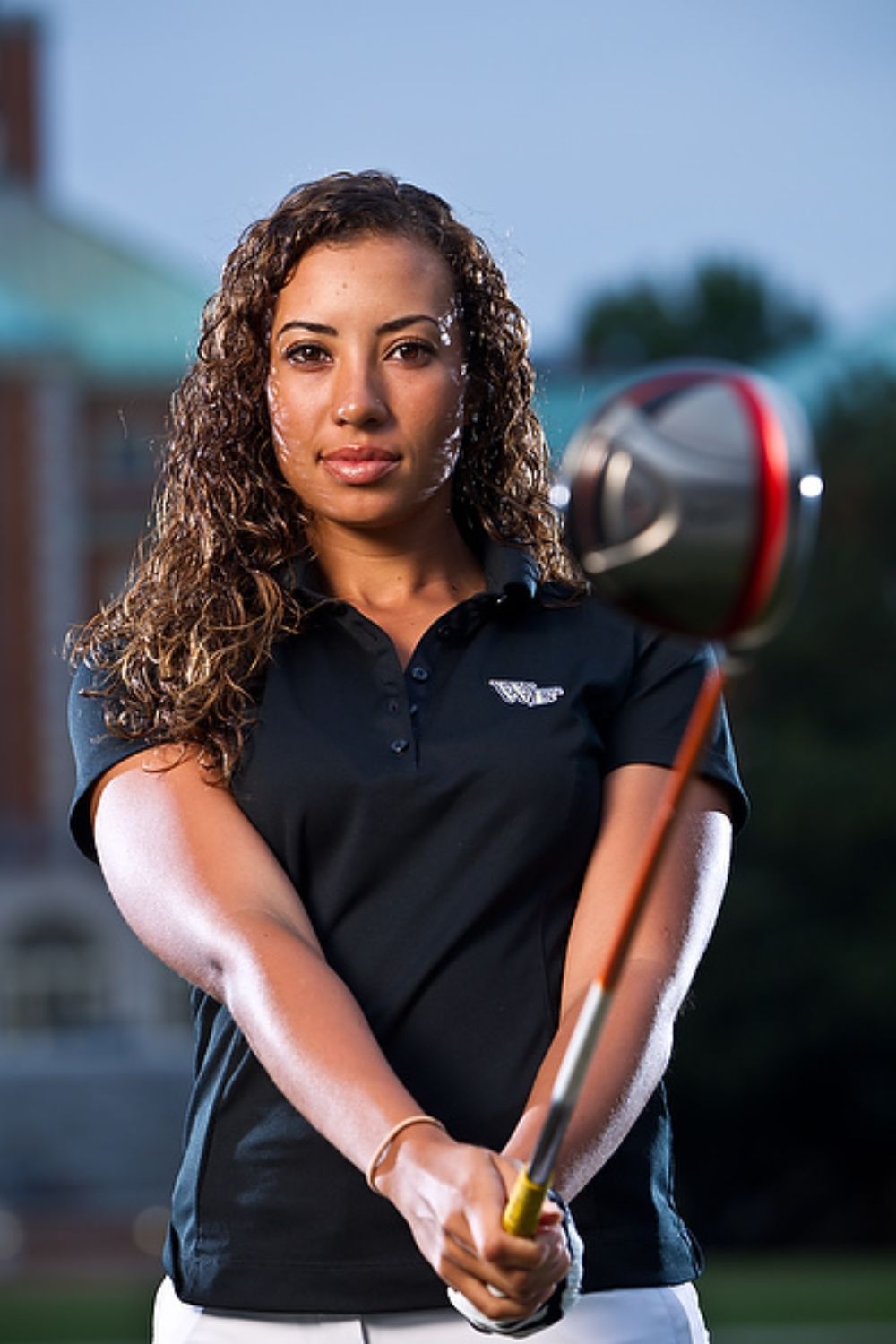 With a height of 1.7 m, Cheyenne is one of the taller females in golf.
Her relationship with Yankees' Aaron Hicks is also well-known to sports fans.
She is ranked 566 worldwide and has won two tournaments as of January 2022.
Woods enjoys getting in front of the camera or the microphone to show off her presentation skills when she isn't playing golf.
The Podcast Birdies Not BS was hosted by her until May 2021.
Instagram: 158 K (as of 2023)
Read About These Top 25 Richest Golfers in the World>>>
11. Jessica Korda
Jessica is an American professional golfer who plays with the LGPA tour. Her parents Petr Korda and Regina Rajchrtová, are professional golfers, which helped her tremendously in starting her golfing journey.
In fact, Petr is the winner 1998 Australian open and has a career-high ranking for world no. 2.
Blessed with good looks and brilliant golf skills, Jessica has had 6 LGPA tour wins so far. In addition, Jessia will be on the team representing the USA in the upcoming Tokyo Olympics.
It was announced via social media on Tuesday that Korda will miss the remainder of the LPGA season with two events remaining due to a back injury.
According to Korda, who is 30 Years Old, her doctor suggested that if she played through the injury,
her recovery would be prolonged and she would rather rest and concentrate on 2023, which would be her 13th year on tour.
Instagram: 286 K followers (as of 2023)
10. Sharmila Nicollet
With an incredible height of 1.8 m, light green eyes, and an athletic body, Sharmila is one of the hottest women golfers out there.
Sharmila Nicollet was born on 12 March 1991 to a french father and an Indian mother. She started golf at the age of 11 and won her first tournament at 15. She is also a former national sub-junior swimming champion. Clearly, Sharmila is an athletic spectacle.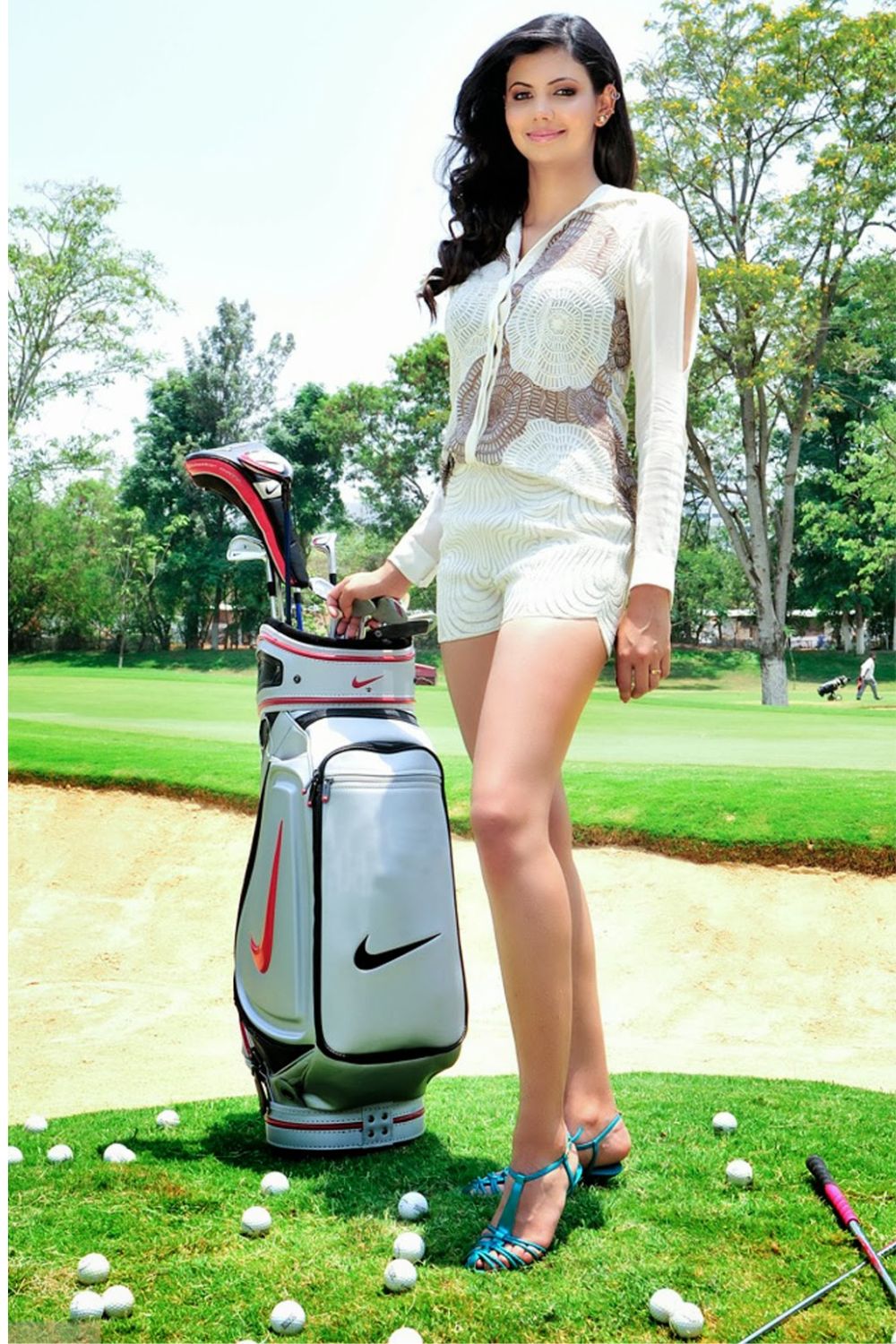 She won the all-Indian women's amateur championship in 2007-2008, the youngest lady golfer to win it.
Nicollet is the youngest Indian golfer to qualify for the women's European tour and still plays for them. In 2012, she qualified for a full tour card for the ladies' European tour 2012.
Sharmila boasts a total of 11 wins in the Women's Golf Association of India.
Instagram– 291 K followers (as of 2023)
9. Sandra Gal
Sandra Gal is a german professional golfer who currently plays for the LGPA tour.
Young Sandra got familiar with golf mostly during her family trips to golf resorts around Europe. She won the German national girls' championship at the age of 18.
Sandra competed on the German national team while also attending college at the University of Florida. The hard work paid off, and she won many championships and honors at the collegiate level.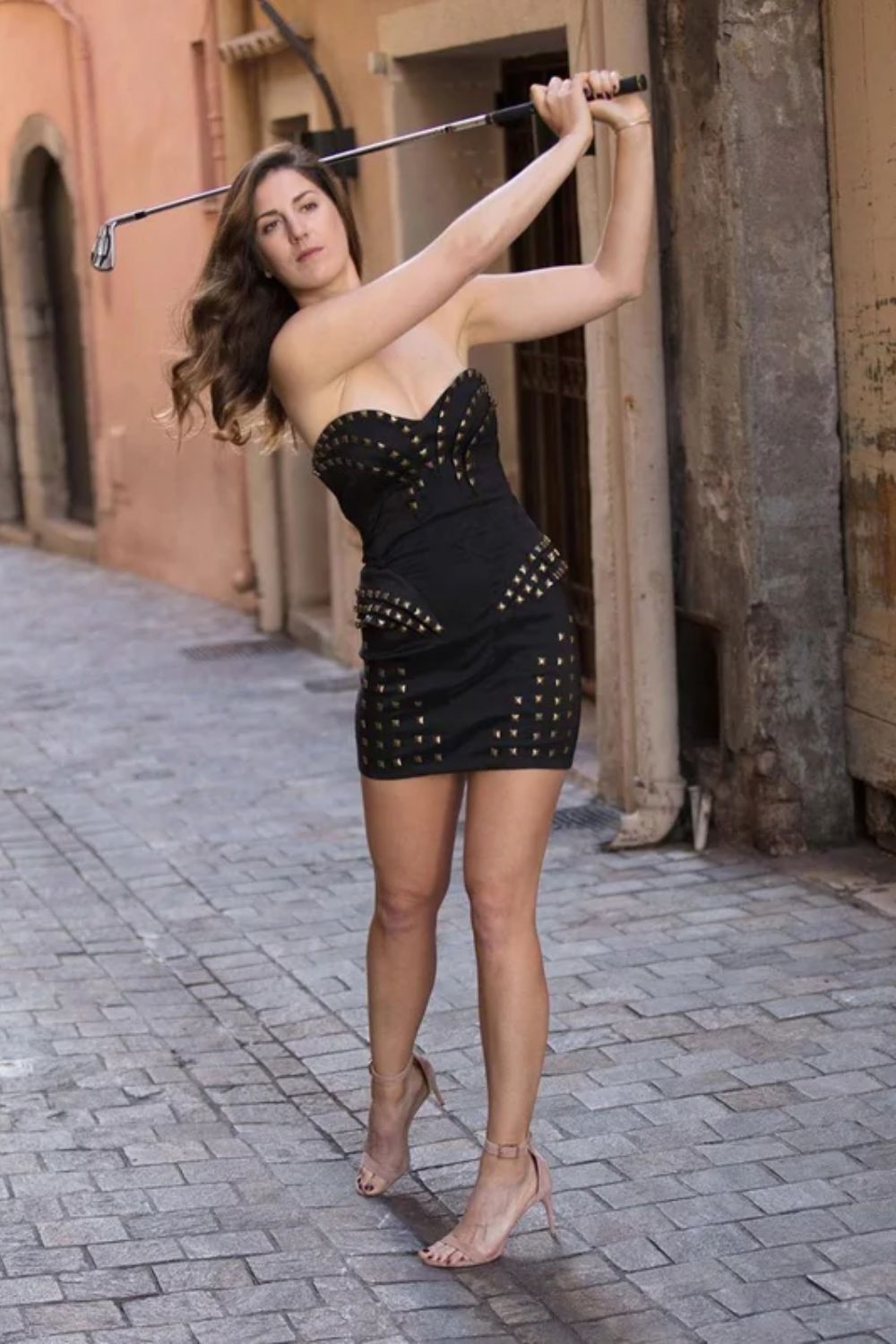 In 2007, she received first-team all-American honors, and from 2005-2008 Sandra was an NGCA academic all-American. Alongside that, she won four events in the NCAA competition.
She qualified for the LGPA tour in 2008 and began her professional career. Sandra also participated in the 2016 Olympics representing her home country.
Sandra has many other hobbies, including Art, music, and fashion.
She didn't play in many events from 2022 to 2022 and right now Despite the fact that she needed hip surgery in July 2022 due to impingement syndrome and a labrum tear,
She is confident that the lessons she learned while she was away from the tour will be very helpful when she will return for LPGA and LET Tours once more in 2023. For which she is immensely excited.
Instagram: 68.9 K followers (as of 2023)
8. Lexi Thompson
Alexis Noel Thompson, commonly known as Lexi Thompson, is an American professional golfer. Lexi is one of the most talented golfers out there, and she made it clear from the very beginning.
When she qualified to play in the U.S. women's open at 12, she was the youngest golfer ever to do so.
Lexi also has a record of being the youngest winner of an LPGA tournament. Her first major championship win was the 2014 kraft Nabisco championship that she won just at 19 years old.
The talented player has had 14 -professional wins so far, including 11 with LGPA.
Lexi also has her own line of skincare products 'Lexi Skin', which was officially introduced on July 2021.
The 12 two-person teams that will compete in the 2022 QBE Shootout, which will be held from December 7 to 11 at Tiburon Golf Club in Naples, Florida, have been announced.
first-time pairing at the Shootout is represented by McNealy and Thompson, both 28 years old.
Instagram: 567 K followers (as of 2023)
7. Nelly Korda
Nelly is the younger daughter of Petr Korda and the sister of Jessica Korda. Following in her family's footsteps, she started her golf career participating in junior championships.
She turned pro in 2016 on the Symetra Tour.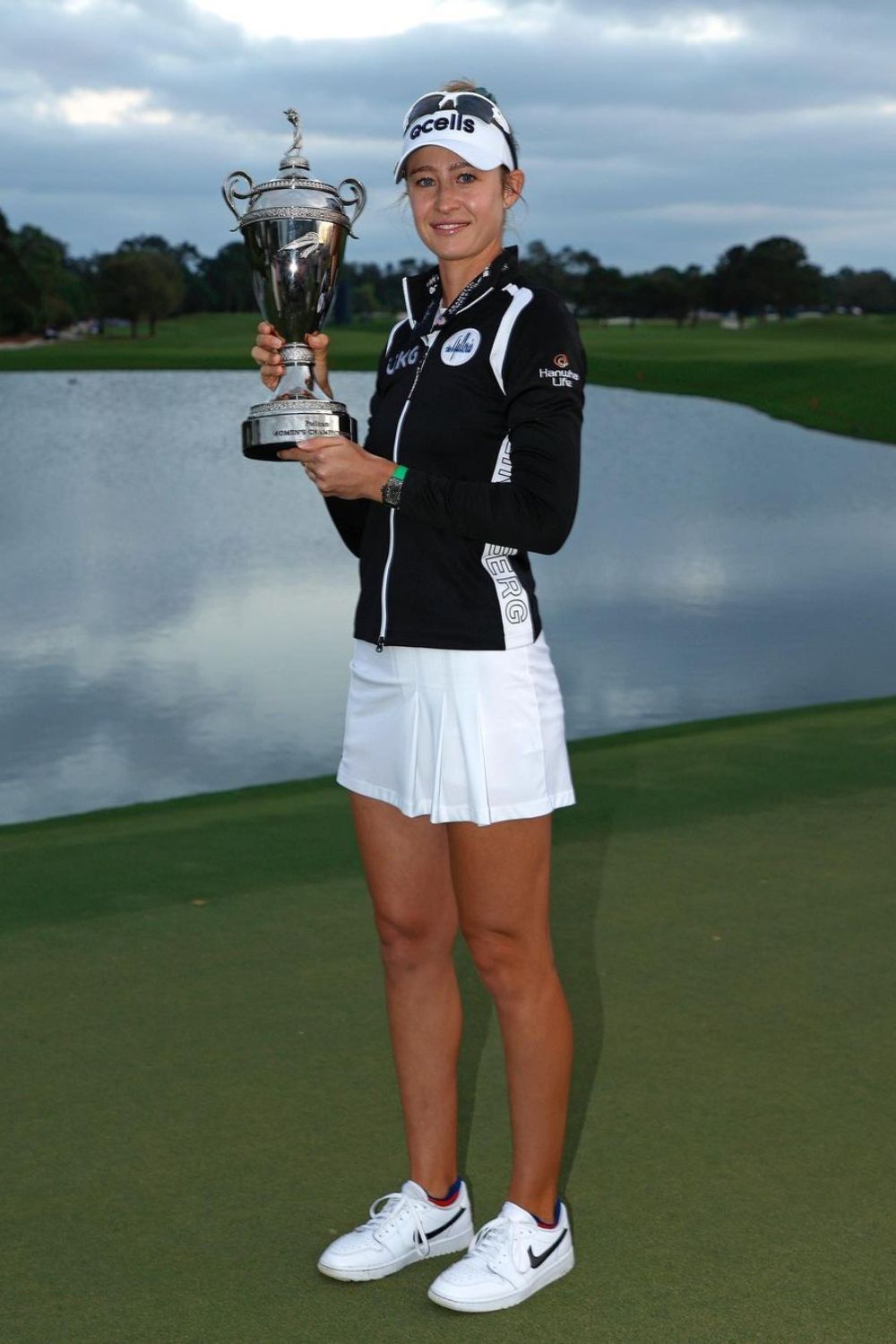 As of 2021, she has had 8 professional wins, 6 with LPGA, 1 with Ladies European Tour, and 1 with Symetra Tour.
Now at the age of 24, Nelly still has long years of career ahead of her. In fact, she is on the team representing America in Tokyo Olympics.
In June 2021, she won her first KPMG Women's PGA Championship, vaulting her to no.1 in the Rolex Women's World Golf Rankings.
Nelly Korda on Friday 2022, gave the first update on her health since she disclosed that she had a blood clot,
a potentially serious medical issue that caused the No. 2 player in the Rolex Rankings to withdraw from a number of competitions, including the season's opening major, The Chevron Championship.
She wrote "For a blood clot in my subclavian vein, I recently underwent surgery. I am pleased to report that the procedure went off without a hitch and that the doctors were pleased with the end result.
I'm still recovering and getting ready to start rehab. I am eager to return to 100% so that I can begin practicing.
Instagram: 561 K (as of 2023)
6.
Holly Sonders
When talking about the hottest women golfers, one can not miss the strikingly hot Holly Sondors. Besides being renowned as a TV presenter, Holly is popular for her hot posts on social media.
36 years Holly is a former college athlete; she played golf at Michigan State University. Soon after graduating, she got a break at the golf channel. At the age of 26, she joined Fox Sports.
Her career as a TV presenter made her a star, and she flaunted her golf knowledge and vibrant personality. Besides that, her gorgeous looks were also a plus.
She left Fox Sports in 2019 and has been working on personal projects since then.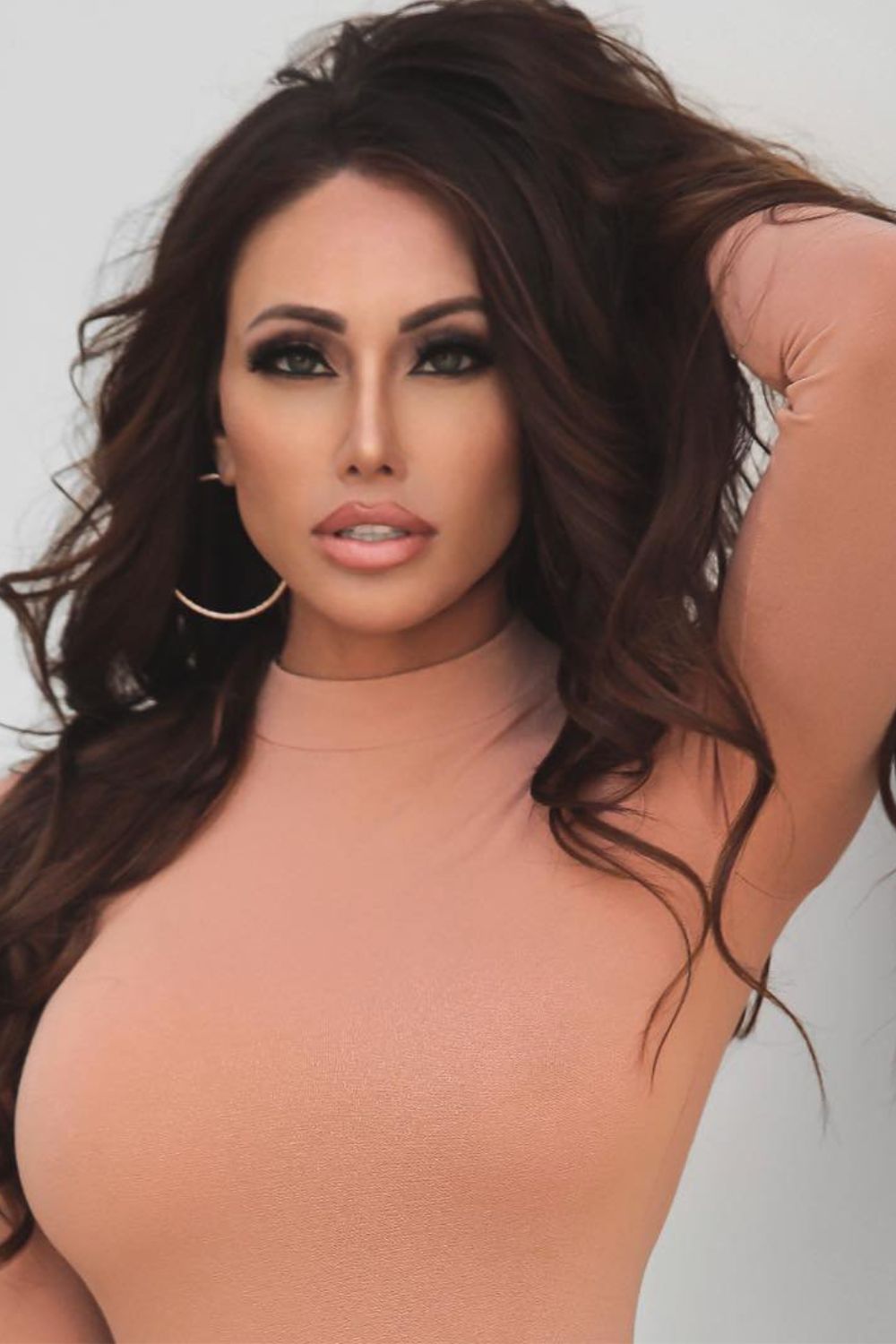 Holly launched her website that features exclusive content that is "too hot for social media." She also found the TEAM-UP fitness app dedicated to health, diet, skincare, and overall well-being.
Instagram: 678 K followers (as of 2023)
5. Paige Spiranac
Despite retiring from professional golf in 2016, Paige is still one of the most well-known woman golfers worldwide. With 3.1m followers on Instagram, her popularity is still skyrocketing.
Paige was born in 1993 to a footballer father and a ballerina mother. As a young kid, she learned gymnastics, but her dreams of participating in the Olympics someday were crushed by a broken kneecap.
But she moved to golf afterward, earning substantial success as a junior player. Paige was a top 5 college recruit and eventually went to the University of Arizona.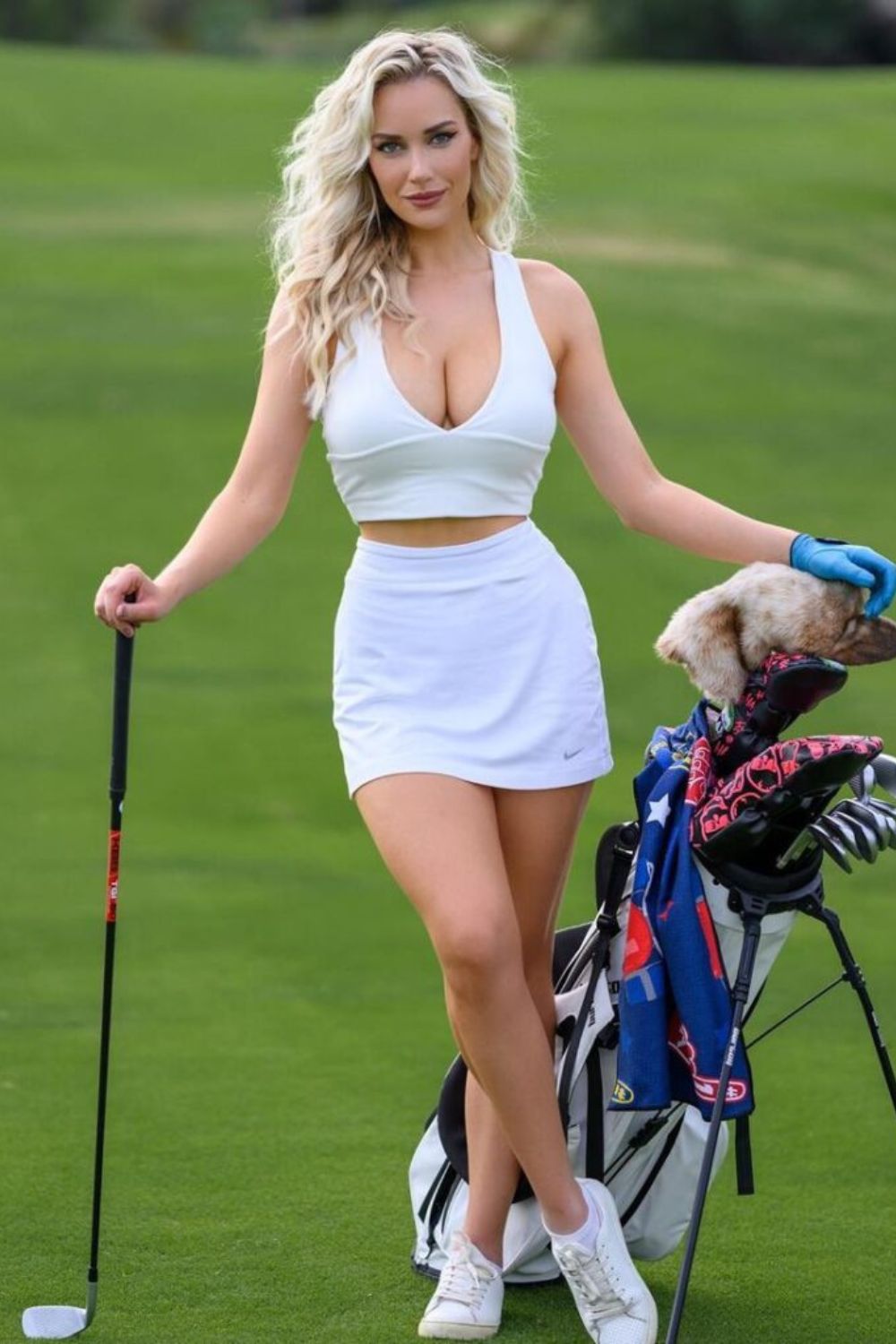 She moved to San Diego State for her sophomore year, where her gameplay improved substantially. However, in her short professional career, she had just one professional win.
Paige has been featured in magazines such as Golf Digest and Sports Illustrated Swimsuit edition. In addition, she signed a deal with PXG to represent its golf clubs on social media.
In 2022 update, Paige Spiranac, a former professional golfer who now works as the sport's television analyst.
She is convinced to evolve golf as a sport there is a method to advance the game of golf. "LIV and the PGA Tour are exerting every effort to 'evolve the game' and improve it.
Instagram: _paige.renee 3.7 M followers (as of 2023)
4. Bella Angel
Like most of the golfers on the list, Bella started playing at a young age. Besides being a professional golfer, she also works as a model and presenter. Bella is focused on presenting the fun and youthful side of golf. She is also keen on encouraging women to take up golf.
Bella was inspired to create her Instagram account while watching the women's British open 2018. The account she initially used to track her golfing progress has now garnered over 200K followers.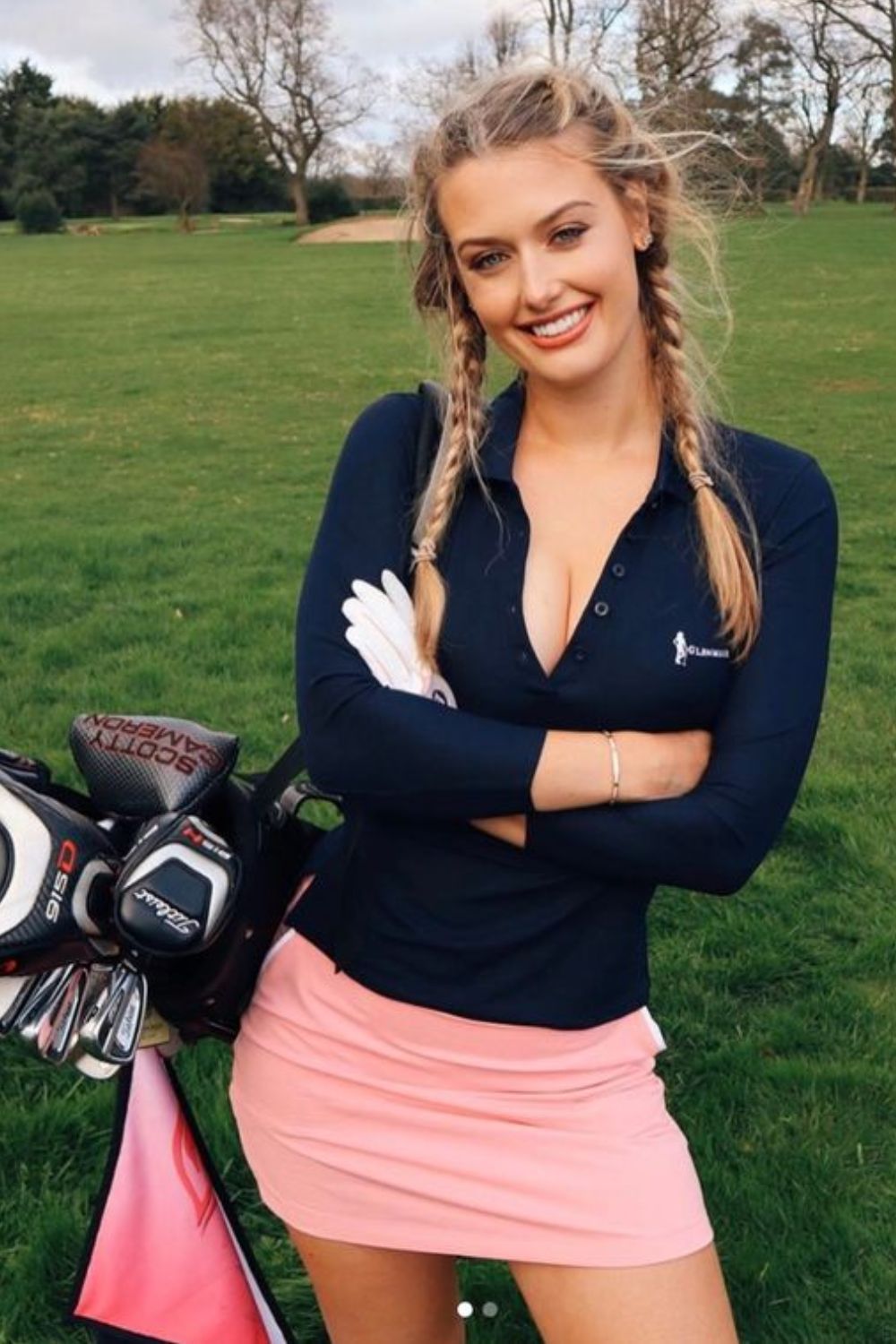 The gorgeous golfer regularly shares tips for a happy and healthy lifestyle with her fans.
Bella started playing competitive golf at the age of 5 and has won countless championships to date. She has also played cricket, tennis, and netball professionally. While not participating in sports, she pursued her love for theatre and acting.
The British beauty wanted to move to America for better opportunities but could not because of personal problems. Nonetheless, she is still leading a successful life in her home country.
As of 2022, she has a handicap (golf) of three at present, but side hustling as a teacher and modeling.
Instagram: 282 K followers (as of 2023)
3. Lucy Robson
28 years old Robson is a model, influencer, and golfer. Originally from London, her family moved to Florida when she was just 10 years old. Soon she started to compete in junior tournaments, extensively in the Florida Junior tour.
Lucy has garnered a massive social media viewership over the years.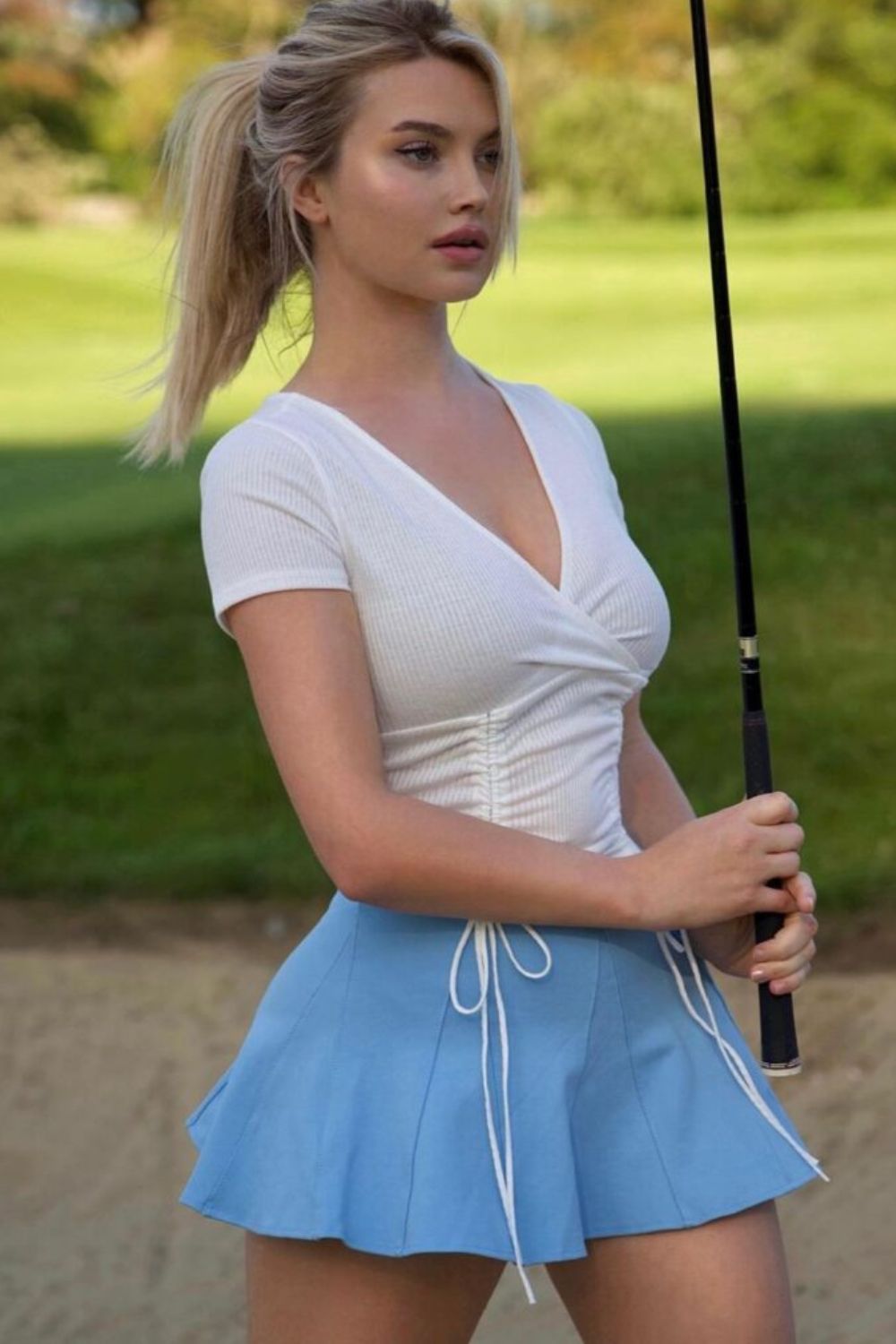 Blessed with a stunning body and a natural beauty, Lucy's pictures have taken Instagram by storm. But the 28 years old has proved herself to be worth so much more than that.
Lucy was the 'Treasure Coast Golf Association Player of the Year in 2012 and 2013. She played competitively during college, representing the university of south Florida.
She models for Fashion nova and is endorsed by swag golf and bang energy.
In 2022, Lucy is immensely popular online for her hot looks and even holds only fan's account that keeps uploading on youtube about her lifestyle and golf game.
Instagram: 998 K followers (as of 2023)
2. Muni "Lilly" He
Chinese Professional golfer Mune He is a rising star in golf. At the age of 23, she has taken the golf world by storm with her incredible skills. Standing at just 5'4′ tall, Muni is not the tallest lady on the list, but besides that, she has a very attractive physique and personality.
Muni started showing off her golf skills at a young age and has won many amateur championships. Some of her major wins are the 2012 Randy Wise Junior Open, the 2015 polo junior classic, and 2017 Minnesota Invitational.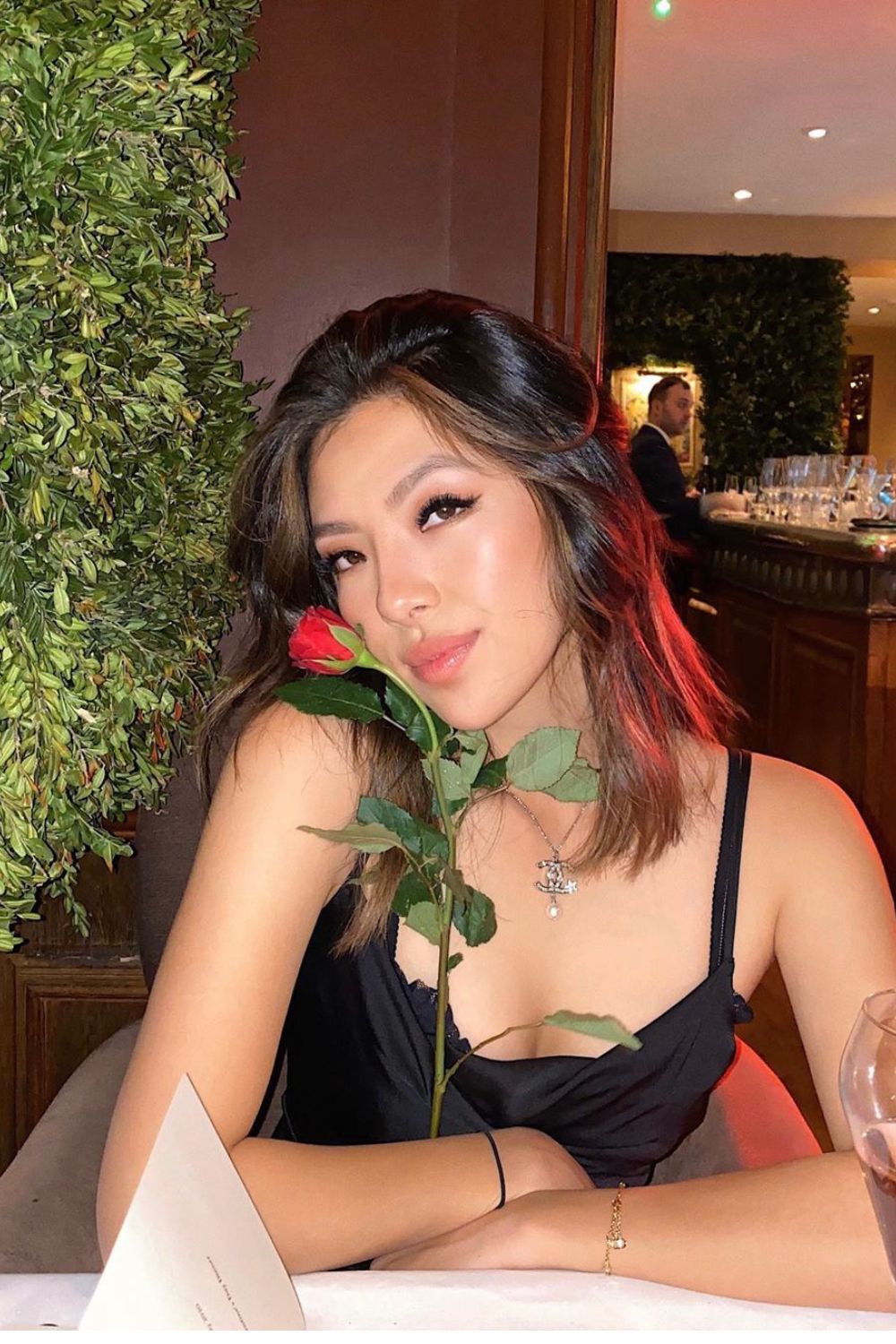 She turned pro in December 2017. As of now, she has won one professional win at the Inaugural Prasco Charity Championship.
Alongside being an internet sensation, she is also a brand favorite for endorsements. Currently, she has endorsement deals with the likes of Nike and Wechat.
She is currently in a relationship with professional racing driver Alex Abon.
Instagram: 539 K (as of 2023)
1. Blair O'Neal
The number one spot in the list of the hottest women golfers goes to the gorgeous Blair O'Neal.
The blue-eyed blonde of golf, O'Neal, has many identities. She is a professional golfer, TV presenter, model, and actress.
Blair has been playing golf since she was 11 years old. After having a star-studded junior career, she got a scholarship into her dream school, 'Arizona state university. She continued to prosper her game in collegiate, becoming two-time NCAA's long-drive champion.
After turning pro, she played golf for 10 more years, mostly with the Symetra tour.
She is widely popular for her beauty and personality. As a model, she walked a lot of runways and has been featured in countless magazines.
The most notable ones are her appearances in Sports-Illustrated swimsuits, maxim, golf digest, and Men's Health.
In addition, Sports Illustrated featured Blaire in the list of 'Top 50 Athletes of all Time' and golf.com on the list of 'Most Stunning Ladies in Golf.'
At 41 years old, Blair might be the oldest woman on the list, but her beauty is unmatched.
For a few years, she has been working as a television presenter. You can catch her hosting and co-hosting golf shows like 'School of Golf,' 'Best Lessons Ever,' 'And Como Concepts.'
Blair is married to Jeff Keiser since 2013. In 2020, she announced the birth of her first son Chrome Keiser.
O'Neal still dazzles us on television with her seductive good looks and extensive golf knowledge.
She appears to be moving forward with her plans to become a golf television broadcaster in 2022.
Instagram: 539 K followers (as of 2023)
Summary
So let's summarize the list with a recap of all the ladies who made it into the hottest women golfers list:
Blair O'Neal
Muni "Lilly" He
Lucy Robson
Bella Angel
Paige Spiranac
Nelly Korda
Lexi Thomson
Sandra Gal
Sharmila Nicollet
Jessica Korda
Learn More About Other Golfers Lorena Ochoa: Family, Golf Career, Awards, Husband & Net Worth>>>