Hubie Brown is a classical wine, ripped with age and full of experience. At present, Brown is such a resume that carries sixty years of gameplay, coaching, and new dimensions.
This enriched athlete is a retired basketball player, a retired coach who currently stands as a television analyst.
Furthermore, filled with work values and the virtue of diligence, Brown is a two-time NBA Coach of the Year.
During the tenure at the Atlanta Hawks, his efforts and ideas and later the Memphis Grizzlies paid those off to him.
Apart from coaching, Brown honed his skills ever since his high school days and professionally with the Milwaukee Bucks.
Additionally, he can be considered as the 'well of wisdom' and man of undeniable talents.
"You're always a half step away from the street."
-Charlie Brown (father of Hubie)
To date, you can see him running around to cover the matches and even on television networks. For further details, I hope to cover a few through general get-to-go facts and brief information.
Quick Facts
Full Name
Hubert Jude Brown
Date of Birth
September 25, 1933
Birth Place
Hazleton, Pennsylvania
Nick Name
No
Religion
Catholic
Nationality
American
Ethnicity
White
Zodiac Sign
Libra
Age

90 years old

Height
6 ft 0 in (1.83 m)
Weight
160 lb (73 kg)
Hair Color
White
Eye Color
Grayish blue
Father's Name
Charlie Brown
Mother's Name
Not Available
Siblings
Not Available
Education
St. Mary of the Assumption High School
Niagara University
Marital Status
Married
Wife
Claire Frances Manning (m. 1960)
Kids
Three daughters, Molly Brown, Virginia Brown, and Julie Brown
A son Brendan Brown
Profession
Retired basketball player and coach
Current television analyst
Basketball Team
Milwaukee Bucks
Basketball Year
1958-1959
Coaching Years
1955–1987, 2002–2004
Broadcasting Years
2004-present
Net Worth
$5 million
Social Media
Instagram, Twitter
Last Update
November, 2023
Hubie Brown | Early Life
Brown (fully named Hubert Jude Brown) was born on September 25, 1933, under Libra's sun sign.
Born in Hazleton, Pennsylvania, he was the only child of his parents. Later, they moved to Elizabeth, New Jersey, when he was just at the age of three.
According to the sources, Brown's father worked in a shipyard. Although he was a demanding man, Brown stated that he is the one who motivated him to work harder every day.
"My father is the greatest man I have ever known."
-Hubie Brown
Education
Hubie Brown was athletic since his early days in life. To illustrate, while in high school h was a part of every sports team as football, basketball, and baseball.
Furthermore, he graduated from St. Mary of the Assumption High School in 1951. By the end of his tenure, he had won the state championship for all the sports.
Moving on to college, Hiubie Brown enrolled himself at Niagara University, where he was a college basketball and baseball team member.
In the meantime, his fellow roommate was former Utah Jazz coach Frank Layden and Larry Costello, and Charlie Hoxie.
As for the part of academics, Brown graduated from college with a degree in education in 1955. Later, with quick enrolment in the US Army, he retired at Niagara University to gain a masters' degree in education.
US Army
After his college graduation, Hubie Brown dedicated himself to the US Army as he served for a few years until 1958. During those years, he partook in the US Army's basketball team.
After the discharge from the army, Brown commenced playing for the Rochester Colonels of the Eastern Professional Basketball League. During his period, he had posted 13.8 points per game.
Hubie Brown | Coaching Career
Brown commenced coaching in 1955 and went strong with his values until 2004 when he finally retired. Furthermore, Brown first commenced as a high school coach and then into teams.
All along his coaching days, he has appeared both as a head coach and an assistant coach.
"The greatest sin a coach can commit is to allow kids to slide by. This goes for the classroom as well as the court."
-Hubie Brown
High School and College Coaching
Hubie Brown was an excellent defender, and thus, as he began to coach, he started with St. Mary Academy in Little Falls. During his tenure, he coached both basketball and baseball.
Simultaneously, he coached in Cranford High School in Cranford, New Jersey, followed by Fair Lawn High School in Fair Lawn, New Jersey. Altogether, Brown spent nine years of his coaching career in high school.
Later, he appeared as an assistant coach for the College of William & Mary in 1968. However, he did not coach for an extended period there as he moved on to Duke University as an assistant coach after a year.
Milwaukee Bucks
Brown first got to teach in a professional team after 1972 as an assistant coach. Alongside the head coach, Larry Costello, he coached players like Dave Cowens, John Havlicek, Jo Jo White, and future Bucks coach Don Nelson.
They did primarily well in the 1974 NBA Finals; however, they unsuccessfully matched with the Boston Celtics.
Kentucky Colonels
With years spent as an assistant coach, the year 1974 threw him to Kentucky Colonels as their head coach. The Kentucky Colonels were under the American Basketball Association, and he led them to the 1975 ABA Championship.
Later, he led them to ABA next year as well; however, since, during the merge, they did not enter NBA; hence the franchise folded.
Atlanta Hawks
Afterward, joining the NBA through Atlanta Hawks gave him the foremost Coach of the Year honors. With tumbles and ups, Brown led them to their second division title in 1979-80; however, the next season, he was fired.
New York Knicks
These years came as lows in Brown's career as he joined New York Knicks. Brown couldn't handle the team; thus, the team went downfall after the playoff season.
Even the team's star player was injured and did not attend for two seasons. All in all, after joining in 1982, Brown was fired in 1986.
Memphis Grizzlies
By the time Brown entered the Memphis Grizzlies, he had already spent sixteen years of his career. After a thorough examination of his health and age, Brown was named the Grizzlies' head coach.
In addition to that, Brown became the oldest NBA coach in history as he was 69 years old. Back then, the Grizzlies were doing quite low in the game; however, Brown successfully turned the game around.
For a particular reason, he was awarded the Coach of the Year honors. Despite it, the troubles did not stay away. At that age, Brown's health issues were a big concern, and hence, most of his works were done by the assistant coach and his son, Brendan Brown.
Overall, Jason Williams and Brendan Brown broke into a quarrel during a season, which rose to trouble for Grizzlies.
Retirement
Afterward, in the same season, Brown announced his retirement from the NBA on November 25, 2004. It was thanksgiving day, and he did not disclose the reason behind his retirement.
As far as the news goes, Brown stated to have retired due to his health issues. However, the news broke out later, stating he had no problems with his health.
Right then, Ronald Tillery of the Memphis Commercial Appeal reported his retirement as the cause of negative attitudes among James Posey, Jason Williams, and Bonzi Wells.
"I need on daily basis energy and stamina, and then with me, it's a spirit. But the key is spirit. See, the spirit is what gives you passion daily. One day you wake up, you don't have that, and that's when you've got to understand that it's time you've got to walk."
-Hubie Brown
Hubie Brown | Achievements
ABA champion (1975)
2× NBA Coach of the Year (1978 & 2004)
Naismith Memorial Basketball Hall of Fame (2005)
Hubie Brown | Broadcasting Career
Brown first commenced his broadcasting journey after leaving the Atlanta Hawks. Back then, he commenced working with the USA Network's coverage of the NBA and CBS.
Overall, the first appeared in the game broadcast while working with the New York Knicks for CBS with Brent Musburger.
Later, he served in the CBS as a full-timer alongside Verne Lundquist when he left the Knicks. At that, CBS announced that it hired Hubie Brown as its No. 1 commentator for National Basketball Assn. Games.
After a few years of working with them, Brown was promoted as the head analyst for CBS in 1988. During his tenure, he covered the 1990 NBA Finals and even the gameplay of the Philadelphia 76ers and the Detroit Pistons.
Shortly, Brown was led to the TNT's basketball coverage alongside Verne Lundquist, Brent Musburger, Bob Neal, Ron Thulin, and Pete Van Wieren. All those years, he covered the playoffs and regular season's games.
Even after his retirement, he signed with ABC as their NBA top analyst. All along, he covered the 2005 NBA Finals and 2006 NBA Finals with Al Michaels and Mike Breen.
Current Work and Achievements
At present, Hubie Brown covers ESPN radio and ABC alongside Mark Jones and Mike Breen. Altogether, they broadcast the NBA playoffs and the NBA finals.
As he walked down the journey, Brown was nominated for a Sports Emmy in 1994 and 1999.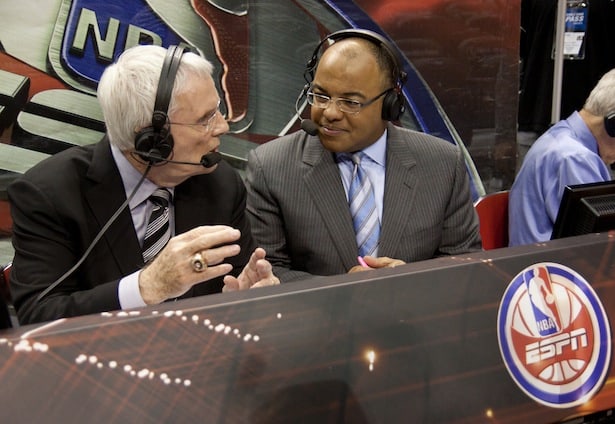 Net Worth
As of 2020, Hubie Brown is reported to have a net worth of $5 million with an average annual salary of $58,506 as an analyst. Despite his age, Brown never seems to have any intentions of stopping.
All in all, the retired player resides in his luxurious house in Atlanta, Georgia.
You might be interested in Tim Duncan Bio: Career, NBA, Spurs, Girlfriend & Net Worth>>>
Hubie Brown | Some Famous Quotes
The greatest sin a coach can commit is to allow kids to slide by. This goes for the classroom as well as the court.
X & O's aren't worth a damn without a team. If your team isn't with you, it doesn't matter what you draw up. The team must respect what the coach is asking them to do.
No matter how good you are, at the top of your game, always remember that you're half a step away from the street.
Hubie Brown | Family and Social Media
Currently, Hubie Brown is happily involved with his family. Brown tied his knot with his wife, Claire Frances Manning, in 1960.
The duo has been happily together since then, and if you count, it's been sixty years of their strong bonding.
All these periods and the duo have four kids; three daughters, Molly Brown, Virginia Brown, Julie Brown, and a son Brendan Brown.
Hubie's wife, Claire, is someone who doesn't like attention; hence, she is mostly out of the limelight keeping her life private.
Among the household, Brendan Brown followed in his father's footsteps and got involved in the NBA. He is the former NBA scout and assistant coach and also a radio analyst for the New York Knicks.
Last but not least, Hubie Brown and his wife, Claire, are blessed with three grandchildren. As we dive into his social media presence, Brown is not on any platform; thus, we provide you with his hashtag pages.
Hubie Brown | Common Questions
Did Hubie Brown play in the NBA?
Apart from coaching, Hubie Brown had his playing career the shortest as he played for the Rochester Colonies from 1958–1959.
Did Hubie Brown suffer from Covid-19?
With the ongoing pandemic situation worldwide, Hubie Brown too had to battle with the virus. He spent 79 days in the hospital and spoke after beating a lengthy battle with COVID-19 "I can remember, I was in my backyard. I was gonna go fish, and all of a sudden, I felt sickly and bad. I came into the house and told my wife I didn't feel good. After that, I don't remember anything else."
Did Hubie Brown have a Stroke?
Hubie Brown had some weak medical condition, but it is not confirmed yet whether it is a Stroke or not.