At 17, Ilya Sorokin, a rising Russian hockey star, became the Continental Hockey League goalkeeper, the club's youngest player.
He currently plays for the NHL's New York Islanders (NHL). Sorokin was picked in the third round (78th overall) of the 2014 NHL Entry Draft by the Islanders.
At 18, he defended the honor of Metallurg Novokuznetsk, and at the age of 20, he was named the best KHL goalkeeper.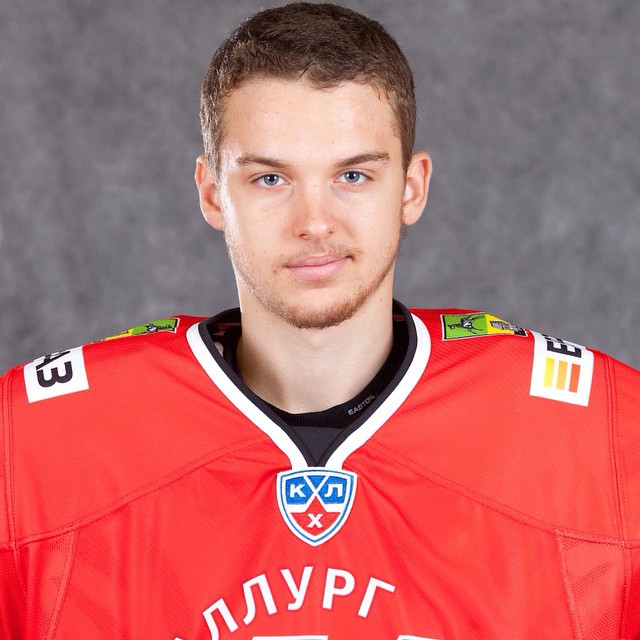 However, the athlete's fans are confident that the two-time world championship bronze medalist and youth World Cup silver medalist's main achievements are yet to come.
Let's explore more about the athlete through the article here. But before getting into the details, let's look at the facts about him.
Ilya Sorokin: Quick Facts
Full Name
Ilya Igorevich Sorokin
Nickname
Not Available
Date of Birth
August 4, 1995
Place of Birth
Mezhdurechensk, Russia
Sexual Orientation
Straight
Age
28 years old
Zodiac Sign
Leo
Chinese Zodiac
Not Available
Nationality
Russian
Body Type
Athletic
Hair Color
Brown
Skin
Fair
Height
6 feet 3 inches (191 cm)
Weight
190 lb (86 kg)
Profession
Ice Hockey Goaltender
League
NHL
School
Not Available
College
Not Available
Team
New York Islanders
Position
Goaltender
Former Team

Metallurg Novokuznetsk
CSKA Moscow

Playing Career
2012-Present
NHL Draft
78th overall, New York Islanders, 2014
National Team
Russia
Catches
Left
Father's Name
Not Available
Mother's Name
Not Available
Relationship Status
Single
Girlfriend
None
Children
None
Net Worth
$1- $5 million
Merch
Autographed Photo
Last Update
November, 2023
Journey in KHL
Sorokin began his career with Vympel Mezhdurechensk, a local team, before joining KHL club Metallurg Novokuznetsk as a 17-year-old in 2012.
During the 2012–13 season, he made his professional and KHL debut with Novokuznetsk, appearing in relief during an 8–6 loss to Barys Astana on January 7, 2013.
After two strong seasons, Sorokin was taken 78th overall in the 2014 NHL Entry Draft by the New York Islanders.
Sorokin participated in 22 games during his third season with Metallurg Novokuznetsk in the 2014–15 season before being traded to HC CSKA Moscow in exchange for financial compensation on December 24, 2014.
On June 10, 2017, Sorokin signed a three-year contract with CSKA Moscow, extending his KHL career. Sorokin and CSKA Moscow won the Gagarin Cup in 2019, and he was named Gagarin Cup Playoffs MVP.
New York Islanders
For the remainder of the 2019–20 season, Sorokin signed a one-year entry-level contract with the draft club, the New York Islanders, on July 13, 2020.
Following the emergence of the COVID-19 pandemic, unsigned prospects from other leagues, such as Sorokin in the KHL, were declared ineligible to participate in the Return to Play phase.
The contract destroyed Sorokin's entry-level status. The Islanders signed him to a one-year, $2 million contract extension for the 2020–21 season the day after his entry-level contract was essentially canceled.
Sorokin made his NHL and Islanders debut against the New York Rangers on January 16, 2021.
When the game's designated starter, Semyon Varlamov, was hurt during warmups, Sorokin was slated to be the backup.
The Islanders were defeated 5–0, and Sorokin was credited with five goals on 31 shots. Sorokin's first NHL win and his first NHL shutout came on February 16, when the Islanders defeated the Buffalo Sabres 3–0. In the win, he made 20 saves.
The Islanders re-signed Sorokin to a three-year, $12 million contract on September 1, 2021.
International Play
Sorokin represented his country and achieved a silver medal in the 2015 U-20 World Junior Championships in a 5-4 loss to Team Canada while still in the early stage of his career.
At the IIHF World Championships, Sorokin earned three bronze medals (2016, 2017, and 2019).
During the 2018 Pyeongchang Olympics, the decorated youth continued his incredible performance on the international stage.
He was a crucial member of the Olympic Athletes from Russia team that won gold in a thrilling 4-3 overtime triumph over Germany.
Ilya Sorokin: Contract
The New York Islanders announced in May 2021 that restricted free agent goaltender Ilya Sorokin had signed a multi-year contract with the team.
According to Sportsnet's Chris Johnston, the deal is worth $12 million and has a $4 million average yearly value.
Last season, the 26-year-old put up great numbers in his first NHL after piquing Islanders fans' interest with years of stellar play in the KHL.
In 22 games in 2020-21, the six-foot-three-inch goaltender had a 2.17 goals-against average and a .918 save percentage while recording three shutouts.
Learn about; Rebecca Johnston's Bio: Career & Net Worth
Gagarin Cup Champion
With a 4-0 series win over Avangard Omsk, Sorokin and CSKA won the 2019 Gagarin Cup (the KHL equivalent of the Stanley Cup).
He was named the 2019 KHL Playoffs MVP after leading CSKA to a 16-4-0 record, a.947 SV%, a 1.19 GAA, and five shutouts in the tournament.
Ilya became the first goaltender in KHL history to post two shutouts in the Gagarin Cup Final, adding to his impressive reputation.
Sorokin guided CSKA to two more final appearances in 2016 and 2018. In addition, he won the title in 2019.
Charity Works
On January 23, Sorokin represented CSKA at the KHL All-Star Game, wearing unique pads at a pediatric institute designed to raise money for Vilen Prokofyev, a young Kazakh goalkeeper fighting Ewing's Sarcoma.
Prokofyev, who was 18 at the time of his death, died on February 3.
Also, read about; Connor Clifton's Bio: NHL Career, Family, Girlfriend & Net Worth.
Ilya Sorokin's Friendship with Igor Shesterkin
Ilya Sorokin and Igor Shesterkin have been teammates in hockey for a long time.
Sorokin was born and raised in Novokuznetsk, Russia, a 50-hour trip from Shesterkin's hometown of Moscow. Sorokin started for SKA St. Petersburg, while Shesterkin started for CSKA Moscow.
"Igor and Ilya's fates have been interwoven for years," said Gillian Kemmerer, a KHL reporter and author.
Since the day the duo met at the Team Russian camp in Novogorsk, the two have been fueling each other.
The mood in Moscow-St. Petersburg is similar to that in New York-Los Angeles.
It's as much a hockey rivalry as it is a civic rivalry. The players and the fans are looking forward to going head-to-head again, as well as shaking hands and joking about after the game. Sorokin admits that they help each other improve."
Ilya Sorokin: Family
In the summer of 1995, the future CSKA goalkeeper was born in the Kemerovo region. Ilya Sorokin spent his early years in Novokuznetsk.
Soon after, the family relocated to another metallurgical city, Mezhdurechensk.
As a 5-year-old, the future KHL player began skating. Ilya grew up as a versatile young man who enjoyed hockey and alpine skiing.
When his parents discovered his hearing, they enrolled him in a music school. He took solfeggio lessons and learned to play the piano.
Soon after, the music lessons were crowned with participation in the city's young talent competition.
Who knows how fate would have turned out if the guy had continued to improve his piano playing – Sorokin, even today, in his spare time, picks up the chords on the instrument from memory.
But, as a teenager, Ilya skipped all his classes to pursue his dream of playing hockey.
The young athlete was placed on the gates of the Vympel children's hockey team at the age of seven, and in 2009, at the age of fourteen, he was admitted to the Novokuznetsk Metallurg club.
There wasn't enough time for anything other than training and lessons. Although there were no athletes in his family, his grandfather was a miner, and his dad worked at a motor depot.
Ilya Sorokin: Girlfriend
Like his older colleagues, Ilya Sorokin did not have time to start a family and thus remained under the scrutiny of the beauties.
It is unknown whether Ilya's heart is free or whether the famous goalkeeper has a girlfriend.
The Kuzbass goalkeeper, who stands 1.88 m tall, was named one of the Top-7 eligible hockey players by the women's magazine JLady.
Sorokin's name does not appear in secular news or glamorous tabloids, and he was never hailed as a scandal hero.
The CSKA goalkeeper enjoys reading away from games and training in his spare time. The Godfather by Mario Puzo and Martin Eden by Jack London are books he read.
Interests
Ilya Sorokin told reporters that he has been interested in aircraft technology and the work of pilots since he was a child.
There is a photo of Ilya on his Instagram page in the cockpit. It is a Boeing flight simulator where future pilots or amateurs can learn about the device's design and see step-by-step take-off and landing procedures.
Don't miss out; on Brady Skjei – Career, Family, NHL, Education & Net Worth.
Social Media Presence
Ilya Sorokin is particularly active on Instagram. The athlete often posts pictures related to his personal life.
Media personalities must keep updated about their lives with their followers via social media platforms.
Ilya has understood the importance of social media.
He makes sure to give his fans good content with his stunning on-the-court pictures that has lured many followers to his profile.
You can follow him on Instagram (username @soroka_89). As of January 2022, he has more than 50.6 k followers on there.
Unfortunately, we could not find him on Twitter and other social media handles.
Awards & Achievements
According to the statistics and analytics department of the KHL Information Bureau, the athlete was named the best goalkeeper of the month in the Continental League during the 2017/2018 season in December 2017.
In 2017, the goalkeeper won five of seven games. Sorokin's maximum dry series time is 125 minutes and 53 seconds.
Ilya Sorokin is in excellent shape and ready for the Olympic Games.
Net Worth
Ilya Sorokin has an estimated net worth between $1 million- $5 million. Sorokin must live a lavish lifestyle with his accumulated fortune throughout his career.
According to Hockey Zone Plus, he earned a base salary of 90 million rubles with CSKA Moscow in the Kontinental Hockey League (KHL).
On July 14, 2020, he signed a one-year contract with the New York Islanders for $1 million in salary and a $1 million signing bonus.
Due to the Covid-19 pandemic, the NHL played a 56-game rather than an 82-game season.
Base salaries were not pro-rated, but 10% of $2,000,000 was deferred and payable in three annual installments beginning in October 2022, with no interest.
The season's escrow was increased to 20%, and performance bonuses were pro-rated.
On September 1, 2021, he signed a three-year, $12 million contract with the New York Islanders.
Frequently Asked Questions (FAQs)
How good is Ilya Sorokin?
Sorokin has a record of 134-64-22, a goals-against average (GAA) of 1.70, and a save percentage of .930 (SV percent ). The 28-year-old has a record of 50-17-0 in 69 playoff games, a 1.37 GAA, and a. 940 SV percent.
Is Ilya Sorkin a rookie?
Rookie goaltender Ilya Sorokin stole Game 5 for the Islanders, making a franchise rookie playoff record 48 saves on 50 shots as the Isles won 3-2 in double overtime against the Penguins.