Brady Skjei, pronounced as "Shay," is a professional National Hockey League(NHL) player for Carolina Hurricanes.
Previously, Skjei played for the New York Rangers of the NHL and was traded to the Hurricanes.
Moreover, he was a first-round pick for the Rangers in the 2012 NHL Draft and the Carolina Hurricanes in the 2020 NHL Draft.
Similarly, the Minnesota native player was one of the only nine defensemen in the Ranger's history to record three separate 25- point seasons at age 24 or younger.
Not only that but Skjei was ranked tenth for the Calder Memorial Trophy, which is given to the league's top rookie.
Secondly, he recorded his career-high 39 points in his NHL Debut game in 2015, leading the Rangers to the Eastern Conference Second Round.
Let us look at this fantastic player's quick facts who have represented the USA on international grounds.
Quick Facts:
| | |
| --- | --- |
| Full Name | Brady Skjei (pronounced "Shay") |
| Birth Date | March 26, 1994 |
| Birth Place | Lakeville, Minnesota, the United States of America |
| Nick Name | Shazer, Brades |
| Religion | Not available |
| Nationality | American |
| Ethnicity | White |
| Education | University of Minnesota |
| Horoscope | Aries |
| Father's Name | Scott Skjei |
| Mother's Name | Michele Skjei |
| Siblings | Older brother, Ramsey |
| Age | 29 Years Old |
| Height | 6 feet 3 inches (191 cm) |
| Weight | 96 kg (211 lbs) |
| Hair Color | Dark Brown |
| Eye Color | Dark Brown |
| Build | Athletic |
| Shoe size | Not available |
| Profession | Professional ice hockey player |
| Active Years | 2015 – present |
| Position | Defense |
| Team | New York Rangers, Carolina Hurricanes (Present) |
| Number | #76 |
| Relationship Status | Engaged |
| Partner | Gracia Bonesho |
| Net Worth | Estimated $4.4 million |
| Social Media | Instagram, Twitter |
| Merch | Dog Clothes |
| Last Update | May, 2023 |
Brady Skjei | Early Life, Family, and Education
Brady Skjei was born on March 26, 1994, to parents Scott Skjei and Michele Skjei, both real estate agents. He is originally from Lakeville, Minnesota, in the United States of America.
Moreover, Brady's Father was a football player at Augsburg College. Skjei also has an older brother, Ramsey, who attended the same University as Brady.
Additionally, Brady's uncle, Barry Karn, has been a full-time NHL skating coach for over 25 years.
One of the reasons Brady got his interest in hockey was because of his uncle, as he used to attend Barry's skating classes.
Later, Brady worked for Barry at the skating clinic and got his first job there.
Skjei finished his high school studies at Lakeville North High School in Minnesota, where he played hockey for the school team.
Favorably, Brady was the most valuable player in Lakeville. After completing high school, Skjei enrolled at the University of Minnesota along with his brother.
Additionally, he graduated with a degree in business and marketing. Also, Skjei played 36 games and recorded one goal and two assists during his freshman season at the University.
Brady Skjei | Early career
Skjei started his hockey career when he was a Lakeville North High School student.
But before he joined full-time hockey, Brady was a high school quarterback. Also, he played for the Lakeville North High golf team as he had grown up on a golf course.
Eventually, He played hockey for the Lakeville North Panthers, the school team, for two seasons.
In addition, he received the rookie of the year award in the first season and the team's Most Valuable Player award in the second season.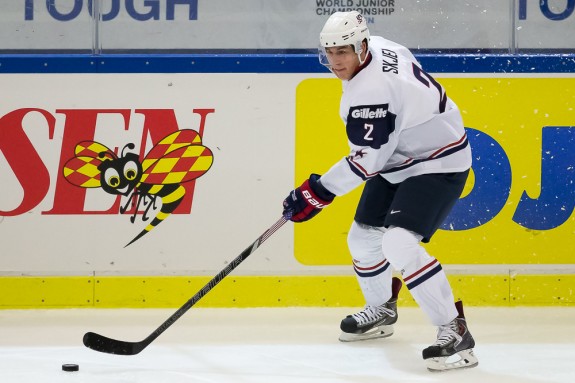 Afterward, Skjei joined the USA Hockey National Team Development Program in Michigan during his final high school years.
Further, he also played in the 2011 Under 17 World Hockey Challenge leading the USA to second place.
Likewise, in 2012, Skjei grabbed the gold medal in the 2012 International Ice Hockey Federation world-18 Championships representing the USA internationally.
Furthermore, after joining the University of Minnesota, he played college hockey for the Minnesota Golden Gophers.
Also read: <<Josh Ho-Sang Bio: Parents, Hockey Teams, Career, Contracts Wiki>>
Brady Skjei | Professional Career
New York Rangers
In the 2012 NHL Draft, Brady was selected by the New York Rangers in the first round.
On April 1, 2015, Skjei signed a contract with the New York Rangers, but he did not immediately start with the team.
He played as an Amateur Tryout for the Hartford Wolf Pack of the American Hockey League in the 2014-15 season.
In addition, Brady scored his first professional goal on April 26, 2015, in a Calder Cup playoff game against the Providence Bruins.
Furthermore, on December 15, 2015, Skjei returned to the New York Rangers after recording two goals and nine assists for the Hartford Wolf Pack at the start of the 2015-16 season.
Moreover, Skjei's ice time consequently increased due to injury to many Rangers' defensemen. Even so, Skjei could not score points in the seven regular-season games.
However, he recorded two assists in the playoffs, even though the Rangers were eliminated in the first round.
Then on December 11, 2016, the young ice hockey player scored his first NHL goal against the New Jersey Devils.
Similarly, he scored his first playoff goal against the Montreal Canadiens the following year on April 16.
Likewise, Skjei played his first multiple-goal game on April 29 against the Ottawa Senators in the Stanley Cup playoffs.
Not to mention, he received the NHL's 2017 All-Rookie team award on June 21, 2017. The Rangers faced difficulties in the 2017-18 season, leading to team rebuilding.
Additionally, after the team captain, Ryan McDonagh, was traded, Skjei's ice time increased remarkably, and they became the Rangers' best defenseman.
Henceforth, on July 28, 2018, Brady Skjei signed an extended six-year contract with the Rangers.
You might be interested in another Rangers player: <<Mika Zibanejad Bio: Ice Hockey, NHL, Family, Net Worth, & Wiki>>
Carolina Hurricanes
Later on February 24, 2020, the Rangers traded Brady Skjei to the Carolina Hurricanes to clear the Rangers' cap space.
Nonetheless, it was challenging for the Rangers to replace one of their most important players.
Brady received the unexpected trade news while in a Manhattan coffee shop.
The trade was a surprise to him, so he did not have much time to go and pack his bag to catch a flight.
However, Skjei adjusted to his new team and a new coach, Rod Brind'Amour, and learned about how the Hurricanes played.
Soon enough, he became one of their best defensemen and is improving with every game.
Conveniently, Brady also convinced his former Ranger teammate, Jesper Fast, to sign with the Hurricanes.
The Hurricanes Vs. The Rangers
On August 1, 2020, during the NHL Stanley Cup playoffs in Toronto, Skjei played for the Hurricanes against his former team, NY Rangers. Brady wasn't a physical player while he was with the Rangers.
However, the Carolina Hurricanes defenseman played an extremely physical game and delivered a significant hit when he checked his former teammate, Jesper Fast neutral zone.
When Brady was asked about his emotions about playing with the Rangers, he said he was very excited about the game.
He said it would be a fun battle to go against his former team and do his best to win his current squad.
Brady Skjei | Career Statistics
To talk about Skjei's performance stats show he has played 314 games and counting, recording 25 goals and 88 assists.
Likewise, Brady scored approximately 113 points, with 174 penalty minutes. Moreover, the American hockey athlete has 551 shots on goal with a 4.5% average shooting percentage.
However, the talented skater has recorded only three game-winning goals. Nonetheless, his defensive tackle is still one of the best on his team.
You can find the latest game logs, advanced stats, NHL scores, and more information about Brady Skjei on the Hockey reference website.
Brady Skjei | Height, Weight & Physical Appearance
Skjei stands tall at 6 feet 3 inches (191 cm) and weighs 96 kg (211 lbs). He has a perfectly structured face, dark brown eyes, and dark brown hair.
With his well-built body, which will continue growing, his playing skills, and his attractive personality, he is hard to miss on the icy court.
Also read: <<Patrik Berglund – Height, Career, Termination, Family & Net Worth>>
Is Brady Skjei Married to Gracia Bonesho? Personal Life & Girlfriend
The handsome hockey player is happily married to his beautiful long-time girlfriend, Gracia Bonesho. The duo got married in August 2021.
Gracia and Brady went to the same high school, where she was a part of the girls' football team.
Besides, Gracia has a degree in Nursing and has plenty of experience in the surgical, general pediatric, and cardiovascular units during her college days.
Also, she worked at the Emergency Observation unit at NYU Langone Medical Center.
Further, the couple seems to be enjoying their time together and is happy in their married life.
Skjei is frequently posting pictures of himself and Gracia on his Instagram. At the moment, they are content with how things are.
You might be interested in reading:<<Kathryn Humphreys – Career, Parents, Husband, Relationship>>
Brady Skjei | Salary and Net Worth
Brady's last contract of six years with the New York Rangers amounted to $31.5 million with an additional signing bonus, making his yearly income $5.25 million.
The same contract has been traded to the Hurricanes. As of 2023, Brady's net worth is estimated at $4.4 million.
Although there is no information regarding Brady's car or House, he seems to be enjoying his life in and out of the country, vacationing.
Social Media Presence:
The young American ice hockey defenseman is active on social media platforms.
He mostly shares his life's current hips and happenings on social media platforms. Skjei mostly uses Instagram and Twitter to communicate with his fans.
On Instagram, he is available as bradyskjei making 64.1k followers. Likewise, he has shared around 175 posts on Instagram.
His posts mostly reflect the things related to his personal and professional career life. On Twitter, Brady is active as @BradySkjei making 21.3k followers.
He joined Twitter in April 2011 and has made more than 1k tweets. Likewise, Brady is also seen giving his interviews on popular Youtube channels.
In these interviews, he mostly talks about the activities related to his personal and career highlights.
Some FAQs:
Is Brady Skjei a good skater?
Yes, Brady Skjei is considered a good skater and defenseman. According to the NHL scouting report, Brady is a skater who moves smoothly and can go with an explosive burst. In addition, he possesses the good size and all-around ability required for a player.
Did the Rangers trade Brady Skjei?
Yes, the Rangers traded Brady Skjei to the Carolina Hurricanes, which in return, will receive a 2020 first-round pick.
Who portrayed Brady Skjei?
Alex Moffat portrayed Brady Skjei in one of Saturday Night Live episodes hosted by Chance the Rapper on November 18, 2017.
Where did Brady Skjei represent his country internationally?
Brady played international hockey for the first time in Canada at the 2011 World Under-17 Hockey Challenge. Secondly, he represented the USA in the Czech Republic at the 2012 IIHF World Under-18 Championships.
After that, Skjei attended the American evaluation camp to prepare for the 2013 World Junior Championship, held in Russia. Lastly, Skjei was selected for the 2014 World Junior Tournament, held in Sweden.