When we talk about Iman Shumpert, we recognize him for his numerous talents as a dancer, producer, actor, and NBA player.
Iman Shumpert is a professional basketball player from America who is well-known for his abilities and achievements.
Shumpert has lately become more popular due to his win in Season 30 of "Dancing with the Stars."
Not to mention, Shumpert won the NBA title in 2016 and was the first player in NBA history to make it to the finals and win a dance competition.
In addition, he is now a free agent after his last contract with Brooklyn.
Iman debuted as a singer in 2017. He also said in one of his videos that now, as a free agent, he seems free to do anything he wants.
Let's get more information about Iman Shumpert's personal life, NBA career, and more. Before that, let's take a look at quick facts.
Quick Facts
| | |
| --- | --- |
| Full Name | Iman Asante Shumpert |
| Birth Date | June 26, 1990 |
| Birth Place | Berwyn, Illinois |
| Nick Name | Shump, The Shumpty Dance |
| Religion | Christian |
| Nationality | American |
| Ethnicity | African-American |
| Education | Oak Park and River Forest, Georgia Tech |
| Horoscope | Cancer |
| Father's Name | Odis Shumpert |
| Mother's Name | L'Tanya Shumpert |
| Siblings | Kasani Shumpert, Odis Jr. Shumpert, Ahril Shumpert |
| Age | 33 |
| Height | 6 feet 5 inches (1.96m) |
| Weight | 212 lb. (96 kg) |
| NBA Draft | 2011 / Round:1 / Pick:17th Overall |
| Hair Color | Black |
| Eye Color | Black |
| Career Highlight | NBA Champion (2016) |
| Build | Athlete, Dancer |
| Marital Status | Married |
| Girlfriend / Wife | Teyana Taylor |
| Kids | Two (Iman Tayla Shumpert Jr. and Rue Rose Shumpet) |
| Position | Shooting guard |
| Profession | Basketball Player, Dancer |
| Net Worth | Around $30 million |
| Salary | $48,605,237 |
| Currently Plays for | Brooklyn Nets |
| League | NBA |
| Active Since | 2011-present |
| Social Media | Twitter, Instagram, Facebook, YouTube |
| Merch | Trading Cards |
| Last Update | November, 2023 |
Iman Shumpert | Early Life, Education & Family
Starting with the basics, Iman came into the world on June 26, 1990, to parents Odis Shumpert and L'Tanya Shumpert in Berwyn, Illinois.
Shumpert has three brothers. He frequently played basketball with his brother during childhood and was consistently better than his sibling.
Iman chose basketball in eighth grade, where he played with NBA friend Evan Turner at Gwendolyn Brooks Middle School.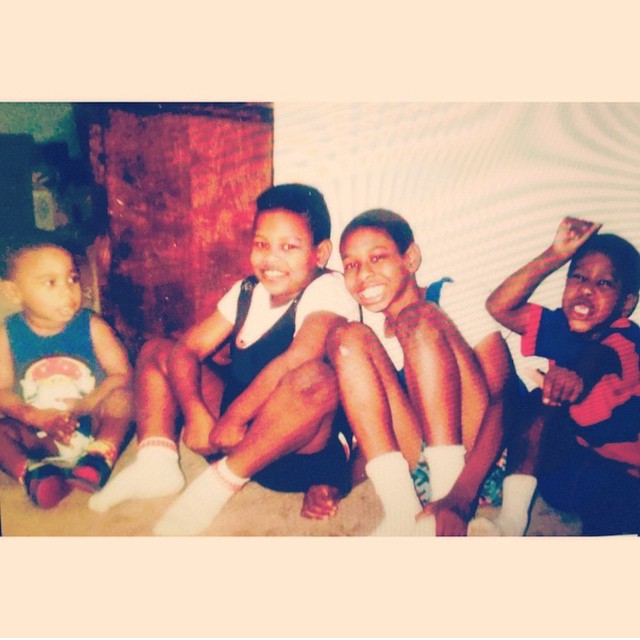 Iman was born into a well-educated family, with a Father who works as an insurance broker and a mother who is a professor of art and design at Columbia University.
Moreover, he chooses Oak Park and River Forest High School for his high school education. He helped Oak Park and River Forest win three conference championships during his high school basketball career.
Iman Shumpert was rated as the no. 26 player and the 15 players in the nation according to Rivals.com and Scout.com.
After a long time, he finally got a chance to play in McDonald's All-American Game in 2008. Moreover, he was named a third-team parade all-American.
Iman Shumpert | College Career
Iman graduated from Georgia Tech from 2008 to 2009. As a sophomore, he played as a fourth-leading scorer and notched 10.5 points in each game.
Shumpert injured his right knee, missed his six-game during the 2009-10 season, and underwent arthroscopic surgery.
Moreover, he notched 17.3 points per game, rebounds, and assists during the 2010-11 season, making him the only 7th player in the ACC to do it.
He was ranked 15th in rebounds, fourth in scoring, and 10th in field goals in ACC. He further received the Georgia Tech Record for steals in each game.
After all those achievements and eligibility in basketball skills during his collegiate year, he finally announced the NBA draft on March 28, 2011.
Iman Shumpert | Professional Career
New York Knicks
New York Knicks traded Shumpert with the 17th overall pick for the 2011 NBA Draft.
He was absent from the 2012 NBA All-Star Weekend Slam Dunk Contest because of his knee injury.
On April 28, he injured his knee during a game against the Miami Heat and was rushed to the hospital for treatment. His ACL and meniscus tore due to the injury, and he was forced to sit out the rest of the season.
Moreover, he was also nominated for Defensive Player of the Year, making him the only rookie to do so.
Later, in 2013, his injury was clear, and he was allowed to participate in team practice. He played against Detroit Pistons in London on January 17 as the first season's first debut.
Furthermore, he notched 8 points, three rebounds, one steal, and one block against the Pistons.
Playing for the Knicks, he scored 2 points, six rebounds, and four assists in a 72-77 loss in July 2013.
Despite his victory against Boston Celtics on December 12, 2014, his left shoulder was dislocated, and he was sidelined for three weeks.
Cleveland Cavaliers
From 2015 to 2018, Iman played for the Cavaliers. He was traded to Cleveland Cavaliers in a three-team trade, including Oklahoma City Thunder and knicks, on January 5, 2015.
Shumpert notched 8 points, two rebounds, and two assists against Charlotte Hornets as Cavaliers on January 23. Although the team made it to the 2015 NBA finals, they lost against Golden State Warriors in six games.
Moreover, he again signed four years contract with $40 million with the Cavaliers on July 9, 2015. However, he was again outlined for three months due to his injury in his right wrist in September.
In December, he notched 14 points off the bench in a 111-76 victory against Orlando Magic.
Similarly, he scored 12 points and 16 rebounds off the bench in a 120-103 victory against Boston Cells on March 5, 2016.
Again, he was sidelined for the two finals games due to his drained left knee. However, his comeback helped the team make it to NBA Finals for the second season.
The Cavaliers beat the Warriors in a rematch, winning the series. Although the team was down 3-1 in the series after game 4, they succeeded in seven games, becoming the first NBA team to do it.
After his continuous knee injury, he was ruled out for six to eight weeks for surgery. He returned for his game against San Antonio Spurs on January 23, 2018.
Sacramento Kings
Iman was again traded in a three-team trade, including the Cavaliers and Utah Jazz, on February 8, 2018.
Similarly, he was voted for the final year of his contract, though he didn't play in the 2017-18 seasons.
In his debut for the kings, he scored 5 points and three rebounds in 18 minutes off the bench in a 123-117 loss to Utah Jazz.
Later after four days, he won against Oklahoma City Thunder with 26 points in the first quarter in a 131-120 win.
In addition, he earned his comeback by consistently defeating the Thunder and the Lakers in November and December.
In a 117-113 win against the Thunder, he scored 21 of his 23 points on average, and in a 117-116 win over the Lakers, he scored 18 points with six career-high 3-pointers.
Houston Rockets
Later, the Houston Rockets acquired Shumpert in a three-team deal on February 7, 2019.
The Cavaliers received the 2019 first pick from the Rockets and the 2020 second from the Kings, Brandon Knight and Marquese Chriss.
Also, read about Marquese Chriss's Bio: Family, Career, Injury & Net Worth>>
Brooklyn Nets
For the 2019 and 2021 seasons, Shumpert was seen playing for Brooklyn Nets. Nets signed with Iman on the 13th of November, 2019.
Following Wilson Chandler's suspension due to roster exemption, he was waived by Brooklyn Nets in December.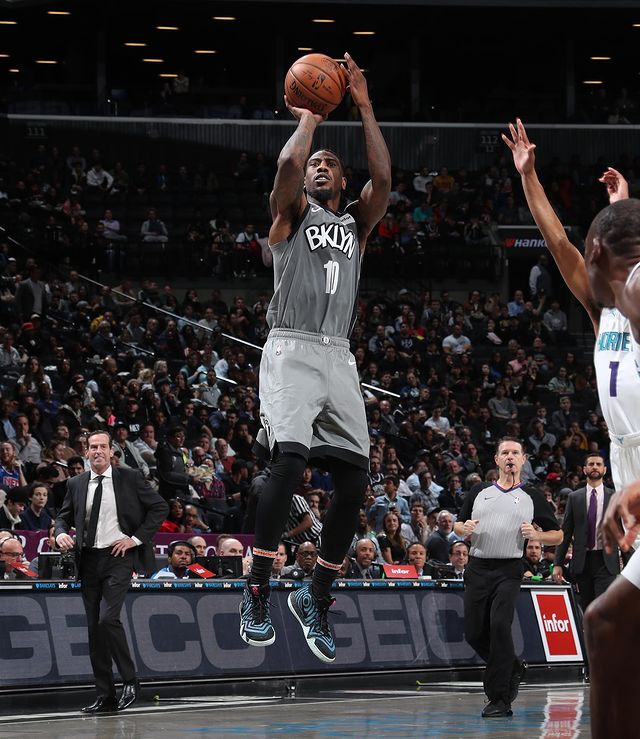 Similarly, Iman signed with the Nets in the deal of his return on January 30, 2021. Iman played one game before being waived.
Extending the contract to 10 days, Shumpert signed with Nets on the 26th of February.
Entertainment Career
Iman has shown his creative appearance in the entertainment industry as a dancer, player, designer, actor, producer, etc.
Starting his path to musical respect with personal lyrics, Shumpert continued working on projects like Joyride, inner peace, BET's hit show "Twenties," etc.
In 2013, he released the track "Dear Kendrick" in response to Kendrick Lamar's verse in Big Sean's music "Control. He also released a few mixtapes, with the song "Knicks Anthem."
With his lyrics and high-tempo flow, he has released music videos called Joyride, Séance, Builds Em, Handel Bars, etc.
Speaking of his acting career, he was seen in The chi, 21 & Over, and Morning Express with Robin Meade.
He has also won Emmy for his involvement on an MSG Network show, Beginning. Starting his journey as a dancer on Season 30 of Dancing with the Stars, Shumpert joined the show with professional partner Daniella Karachi.
Furthermore, beating many talented, well-known personalities, he was announced the winner in the last seconds of the night show, making him the first NBA player to win a dance show.
Including his series with his wife and family, We Got Love Teyana & Iman; since 2018, he has been active in the entertainment industry.
Iman has said that he was always interested in rapping music.
Furthermore, he has also shown an interest in designing, resulting in the opening of his clothing brand, Centerpiece.
Iman Shumpert | Personal Life
Iman Shumpert, the husband of Teyana Taylor, has shown their interesting love life through a series called Teyana & Iman.
Teyana Taylor is also a popular personality, an American singer-songwriter, actress, dancer, choreographer, director, and model.
The couple had their first child in 2015 and named her Iman Tayla Shumpert Jr.
In addition, the pair married in 2016 after the birth of their first child. Interestingly, a couple married in their home's bathroom, where their first child was born.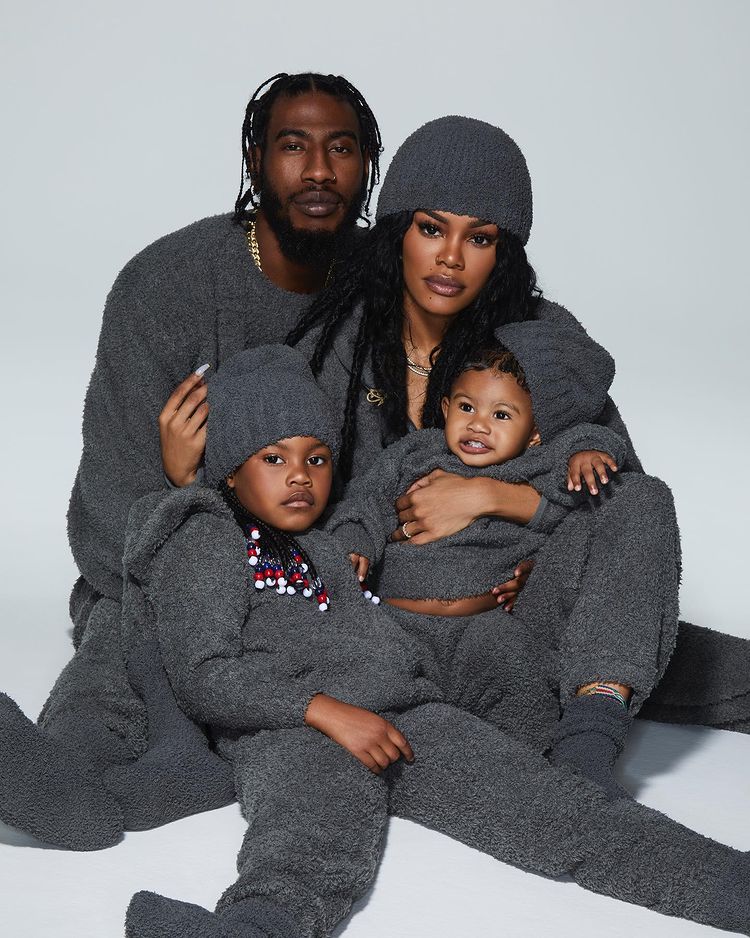 According to Telena in an interview, the reason for marrying in a bathroom was for good luck and to share the love of the firstborn before a big wedding.
Eventually, in 2020 couple announced their second child, Rue Rose Shumpert, through a music video, Wake up Love.
Teyana recently announced her retirement from music in an Instagram post in 2020. Both of them are so in love and living happily with their children.
Putting their love lives aside, Shumpert promotes his clothing line via >Centerpiece.
Recently, he was seen in an accident in Los Angeles. His car crashed into the four-car fender. Though no injury was reported, he was seen filing out the Police report.
Moreover, he also shares a great bond with his parents and brothers.
Shumpert, in his videos, shows his tattoo of him kissing his mother and looking at his Father in the mirror. He further added he has a tattoo of him that says Maya's boy Daddy reflection'.
He has further stated that although he is currently focusing on minor balls, he will never stop playing basketball and will surely announce his comeback soon. Check that on TMZ Sports.
Iman Shumpert | Net Worth
Shumpert's engagement in many professions earned him a substantial sum of money. His success in the NBA has helped him make a lot of money.
Although his exact net worth is still hidden, his estimated net worth is around $30 million.
Talking about his past salary history with NBA, the total salary of Iman is $48,605,237. However, the player's current salary is still unknown.
As per the source, it is said that he has an endorsement with Nike and Adidas, but there are no more details about the approval.
Undoubtedly, Iman and Teyana's combined earnings are sufficient for them to enjoy a luxurious and happy life.
Also, read about Iman Shumpert's Wife Bio: Teyana Taylor, Net Worth & Kids>>
Social Media Presence
Shumpert actively uses Instagram, Facebook, Twitter, and YouTube to communicate with his followers.
Furthermore, most of his posts are about his family and work. He adores his daughters Rue and Iman Tayla and his wife Teyana and loves posting about them.
Similarly, he has many followers on his social media account.
With 1503 posts on Instagram and 1.3m followers on Facebook, he has a verified account on both.
Speaking of Twitter handles, he has 16.9k tweets with bio Husband, Father, Champion, and Artist.
"King Of The Ballroom" – @BrunoTonioli

3 ring Mani.
Junie and Rue Daddy.
Teyana Husband.
Odis n L'Tanya son.#sinnergang #concreteisland pic.twitter.com/beViHnVNhi

— Iman. (@imanshumpert) November 24, 2021
To follow him on social media and learn more about Iman Shumpert, the link below might help.
Twitter: 667.2k followers
Instagram : 2.3m followers
Facebook: 1.3m followers
YouTube: 61.3k subscribers
FAQs
What is the news surfacing between Iman Shumpert and Lebron James?
Iman thinks that LeBron James' decision to join the Miami Heat in 2010 changed the NBA dimension.
Iman Shumpert (@ImanShumpert) explains how LeBron James 'ruined' basketball: https://t.co/jxrHYhQpuO

(🎥: @BootlegKev) pic.twitter.com/EbCOAQljFO

— Sports Illustrated (@SInow) December 23, 2021
Does Iman Shumpert have a ring?
His smart switch to the Cavaliers in 2015 got him a ring in 2016.
Is Iman still playing in NBA?
Iman is a free agent after his last deal with Brooklyn Nets, and he is not seen with any teams.