There have been queries if the former NFL head coach Jason Garrett is related to Jerry Jones, owner of the Dallas Cowboys.
Throughout Garrett's nine seasons with the Cowboys, he and Jones would appear together in press conferences and the fields.
Beyond the typical professional relationship of a coach and an owner, to many, it resembled a deep and nurturing father-son connection.
Jones' connection with the Garrett family has a history of more than three decades. Besides him, Jerry has worked with Jason's father and brothers ever since he bought the Cowboys in the late 1980s.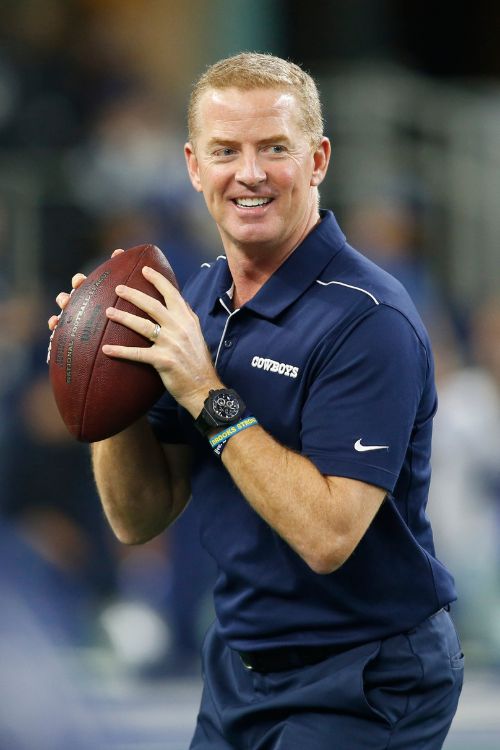 Jason Calvin Garrett (b. March 28, 1966) started his professional football journey as the undrafted pick of the New Orleans Saints in the 1989 NFL draft.
The Princeton University alum played for different NFL teams: the Cowboys, Giants, Buccaneers, and Dolphins, until 2004.
In fact, as a backup quarterback for Troy Aikman, he was part of the Cowboys in three Super Bowl wins (XXVII, XXVIII, XXX).
After his playing career retirement in 2004, Garrett became quarterbacks coach for the Miami Dolphins from 2005 to 2006, under head coach Nick Saban.
Then, in 2007, he joined the Dallas Cowboys as an offensive coordinator & then went on to become its head coach in 2011 through the 2019-20 season.
Now, he is pursuing his career as a studio analyst for NBC.
Is Jason Garrett Related To Jerry Jones?
Garrett and Jones are not related by blood but professionally, with a shared enthusiasm for football.
Jerry Jones is the owner & manager of the NFL team Dallas Cowboys, while Jason served as its coach (assistant & later head coach) from 2007 to 2019.
For him, Jones was like a fatherly figure more than an owner of the team.
Besides him, he also hired Garrett's two brothers in the team's management: John as a tight ends coach (2011-12) and Judd as the director of scouting (2008- 2019).
Connection With Garrett's Family Began In The Late 1980s
In one way or another, the American businessman Jerry has ties with the Garrett family that dates back to 1989 when he bought the NFL franchise, the Cowboys.
At that time, Jason's father, Jim Garrett, worked as a college scout for the team (from 1987 to 2003).
Thanks to Garrett's dad's connection with Jones, he got hired as the offensive coordinator for the Cowboys in 2007.
Then, his coaching portfolio advanced to an assistant head coach from 2008 to 2010 before becoming an interim head coach in 2010.
In 2011, Jerry appointed Jason Garrett as the head coach of the Dallas Cowboys, replacing Wade Phillips.
Jones And Garrett's NFL Journey Separated In 2020
For nine and a half seasons until the 2019-20 season, Jason Garrett, as a head coach, reported directly to Jerry Jones.
Starting the 2020 season, Mike McCarthy took over as the head coach.
During Garrett's time with an 85-67 record, the Cowboys reached only three Divisional rounds and lost each time, falling short of the Super Bowl.
So the business side of the NFL had them part ways for the best of the business.
Still, Jason and Jerry are close to each other.
Family Tree & Relationship Of Jason Garrett
Jason, an American former football coach-turned-sports broadcaster, is the son of Jim Garrett and his wife, Jane Garrett (née Lentz).
His now-late father, James "Jim' William Garrett Jr. (b. June 19, 1930- d. February 9, 2018), was a football player, coach & scout.
After three seasons in the NFL, he turned to a coaching career- for college as well as NFL teams (the Giants, Saints & Browns).
Then he became a player scout and college scout for the Dallas Cowboys.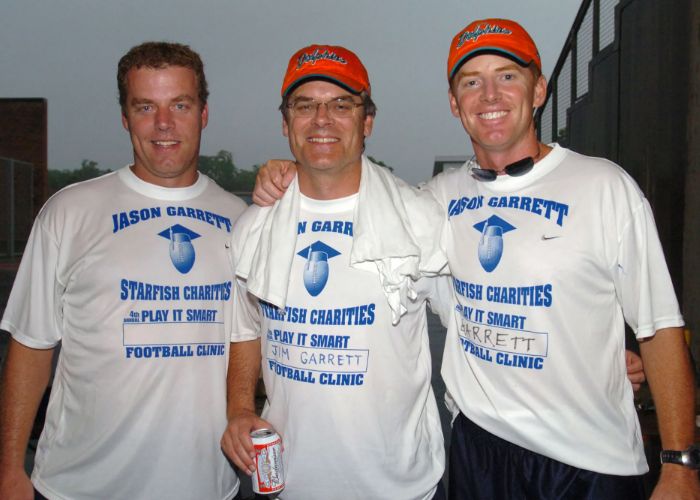 Jason Garrett, one of 8 children of his parents, has three publicly known brothers who are successful in their own right.
John Garrett (b. March 2, 1965): An American former football coach notably served as the head coach of Lafayette (2017-21). Now, he is the director of scouting at Florida State University (2022- now).
Judd Garrett (b. June 25, 1967): A former football running back for the Dallas Cowboys & then served as the team's directing of scouting from 2008 to 2019.
James "Jim" Garrett III: He is the chairman of the English Department at the University School.
Garrett's Wife & Children
Jason Garrett is happily married to Brill Garrett, who is a literacy advocate, and they live in Dallas. She is the daughter of Jeffrey and Judy Aldridge.
The couple married in 1994 after dating for a few years. Both of them are Princeton University alumni who met at Geology class during their freshman year.
According to reports, the duo is yet to share any children.
Jerry Jones' Family Tree
Born on October 13, 1942, Jerry Jones, a Los Angeles native, is the owner & general manager of the NFL team Dallas Cowboys.
He is the son of John "Pat" and Armenita Jones, who owned two branches of Pat's SuperMarket in North Little Rock, Arkansas.
Jerry's father was president & chairman of Modern Security Life Insurance Co., and later the inheritance made him the VP of the company.
Jones is married to his wife of [calcuate_years datestring="1963/00/00″] years, Eugenia Jones.
They exchanged vows in 1963 and welcomed three children: Stephen, Charlotte, and Jerry Jones Jr.