Isaac Okoro is an American professional basketball player for the National Basketball Association's Cleveland Cavaliers (NBA). He was a member of the Auburn Tigers throughout his collegiate career.
Moreover, you might even be shocked to see how the tough sophomore has developed into an exceptional defender.
Interested to know more about the rising NBA player? Don't worry because we have prepared this article just for you!
Today, we have everything you need to know about the rising NBA player Issac Okoro. However, first, have a look at some quick facts.
Quick Facts
Full Name
Isaac Nnamdi Okoro
Birth Date
January 26, 2001
Birth Place
Atlanta, Georgia
Nick Name
Ice
Religion
Christianity
Nationality
American
Ethnicity
Afro-American
High School
McEachern (Powder Springs, Georgia)
College
Georgia Southern University
Playing Career
2020- present
Zodiac
Aquarius
Chinese Zodiac
Snake
Father's Name
Godwin Okoro
Mother's Name
Gloria Okoro
Siblings
Three
Age
22 years old
Height
6'5″
Weight
102 kg
Chest Size
Not available
Biceps Size
Not available
Waist Size
Not available
Food Habits
Non-vegetarian
NBA Draft
2020 / Round: 1 / Pick: 5th overall
Hair Color
Black
Eye Color
Black
Career Highlights and Awards

NBA All-Rookie Second Team (2021)
Second-team All-SEC (2020)
SEC All-Freshman Team (2020)
SEC All-Defensive Team (2020)

Build
Athletic
Marital Status
Unmarried
Children
None
Girlfriend
None
Plays for
Cleveland Cavaliers
Position
Small forward
Profession
Professional Basketball Player
Net Worth
$4 Million
Salary
$7,040,880
League
NBA
Social Media
Instagram, Twitter.
Merch
Notebook, Trading Card
Last Update
March, 2023
Isaac Okoro | Early Life and Family
Isaac was born to his Nigerian parents on January 26, 2001, in Atlanta, Georgia. He was also raised in his birthplace, i.e., the Atlanta area.
His father's name is Godwin Okoro, who immigrated from Nigeria in the 1980s. Likewise, his mother, Gloria Okoro, is also from Nigeria.
The player has two sisters and one brother, and he is the youngest of them all. All of his siblings played sports in school. One of his sisters did cheerleading, and the other sister played volleyball.
However, they weren't as enthusiastic about the sport as Isaac was. So, they eventually quit it.
Isaac began his basketball career in his local church league. He began training when he was about seven or eight years old, under Amateur Athletic Union (AAU) coach Omar Cooper.
Likewise, He was a member of the Nike EYBL circuit's A.O.T. Running Rebels.
Isaac Okoro | Career
High School Career
The basketball player attended McEachern High School in Powder Springs, Georgia, where he played high school basketball.
Moreover, during the offseason, Okoro found success with Athletes of Tomorrow in the Nike Elite Youth Basketball League, a prestigious amateur circuit.
He was named the state's most valuable player by the Atlanta Journal-Constitution alongside teammate Sharife Cooper.
He also competed in the Nike Hoop Summit, an international all-star game, on April 12, 2019. Moreover, on April 26, 2019, Isaac became McEachern's second basketball player to have his jersey retired.
Recruiting
Isaac was rated a five-star recruit by Rivals and a four-star prospect by 247Sports and ESPN towards the end of his high school career.
On July 25, 2018, he committed to Auburn over offers from Florida, Florida State, Oregon, and Texas, among others.
Likewise, the player is the second-highest ranked commit in program history, trailing only Mustapha Heron.
College Career
The American player scored 12 points in Auburn's 84–73 victory over Georgia Southern. In the next game, he scored 17 points in a 76–66 triumph against Davidson.
However, Okoro missed a game against Missouri on February 15 due to a hamstring injury.
After the regular season, the league's coaches named Isaac to the All-SEC Second Team, the SEC All-Freshman Team, and the SEC All-Defensive Team.
Okoro averaged 12.9 points per game, 4.4 rebounds, and two assists. The player declared his intention to join the 2020 NBA draft following his rookie season.
Professional Life
The Cleveland Cavaliers picked Okoro with the fifth overall choice in the 2020 NBA draft.
The Cavaliers confirmed Okoro's signing three days later, on November 21.
Isaac got the game-winning in the Cleveland Cavaliers' first preseason game of the 2020–21 NBA season. He was the one to convert the score of 114–116 with the free throw to make it a 114–117 win against the Indiana Pacers.
The player made his NBA debut on December 23, 2020, starting and scoring 11 points, five assists, and three rebounds in a 121–114 win over the Hornets.
You might be interested in Ron Baker Bio: Career, Retirement & Net Worth>>
Isaac Okoro | Body Measurements
The American basketball player, Isaac Okoro, was born in 2001. So, he is currently 22 years old.
Isaac was born in the Snake year, according to the Chinese calendar.
Talking about Isaac's physical appearance, he has an athletic and well-maintained body. Further, the American player stands 6 feet 5 inches tall and weighs around 102 kg.
Okoro's other body measurements are currently unknown. We will update you with the measures once they are available. He has black eyes and black hair.
Likewise, Isaac also does not have any tattoos inked to his body. The reason might probably be is strict Nigerian household.
Further, Isaac's zodiac is Aquarius. Sapiens with the Aries sign are confident, generous, and intellectual. They are also very daring and are up for any new opportunities. Isaac Okoro is no different.
Isaac Okoro | Girlfriend
The NBA player is private about his personal life and hasn't revealed anything about his possible relationship.
According to speculations, he may be single right now due to his basketball profession. The 22-year-old received much media attention ahead of the 2020 NBA draft.
However, no news about his girlfriend has emerged. For the time being, as one of the youngest players in the NBA, we can assume that he is focused on his selection choices and career alternatives.
What are the strengths of Isaac Okoro?
With his 6'5″ height and 220 lb build, and good athletic ability, Isaac physically fits the template of an NBA small forward. Likewise, the player uses his stature well to suit his playing style.
Isaac can be known as a solid finisher at the hoop off, one or both feet who can convert successfully through contact and with either hand. The player has a wingspan of 6'8.5 and a standing reach of 8'4.5.
When unable to score on dunks, Isaac uses his excellent touch to finish plays around the basket on drives. Likewise, the player is also capable of spectacular finishes, using his tremendous explosiveness and strength to push past contact.
Similarly, Isaac has a lot of poise and confidence for a rookie and appears to be a no-nonsense future pro with concentration and desire.
We can say that Isaac is a slasher with the ball who possesses superb body control, power, and enough energy in his first stride off the dribble to go into the lane effectively in the NBA.
Moreover, the player moves well without the ball, aiming to cut and get easy baskets on the weak side. At an early age of 22, he's already a potential defender. Thanks to his solid basics and active feet!
He also seems a high-IQ player who plays to his strengths on both ends and doesn't take many risks. Likewise, he is a willing passer and a selfless player.
Weaknesses
With strengths comes weakness too! One is rarely filled with 100% strengths and 0% weaknesses.
Likewise, there are areas in which the young player needs to put in his hard work. For example, Isaac's offensive skill level is still a job.
Isaac is sometimes hesitant to shoot even when there is space, giving up opportunities or pushing into the defense for lesser percentage attempts.
In addition, he suffers from the free-throw line for a wing prospect, shooting a mediocre 67 percent in 2019-2020.
There is hope that Isaac can grow into a "Swiss Army knife" player. However, work must be done on all levels of his offensive repertoire to realize that potential.
The Junkyard Dog
Isaac Okoro is the first Cleveland Cavaliers player to receive the Junkyard Dog title. He's the Cavs' Bruce Bowens, but without the offensive play.
After the Cavs' 92-86 victory over the Washington Wizards at Rocket Mortgage FieldHouse, Bickerstaff picked guard Isaac Okoro to be the first to wear the Junkyard Dog necklace.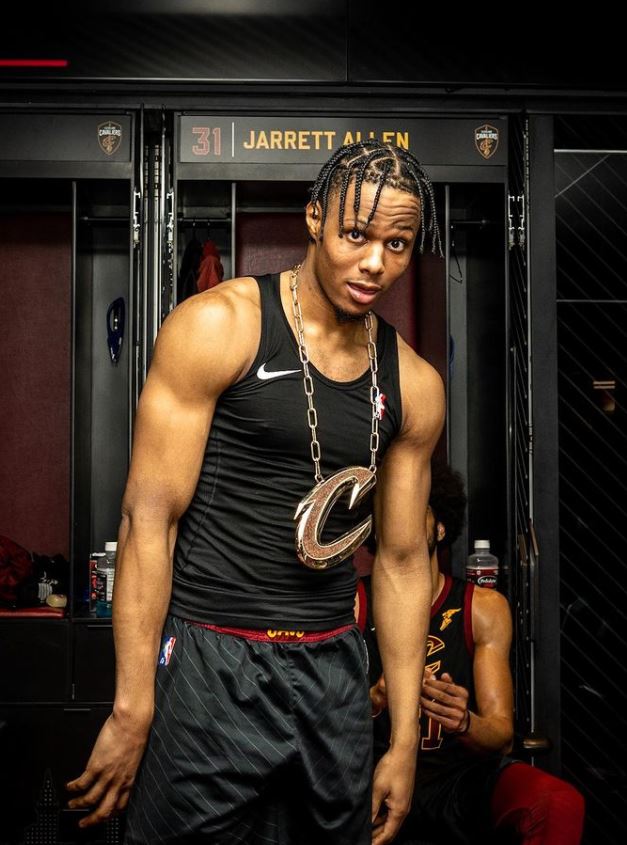 The necklace with a large "C," designed by Jared, is a novel idea from Bickerstaff to acknowledge the player that provides the most trash and effect to the game.
It will be distributed in the locker room following each victory. It's not as impressive as Sylvester Ritter's chain, but no one can top the original JYD.
Nickname
Isaac Okoro is lovingly known as Ice. When asked about the nickname, Isaac said that the nickname was given to him during his sophomore year of high school.
The player hit the game-winning shot against Wheeler, and his coach called him 'Ice' right after that.
Moreover, Isaac says that he likes the name and intends to preserve it.
Social Media Presence
Isaac Okoro has a significant social media presence and a wide fan following.
Instagram: @isaacokoro303 (171k followers)
Twitter: @isaacokoro (35.2k followers)
Isaac Okoro | LifeStyle
We can't disagree that Isaac has a keen sense of fashion. The player usually complements his adorable appearance by stocking his wardrobe with attractive garments.
Furthermore, his choice of invaluable assets has provided conclusive evidence that he leads a lavish lifestyle.
Aside from purchasing a Range Rover for his parents, the player has also purchased a portable yet fancy Mercedes Benz for himself.
Find Our about Aaron Gordon Bio: Career, NBA & Net Worth>>
Net Worth
The player is making $7,040,880 in the current year, 2022/23. The amount is 4.99 percent more than he earned in 2020/21.
Currently, Isaac is the 179th best-paid NBA player and the 8th best-paid player of the Cleveland Cavaliers. Further, his projected salary for the year 2023/24 is approximately $8,920,794
Currently, his estimated networth is $4 Million.
Frequently Asked Questions
Did Isaac Okoro play for the national team?
Isaac Okoro represented the United States in Argentina at the 2018 FIBA Under-17 Basketball World Cup.
Moreover, the player averaged 4.3 points, 1.9 rebounds, and 1.6 steals per game in seven games, helping his team win the gold medal.
Is Isaac Okoro involved in charity?
Yes, Isaac often engages in charity work.
Recently, he, along with the Greater Cleveland Food Bank, J.B. Bickerstaff, the head coach of the Cleaveland Cavaliers, and other Cavs coaches & staff, worked together to help feed hundreds of local families with nourishing food.