The Slavin family's love for ice hockey runs deep! Carolina Hurricanes defenseman Jaccob Slavin isn't the only hockey star in the family – his younger brother Josiah Slavin also plays ice hockey.
Jaccob Slavin's journey to the NHL began in 2012 when the Hurricanes selected him in the NHL Entry Draft.
His younger brother Josiah Slavin followed in his footsteps six years later when the Chicago Blackhawks drafted him in the 2018 NHL Entry Draft.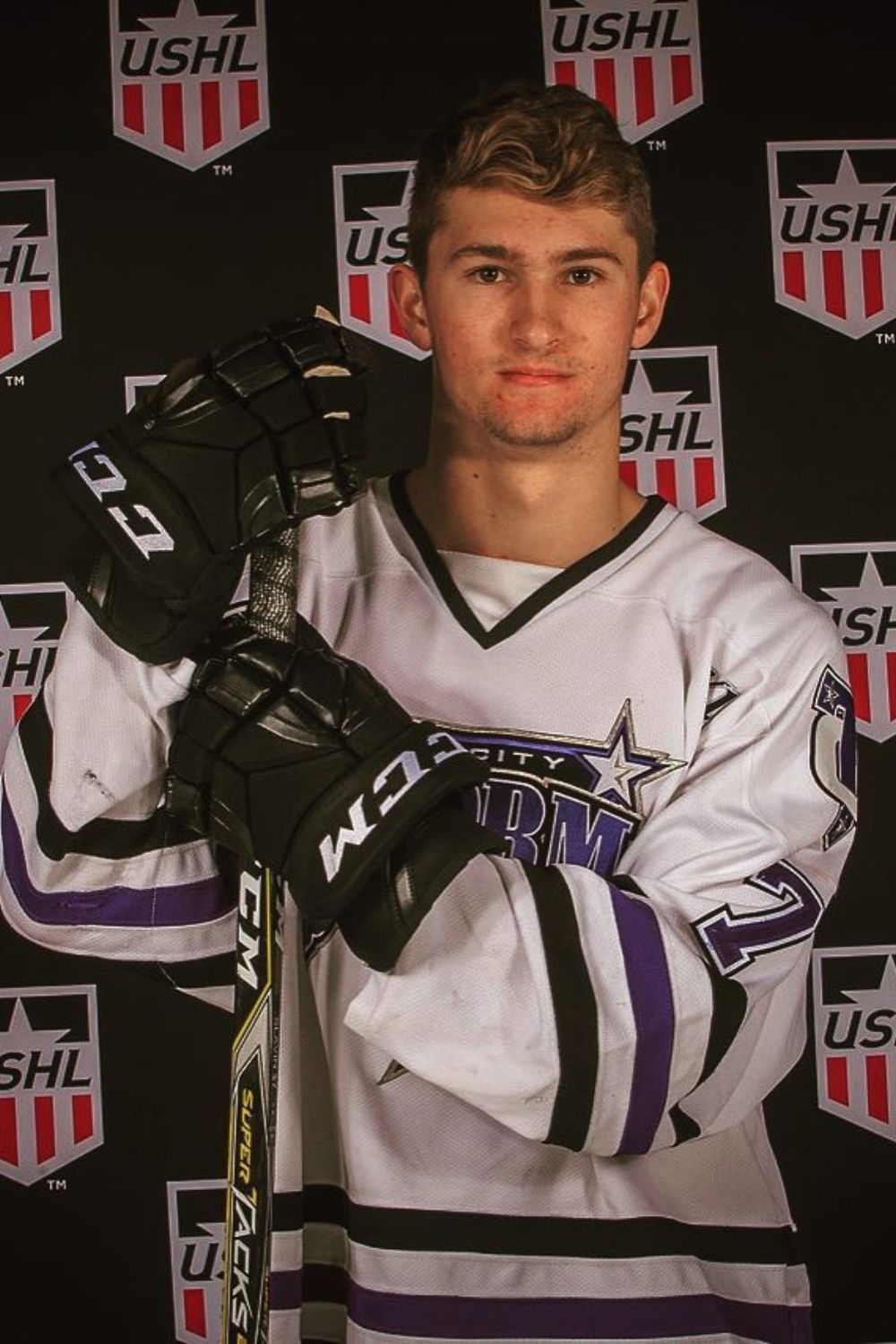 The Slavin family slides with ice in their veins as Jaccob Slavin is just one of the talented Slavin siblings.
He has three other siblings besides Josiah Slavin, who have also been involved in ice hockey at some stages of their careers.
Who Is Jaccob Slavin Brother Josiah Slavin?
Josiah Slavin was born on December 31, 1998, and is the fourth child of Wendi and Robert Slavin.
He began playing hockey at age two and credits his older brother Jaccob as the most significant influence on his athletic career.
Josiah played college hockey for Colorado College and also enjoys golf, his favorite sport other than hockey.
As a devout Christian, he often cites his faith as part of his approach to games, and before every match, he kneels at the center ice to pray.
His favorite player is Steve Yzerman, and his favorite professional team is Chicago Blackhawks.
Wife Of Josiah Slavin
In August 2021, he married Cali Slavin (born on August 15, 1997), with whom he had been in a relationship for a year and a half.
Cali Slavin graduated in 2020 from Colorado Christian University, where she studied Business Administration and Accounting.
She completed her internship at Global Machinery as an accounting intern, then worked as a Business Tax Services Intern and Tax Consultant, and is now a Tax Senior at Deloitte.
Ice Hockey Career Of Josiah Slavin
On June 24, 2018, the Blackhawks drafted Josiah as the 193rd overall pick in the 2018 NHL Draft, in which the top three picks were Rasmus Dahlin, Andrei Svechnikov, and Jesperi Kotkaniemi.
He then signed a contract with the Blackhawks worth $1.85 million for two years on March 16, 2021.
During the 2021-22 season, Josiah played 15 games with Chicago, contributing one assist and accumulating four penalty minutes.
On February 23, 2023, the Blackhawks traded him to the Anaheim Ducks in exchange for Hunter Drew.
Currently, Josiah plays for both the San Diego Gulls in the AHL and the Ducks in the NHL under a two-way contract.
Family Of Hurricanes Defenseman Jaccob Slavin
Jaccob Scott Slavin was born to Wendi and Robert Slavin on May 1, 1994.
He is the third child among five siblings, including two brothers, Justin and Jeremiah, and one sister Jordan.
Growing up in Erie, Colorado, Jaccob and his siblings were all athletes. In contrast to their younger brothers, Justin and Jordan did not pursue a professional career.
Justin Slavin is the eldest child and attended the University of Northern Colorado for a Bachelor of Science in Sports and Exercise Science and enrolled in Red Rocks Community College, majoring in Law Enforcement.
Justin started with rollerblading while growing up and moved to hockey, but he pursued a different career path later.
As per his Linkedin profile, he became a police officer at the Erie Police Department in 2018.
The family's only daughter, Jordan (born on February 5, 1992), started playing hockey at the young age of four at the Hyland Hills Hockey Association.
She played for the University of North Dakota, represented the USA in the Under-18 World Championship, and won a silver medal.
The family's youngest member, Jeremiah, currently plays for the Muskegon Lumberjacks in the United States Hockey League, a Tier I junior league.