Jacob Eason is an American football quarterback for the Carolina Panthers in the NFL. With his presence on the team, the Panthers now have more than one quarterback available on the roster.
Eason was signed on a reserve/future deal with the Carolina Panthers on January 24, 2023.
It is his second stint on the team, as he previously played for Panthers from August 31, 2022, to November 7, 2022.
Jacob played college football at University of Georgia in 2016 before moving to the University of Washington in 2018.
The athlete started his professional career in 2020 when he was drafted by the Indianapolis Colts in the 4th round of the NFL Draft and continued with the team till 2021.
The following article will give you a deeper understanding of Jacob Eason, his lifestyle, family, relationship, and net worth.
First, let's look at a quick fact.
Quick Facts
Full Name
Jacob Henry Eason
Date of Birth
November 17, 1997
Place of Birth
Lake Stevens, Washington, United States
Age
25 Year Old
Nationality
American
Ethnicity
Unavailable
Religion
Unavailable
Father's Name
Tony Eason
Mother's Name
Christine Eason
Zodiac Sign
Scorpio
Height
6 ft 6 in (1.98 m)
Weight
231 lbs (105 kg)
Hair Color
Dark Brown
Eye Color
Brown
Profession
Professional NFL Player
Position
Quarterback
NFL Draft
2020 / Round: 4 / Pick: 122
Jersey Number
16
High School
Lake Stevens High School
University

University of Georgia (2016–2017)
University of Washington (2018–2019)

Sexual Orientation
Straight
Relationship Status
Unmarried
Girlfriend
Sidney Tilton
Children
Not Yet
Career

Indianapolis Colts (2020–2021)
Seattle Seahawks (2021)
Carolina Panthers (2022)
San Francisco 49ers (2022)
Carolina Panthers (2023–Present)

Net Worth
$1-$5 Million
Salary
$940,000
Merch
Signed Helmet, Football Card
Social Media
Instagram, Twitter
Last Update
March 2023
Early Life, Family Life, & Education
Jacob Eason was born to his father, Tony Eason, and his mother, Christine Eason, and raised in Lake Stevens, Washington.
Mr. Tony was also a football player who played collegiate football at the University of Notre Dame. He became the inspiration for Jacob to pursue the sport.
He attended Lake Stevens High School, where as a freshman, he played in four games, had four touchdowns, and one interception.
The player finished his career at Lake Stevens after appearing in a total of 38 games, completing 662 out of 1,025 pass attempts, 18 interceptions, and 102 touchdown passes.
Jacob was named the best player overall in the 2016 class and ranked as the top pro-style quarterback by Rankers.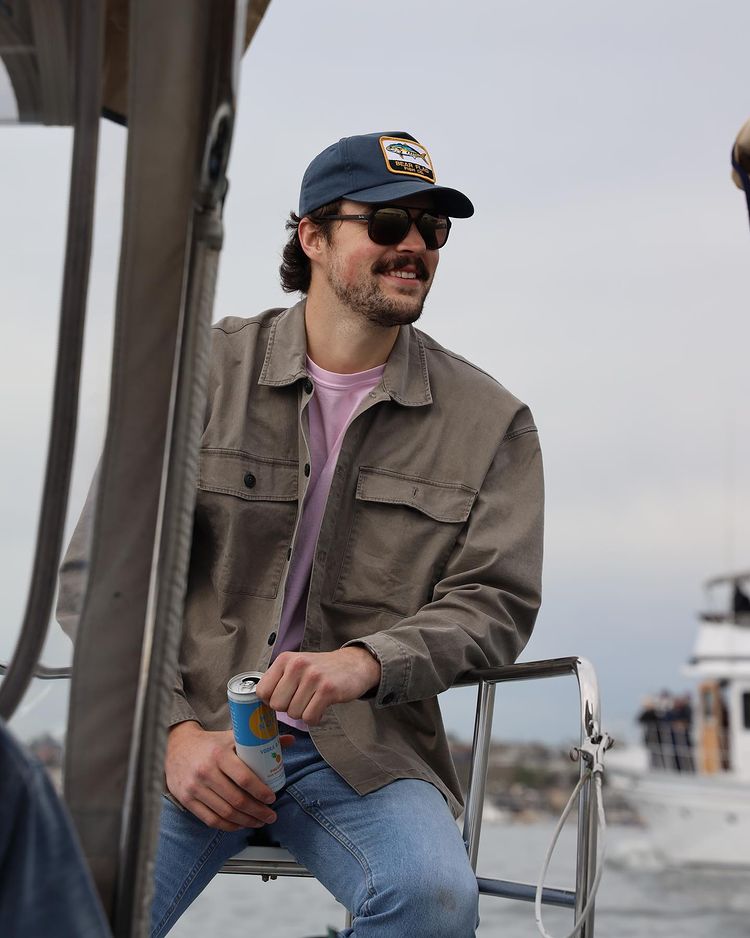 Hence, he had many recruits, but on July 19, 2014, Eason committed to play college football at Georgia.
He started the 2017 season as Georgia's starting quarterback, but at the first game of the season against Appalachian State, he injured his knee.
After the season was over, Jacob decided to leave Georgia for Washington; the transfer was officially announced on February 6, 2018.
He sat out the 2018 season, and on the next one, Jacob won the starting job.
In his first start, his team went against Eastern Washington, where he completed 27 of 36 passes for 349 yards and four touchdowns.
Furthermore, on December 26, 2019, the athlete decided to forgo his senior year and went through the 2020 NFL Draft.
Age, Height, & Weight
The Carolina Panthers quarterback is 25 years old, as he was born on November 17, 1997.
Regarding Jacob Eason's physical attributes, he stands 6 feet 6 inches (1.98 m) tall, which is a respectable height for an exceptional player.
Likewise, he weighs around 231 lbs (105 kg), considered to be average in the sports world.
Professional Career
Jacob Eason was drafted in the fourth round of the 2020 NFL draft by the Indianapolis Colts with the 122nd overall pick, along with teammate Jonathan Taylor.
Albeit, he didn't play his rookie year. In the 2021 season, he made his NFL debut in Week 2 after starter quarterback Carson Wentz became injured.
He was able to make one interception and complete two out of five passes for 25 yards.
Nonetheless, Eason was waived by the Colts on October 19, 2021. The next day, Seattle Seahawks claimed his waiver, but he was again waived on August 30, 2022.
Afte that, he signed with the Carolina Panthers practice squad and was moved to the active roster on October 12, 2022.
Jacob played one game for the team in the 2022 season in Week 6 against the Los Angeles Rams, where he went 3-for-5 for 59 yards and an interception.
With that, he was returned to the practice squad and released on November 7, 2022.
On November 14, 2022, he signed with the San Francisco 49ers and remained on the practice squad till he was released on January 3, 2023.
Finally, Jacob returned back to the Carolina Panthers on January 24, 2023, with a reserve/future deal.
Girlfriend & Relationship
Jacob has a beautiful girlfriend, Sidney Tilton, who is currently based in Orange County, California.
She was born to her mother, Kim Reid Tilton, on March
Even though the name of her father is unavailable, they have shared family portraits on Instagram.
Moreover, Sidney grew up with two brothers, Chase Tilton and Jack Tilton.
She is a fitness model and social media influencer who graduated from the University of South Carolina in 2021. Back in her college days, she was a cheerleader.
Tilton has done lots of brand endorsements and is associated with the clothing company 'Revolve.'
Similarly, she has a collection of workout fits and swimsuits, which she sells through an online store called, LTK Shop.
She also has a Youtube channel, where she posts vlogs about her life and has collected 8.4K subscribers and 706.4K total views.
The power couple is extremely close and isn't afraid to flex their love. They are fond of showering love on one another through Instagram posts and stories.
They consider each other their best friend and is happy to be together.
On January 1, 2022, Sidney posted on Instagram with a caption that said, "happy 3 years to my best friend 🤍I seriously couldn't do it without you. Here's to another year full of happiness & adventure with you 🥂 I love you bub ❤️"
Hence, it can be confirmed that they have been together for more than four years.
They often celebrate holidays and travel the world together. However, there is no news about their wedding yet; we will let you know as soon as they reveal anything.
What Is The Net Worth Of Jacob Eason?
The exact net worth of NFL player Jacob Eason cannot be pinpointed due to him being early in his career.
However, it can be estimated to be around $1-$5 million as of March, 2023.
Jacob agreed to a four-year, $4,027,264 deal that paid him an average salary of $1,006,816 annually.
Likewise, he signed a one-year 2023 deal worth $940,000 with the Carolina Panthers.
Another source of income for Eason is endorsement deals and sponsorships. In 2020, he endorsed 'Bose' and even posed with their headphones on Instagram.
Social Media Presence
The Carolina quarterback is active on social media, where he often shares pictures of his practice, girlfriend, and personal life.
If you are a fan of the outstanding football player, you can follow him on Instagram and Twitter under the username "@skinnyqb10."
View this post on Instagram
Instagram: 118K Followers
Twitter: 119.9K Followers
Popularity Graph
Jacob Eason is a popular football player who has been searched many times over a year.
With his new contract, his popularity has grown and is expected to rise.
The graph shows his search trend for 12 months.
Frequently Asked Questions (FAQS)
Is Jacob Eason still in the NFL?
Yes, Jacob Eason is still in the NFL, as he has signed a new contract with Carolina Panthers in 2023.
Is Jacob Eason married?
Jacob isn't married yet. However, he is in a relationship with Sidney Tilton, who is not only his other half but also someone who adores his games.
Is Jacob Eason related to Tony Eason?
Jacob Eason does not have any connection to Tony Eason, the former NFL quarterback. Since his father's name is the same, many still get confused. In the early 1980s, the ex-Patriots quarterback played college football at Illinois.