The NFL star Jake Matthews' father is Bruce Matthews, a retired NFL player-turned-coach. Bruce, who was highly versatile during his playing days, had a stand-out in positions like guard, center, offensive tackle, and long snapper.
Mr. Matthews dedicated his 19 seasons career to the Tennesse Titans (then Houston Oilers/Tennessee Oilers) before retirement (1983-2001).
Enthusiasm for an American football career is in the genes of the Matthews family- it began even before Bruce himself, whose father Clay Sr. played in NFL too.
The generational football career is now carried up by Bruce's son Jake Matthews, who signed a 3-year extension with Atlanta Falcons during the 2022 season.
He records the highest number of NFL games than any other linesman and third-most of all time behind quarterbacks Brett Favre and Tom Brady. In fact, he never missed any of the 229 games due to injury.
Moreover, Bruce is the only player who participated in the Baltimore Ravens' final game at Memorial Stadium in 1997 and the Baltimore Colts' last game in 1983.
After his NFL playing career, Matthews became an offensive assistant coach at Houston Texans and later an offensive line coach at Tennessee Titans.
In addition to a fabulous career, the Pro Football Hall of Fame has a beautiful family. He is father of seven- among them, his son Jake has a remarkable NFL career.
Moreover, his other family members are in NFL; Bruce is the brother of linebacker Clay Matthews Jr. In addition, he is the uncle of linebackers Clay Matthews III and Casey Matthews.
Want to know more about Bruce Matthews? Read the article to learn everything about the retired NFL star.
Jake Matthews' Father | Quick Facts
Full Name
Bruce Rankin Matthews
Date of Birth
August 8, 1961
Birth Place
Raleigh, North Carolina
Nick Name
Bruce
Religion
Christianity
Nationality
American
Ethnicity
White
Zodiac Sign
Virgo
Age
62 years old
Height
6 feet 1 inch (1.96 m)
Weight
138 kg (305 lbs)
Hair Color
Black
Eye Color
Drak Brown
Build
Athletic
Father's Name
Clay Matthews Sr.
Mother's Name
Daisy Matthews
Siblings
Four
High School's name
Arcadia High School (Arcadia, California)
College Name
University of Southern California
Marital Status
Married
Wife
Carrie Matthews
Profession
NFL player
Position
Guard, Offensive tackle, Center, Long snapper
Jersey Number
#74
Children
7
Active Years
Player (1983-2001)

Coach (2009-2013)

NFL Draft
Round: 1, Pick: 9, 1983
Games played
296
Games started
293
Forced fumbles
5
Fumble recoveries
10
Career Highlights

PFWA All-Rookie Team (1983)

NFL 100th Anniversary All-Time Team
Titans/Oilers Ring of Honor, etc.

Merch
Not available
Net Worth
$1 million
Social Media
Not available
Last Update
November, 2023
Bruce Matthews (Jake Mathews' Father) | Early Life & Family Members
Bruce Matthews was born in Raleigh, North Carolina, on August 8, 1961. His full name is Bruce Rankin Matthews.
Being the youngest of five children to Clay Matthews Sr. and Daisy Matthews, he grew up in a family showered with love and affection. His older sister's name is Christie, the eldest of them.
Reportedly, his twin brothers: Bradley (who died in 2003) and Raymond, were developmentally disabled. On the other, Bruce and his older brother Clay Matthews Jr. played at USC Trojans during their collegiate career.
In an interview with Vault SI in 1990, Bruce Matthews said that his twin brothers were very supportive of him, and if the situation were to be different, then 'the four Matthews brothers would be playing in the NFL.'
Even though Bruce's mother, Daisy, passed away following his first season in 1984, he owes a lot to the love and encouragement she provided for him and his siblings as they grew up.
Bruce has an older sister, Christie, and twin brothers, Brad and Raymond. He also has another older brother named Cleveland Brown, a.k.a Clay.
Clay is five years older than Bruce. When Bruce was small, he viewed Clay as his inspiration and wanted to be like him. Clay undoubtedly was and is still Bruce's all-time favorite player.
Schooling & Early Career
When he was a small child, his family relocated to Arcadia, California. At Arcadia High School in Arcadia, California, Bruce participated in football.
Moreover, Bruce excelled in high school wrestling and became an early offensive and defensive line standout in football.
As a result, in 1977, while he was a junior, the player got selected for the third team of the All-California Interscholastic Federation.
Similarly, as a senior, Matthews participated in the Shrine All-Star Football Classic alongside John Elway. His number #72 jersey was later retired by Arcadia High.
Jake's Father Bruce Matthews | NFL Family History
Bruce Matthews inherited the football-loving gene of his father Clay Matthews Sr (Aug. 1, 1928- March 23, 2017). He was an American football tackle for NFL's San Francisco 49ers and played for 4 seasons before serving as a paratrooper during Korean War.
Late Clay Matthews Sr. (Bruce's father & Jake's grandfather), an alumnus of Georgia Tech, was in the 1949 NFL Draft by the Los Angeles Rams before being traded to the 49ers.
After NFL, he became the president of the manufacturing company Bell & Howell.
Moreover, returning to the flashback, Bruce's grandfather H. L. Matthews (Jake Matthews' great-grandfather), was H. L. Matthews considered the patriarch of the Matthews family.
H.L Matthews, aka Matty Matthews (b. 1889- d. 1975, Ohio), was a minor league baseball player and coach of several sports.
Jake Matthews' Father | Wife And Children
Bruce lives with his college-time girlfriend-turned-wife, Carrie Matthews. They married in May 1983, two weeks after graduating from the University of Southern California (USC).
Matthews and his wife became parents to seven children: Steven, Kevin, Marilyn, Jake, Mike, Luke, and Gwen, whom they raised in their house in Fort Bend County, Texas.
Reportedly, Bruce had bought the 50-acre property (where their dream house is) shortly after signing a deal with Tennessee Titans (then Houston Oilers).
Sons Are NFL Players Too
No documentation on the career of the duo's eldest son Steven Matthews is out for now.
His second-eldest son Kevin Matthews (b. February 4, 1987), is a former football center. He became an undrafted free agent signed by Tennessee Titans through 2011-12.
Later, he had stints with Washington Redskins (2013) before signing with Carolina Panthers in 2014. However, frequent injuries led him to quit his NFL career.
Jake Matthews is the third oldest son who currently plays as an offensive tackle for the Atlanta Falcons with a deal running him through the 2026-27 season.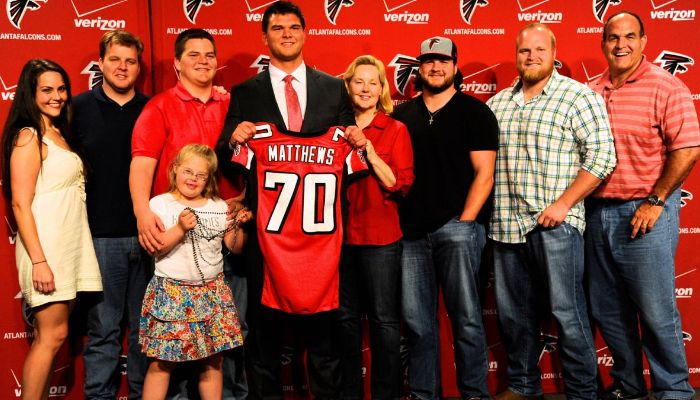 His other son Mike Matthews (b. 1994), an offensive line for Texas A&M, played briefly with Miami Dolphins (2017).
The youngest son Luke Matthews (b. 2000), plays his collegiate career for the Texas A&M Aggies and marks the 2022 season as his senior year.
Bruce and Carrie's daughter Marilyn reportedly got engaged, as per Houston Chronicle's article in February 2017. The youngest of all, Gwen Matthews, has down syndrome and lives at home.
Bruce Matthews' Nephew Are Also NFL Stars
Matthews' nephew Clay Matthews III and Casey Matthews (son of his brother Clay Matthews Jr.) also had a career in NFL. His other nephew Kyle played for USC Trojans.
View this post on Instagram
Clay Matthews III, a six-time Pro Bowl, formerly played as an outside linebacker for Green Bay Packers (2009-18) and won the Superbowl XLV with the team. Later, the 2009 NFL Draft player went on to play for Los Angeles Rams for the 2019 season before quitting NFL.
Casey became the 2011 NFL Draft of the Philadelphia Eagles and played with the team until 2014. On March 24, 2015, he signed with Minnesota Vikings but left NFL after his hip labrum injury required surgery.
Jake Matthews Father | College Career
Bruce Matthews played every offensive line position for the USC Trojans football team at various points while he was a student at the University of Southern California.
Bruce was switched from weakside to strongside guard as a senior in 1982 to replace Roy Foster, who was leaving, as the main blocker in the "Student Body Right" play.
After his junior and senior years, Jake's father was selected for the first-team All-Pacific-10 Conference squad. The player received unanimous All-America recognition as a senior and took home the Morris Trophy, given to the conference's top lineman.
Bruce Matthews (Father Of Jake Matthews) | Professional Career
Jake's father is one of the NFL's most adaptable offensive linemen. He played as a left guard for 99 games, right guard for 67, and center for 87.
Similarly, he played as a right tackle for 22 and a left tackle for 17. He also snapped for field goals, PATs, and punts.
Likewise, Bruce was chosen for 14 Pro Bowls, which tied Merlin Olsen's league record at the time.
The player was also selected for the All-American Football Conference 12 times and was named to the first team of the Pros nine times.
Besides kickers and punters, Bruce was a player with exceptional durability who played in more games (296) and seasons (19) than any other offensive lineman in the NFL. The player retired after the 2001 season.
Early Years
In the first round of the 1983 NFL Draft, the Houston Oilers selected Bruce with the ninth overall pick. He provided Earl Campbell, a future Hall of Fame running back, with blocking throughout his first two seasons.
Bruce was a guard rookie who was selected to the PFWA All-Rookie Team. However, before his second season, the player was switched from right guard to center. Matthews switched between right and left tackle in 1985 and 1986.
Due to a contract disagreement, Bruce missed the first eight games of the 1987 campaign. The player played right guard in 1988, 1989, and 1990 and was selected for the Pro Bowl each year.
Additionally, Bruce consistently received first-team All-Pro nods from The Sporting News, Pro Football Weekly, and the Associated Press (AP).
Likewise, the player flourished in the run-and-shoot offensive system the Oilers used at the time, which called for incredibly quick linemen.
Rise To Glory
The Oilers started Bruce at the center, even though Bruce wanted to continue at guard. The Oilers decided to improve the team's running game for the 1990 season finale.
Through the 1994 season, Jake's father remained the team's center and was selected to the Pro Bowl each year.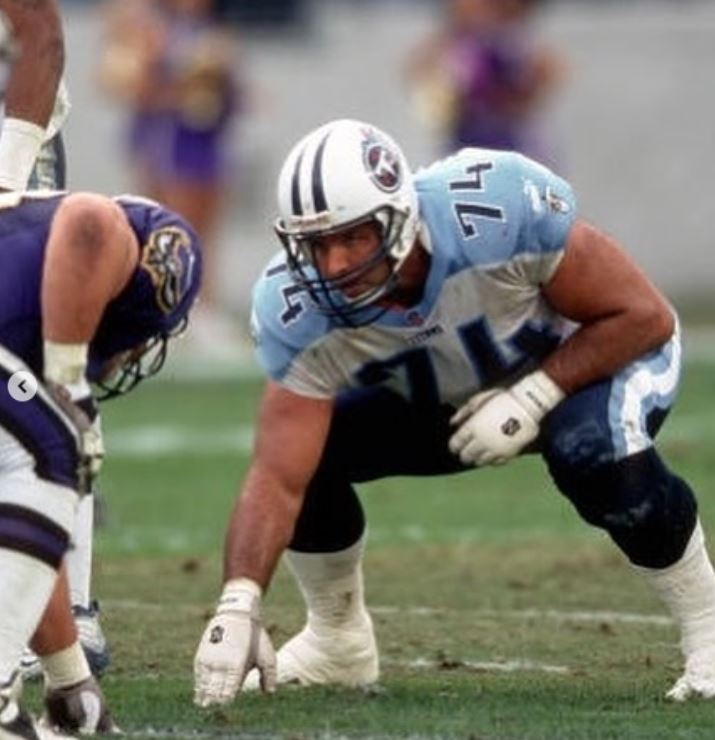 Similarly, Matthews and the Oilers agreed to a four-year, $10.3 million contract deal before the 1995–96 season.
The player switched to left guard that season when the Oilers signed free-agent center Mark Stepnoski. He stayed in that position for the rest of his career, occasionally stepping in for injured offensive linemen.
Ultimately, Bruce gave up football before the 2002 season. At that time, he was 40 years old.
Jake Matthews Father Bruce Matthews | Coaching Career
Jake's father also served as a coach after retiring from his playing career. Bruce returned to Houston on February 27, 2009, and was hired by the Houston Texans as an offensive assistant.
Before that, Bruce had also served as a volunteer coach at Elkins High School, the high school attended by his kids.
Jake's father was appointed offensive line coach by new Tennessee Titans head coach Mike Munchak on February 9, 2011. For the Houston Oilers, both were Hall of Fame linemen.
Titans general managers Ruston Webster and Tommy Smith met with Munchak after the team's 2013 campaign ended with a 7-9 record.
They gave Munchak a choice to fire a sizable number of assistant coaches, among them Matthews, in exchange for an extension and a raise or lose his position as head coach.
Munchak left the Titans along with Bruce and the other assistant coaches. They wanted him to fire because he was unwilling to fire everyone they were directing him to.
Read More: Matt LaFleur, A NFL Player-Turned-Coach | Career, Family & Earnings
Bruce Matthews | Career Highlights And Awards
Bruce Matthews was inducted into the Pro Football Hall of Fame as a member of the class of 2007 in his first year of eligibility. Likewise, On August 5, 2007, the Scott Myers-sculpted bust of him was unveiled as part of the Enshrinement Ceremony.
Since the team's relocation from Houston, Bruce was the first Tennessee Titans player to receive this accolade. The player also joined Dan Marino, Eric Dickerson, John Elway, and Jim Kelly as the fifth player from the 1983 NFL Draft class to be inducted.
Similarly, Bruce was also chosen as a guard for the NFL's 1990s All-Decade Team. To sum up, Jake's Matthews father's major career highlights and awards are listed below:
7× First-team All-Pro (1988–1990, 1992, 1998–2000)
2× Second-team All-Pro (1993, 1991)
14× Pro Bowl (1988–2001)
2001 Bart Starr Award
NFL 1990s All-Decade Team
NFL 100th Anniversary All-Time Team
1983 PFWA All-Rookie Team
Titans/Oilers Ring of Honor
Tennessee Titans No. 74 retired
1982 Morris Trophy
1982 Consensus All-American
2× First-team All-Pacific-10 (1982, 1981)
Texas Sports Hall of Fame
NFL record: Most career starts with one team: 293 (Houston Oilers / Tennessee Oilers / Titans)
Bruce Matthews (Jake Matthews Father) | Age, Body Measurements & More
Bruce Matthews was born in the year 1961. Hence, he is 62 years old.
Bruce has a height of 6 feet 5 inches (1.96 m) and weighs approximately 188kg.
As an August kid, Bruce's zodiac sign is Virgo. Matthews was born in the Ox year, according to the Chinese calendar.
The word that best describes Bruce is competitive. He has an unequaled determination to excel. He strives for victory in everything he does, including sports, video games, and even arguments.
We can say that Bruce's competitive nature was his secret weapon and a factor in his decision to play for 19 seasons. It preserved his youthfulness.
Brief Wiki About Son Jake Matthews | Bio & Career
Born on February 11, 1992, Jacob Andrew Matthews plays offensive lineman for the National Football League's Atlanta Falcons (NFL). Jake and the Falcons agreed to a three-year, $52.5 million extension on March 14, 2022.
The 2014 NFL Draft of the Falcons is a father to a son named Beckett Thomas (b. November 10, 2022) with his wife Meggi Matthews, a former sports reporter.
A MINI @AtlantaFalcons Matthews coming December 2022 🤍 we couldn't be more blessed to be adding to our family! Can't wait to see you as a dad @jakematthews70! pic.twitter.com/r8Gwd646F4

— Meggi Matthews (@meggimatthews) May 12, 2022
Jake sustained a high ankle sprain in his first NFL game, a victory over the Saints. Despite the injury, Matthews started every game in his first campaign but one.
Compared to 2014, where Jake's blocking allowed 51 quarterback pressures, only 38 were allowed in 2015. The player was ranked third on Pro Football Focus' list of the year's most improved players during that campaign.
Jake participated in all 16 contests in the 2020 season. The player's run blocking placed him in 47th place, and his pass blocking placed him ninth among all NFL tackles.
His overall grade of 75.5 was the lowest since the 2016 campaign. Since 2015, Matthews has played at least 1,000 snaps each season.
Is Jake Matthews's Father An author?
Bruce Matthews has written a book—Inside the NFL's First Family— about the Matthews family. The book depicts how eight people over three generations have found success in the NFL—more than any other family in sports history.
The Matthews family's continued success is not a coincidence. They reached the pinnacle of their professions and abilities thanks to their fierce competition and passion for greatness.
Moreover, their never-say-die attitude, empathy for the weak, and love for one another also served as great factors.
"Inside the NFL's First Family" demonstrates how Bruce's NFL career's highs and lows and the growing demands of his roles as a husband and parent caused him to make a lifetime commitment to Christ.
This book offers a fascinating look at professional football backstage, along with the intimate information that every fan seeks.
Additionally, it demonstrates how Bruce and his family overcame difficulties like depression, cancer, and Down syndrome.
Jake Matthews Father | Net Worth
Bruce has had an extraordinary football career. This indeed helped him gather fortune. However, due to having a big family, Bruce surely had many expenses too.
We know that the player has gathered enough to live a life of luxury. Bruce has a net worth of approximately $3 Million. Detailed information about the player's investments and assets is currently unknown.
In September 2017, during the Richard Dawson-hosted episode of the well-known TV game Family Feud, Bruce and his brother Clay competed against their family members.
His brother Clay was one of two family members who competed in the final round, and the Matthews family ultimately won the game. However, despite finishing the game with 41 points, they were denied the $10,000 top prize.
Frequently Asked Questions (FAQS)
Is Bruce Matthews Christian?
Yes, Bruce is a devoted Christian, as indicated by his Hall of Fame Speech.
What jersey number was Bruce Matthews?
Bruce Matthews wore jersey number 74 while playing at NFL's Tennessee Titans (Houston / Tennessee Oilers).
Is Bruce Matthews on Instagram?
No, Bruce Matthews does not have an Instagram. In fact, the player has kept himself away from social media platforms.