Jalen Alexander Hurts, a.k.a Jalen Hurts, plays quarterback for the Philadelphia Eagles of the NFL. Hurts was nominated among the five finalists for the NFL Most Valuable Player Award on January 25, 2023.
Jalen, with the Eagles in 2023, also made it to the Super Bowl LVII after defeating the San Francisco 49ers (31-7) in the NFC Championship victory.
From his initial days in the field, Hurts has shown great potential in the field. During his freshman year in 2016, he won the SEC Rookie of the Year and the Offensive Player of the Year awards.
He comes from an athlete lineage; he had all the love and support of his family to shape his dream into a reality.
Throughout his time at Channelview High School, his father, Averion, served as his coach and guided him to the path of greatness.
In April 2023, Hurts signed the largest contract extension in NFL history worth $255 million for five years, including $179.304 million guaranteed.
We will let you in on all the details about him in this article, but before that, let's go through some quick information about him.
Quick Facts
Full Name
Jalen Alexander Hurts
Date Of Birth
7 August 1998
Age
25 years Old
Birthplace
Houston, Texas
Nationality
American
Ethnicity
African-American
Zodiac Sign
Leo
Religion
Christianity
School
Channelview, Texas
College

Alabama (2016-2018)
Oklahoma (2019)

Educational Qualification
Graduated
Height
6'1″/1.85 m/185 cm
Weight
101 kg/223 lb.
Eye Colour
Black
Hair Colour
Black
Body Measurements
38-34-18
Shoe Size
12 (U.S.)
Profession
American Football Quarterback
Teams
Philadelphia Eagles
Playing Career
2020 – Present
Martial Status
Unmarried
Girlfriend
Bry Burrows
Father's Name
Averill Hurts
Mother's Name
Pamela Hurts
Siblings

Kynnedy Hurts
Averion Hurts

Net Worth
$6 Million
Salary
$4.3 Million
Merch
Bobblehead, Rookie Card
Social Media
Instagram, Twitter
Last Update
September 2023
Early Life
Hurts was born on August 7, 1998, to his parents, Pamela Hurts and Averion Hurts, in Houston, Texas. His birth month says, Jalen Hurts' zodiac sign is Leo.
He grew up with his two siblings Averion (named after his father) and Kyneddy. His brother Averion is currently a football coach at the University of Alabama.
Likewise, Jalen is a graduate with B.A. in communication and information sciences.
Body Measurement
Jalen Hurts measures 1.85 m in height. Similarly, he has a 38-inch chest, a 34-inch waist, and an 18-inch bicep. He has black-colored hair and eyes.
The quarterback wears U.S. size 12 shoes and has an athletic physique. He is of black ethnicity.
Jalen Hurt's Girlfriend, Bry Burrows
According to reports, Bry Burrows and Jalen Hurts first met while both were students at the University of Alabama in 2016.
Bryonna Nicole Rivera Burrows is the full name of Bry. According to her LinkedIn profile, she graduated from Kennesaw Mountain High School, where she won the Principal Leadership Award and the Most Spirited Award.
Bry pursued her college studies in political science at the University of Alabama after graduating from high school.
She also attended the University of Granada throughout the process and graduated with a Bachelor of Arts and Science in Latin American Literature in 2015.
Bry was among the best prospect in college and was on the University of Alabama's Deans's List and honors roll.
Golden Key International Honour Society, one of the largest collegiate honor societies, which only admits the top 15% with the best academics, was the organization she participated in during her time there.
In the bargain, she also received honors from the Cardinal Key Honor Society, Order of Omega, Blue Key Honor Society, Most Outstanding Junior, and The Elliot Society, among others.
On And Off Relationship
Hurts appear single, but his connection with Burrows is not entirely strained. Since their undergraduate years, the couple has had on-and-off relationships.
Burrows was last spotted celebrating with Jalen after the Eagle's match against the 49ers on 30 Jan 2023.
Education
In Channelview, Texas, Jalen attended Channelview High School.
As a sophomore, he was chosen to the second team in the all-district tournament. During his time in school, he also participated in play with the District 21 6A Global MVP squad.
Even after the persuasion of Texas A&M to recruit him, he went to the University of Alabama.
Career & Achievements
Jalen scored 36 touchdowns, breaking the record of Blake Sims' 35 from Crimson Ride while playing the USC Trojans in 2016.
In his successful career in the field, the NFL star was also selected as one of the top ten candidates for the Manning Prize in 2016.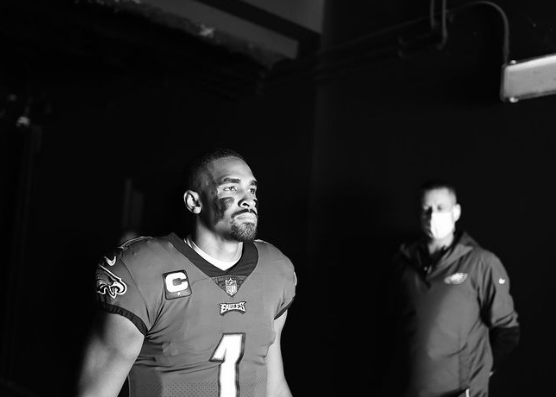 On December 3, 2016, he had the chance to captain his team against the Florida Gators in the SEC title game, but in 2017 the squad lost to Clemson 35–31 in the final.
In the 2018 SEC Championship Game, Jalen led the team to a victory against Georgia (35-28).
Later he transferred to the University of Oklahoma and played his senior season with the Oklahoma Sooners football team before being drafted by the Eagles as the 53rd pick overall in the second round of the 2020 NFL Draft.
Since then, Jalen has been with the Eagles and, in 2023, made it to the Super Bowl LVII after defeating the San Francisco 49ers (31-7) in the NFC Championship victory with 121 passing yards, 39 rushing yards, and a rushing touchdown on 30 January 2023.
Likewise, the Eagles will face the Kansas City Chiefs at the Super Bowl LVII on February 12, 2023, against players like Nick Bolten, Orlando Brown, and more.
Achievements
Second-team All-Pro (2022)
Pro Bowl (2022)
Bert Bell Award (2022)
CFP national champion (2017)
2018 Sugar Bowl Offensive MVP
Big 12 Offensive Newcomer of the Year (2019)
First-team All-Big 12 (2019)
First-team All-SEC (2016)
SEC Offensive Player of the Year (2016)
SEC Freshman of the Year (2016)
Net Worth
Even though Jalen Hurts is only at the beginning of his NFL career, his gameplay potential as a quarterback is no less than a veteran. As of 2023, Hurts has a net worth of $6 million.
Hurts signed a 4-year contract of $6 million with the Eagles, including a $1.9 million signing bonus with an annual salary of $1.5 million in 2020.
Similarly, recently Eagles and Hurts reached an agreement on a five-year, $255 million extension, including $179.304 million guaranteed, per source.
Hurts becomes the highest-paid player in NFL history in a deal negotiated by Nicole Lynn of Klutch Sports Group and Eagles' GM Howie Roseman.
With this extension, he will earn an average annual salary of $51 million, the highest in the football league.
Aside from NFL salaries, in 2022, Jalen started various ventures, including pulling a savvy marketing technique by filling for the trademark "HURTS SO GOOD," which will be used for the apparel line.
Additionally, he has also advocated for female empowerment and women in sports by participating in the NFL's "My Cause, My Cleats" initiative.
Social Media
Hurts uses the phrase "All Glory 2 God," and the statements are printed all over his bio on social media.
To our knowledge, he is only active on Instagram and Twitter. Even though he is a newcomer to the ball game, he has already amassed many fans worldwide.
Twitter- 486.7k Followers
Instagram– 1.1M Followers
Jalen has recently collaborated with the Jalen Hurts Signature Edition Louisiana Hot Sauce!
As decided by the brand and Jalen, some portion of the deal will be donated to the One Mind Set Foundation to uplift the communities, and an autographed jersey will be given with each purchase.
Controversy
Hurts went trending on social media due to the controversy surrounding the discussion about his bio, which hasn't changed since Hurts first joined the NFL.
The dispute sparked over Hurts' Twitter regarding whether he may have deleted information about the Eagles from his bio.
Josina Anderson just said stuff is about to get crazy

Jalen Hurts removed QB for the Philadelphia Eagles from his bio and his location says "Houston, Texas"

Is Howie really gonna ship Jalen to Houston for Deshaun Watson… ⁉️ pic.twitter.com/hgnaAbOoz7

— Adam Koffler (@AdamKoffler) March 12, 2022
Koffler, an analyst, has rushed his judgment on the rumored trade of Jalen to Houston for Deshaun Watson, which left the Eagle fans confused.
Although including Nicole Lynn, head of the football division at Klutch Sports, ended the debate by clarifying.
"His Twitter bio has been the same for five years but carry on."
Trivia
Jalen gave his vocals for A Philly Special Christmas, a debut studio album by Philadelphia Eagles players Lane Johnson, Jason Kelce, and Jordan Mailata.
Jalen calls his crawfish cooking skills angelic.
The quarterback keeps a vinyl collection, among which Frankie Beverly, Anita Baker, and Angela Winbush records are his favorites.
Jalen has a special bond with his grandmother, according to him, she gives him "wisdom and love."
Popularity Graph
Jalen Hurts is a successful quarterback, and his impressive performance has gained him a lot of fame and wealth.
His graph illustrates a lot of hike in his search as his team, Eagles, is about to appear in the LVII Super Bowl in 2023.
Frequently Asked Questions (FAQS)
Is Jalen Hurts injured?
Jalen is currently playing, although he suffered a shoulder sprain during the Week 15 victorious game (25-20) against the Chicago Bears in the 2022 regular season.
The injury kept him out for 2 weeks before returning in the season's finale Week 18 game against the Giants.
Does Jalen Hurts have a girlfriend?
According to reports, Bry Burrows and Jalen Hurts first connected while both were students at the University of Alabama; they had an on-and-off relationship since then, although recently, we saw Bry in Jalen's last match against the 49ers.
Does Jalen Hurts have any kids?
Jalen Hurts, a former standout player for the Alabama Crimson Tide, does not have any children. Nevertheless, he is a kind individual and might be categorized as philanthropic.