Jalen Suggs is a young American basketball player for the Orlando Magic of the National Basketball Association (NBA).
Suggs was selected as the fifth overall pick by Orlando Magic in the 2021 NBA draft. He plays in the point guard and shooting guard positions at the professional level.
Over the years, as a basketball player, Jalen has played in many international tournaments.
During the famous 2019 FIBA U19 World Cup, 2018 FIBA U17 World Cup, and 2017 FIBA Americas U16 Championships, he won three gold medals with USA Basketball.
Likewise, Jalen was also announced as the "2019 Basketball Player of the Year" by Pioneer Press East Metro.
Let's dive into the life of Jalen Suggs and discuss all the information like his early life, family, education, career, and so much more.
But, before diving into his life, have a glance at the undermentioned quick facts!
Jalen Suggs | Quick Facts
| | |
| --- | --- |
| Full Name | Jalen Suggs |
| Birth Date | June 3, 2001 |
| Birth Place | Saint Paul, Minnesota |
| Nick Name | Jalen |
| Religion | Christian |
| Nationality | American |
| Ethnicity | Mixed |
| Education | Minnehaha Academy, Gonzaga (2020–present) |
| Horoscope | Gemini |
| Father's Name | Larry Suggs |
| Mother's Name | Molly Manley |
| Siblings | Two Younger sisters |
| Age | 22 Years Old |
| Height | 6 feet 4 inches |
| Weight | 250 lbs (93 kg) |
| Hair Color | Black |
| Eye Color | Black |
| Build | Athletic |
| Sports | Basketball |
| Team | Orlando Magic |
| Position | Point Guard |
| Active Years | 2021-Present |
| Marital Status | Unmarried |
| Wife | None |
| Kids | None |
| Net Worth | Not specified |
| Social Media | Instagram, Twitter |
| Last Update | November, 2023 |
Jalen Suggs | Early Life, Family, and Education
Jalen Suggs was born on June 3, 2001, to parents Molly Manley and Larry Suggs.
Along with his parents, he also has two younger sisters named Jennica Suggs and Jaelle Suggs.
Most of the family members of Jalen are related to basketball sport and are professional players.
His father, Larry, played for Woodbury and Junior College basketball. Likewise, his relatives (D'Marr Suggs, Dion Suggs-Young, and Renard Suggs) played college basketball.
As a linebacker at Arizona State University, his other nephew, Terrell Suggs, played football with the Baltimore Ravens.
In addition to athletics, Jalen's family members have also performed feats in other fields.
Jalen's great-grandfather, great-uncle, and cousin hold USMC, USM, and USAF positions in the U.S. Armed Forces.
Furthermore, Jalen started playing basketball as soon as he was able to walk.
His dad, Larry, used to take him to several basketball camps when he was a child. Likewise, Sugg also traveled to Dallas without his family to attend a camp at age seven.
Education and College
As for high school, Suggs attended Minnehaha Academy in Minneapolis. There he played three junior varsity basketball games.
After graduating from high school, Jalen attended Gonzaga University and started playing college basketball for the Gonzaga Bulldogs.
Jalen Suggs | Early Career
High School Career
Suggs scored 21.5 points, eight rebounds, and five assists per game as a freshman at Minnehaha Academy.
He scored 22 points to win the Class 2A national title over Crosby-Ironton High School, including Fifteen in the second half.
Suggs was selected to the first team of the MaxPreps Freshmen All-American.
He also scored 16 points, 9.2 rebounds, and 3.4 assists per game in his sophomore season, helping his team to another state championship in Class 2A.
Suggs received first-team Associated Press (A.P.) All-State and second-team awards from MaxPreps Sophomore All-American.
As a sophomore, he scored 23.3 points, 4.7 rebounds, and 6.3 assists per game, earning a third consecutive state championship in Class 2A.
Suggs was selected to the first team of the AP All-State and the third team of MaxPreps Junior All-American.
As a senior, he scored 23.3 points, 7.5 rebounds, five assists, and 3.9 steals per game.
A day after Suggs won a section title, his season was cut short due to the COVID-19 pandemic, and he was unable to help Minnehaha defend its state championship.
Suggs left with 2,945 career points as his school's all-time top scorer. He was selected to play in McDonald's All-American Game, Jordan Brand Classic, and Nike Hoop Summit.
Due to the COVID-19 pandemic, all three games got canceled, but fascinatingly, Suggs was named Minnesota A.P. Player of the Year and MaxPreps Athlete of the year.
Jalen also played quarterback for SMB, a cooperative football team representing Minnehaha Academy and two other schools.
You might be interested in reading: << Josh Barnett: Early Life, Career, Wife, Relationship & Net Worth>>
Career Choices
Suggs vowed to play college basketball with Gonzaga University on January 3, 2020, picking the Bulldogs over deals from Florida, Florida State, Iowa State, and Minnesota.
He is the top-ranking player in the program to commit to.
Jalen was a five-star consensus prospect, with ESPN considering him in the 2020 class to be the fifth-best player and second-best point guard behind Cade Cunningham.
The American player was rated by ESPN as a four-star dual-threat quarterback in football but is not projected to play the sport in college.
College Career
Suggs scored 24 points in his college debut on November 25, 2020, in a 102-90 win over Kansas.
Likewise, he scored 12 points, four rebounds, and six helps on the way to victory during his second matcher against Auburn.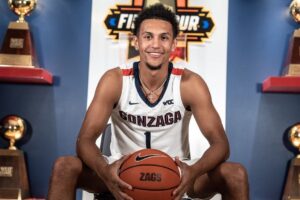 Suggs came down in his match against western Virginia with an apparent foot wound but returned later in the match.
Moreover, he finished the game with amazing 4 points, 6 rebounds, and 5 assists and won Gonzaga.
Jalen led the Bulldogs 17 days later with a high 27 points career against Iowa ranked #3; he also had 7 rebounds, 4 assists, 1 block, and 3 steals.
Jalen Suggs |
Professional career
Orlando Magic
Suggs was selected as the 5th overall pick in the 2021 NBA draft by the professional basketball team Orlando Magic of NBA.
He made his summer league debut in a 91–89 win against the Golden State Warriors on August 9, 2021.
Further, Suggs made his NBA debut, putting up 10 points in a 123–97 loss to the San Antonio Spurs on October 2021.
National Team Career
At the FIBA Under16 Championship 2017 in Formosa, Argentina, Suggs won the gold medal with the United States.
Further, Suggs had an average of 8.7 and 3.3 robs per game at the 2018 FIBA Under-17 World Cup. Likewise, he also won an extra gold game.
In a total of 4 games, Suggs had an average of 8.7 points and 2.8 rebounds per game.
However, in the 2019 FIBA World Cup in Heraklion, Greece, he joined the United States with an average of 9,6 points per and helped his team earn a gold medal.
In the final against Mali, Suggs score 15 points, his highest mark in the game.
Also, check out another interesting article: <<Ben Roethlisberger: Life, Career, Injury, Relationship & Net Worth >>
Jalen Suggs | Injury
As an athlete, an injury is unseen and unavoidable. At times, even a small injury can account for the lifetime struggle of a player.
Looking into Jalen's case, he had a leg injury during the 2020 game during the Bulldogs' win over West Virginia.
As the incident occurred, Jalen continued played assuring everyone that it was just a simple tweak.
However, in the latter half, Suggs slipped and fell to the ground grimacing in the pain while making a pass to teammate Joel Ayayi.
Thus, there was everyone getting him help as he was escorted limping with a towel in his face.
Additionally, it was also his second Injury of that season, which made him miss out on most of the game.
Further, Suggs fractured his right thumb in a 101–96 loss to the Philadelphia 76ers on November 29, 2021.
Jalen Suggs | Achievements
Suggs is an aspiring athlete in the arena who is well-known for his aggression and layups in the air. As he constantly competes in defense, he is quite reliable with shots.
Moreover, his passing and playmaking are solid. Altogether, below are some of his achievements to date.
McDonald's All-American (2020)
Jordan Brand Classic (2020)
Nike Hoop Summit (2020)
Minnesota Mr. Basketball (2020)
Minnesota Mr. Football (2019)
Consensus second-team All-American (2021)
WCC Newcomer of the Year (2021)
WCC All-Freshman Team (2021)
First-team All-WCC (2021)
Jalen Suggs | Relationship and Girlfriends
Jalen Suggs, a professional basketball player, is just in his prime years, both in his career and love life. For the moment, Suggs is single and is not dating anyone.
Likewise, there is no news regarding his past affairs. No one has seen the athlete with any other girl or going on a date with significant others.
It is as if Jalen has never dated anyone or is an expert at hiding from the public's eyes.
Moreover, it seems that Jalen is entirely focusing on his career instead of dating or being in a romantic relationship.
If we find anything that we could relate to, we will surely update it. He is still young and has a lot to go; who knows, we will find many secrets that are under a stone now in the future. Stay with us and keep reading.
Jalen Suggs | Salary and Net Worth
Jalen has just begun his NBA career, and he is on his way to building a fortune.
Players get a little bit of money for the college squad games, according to the reports. The media are not, however, sure of the exact number.
From his appearance with the national team, Suggs would have won a healthy figure. His national teams have, up to now, been awarded three gold medals.
Maybe now he is getting ready for the big games and making out big, yet we can see him in a pleasant place and assume he has a good house and family with plenty of money to spend.
We will soon update the net worth and salary figures once we can find any information on that. Stay with us and keep reading.
Social Media Presence:
Jalen is very active on social media, as another youngster would be.
He keeps posting his pictures on Instagram and seems to have an excellent time connecting with his people and fans.
Even though nothing personal information about his love or life is found, we can sure find how he is living and where he is going or where he is.
So to connect to Jalen Suggs, follow him via these links:
Instagram: 293k followers
Twitter: 19k followers
Also, read another interesting article: <<Darren Collison: Early Life, Lakers, Wife, Contract & Net Worth >>
Some FAQs:
How much is Jalen Suggs's rookie card worth?
Jalen Suggs's rookie card price ranges from $15.00 to $200.
Is Jalen Suggs related to Eddie Jones?
Jalen Suggs is the cousin of Eddie Jones.
Has Jalen Suggs ever hit a Buzzer Beater?
Jalen Suggs shot a half-court buzzer-beater to give Gonzaga a 93-90 victory over UCLA on April 4, 2021.
Does Jalen Suggs and Monte Morris play for the same team?
No, Jalen Suggs plays for the professional team Orlando Magic whereas Monte Morris plays for the professional team Denver Nuggets of the National Basketball Association(NBA).
Did Jalen Suggs and Chet Holmgren play together?
Yes, Jalen Suggs and Chet Holmgren played together for three years in high school at Minnehaha Academy in Minneapolis.